Rams don't expect 'Hard Knocks' HBO series to be a distraction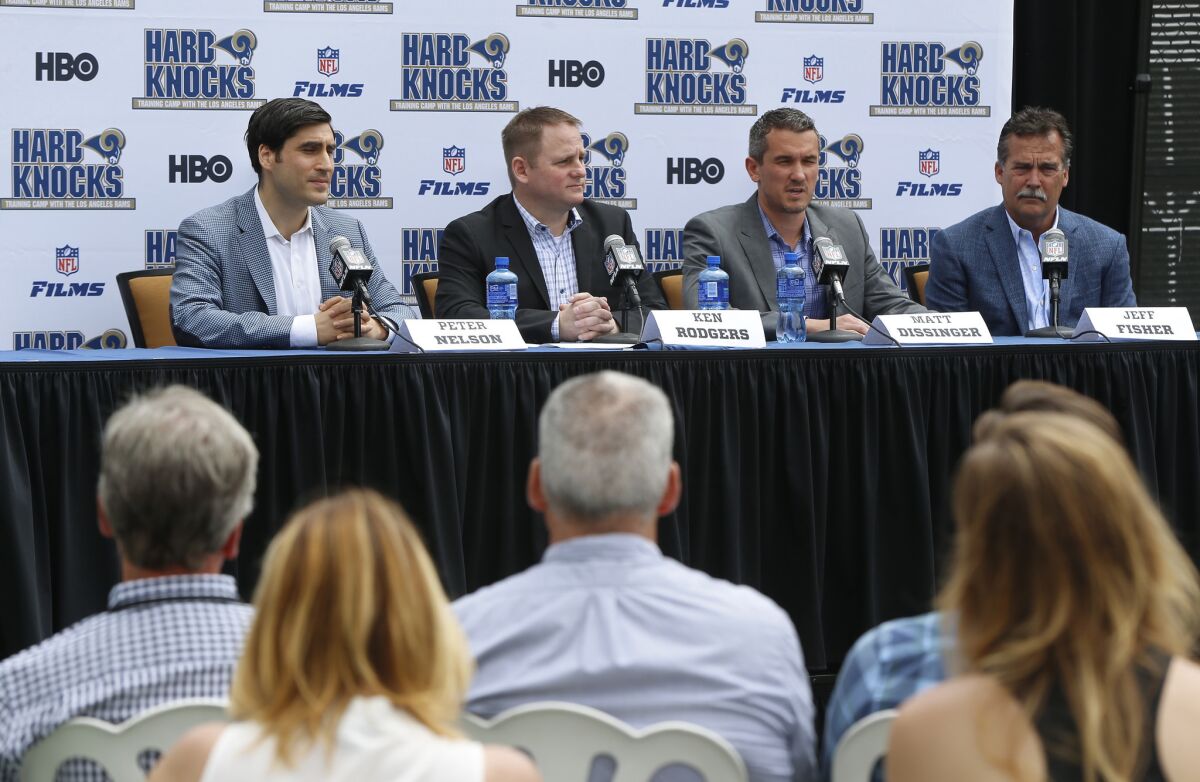 The first time NFL Films documented a training camp was 49 years ago, when the legendary storytellers focused their lens on the Green Bay Packers. It was a good news/bad news experience.
The good news: Packers coach Vince Lombardi was enthralled, giving rare access to his players, who seemed energized and especially sharp with the cameras trained on them. The coach, initially skeptical, insisted the filmmakers stay for a second day.
The bad news: The crew ran out of film by the end of Day 1.
That didn't bother Lombardi, who was entirely comfortable with the crew faking it on Day 2, simply pointing empty cameras at his players to keep them on their toes. He recognized the upside of putting his team in the spotlight.
Empty cameras won't be an issue for NFL Films this summer when it chronicles Rams training camp for "Hard Knocks," the critically acclaimed, all-access HBO series. Five camera crews and 12 robotic cameras shoot roughly 350 hours of footage for a single one-hour episode.
"Just to get through the footage is a challenge, let alone crafting the story and editing it," said Ken Rodgers, who oversees the show as NFL Films coordinating producer.
When Rodgers began working on the series in 2007, when the Kansas City Chiefs were the focus, NFL Films would send footage back to its New Jersey headquarters on two flights per day. Now, with everything shot digitally and uploaded over the Internet, the process is virtually instantaneous.
"Before practice is over, on any given day, the team back at NFL Films can start working on the footage that was shot at the beginning of practice," Rodgers said. "That's how quick the turnaround is now."
Rodgers participated in a "Hard Knocks" news conference Thursday at the Rams' temporary home in Oxnard, along with Peter Nelson, executive vice president of HBO Sports; Matt Dissinger, the show's director; and Rams Coach Jeff Fisher.
"We pride ourselves in making as small a footprint as we can, relative to other productions," said Dissinger, whose crews have already been gathering footage on the club's move back to Los Angeles. "We try as best we can to blend into the background, and hope Coach Fisher and his staff will have the same reaction that we've had in past camps where people don't even notice we're around."
Fisher said he talked to several coaches, assistant coaches and players from previous "Hard Knocks" teams to make sure it wouldn't put the Rams at a competitive disadvantage to participate. The recent numbers weigh in his favor. The last six "Hard Knocks" teams have matched or improved their win-loss record from the previous season, and the Cincinnati Bengals (2009, 2013), New York Jets (2010) and Houston Texans (2015) all made the playoffs in the season they were featured.
The show kicks off its five-episode season Aug. 9 at 10 p.m., airing each subsequent Tuesday and culminating with a Sept. 6 finale.
"We want this to be the best show to date," Fisher said. "We want to pave the way for the member clubs to line up for the opportunity to do this … The players are familiar, they understand what's ahead, we've talked to the coaches and they're excited."
Fisher was quick to add, though, that "we want them to be football players, not actors."
Running back Todd Gurley said he expects training camp to be business as usual, and defensive tackle Aaron Donald likewise shrugged off the notion of "Hard Knocks" potentially being a distraction.
"It's just a camera in your face," Donald said. "The game we play, there's always a camera in your face."
As for punter Johnny Hekker, he will be especially mindful of his word choice.
"I've got to make sure," he said, "that my grandmother doesn't have to hear me bleeped out."
Times staff writer Gary Klein contributed to this report.
Twitter: @LATimesfarmer
---
Get our high school sports newsletter
Prep Rally is devoted to the SoCal high school sports experience, bringing you scores, stories and a behind-the-scenes look at what makes prep sports so popular.
You may occasionally receive promotional content from the Los Angeles Times.