Eagles' backup quarterback did the unthinkable the one time he threw the ball Sunday night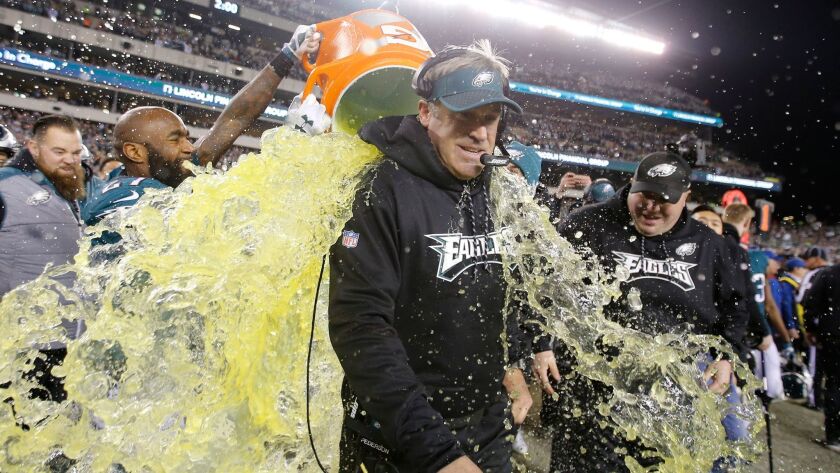 Reporting from philadelphia —
Nate Sudfeld's only pass of the game is the one he'd love to have back.
With the victory in hand, Sudfeld relieved Philadelphia's Nick Foles for the final two minutes Sunday and took three knees. Then, in jubilation, he threw the game ball over the Eagles sideline and high into the stands.
Yes, he threw away the NFC championship game ball.
"I wasn't really thinking," Sudfeld confessed. "I was kind of just excited. It's been a crazy year. I think that's the farthest I've thrown it in a game. It was after the clock, so…"
Then he paused.
"Oh, does that count as an incompletion?" he asked earnestly, before realizing the play ended when he knelt.
"I launched it," he continued. "Somebody caught it. Almost in the second level."
Surely, he can get it back. On eBay.
::
Sibling rivalry
It was a strange day for the Kendricks brothers. Mychal, a Philadelphia linebacker, is going to the Super Bowl after making a team-high eight tackles. His younger brother, Eric, a Minnesota linebacker, is going home empty-handed.
"I'm a competitor, and I play this game to win, period," said Eric Kendricks, a former UCLA standout who had six tackles and two passes defensed. "So I don't care if he's on the other team or not. I'm trying to win. So now I'm mad. Yeah, I'm not happy for him. It's crazy that we're in this position …
"They beat us fair and square, and we'll see. But for right now, I'm not happy."
::
Home is where the trophy is
That the Vikings had a chance to be the first team to play a Super Bowl on its home field didn't have Coach Mike Zimmer doing backflips.
"I mean, I would have loved to play the Super Bowl if it was in China," Zimmer said. "But we didn't play good enough to win."
::
Bag of tricks
The Eagles put the game out of reach with 10:05 remaining in the third quarter, when Foles threw a 41-yard touchdown pass to Torrey Smith on a flea-flicker to make it 31-7. Foles handed off to Corey Clement, who pitched it back to him, setting up the long pass.
Asked if he was saving that play for a big moment in the postseason, Coach Doug Pederson said: "No I wasn't saving it. Listen, those plays … you don't just pull them out and think, 'I'm going to run it this week.'
"There's got to be a reason for running a gadget play. And I just felt that as I game-planned this week and studied our formations … I felt like we'd get an opportunity to at least attempt the play. Great execution; protection was there. Nick did a great job of stepping up and sliding right. And then what a finish."
Follow Sam Farmer on Twitter @LATimesfarmer
---
Get the latest on L.A.'s teams in the daily Sports Report newsletter.
You may occasionally receive promotional content from the Los Angeles Times.