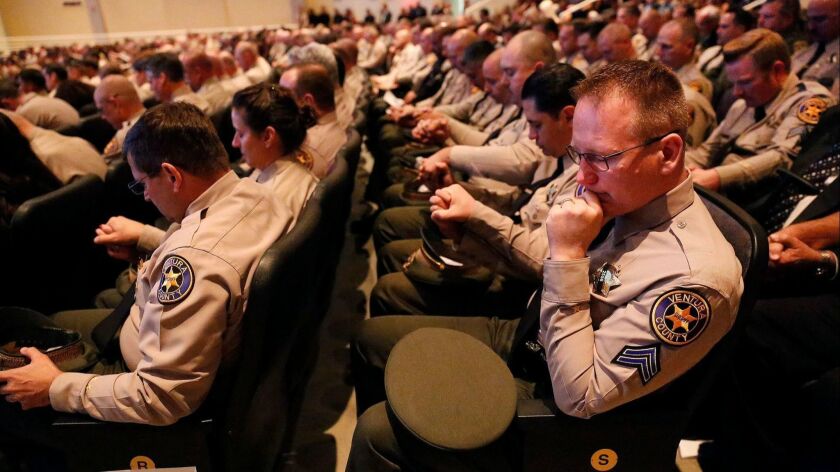 For their "Monday Night Football" game against the Kansas City Chiefs, the Rams have planned several tributes to honor first responders and people affected by the Borderline shooting and recent wildfires.
The Rams worked through fire and law enforcement agencies and local organizations to provide thousands of complimentary tickets to the nationally televised game, which was moved last week from Mexico City because of poor field conditions there.
Members of the Cal Lutheran Choir will sing the national anthem, while first responders and members of the greater Los Angeles community will hold a field-sized American flag. Justin Meek, a Cal Lutheran alumnus and former member of the choir, was among the 12 victims of the Borderline Bar and Grill shooting on Nov. 7.
The Ventura County Sheriff's Dept. Honor Guard will present the colors during the national anthem.
Lighting the Coliseum torch will be Karen and Jordan Helus, wife and son of fallen Ventura County Sheriff Sgt. Ron Helus, a 29-year veteran of the department who was among the first officers to arrive at the Borderline shooting and died there. A memorial banner with the names of the 12 victims will be positioned at the Coliseum peristyle between Gates 1 and 33.
Serving as honorary water boys for the Rams will be Dylan and Derek Adler, the sons of Sean Adler, who also lost his life in the shooting. He was a wrestling coach at Royal High in Simi Valley, as well as a member of the security team at Borderline.
Players and coaches from both the Rams and Chiefs will wear hats honoring a variety of L.A. area fire and law enforcement agencies. The various logos of those agencies will be on the front of the caps, with the team's logo on the side. Those game-worn hats will be auctioned on NFLauction.com with all of the proceeds going to the Conejo Valley Victims Fund and American Red Cross Southern California Wildfire Relief.
The Rams will recognize two firefighters during the "in-game hero salutes" — Ken Roberts and Michael Williams — as well as firefighter paramedic Michael Dubron, who established a program in which firefighters and their families can get immediate assistance to cope with a cancer diagnosis. American Airlines is awarding Roberts and Williams 50,000 miles each in recognition of their acts of bravery.
Also in attendance will be members of the Thousand Oaks Titans youth football team, which practiced at the Rams facility when the youth team was displaced by the fires.
Follow Sam Farmer on Twitter @LATimesfarmer
---