Galaxy draws with Philadelphia Union to extend winless streak to 16 games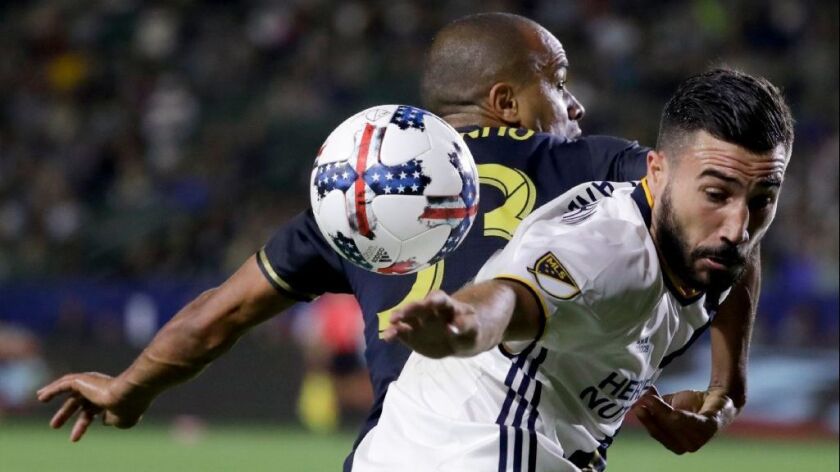 The Galaxy played a game they couldn't afford to lose Saturday.
So they didn't.
But they didn't win either, battling the Philadelphia Union to a scoreless draw in a match that was as unattractive as it was unsatisfying for both sides.
For the Union, the tie extended its winless streak to 16 games dating to August. For the Galaxy, the result was only a small step forward in the franchise's slowest start to a season since 2007.
Whether that step marks the start of a turnaround or simply a momentary pause in their suffering, it's too early to tell.
"We have a group that, let's be honest, we feel pressure," said Coach Curt Onalfo, who likely felt the hot seat he's been sitting on cool a bit with the draw. "It's been a very frustrating and difficult start for us. We've worked very hard, it's not been for a lack of effort and results haven't gone the way we've wanted them to go."
Onalfo tried to change that by changing his lineup, remaking a formation that had already become stale less than two months into the season.
With Gyasi Zardes out with illness, Gio dos Santos started as a lone striker up front with midfielder Jermaine Jones assuming a playmaker role behind him. On defense, rookie Bradley Diallo made his second career MLS start and his first at right back.
That paid only partial dividends, though, because while the Galaxy (2-5-1) were aggressive from the start, they had little to show for it.
Their best chance in a ponderous first half was a left-footed Joao Pedro shot from about 35 yards that struck the right post, ricocheted across the goal and hit the left post, then bounded harmlessly away as Pedro grabbed his head in disbelief.
In the second half, the Galaxy had three promising opportunities in a seven-minute span shortly after the intermission. But they couldn't finish any of them with Jones missing high on a driving header on the first, Romain Alessandrini arriving a step too late to gather a poor clearance at the near post on the second, and a left-footed shot by Ema Boateng hanging up just long enough for Philadelphia keeper Andre Blake to get under it on the third.
"We had good chances. It just really didn't bounce today," defender Daniel Steres said.
Before it was over the Galaxy had outshot Philadelphia, 13-8. They also had a huge edge in possession (62.9%) and outpassed the Union by a substantial margin. That's progress.
But none of that led to a goal. Nor, however, did the Galaxy concede one, with Brian Rowe posting his first shutout of the season.
"We had the ball. We controlled the game. We found openings, we found chances," Steres continued. "We're starting to jell. We finding ourselves. We changed formations today and that helped a little bit too.
"This is a building block. We'll start with a shutout and we'll move on from there."
Move on from an uneven start that, through eight games, has raised more questions than answers for a team still searching for an identity under its new coach.
Are the Galaxy the scrappy, aggressive team that seized the momentum early against the Union? Or the sloppy one that given up the first goal in six of their seven previous games?
Are they the united team that smothered short-handed sides from Real Salt Lake and Montreal in their first two wins? Or the confused, disjointed one that feuded with its coach and each other in a one-sided loss to Seattle last week?
None of that got any clearer Saturday. Although the Galaxy were creative and fluid at times, at others they lacked chemistry and cohesion. Still, they still managed to grind out a point – not a huge reward maybe, but a big improvement over last week.
"We have to keep positive, keep working," Dos Santos said. "This is not the time to talk or make excuses. We have to start winning games.
"We are the Galaxy. Pressure we have every single game because we have to win. And people expect it. We know our responsibility."
Follow Kevin Baxter on Twitter @kbaxter11
---
All about the beautiful game
Go inside the L.A. pro soccer scene and beyond in Kevin Baxter's weekly newsletter.
You may occasionally receive promotional content from the Los Angeles Times.