UCLA women's soccer team chasing its second NCAA title in 4 years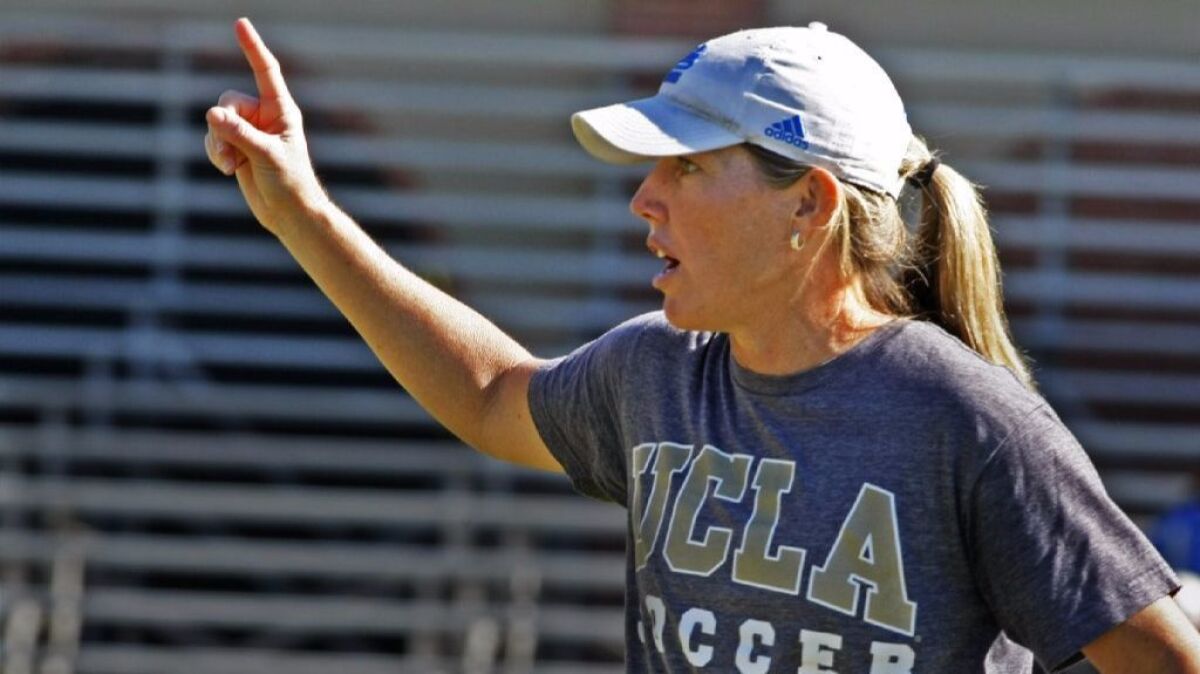 When Amanda Cromwell came to UCLA as the women's soccer coach in 2013, she was asked to do something that had never been done before: lead the Bruins to a national championship.
That took less than a year.
Doing it a second time has proven to be a bit more of a challenge, although she can accomplish that this weekend when UCLA plays in the College Cup — soccer's version of the Final Four — Friday in Orlando, Fla.
The Bruins (19-2-2), making their 10th appearance in the College Cup, will play Duke (23-2-0) in the second semifinal. Stanford (22-1-0) will face South Carolina (19-2-0) in the first game. The winners will meet for the title on Sunday.
Cromwell's title team was a veteran one that played just two sophomores and two freshmen in the championship game. This fall's roster is far younger, relying on 11 freshmen and seven sophomores. And that doesn't include U.S. national team star Mallory Pugh, who enrolled at the school in January, played three spring games, then left to sign with the NWSL's Washington Spirit.
"The whole class coming in was pretty special," said Cromwell, whose team spent six weeks atop the national rankings this season. "We knew that we had the pieces to the puzzle. It was just a matter of kind of putting everyone in the right spots.
"Soccer's a little different than other sports, where freshman can have impacts really early."
Junior Hailie Mace, who entered UCLA two years after the Bruins won their title, has emerged as the team's leading scorer with 15 goals, including a brace in a quarterfinal win over Princeton.
But while the roster has changed over the past four seasons, senior co-captain Claire Winter – one of two holdovers from the championship team – said that is all that's changed.
"The attitude and team mentality is very similar. Just how close everyone is, how competitive it is," she said. "We have more than 11 starters. Every practice we compete. It might not be the same lineup every game just because there's just girls who are just playing harder in that practice. That's kind of how it was my freshman year as well.
"I just have this feeling. It's a good one."
Follow Kevin Baxter on Twitter @kbaxter11
All about the beautiful game
Go inside the L.A. pro soccer scene and beyond in Kevin Baxter's weekly newsletter.
You may occasionally receive promotional content from the Los Angeles Times.