Juergen Klinsmann says U.S. winning World Cup is not realistic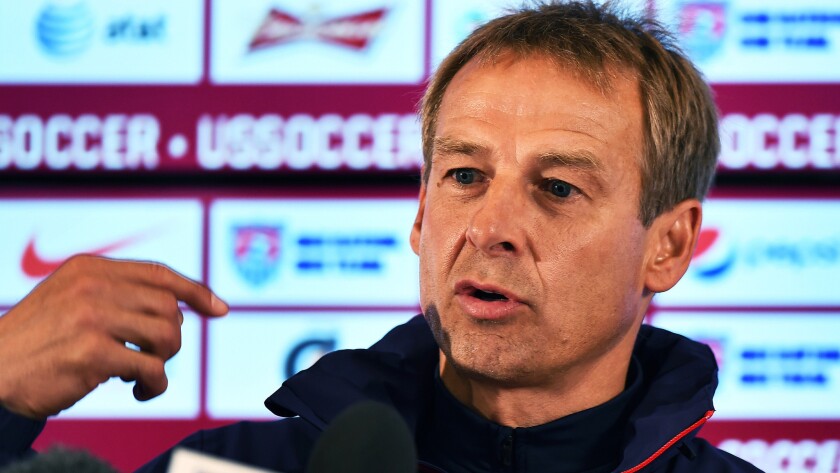 Reporting from Sao Paulo, Brazil —
When Juergen Klinsmann played and coached for the German national team, the expectations heading into a World Cup were always the same.
"They expect the title," he said Wednesday. "It's simple as that. There is no discussion about 'oh, how far will they go' or setting goals. To win is not enough. This is what they expect."
The demands on the U.S. team Klinsmann is coaching in this summer's World Cup aren't nearly as high. At least not in his mind.
"For us now, talking about winning a World Cup, it's just not realistic," said Klinsmann, whose team opens group play Monday against Ghana in the northeastern beachfront city of Natal.
"I think we are getting, every year, another step forward. We are getting stronger. …[But] today, even before the World Cup starts, to say we should win? It's just not realistic."
The U.S. is one of just seven countries that have qualified for each of the last seven World Cups. Yet it has advanced beyond the second round just once and won only four games in 24 years. If the World Cup was the NCAA basketball tournament, the U.S. would be Creighton — good enough to get invited but not good enough to stick around for long.
And until that changes striker Jozy Altidore agrees with his coach that, for now, the hopes for the U.S. team need to be tempered.
"Look, we haven't won a World Cup before, so you can't go into the World saying 'oh, we have to do what we did in the past,'" he said Wednesday after a relaxed team workout before a couple of hundred handpicked U.S. fans, including ambassador Liliana Ayalde. "You come here obviously with that dream in the back of your mind. At the same time you have to be realistic to understand there are some teams that are maybe a bit more favored than we are.
"Saying all that, you try to see how far you can go. And then hopefully if you get closer to the end, then you start to believe what you can do."
Traffic stop
Klinsmann had scheduled a scrimmage with Belgium for Thursday, the day before the U.S. leaves its training base here for Natal. But the Belgians, concerned about the endless traffic that has snarled Sao Paulo, canceled the game Wednesday afternoon.
"I don't want to sit in a bus for five hours," said Belgium Coach Marc Wilmots, whose team faced a 40-mile drive from their suburban hotel to Sao Paulo FC's practice facility, where the U.S. has been training.
Klinsmann said his team will hold two workouts Thursday in lieu of the scrimmage.
Donovan joins ESPN
Landon Donovan, among the last players cut from the U.S. roster, might wind up getting the last word on Klinsmann's squad after being hired by ESPN as a World Cup analyst.
Donovan, who would like to do TV work when his soccer career is over, will watch the Cup games from ESPN's studios in Los Angeles, offering pregame, halftime and postgame commentary. He will make his debut Thursday at noon ahead of the tournament opener between Brazil and Croatia.
Twitter: @kbaxter11
---
Get our high school sports newsletter
Prep Rally is devoted to the SoCal high school sports experience, bringing you scores, stories and a behind-the-scenes look at what makes prep sports so popular.
You may occasionally receive promotional content from the Los Angeles Times.