Women's World Cup: U.S. shifts from 'preparing stage to the performing stage'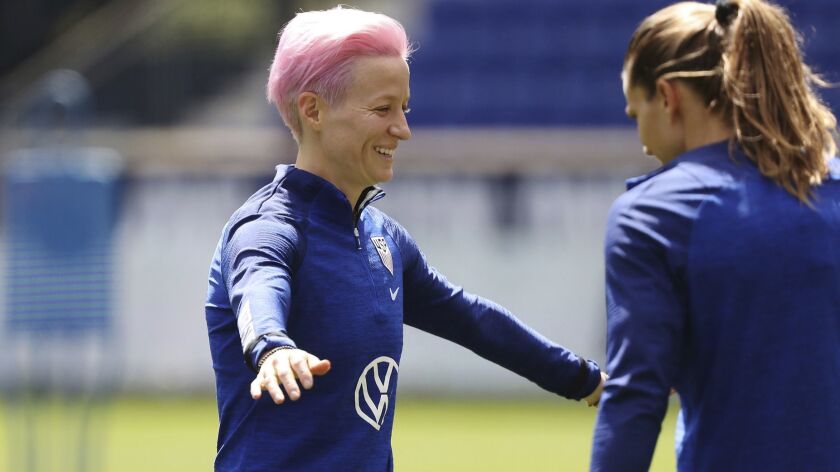 Reporting from REIMS, France —
The U.S. women's national team held its first World Cup practice in France on Saturday, running through a brisk afternoon session in Reims, a city of less than 200,000 people about 80 miles east of Paris.
The team has spent most of the last two weeks training in London, arriving in France just hours before the tournament opener between France and South Korea.
"It was just a shift in all of us, in our mental preparation. From the preparing stage to the performing stage," forward Christen Press said.
"You wait years to be here. And that's a journey. And then when you get here, there's a whole other journey that starts. So I think the team's in a good space because we did have that time where we got to just focus on what we were doing, remove ourselves from the pressures of the outside world."
The U.S. is one of the last teams to begin World Cup play, facing Thailand on Tuesday, the final day of opening games. The wait is proving difficult.
"Watching all these games that are going on right now, that just gets me more excited," said midfielder Lindsey Horan, one of 11 World Cup debutantes on the U.S. roster.
Press, who played in the tournament four years ago in Canada, said it's important to tune those distractions out.
"We've been counting down to our first game," she said. "Until then, this is all just everything else going on. We can appreciate it and we can enjoy it. But it's just hyper-focused on Game 1."
Bienvenue mon ami!
For Horan, who skipped college to sign a six-figure club deal with Paris Saint-Germain out of high school, this World Cup marks a homecoming of sorts.
Horan is one of six players on the U.S. team who have played in France, but, at 18, she was the youngest to make the move. She says the experience was life-changing, if difficult.
"I had to grow up really quickly. Knowing how to live in another country and do things for myself," she said.
"I had a lot of tough times. It was a rough road the whole time. But it's prepared me for being here today."
Horan scored 46 goals in 58 games with PSG before returning to the U.S. in 2016 to play for the NWSL's Portland Thorns. However, she retained enough of her French to serve as a part-time interpreter for her teammates.
"I try my best," she said. "I can still speak. I can still understand."
After the opener in Reims, the U.S. will leave Wednesday for Paris. Horan said she can't wait for that.
"So many memories of Paris," she said. "Just being in the city, being in that atmosphere, being along Champs d'Elysee. It was a very memorable time."
Marta won't start in Brazil opener
Marta, a six-time world player of the year, will not start in Brazil's opener against Jamaica on Sunday and may not play at all because of a left thigh injury, Brazilian coach Vadao said Saturday.
Marta came up lame in training last week. Though she has recovered quicker than expected, returning to training Tuesday, Vadao said she's not healthy enough to start.
Sign up for our weekly soccer newsletter »
"Maybe she will be on the bench, but our plan is that she doesn't take part in the game," he said.
Brazil's opener Sunday will be played on the 24th anniversary of its last loss in group play at a Women's World Cup, a 6-1 defeat to Germany in Sweden in 1995. The ageless Formiga made her tournament debut that year and if she plays against Jamaica, she will break two records by becoming the first player, male or female, to appear in seven World Cups while, at 41 years and 98 days, she will surpass Christie Rampone of the U.S. as the oldest women to play in the tournament.
kevin.baxter@latimes.com | Twitter: @kbaxter11
---
All about the beautiful game
Go inside the L.A. pro soccer scene and beyond in Kevin Baxter's weekly newsletter.
You may occasionally receive promotional content from the Los Angeles Times.