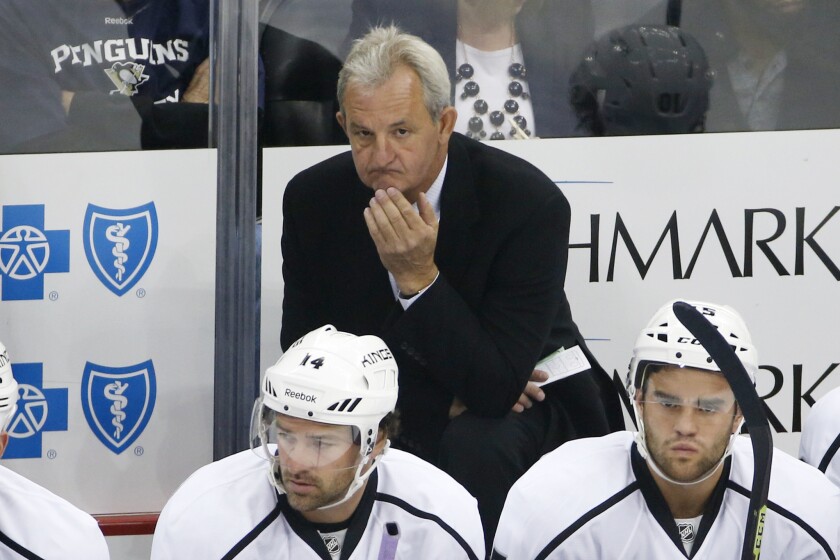 The Kings practiced in El Segundo on Friday before leaving for Dallas, where they'll face the Stars on Saturday to start a three-game trip. The Kings recorded their only road win this season at Dallas, a 3-1 decision on Nov. 4, but lost to the Stars at home on Nov. 13. Saturday's game will conclude the teams' season series.
Defenseman Alec Martinez skated but didn't practice with his teammates on Friday because his surgically repaired left pinky finger is still healing. However, Coach Darryl Sutter said Martinez would accompany the team on the road.
Saturday's game will take the Kings (11-5-4) past the mathematical one-quarter mark of the 82-game season. For comparison's sake, they were 10-7-3 at the same point in the 2011-12 season leading up to their first Stanley Cup championship, and were 13-6-1 20 games into last season, on the way to their second title in three seasons.
Considering how injuries and the indefinite suspension of Slava Voynov have prevented the Kings from having their full defense corps at any point this season, they're in pretty good shape. Sutter agreed, adding that goaltender Jonathan Quick deserves praise for keeping the team's defensive focus intact.
"I think Jonathan has been our best player by a lot. Our shots against aren't where we want to be but I think it's tied into the whole picture part of it in terms of the young guys on the back end," Sutter said, referring to the Kings' average of 32.2 shots against per game, which was 24th-highest in the NHL through Thursday.
"It's not where we want to be, but our goal is to have the best goals-against in the league, and that's not a reflection on your goalies, it's a reflection on your team. That's how we're going to be successful. We've been able to cut our goals-against down every year since I've been here, and significantly.
"So you have to be able to maintain that or get better at it. That's our goal."
Sutter also said he does his own analysis of players and takes into account that this isn't the same team as last season because of changes made necessary by Voynov's suspension and the injuries.
"We're playing guys that normally wouldn't have played, or guys that didn't play very much are playing more. Or guys that weren't here. So it's quite different," he said. "That's why when you're talking about quarters, you're breaking it into quarters, that's how you have to evaluate it. I have to do a report card on each player after 20 games in my own mind so that I can try and help some of them guys so they see it clearly too.
"Our goal this quarter is to try and do what we did in the first quarter. And I think we were pretty good. and I think we played as well as we could."
That sums it up pretty well.
---