MLB players appoint Tony Clark leader, discuss tougher PED penalties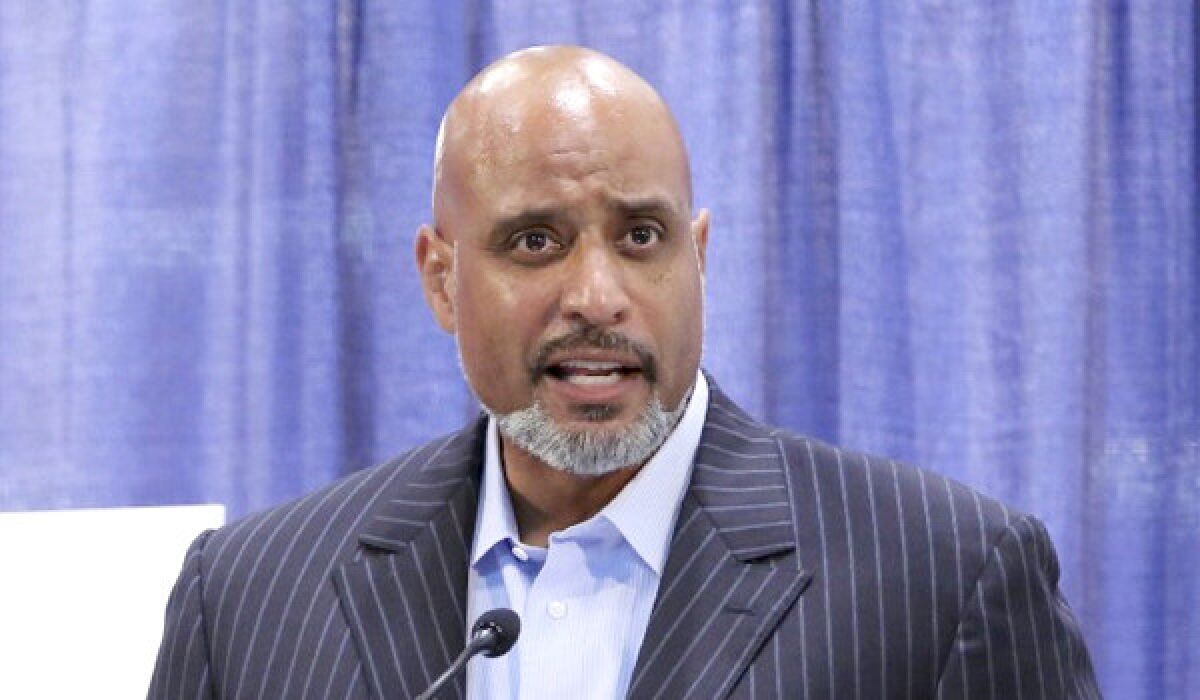 The Major League Baseball Players Assn. selected its new leader Tuesday, then braced for a debate about whether to embrace tougher penalties for players in violation of baseball's drug policy.
As expected, the MLBPA executive board picked Tony Clark to replace the late Michael Weiner as executive director. Clark, 41, has served as interim executive director since Weiner died Nov. 22 after a 15-month fight with brain cancer.
As the MLBPA meetings continue this week, the headline issue for the union is whether to tighten penalties for users of performance-enhancing drugs.
"That is certainly on the docket," said Kansas City Royals pitcher Jeremy Guthrie.
When the St. Louis Cardinals signed shortstop Jhonny Peralta to a four-year, $52-million contract last month, Arizona Diamondbacks pitcher -- and union representative Brad Ziegler -- was aghast. Peralta had served a 50-game suspension for PED use last summer.
"It pays to cheat," Ziegler said via Twitter.
Some players have proposed increasing the penalty for a first offense from 50 games to one year.
"We thought 50 games would be a deterrent. Obviously, it's not," Ziegler tweeted. "So we are working on it again."
Said Clark: "We will have a discussion. The players will decide what direction we will go and do it in such a way to protect their interests and advance the game."
Clark also said the union would consider the latest MLB proposal to reform the posting system for Japanese players, one that involves a cap on how much MLB teams can bid for the right to negotiate with Japanese players. The union historically has opposed caps of any kind as an artificial restraint on spending that interferes with the negotiation between a player and team.
"Every time you hear the word 'cap,' it lends itself to a certain connotation," Clark said.
Clark also expressed enthusiasm for the World Baseball Classic. The event is a joint venture of MLB and the union, and it has attracted widespread interest in Asia and Latin America, but many top players in the United States have declined to participate. That has rendered the final rounds of the event -- held in the U.S., and during the NCAA men's basketball tournament -- almost invisible among the casual public.
Clark said that, if he thought he still could make the U.S. team, "I'd jump on a treadmill tomorrow."
Clark, a first baseman who had a 15-year career, becomes the first former major league player to head the players' union. He has worked for the MLBPA since his retirement as a player in 2010.
"Michael was a friend, an advisor and a mentor of mine," Clark said. "The vision he laid out for me and for the organization when I came onboard a handful of years ago is the same vision we are going to continue."
Clark said the union would maintain a strong legal staff and said he was not concerned that he was not an attorney. Weiner was, as was his predecessor, Donald Fehr. But Clark invoked the name of the most powerful man in union history, the predecessor to Fehr.
"Mr. Marvin Miller wasn't an attorney, either," Clark said.
ALSO:
Dodgers moving toward deal with Brian Wilson
MLB proposes cap on bids for Japanese players
Angels don't extend contracts to four, including Jerome Williams
---
Get our high school sports newsletter
Prep Rally is devoted to the SoCal high school sports experience, bringing you scores, stories and a behind-the-scenes look at what makes prep sports so popular.
You may occasionally receive promotional content from the Los Angeles Times.