Carlos Condit knows what awaits him against Robbie Lawler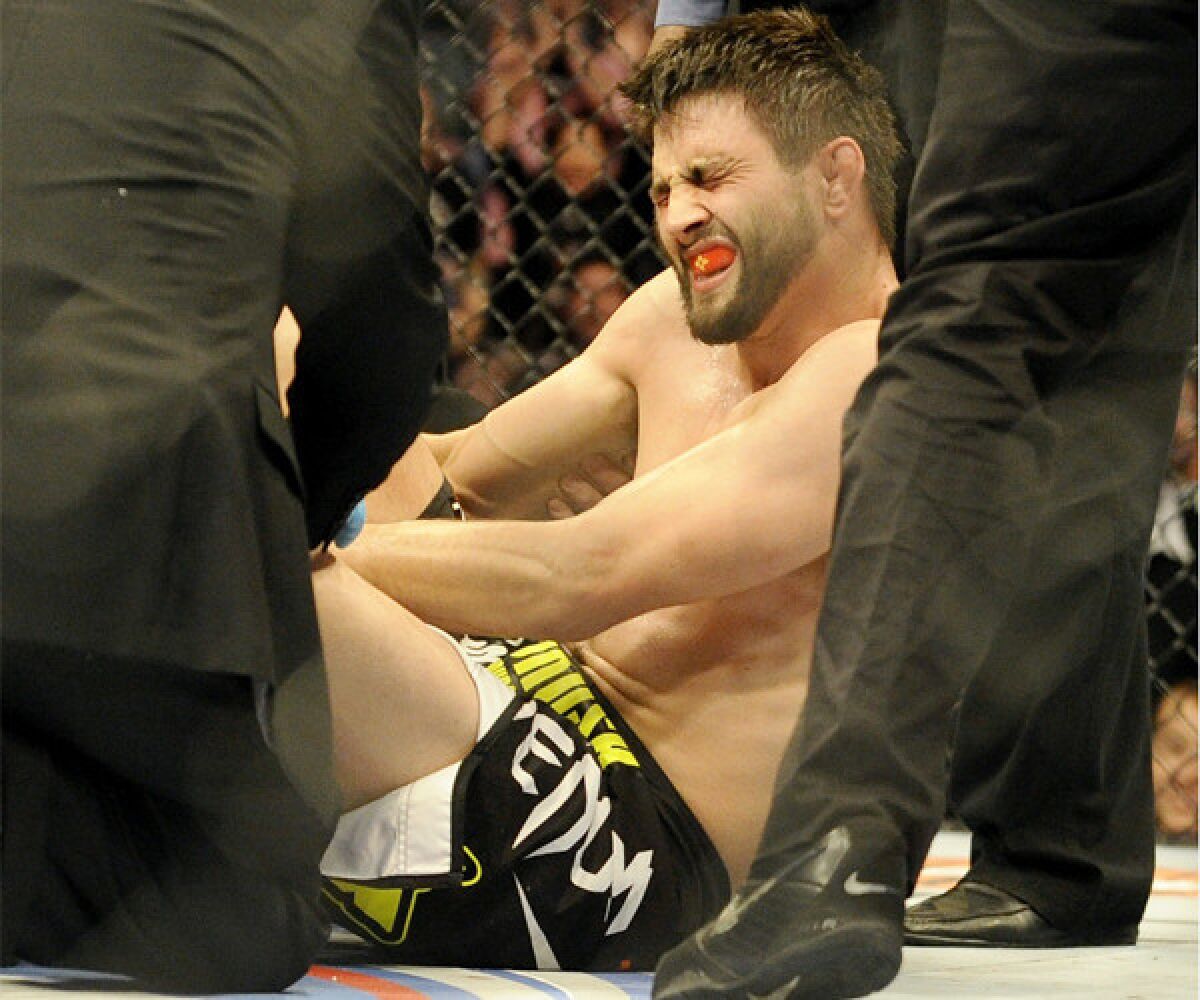 The Ultimate Fighting Championship's first main event of 2016 will be as subtle as a punch in the face.
Welterweight champion Robbie Lawler (26-10), who endured a thrilling fight against challenger Rory MacDonald, will defend his title against former interim champion Carlos Condit (30-8) at UFC 195, which is to be fought on Jan. 2 at the MGM Grand Garden Arena in Las Vegas.
Condit appeared at a downtown Los Angeles restaurant last week to discuss his second appearance since the ACL injury he sustained against Tyron Woodley in March 2014.
Lawler's training-camp thumb injury postponed the Condit bout from Nov. 14, a date taken by Ronda Rousey's women's bantamweight title defense against former champion boxer Holly Holm in Melbourne, Australia.
"Honestly, I think it worked out for the better," Condit told reporters of the delay. "I'm going to keep doing what I was doing."
He said while recovering from the ACL injury, "I was positive the whole time. There was never a time that I thought I wasn't going to come back.
"Twelve years into my career, this is my first major injury, so you know what, it happens. You push your body that hard for that many years, it's inevitable."
Woodley is an imposing force, and he's already been promised the Lawler-Condit winner by the UFC after former champion Johny Hendricks fell ill cutting weight and missed his scheduled fight against Woodley on Oct. 3 in Houston.
Condit was asked how he anticipates a bout that, by most expectations, is bound to be a stand-up slugfest.
"Just because a musician writes a great album doesn't mean they don't want to continue writing great music," he said. "So, for me, this is a creative outlet, like putting together great notes. We put together great techniques, we develop different combinations to solve different problems."
Condit's prior title-fight experience against Georges St-Pierre helped win him the title shot.
"I was super-excited. I've been asking [UFC President] Dana [White] for the title shot. I was stoked," Condit said.
"I understand where [a passed-over Woodley and Hendricks] are coming from. I might be bummed out too, but I'm not in charge of them or their careers. I'm in charge of trying to get myself into the big fights, to get myself a title shot, and ultimately it wasn't my decision to be made.
"I'm going to ask for the title shot. If they want to be mad at somebody, they need to be mad at the people that make those decisions."
After watching Lawler's epic with MacDonald, Condit has a feel for what to expect from his next opponent.
"Fights like that, when I have been in those really gritty wars, that's what I live for," Condit said. "I love that stuff. There's a lot of damage that both guys took, so of course I don't envy that, but there's a part of me, all true fighters in the sport, we live for that stuff."
As for the continued rumors of a possible St-Pierre comeback, Condit said, "I like to avenge all my losses, but honestly, I don't think that he will come back.
"He's not around right now. So whether or not he comes back, the division is super-exciting right now. There's a lot of guys that are really hungry, really dangerous, and anybody can beat anybody on any given night."
---
Get our high school sports newsletter
Prep Rally is devoted to the SoCal high school sports experience, bringing you scores, stories and a behind-the-scenes look at what makes prep sports so popular.
You may occasionally receive promotional content from the Los Angeles Times.