The Sports Report: Jackie Slater has divided loyalties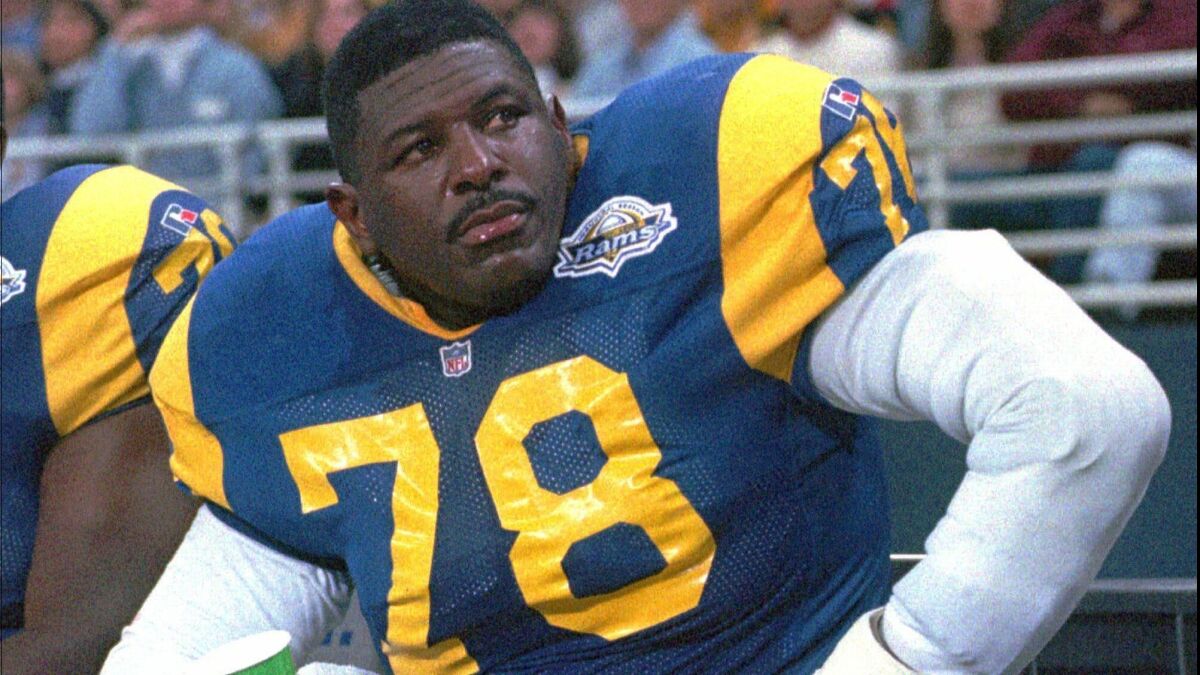 Howdy everyone, and welcome to the Monday edition of the Los Angeles Times daily sports newsletter. My name is Houston Mitchell and I'm your host for the festivities. Subscribe to this newsletter by clicking here.
Let's get to it.
Rams
Former Rams great and Pro Football Hall of Famer Jackie Slater will be in a tough spot on Sunday. His team, the Rams, are trying to win the Super Bowl for the first time in Los Angeles, while his son, Matthew Slater, will be playing for New England.
"I hope he plays well and does his job," Slater said of his son. "And I hope the Rams do well. It's going to be pretty matter-of-fact for me. I'm not really going to sweat it. I'm just going to enjoy it."
While Matthew Slater says, "There's been no man in my life, no person in my life, who's had more influence or impact on me and my development. He was a Ram. I was a Ram fan. But not now."
You can read more of this story by clicking here.
Meanwhile, Rams tight end Gerald Everett, who is from Atlanta, site of this year's Super Bowl, has been inundated with phone calls, texts and requests.
When is the Super Bowl?
It will be on Sunday, Feb. 3 at 3:30 p.m. on CBS.
Who will win?
The last polls we did were successful, so let's do it again. Who will win the Super Bowl? Click here to vote. We'll announce the results on game day.
Best football movies
As we build to determining the best sports movie of all time, we received 8,587 ballots from people in our poll to determine the five best football movies ever. The top five:
Brian's Song, named on 69.1% of the ballots
Remember the Titans, 52.5%
The Longest Yard (1974), 48.4%
Rudy, 46.6%
Jerry Maguire, 35.3%
The rest:
The Blind Side, 34.7%
North Dallas Forty, 31.8%
Friday Night Lights, 29.2%
We Are Marshall, 23%
Knute Rockne, All American, 19.3%
Any Given Sunday, 16.9%
Draft Day, 12.6%
Horse Feathers, 12.3%
Semi-Tough, 11.4%
The Replacements, 9.6%
Invincible, 8.2%
The Waterboy, 8.2%
Concussion, 7%
Varsity Blues, 4.1%
The Program, 3.5%
Radio, 3.2%
Gus, 2.9%
Wildcats, 2.9%
The Longest Yard (2005), 2.4%
The Freshman, 2.1%
Leatherheads, 1.8%
Necessary Roughness, 1.7%
Gridiron Gang, 0%
No one voted for Gridiron Gang! Please don't tell The Rock. I don't want him to layeth the smackdown on me.
Up next are the five best basketball movies of all time. You can vote by clicking here or by emailing me at houston.mitchell@latimes.com. Here are the nominees:
Above the Rim (1994), starring Tupac Shakur
Air Bud (1997), starring Air Buddy
The Air Up There (1994), starring Kevin Bacon
BASEketball (1998), starring Trey Parker and Matt Stone
The Basketball Diaries, starring Leonardo DiCaprio
Blue Chips (1994), starring Nick Nolte
Celtic Pride (1996), starring Damon Wayans
Coach Carter (2005), starring Samuel L. Jackson
Eddie (1996), starring Whoopi Goldberg
Fast Break (1979), starring Gabe Kaplan
The Fish That Saved Pittsburgh (1979), starring Julius Erving
Glory Road (2006), starring Josh Lucas
He Got Game (1998), starring Denzel Washington
Hoop Dreams (1994), documentary featuring William Gates and Arthur Agee
Hoosiers (1986), starring Gene Hackman
Just Wright (2010), starring Queen Latifah
Juwanna Mann (2002), starring Miguel Nunez Jr.
Like Mike (2002), starring Lil Bow Wow
Love & Basketball (2000), starring Omar Epps and Sanaa Lathan
One on One (1977), starring Robby Benson
Rebound (1996), starring Don Cheadle
Rebound (2005), starring Martin Lawrence
Semi-Pro (2008), starring Will Ferrell
The Sixth Man (1997), starring Kadeem Hardison
Space Jam (1996), starring Michael Jordan
Sunset Park (1996), starring Rhea Perlman
Uncle Drew (2018), starring Kyrie Irving
White Men Can't Jump (1992), starring Wesley Snipes and Woody Harrelson
Again, you can vote by clicking here or by emailing me at houston.mitchell@latimes.com. Remember to vote for five.
Lakers
The Lakers beat the Phoenix Suns, 116-102, with Lance Stephenson finishing with 17 points on seven-of-10 shooting and Brandon Ingram scoring 22 points, 17 of them in the first half.
Ivica Zubac had a double double with 24 points and 16 rebounds. He fouled out in the closing minute of the game and got a standing ovation started by Tyson Chandler and LeBron James.
Clippers
The Clippers almost blew a 25-point lead before re-asserting themselves and defeating the Sacramento Kings, 122-108.
"We was beating them the whole game. We got to expect the run to come," said guard Patrick Beverley, who nearly produced a triple-double with 16 points, 10 rebounds and eight assists. "We sustained it, we kept our poise and we continued to play basketball."
USC football
USC may have found the guy to replace Kliff Kingsbury, who was undefeated in his tenure with the Trojans. Those are some big shoes to fill, but the man to do it looks like it will be North Texas offensive coordinator Graham Harrell, who like Kingsbury was a Texas Tech quarterback under Mike Leach and an "Air Raid" disciple.
Harrell interviewed with USC on Sunday in Los Angeles Harrell's father, Sam, told our own J. Brady McCollough.
Sam Harrell said there's no deal in place for his son, but that it's in the "working stages" as of Sunday night.
Soccer
Gregg Berhalter became the third U.S. coach in the modern era to start with a win as Djordje Mihailovic and Christian Ramirez scored in their national team debuts to lead the U.S. men's team to a 3-0 win over Panama.
Tennis
Novak Djokovic won his record seventh Australian Open championship by beating Rafael Nadal, 6-3, 6-2, 6-3.
Golf
After a shaky start in which he bogeyed three of his first five holes, Justin Rose righted himself with some veteran mental tricks and closed with a three-under-par 69 on the Torrey Pines South Course to win the Farmers Insurance Open by two shots over Adam Scott (68).
This date in sports history
1922: The American Pro Football Assn. is renamed the National Football League.
1958: Dodgers catcher Roy Campanella is paralyzed in a car accident.
1960: The NFL announces new franchises have been awarded to Dallas and Minnesota.
1968: Goose Goslin and Kiki Cuyler are elected to the baseball Hall of Fame.
1973: Mickey Welch, George Kelly, and Billy Evans are elected to the Baseball Hall of Fame.
1974: Sam Thompson, Jim Bottomley, and Jocko Conlan are elected to Baseball Hall of Fame.
1990: The San Francisco 49ers defeat the Denver Broncos, 55-10, in Super Bowl XXIV.
1996: The Dallas Cowboys defeat the Pittsburgh Steelers, 27-17, to win Super Bowl XXX.
2001: The Baltimore Ravens defeat the New York Giants, 34-7, to win Super Bowl XXXV.
Notable births on this date
1957: Golfer Nick Price.
And finally
That concludes the newsletter for today. If you have any feedback, ideas for improvement or things you'd like to see, please email me here. If you want to subscribe, click here.
---
Get our high school sports newsletter
Prep Rally is devoted to the SoCal high school sports experience, bringing you scores, stories and a behind-the-scenes look at what makes prep sports so popular.
You may occasionally receive promotional content from the Los Angeles Times.