The Sports Report: Magic speaks, but are the Lakers listening?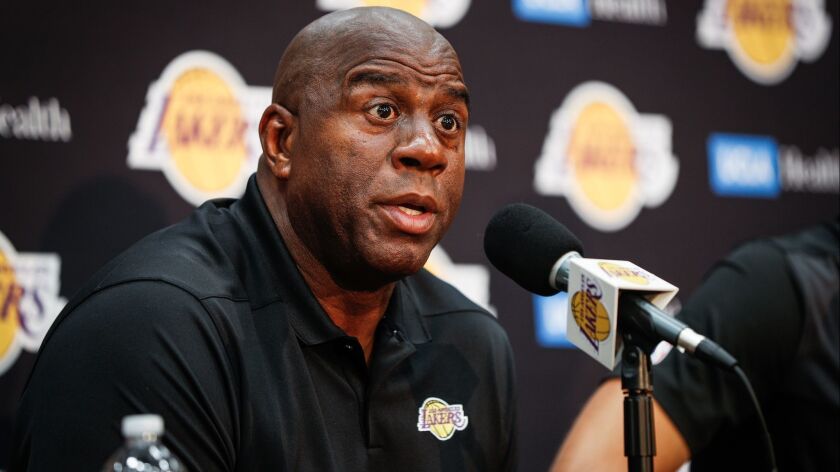 Howdy everyone, and welcome to the Monday edition of the Los Angeles Times daily sports newsletter. My name is Houston Mitchell and I'm your host for the festivities. Subscribe to this newsletter by clicking here.
Let's get to it.
Lakers
Magic Johnson spoke Sunday about the failed Anthony Davis trade talks and those who say that it could hurt the cohesiveness of the team since almost every player found out they were going to be traded for Davis.
"Quit making this about thinking these guys are babies, because that's what you're treating them like," Johnson said. "They're professionals. All of them. This is how this league works. They know it, I know it. That's how it goes. So we gotta move forward, and we are moving forward. They played outstanding against Boston, give them credit. We need to play well and move on."
It was the first time many of them had any interaction with the front office since trade rumors first emerged.
But not everyone is on board with Magic's "everything is rainbows and sunshine" outlook.
Asked what having Johnson there does for the team, Rajon Rondo said, "nothing."
Rondo was then asked if he found the meeting productive.
"I don't know," he said. "Everyone's different. Everyone receives information different. It didn't translate to a win."
That was after the Lakers lost to the Philadelphia 76ers, 143-120.
The rest of the season may seem very long for this team.
Lindsey Vonn
Sunday was the last pro ski race for Lindsey Vonn, and Helene Elliott wrote a tribute to her that you can read here. Here's an except:
She went all out to the very end, because that's the only way Lindsey Vonn knew how to ski. She was bruised and battered as she went to the start gate on Sunday for the final race of her career, sore all over and her right eye blackened by the impact of a crash she suffered during a super-giant slalom race earlier in the week at the World Championships. Her ligaments tore and her bones sometimes broke but her competitiveness was never dimmed, never dented, never compromised.
Vonn flew down the tricky World Championships downhill course at Are, Sweden, as if there were no tomorrow, and in terms of her career, there is not. The injuries she has suffered over the years finally overtook her at age 34, after a women's-record 82 World Cup wins, as well as 20 World Cup titles, four World Cup overall championships, three Olympic medals and more stitches and surgeries and rehabilitation stints than she cared to count. Her body simply would not take any more. It would not let her tuck or shift as she once could, but on Sunday it granted her the gift of one last and glorious performance that made her the oldest woman to earn a medal at the World Championships.
MLB
Spring training is right around the corner, but several top names are still free agents, including Bryce Harper and Manny Machado. What is going on? Andy McCullough takes a look here.
Ducks
The Ducks, who have won just two of their last 21 games (2-15-4), fired coach Randy Carlyle. GM Bob Murray will coach the team himself for the remainder of the season.
"We thank Randy for everything he has done for the organization," Murray said. "Leading the team to a Stanley Cup and three conference final appearances, he has accomplished so much in Anaheim.
"Difficult decisions need to be made when times are tough, and our play has clearly been unacceptable. We have a tradition of success in Anaheim and we need to get back to that."
Figure Skating
Madison Chock and Evan Bates won the ice dance competition at the Four Continents Championships. They topped the podium with 207.42 points, the highest score internationally by an American team under the new judging system.
Canadian ice dance teams Kaitlyn Weaver and Andrew Poje and Piper Gilles and Paul Poirier finished second with 203.93 and third with 202.45, respectively.
Best sports movies
As we continue our runup to the Oscars by having Times readers pick the best sports movie of all time, we move on to hockey. You have chosen the best football, basketball and baseball movies, so make sure your vote counts by clicking here or emailing me here. This time, we will have you pick your top three hockey movies of all time.
After receiving 18,494 ballots, these are the seven baseball movies that will advance to the final round of voting:
"Field of Dreams," named on 80% of ballots
"Bull Durham," 79.2%
"The Natural," 66.5%
"A League of Their Own," 65.4%
"Major League," 44.2%
"Moneyball," 37.3%
"The Pride of the Yankees," 36.1%
Just missed
"Eight Men Out," 35.8%
"The Sandlot," 35.5%
"The Bad News Bears" (1976), 33.7%
"42," 29.1%
"Bang the Drum Slowly," 22.8%
"Damn Yankees," 18.6%
"For Love of the Game," 14.3%
"The Rookie," 10.1%
Others receiving votes, in order of most votes
"61*," "The Jackie Robinson Story," "Trouble With the Curve," "Bad News Bears" (2005), "The Bingo Long Traveling All-Stars and Motor Kings," "Fear Strikes Out," "Fever Pitch," "Angels in the Outfield" (1994), "It Happens Every Spring," "Angels in the Outfield" (1951), "Rookie of the Year," "Cobb," "The Babe," "Sugar," "The Life and Times of Hank Greenberg," "The Pride of St. Louis," "The Bad News Bears in Breaking Training," "Mr. Baseball," "Mr. 3000," "Major League II," "Million Dollar Arm," "The Stratton Story," "The Benchwarmers," "Hardball," "Summer Catch."
Write-in votes: "Little Big League," "Mickey," "Rhubarb," "The Scout," "Soul of the Game," "Talent for the Game," "The Winning Team."
Up next is hockey. Vote for the three best hockey movies of all time by clicking here or by emailing me at houston.mitchell@latimes.com. The nominees for best hockey movie:
"D2: The Mighty Ducks" (1994), starring Emilio Estevez
"D3: The Mighty Ducks" (1996), starring Emilio Estevez
"Goon" (2011), starring Seann William Scott
"Idol of the Crowds" (1937), starring John Wayne
"The Last Gladiators" (2013), documentary
"Les Boys" (1997), starring Marc Messier
"The Love Guru" (2008), starring Mike Myers
"The Mighty Ducks" (1992), starring Emilio Estevez
"Miracle" (2004), starring Kurt Russell
"MVP: Most Valuable Primate" (2000), starring Russell Ferrier
"Mystery, Alaska" (1999), starring Russell Crowe
"Pond Hockey" (2008), documentary
"Red Army" (2015), documentary
"Slap Shot" (1977), starring Paul Newman
"Slap Shot 2" (2002), starring Stephen Baldwin
"Sudden Death" (1995), starring Jean-Claude Van Damme
"Tooth Fairy" (2010), starring Dwayne Johnson
"Youngblood" (1986), starring Rob Lowe
This date in sports history
1990: James "Buster" Douglas knocks out Mike Tyson to win the heavyweight boxing title.
Notable births on this date
1909: Boxing champion Max Baer
And finally
That concludes the newsletter for today. If you have any feedback, ideas for improvement or things you'd like to see, please email me here. If you want to subscribe, click here.
---
Get the latest on L.A.'s teams in the daily Sports Report newsletter.
You may occasionally receive promotional content from the Los Angeles Times.