The Sports Report: Landry Shamet sets record in Clippers' victory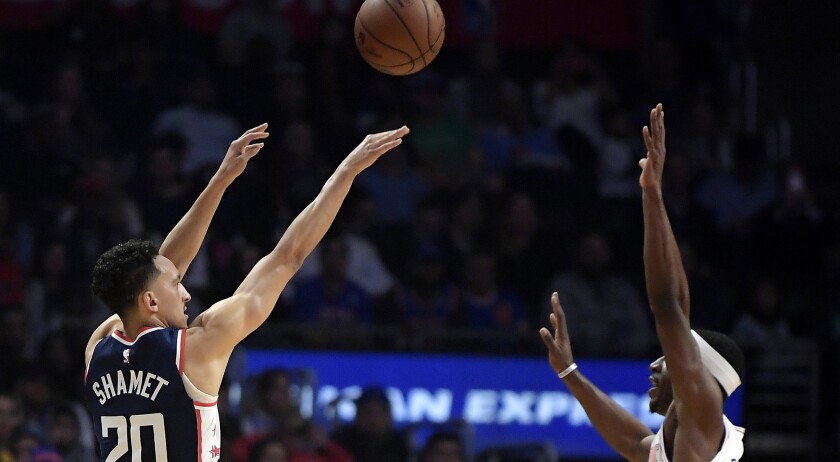 Howdy everyone, and welcome to the Monday edition of the Los Angeles Times daily sports newsletter. My name is Houston Mitchell and I'm your host for the festivities. Subscribe to this newsletter by clicking here.
Let's get to it.
Clippers
We've spent a lot of time discussing the Lakers, but not as much talking about the Clippers, who are quietly positioning themselves for a strong playoff run.
Landry Shamet set a franchise record for most three-pointers made by a rookie, hitting seven in the first half of L.A.'s 128-107 win over the New York Knicks on Sunday. It's also the most made three-pointers in a half by any NBA rookie dating to the 2002-03 season.
In fact, in the first quarter Shamet scored 18 points. The Knicks as a team scored 20.
"Guys put me in good situations. They tell me constantly to keep shooting the ball and that's what I did," Shamet said. "When you have nights like that, you don't really think. It just kind of happens. It was just free flowing and the ball was going in."
Shamet was acquired in the deal that sent Tobias Harris to the 76ers.
"He was fantastic," Clippers coach Doc Rivers said. "When he gets it going, what I like about our team is they see it and they try and give him the ball. I thought that was really neat."
Let's take a look at the Western Conference standings. Top eight make the playoffs.
1. Golden State, 44-19, ---
2. Denver, 42-20, 1.5 GB
3. Oklahoma City, 39-24, 5 GB
4. Portland, 39-24, 5 GB
5. Houston, 38-25, 6 GB
6. Utah, 36-26, 7.5 GB
7. Clippers, 36-29, 9 GB
8. San Antonio, 35-29, 9.5 GB
9. Sacramento, 31-31, 12.5 GB
10. Lakers, 30-33, 14 GB
11. Minnesota, 29-34, 15 GB
12. New Orleans, 29-36, 16 GB
13. Dallas, 27-35, 16.5 GB
14. Memphis, 25-40, 20 GB
15. Phoenix, 13-51, 31.5 GB
UCLA gymnastics
The UCLA gymastics team lost its first meet of the season, falling to Oklahoma, 197.775-197.575 before a record-setting crowd for the sport in Norman, Okla, with 10,177 in attendance.
The Bruins lost despite two perfect 10s from Kyla Ross.
The problem, according to coach Valerie Kondos Field, was the Bruins played it safe.
"We were just fighting to not give away deductions, instead of releasing ourselves to be brilliant. That's the difference between a 9.8, and a 9.95 or a 10."
LZ Granderson
LZ Granderson, on how Trayvon Martin provided the emotional core for today's activist-athletes:
"Before Colin Kaepernick took a knee; before the Golden State Warriors told the White House "nah, I'm good"; before the phrase "Black Lives Matter" crowbarred its way into the nation's consciousness, there was Trayvon Martin.
"His death in February 2012 not only denoted a change in the way President Barack Obama governed, but it was also the impetus for his creation of My Brother's Keeper, an organization that promotes mentoring as well as provides funding for organizations that work to help underprivileged minorities. MBK recently celebrated its fifth year with a symposium in Oakland at which President Obama was joined on stage by Warriors guard Stephen Curry for a town hall. It was a fascinating exchange between the two icons and one that reminded me of a seismic shift that occurred in the sports sector.
"Fair or not, Michael Jordan was long considered the architect of the apolitical black athlete — the more marketable the athlete, the less likely he or she would be to wade into controversial waters, regardless of the cause in need of a life preserver. That approach continued long after Jordan's final game, and although athletes such as LeBron James and Serena Williams didn't totally avoid social issues before Trayvon, they weren't exactly Muhammad Ali 2.0 either. They and others like them were willing to answer questions about black Americana but not very proactive in asking questions and, more importantly, using their platform to demand answers.
"But much in the same way the shocking murder of Emmett Till was the catalyst for the Montgomery bus boycott and the Civil Rights Act of 1957, Trayvon's death sparked an undeniable change."
Reader poll
We asked readers to vote in our poll to tell us if they were disappointed that the Dodgers did not sign Bryce Harper. After receiving 25,324 votes, here are the results:
Yes, I am disappointed, 22.4%
No, I am not disappointed, 77.6%
Odds and Ends
Dodgers closer Kenley Jansen is sharp in spring training debut…. Josh Rosen is among UCLA athletes back hitting the books…. Ducks end five-game losing streak with 2-1 victory over Colorado…. Angels' Andrew Heaney has inflammation in his elbow but isn't worried…. Jon Jones dominated Anthony Smith but still came frighteningly close to losing…. NFL mock draft: Look for Raiders to move up to No. 1 to select QB Kyler Murray.
Today's local major sports schedule (all times Pacific)
Clippers at Lakers, 7:30 p.m., Spectrum Sportsnet, Fox Sports Prime, ESPN LA 710, AM 570
Dodgers vs. San Francisco, noon, AM 570
Angels vs. Chicago White Sox, noon, FSW, KLAA 830
Born on this date
1888: College football player/coach Knute Rockne
1891: Former Dodger and baseball Hall of Famer Dazzy Vance
1897: Baseball player Lefty O'Doul
1961: Boxer Ray "Boom Boom" Mancini
1966: NBA player Kevin Johnson
And finally
That concludes the newsletter for today. If you have any feedback, ideas for improvement or things you'd like to see, please email me here. If you want to subscribe, click here.
---
Get the latest on L.A.'s teams in the daily Sports Report newsletter.
You may occasionally receive promotional content from the Los Angeles Times.