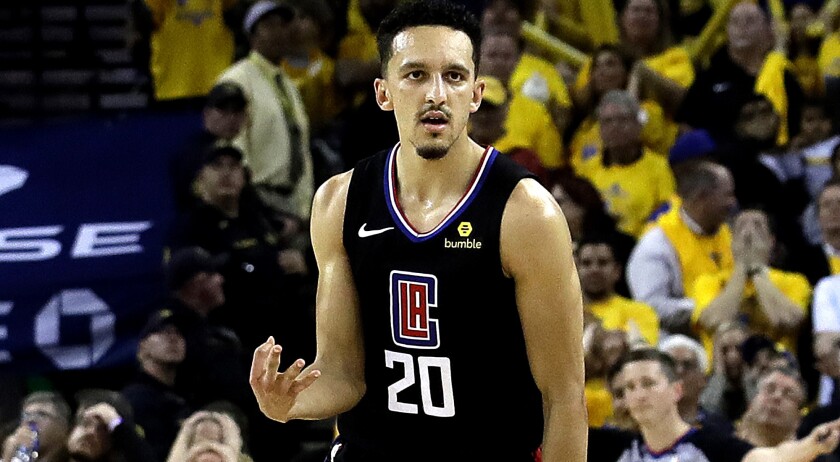 Hello one and all, my name is John Cherwa, and I'm guest-hosting this here newsletter for a couple of weeks while Houston Mitchell meets with Todd McLellan to make sure he knows how to tell his Kings players what this thing called a "power play" is all about.
Clippers
In the NBA, there is rarely the emotional carryover after a historic win, the kind the Clippers had on Monday. So, tonight is when we discover (maybe) if we've wasted your time making the Clippers the top story in the newsletter for three days or we are good-ol-fashioned bandstand jumpers soon to be disappointed.
Well, don't take my word on any of this — although I do give you my analysis of who has more pressure in the remaining games a little south of here — let's take it from the person who really knows his stuff, Andrew Greif, our top-shelf beat reporter. Here's an excerpt from his story.
"'What we did was historic, but the reality tells a whole different story," Clippers coach Doc Rivers said. "The reality is that we were down 31 and the reality is we're not going to win a lot of games against anybody doing that.
"The reality is they're shooting over 50% and there are a lot of realities in this series that don't bode well unless we do something about it. I'm fully aware of that. All the backslapping and all that is nice, but we need to get back to reality that we got to play better if we're going to win."
"By halftime the Clippers had committed more turnovers (nine) than they'd made three-pointers (six) or free throws (eight). A defensive wrinkle in Game 1, designed to make it harder for Kevin Durant and Stephen Curry to get open coming off screens, had been straightened. The top-seeded Warriors were shooting nearly 60% from the field and 46% from three-point range.
"Then the Clippers focused, the Warriors collapsed and the series was tied at 1-1. …
"Just as the Clippers spent the last two days attempting to refocus, so have the Warriors. After three championships in four seasons, and four consecutive appearances in the NBA Finals, the Warriors' longtime core of Curry, Draymond Green and Klay Thompson have played under far harsher spotlights than they will find inside Staples Center during Game 3 on Thursday."
What, me worry?
Before we leave this space of Clipperdom, let's examine where the pressure rests in the rest of the Clippers-Warriors series. In fact, it's this way for every seven-game series.
Game 3—The pressure is on the Clippers because they have grabbed back the home-court advantage and don't want to give it up after one game. The Warriors just have to win one of two road games to get the advantage back.
Game 4—If the Clippers win Game 3, the pressure is on the Warriors because they could go down 3-1 if they lose. If the Warriors win Game 3, the pressure is on the Clippers for the same reason.
Game 5—If the series is tied, the pressure is on the Clippers because they have to win two of three on the road. If the series is 3-1, the pressure is on the team getting ready to be knocked out.
Game 6—Whichever team is on the brink of elimination feels a tighter collar.
Game 7—All the pressure is on the Warriors because the Clippers never should have been able to take it to a final game.
Clippers playoff schedule
All times Pacific
Game 1: Warriors 121, Clippers 104
Game 2: Clippers 135, Warriors 131
Tonight: 7:30, at Clippers, TNT
Sunday, 12:30 p.m., at Clippers, ABC
Wednesday, April 24, 7:30 p.m. at Golden State, TBA
*Friday, April 26, at Clippers, TBA
*Sunday, April 28, at Golden State, TBA
* if necessary.
Wednesday's NBA playoff scores
Boston 99, Indiana 91 (Celtics lead series 2-0)
Milwaukee 120, Detroit 99 (Bucks lead series 2-0)
Houston 118, Utah 98 (Rockets lead series 2-0)
Today's schedule
(All times Pacific)
Golden State at Clippers, 7:30 p.m. TNT (Series tied, 1-1)
Philadelphia at Brooklyn, 5 p.m. TNT (Series tied, 1-1)
Denver at San Antonio, 6 p.m. NBATV (Series tied, 1-1)
USC football
In December, former USC All-American receiver John Jackson Jr., who is the Trojans' radio analyst, suffered a major stroke. While his son John Jackson III takes part in spring football with the Trojans, the senior Jackson is rebuilding his life step-by-step. Does this have the feel of one of those old made-for-TV movies, like "Brian's Song," except this one isn't embellished through a camera's lens.
J. Brady McCullough brings it to you in his own Technicolor way. Here's a short peek at the story, which you can read with just a single click.
"'This is serious. There's a chance I might not make it out," John III recalls his father saying in the stark cold of the surgery prep room. "I want you to know that no matter what happens I need you to take care of the family.'
"John Jr. apologized to John III for being in this situation. Taking care of the family actually meant taking care of himself first — getting started on his real estate major, meeting the right people in the famed Trojans network and establishing himself quickly in the USC football program as more than a legacy roster holder — all the while taking younger brother Jaden to his baseball games on the weekends and being there for his mother and sister, too.
"The message would change John III forever. No matter what happens. Those were the key words. Dad wasn't telling him to grow up only under the condition that he died. He was telling him he had to grow up — period. That he might have to do it without his personal life coach directing him was just an unfair obstacle.
"John Jr. had said what he needed to say. He was all prepped now. The Torrance Memorial staff wheeled him into the operating room, leaving John III alone."
Kings
NHL Hall of Famer Helene Elliott has seen her share of Kings coaches come and go. Well, this time, she's not putting it on new coach Terry McLellan, instead, it's someone else on the hot seat. Here's a look at what she means.
"When the Kings introduced Todd McLellan at a news conference on Wednesday, [Kings GM Rob] Blake called him the right guy to be their coach. And we should believe it this time because …
"'Personal experience, probably. And that's what I relied heavily on,' said Blake, who played for McLellan when the 51-year-old Saskatchewan native coached the San Jose Sharks. 'You can sit in an interview for a few hours and you can get probably the right answers to the questions you're asking. I went through about 160, 180 meetings probably, four rounds of playoffs, different situations, but I got to see how he reacted, first and foremost.
"'When I was looking at filling this position and understanding the task at hand I wanted to make sure that there was somebody that I knew pretty much every situation that was going to occur, I would understand how he would handle it.'
If Blake is wrong about his third coaching hire, he probably won't be around to make a fourth hire."
NHL playoffs
Wednesday's scores (read game stories here)
Boston 6, Toronto, 4 (Series tied, 2-2.)
Dallas 5, Nashville 1 (Series tied, 2-2.)
Colorado 3, Calgary 2 (Avalanche lead series 3-1)
Today's schedule
(All times Pacific)
Las Vegas at San Jose, 7 p.m. NBCSN (Golden Knights lead series, 3-1)
St. Louis at Winnipeg, 5:30 p.. USA (Series tied, 2-2)
Washington at Carolina, 4 p.m. NBCSN (Capitals lead series, 2-1)
Odds and ends
Dodgers tie home run record in sweep of the Reds. (Don't worry, not one of those records you care about.) … Matt Harvey's pitching deteriorates in Angels' loss to Rangers. … Game-by-game look at the Rams 2019 schedule. … Game-by-game look at the Chargers 2019 schedule. … This Lakers team was the worst squad LeBron James has led, according to the numbers. … Kyla Ross, UCLA's most dominant gymnast, continues to keep fans spellbound. … USC quarterback Matt Fink enters NCAA transfer portal. … L.A. 2028 Olympics officials hope new sponsorship strategy results in revenue boost.
Today's local major sports schedule
(All times Pacific)
Golden State at Clippers, 7:30 p.m., TNT
Dodgers at Milwaukee, 5 p.m., SportsNet LA, KTLA Ch. 5, AM 570
Seattle at Angels, 7 p.m., FSW, KLAA 830
Born on this date
1948: NBA player Nate "Tiny" Archibald
1969: NHL player Vladimir Tsyplakov
1973: Distance runner Haile Gebrselassie
Died on this date
1925: Brooklyn Dodgers owner Charles Ebbets, 65
And finally
That concludes the newsletter for today. If you have any feedback, ideas for improvement or things you'd like to see, please email us here. If you want to subscribe, click here.
---