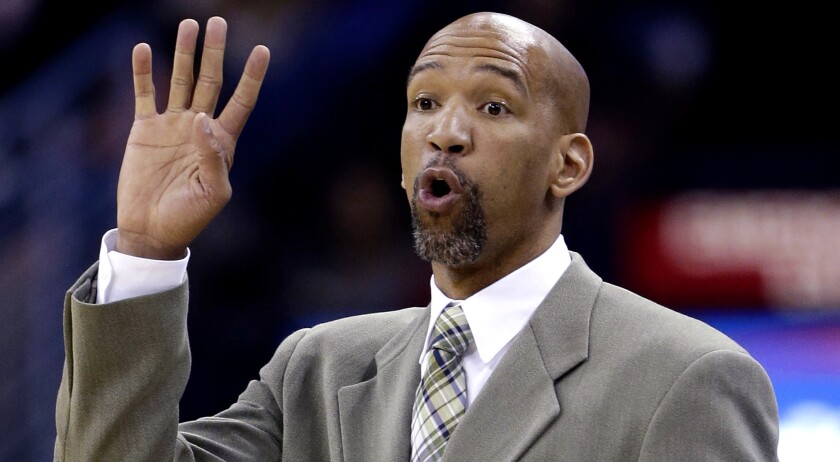 Hello, one and all, my name is John Cherwa, and I'm guest-hosting this here newsletter for a couple of weeks while Houston Mitchell is glad he didn't get a call for the Lakers' coaching vacancy.
Lakers
Whenever I can't make sense out of anything, I always turn to Bill Plaschke, who remains an enduring voice in L.A. sports. I know, mostly because of his position in the sports community, he draws his share of ire.
Heck, as the lead reporter on the Santa Anita horse death story, I've gotten some of the most vile email I've ever received, from both sides on the issue. So, I can imagine Bill's in-box.
So, if you, like I, can't figure out why the Lakers don't have a new coach, here's what Bill has to say, in short, or in its entirety.
"It should have been a sophisticated, exhaustive search for the basketball leader of the NBA's most celebrated franchise.
"It has, instead, been just another Lakers pie fight.
"It's messy, it's farcical, and the winner could be whoever has the foresight and gumption to turn the job down.
"So,you want to be the Lakers' next head coach? If you are buddies with LeBron James, or are connected to the Rambis family, or maybe played college basketball with Rob Pelinka, you've got a chance!
"Monty Williams, a Philadelphia 76ers assistant coach and former assistant on a James-led Team USA, is the leading candidate, but he has been warned by at least one advisor that the organization is a mess and he shouldn't go anywhere near the place. He also is being pursued by the circus that is the Phoenix Suns, who confidently and perhaps justifiably are selling themselves as a more stable option.
"Tyronn Lue, the unemployed former Cleveland Cavaliers coach, is the No. 2 candidate. He is a LeBron whisperer, which would be great, except the Lakers don't want to be seen continually kowtowing to James, although they have no problem being perceived as kowtowing to Linda Rambis. There is another problem with Lue's candidacy. He already has a coaching staff intact, which would leave no room on his bench for front office advisor Kurt Rambis, which might knock him off the list, seriously.
"Juwan Howard, a Miami Heat assistant, is the third candidate. He actually might be the most impressive of the three men, smart and savvy and engaging. He played collegiately at Michigan with Pelinka, and professionally in Miami with James and he's been on the same court as Rambis, so those family boxes are all checked. But this would be his first head coaching job of any sort, and wasn't that the issue with Luke Walton? Do the Lakers really want to throw another rookie at James? …
"Their only bold move in this search was to walk down the hall and try to steal Doc Rivers from the Clippers. Even after he announced he was signing an extension, they kept trying. But Rivers kept saying no, partially because a brighter future is in his locker room, and also because there was no way owner Steve Ballmer was getting outbid."
Thanks, Bill. Situation still muddy, but you can see the bottom.
Luke Walton troubles
We'll turn this segment over to our news-side buddy, Richard Winton, to bring us up to date on the Luke Walton sexual assault allegations.
"The TV sports reporter suing former Lakers coach Luke Walton for an alleged sexual assault said she waited five years to come forward with the allegations because she was 'scared' she might lose her job but can no longer remain silent after she struggled for years to bury the incident."
Her lawyer Garo Mardirossian revealed that in the aftermath of the alleged assault she told only a handful of people — relatives and friends — but never told employer Time Warner/Spectrum despite having to cover Lakers basketball with Walton as the team's coach.
"In an emotional news conference Tuesday afternoon, Kelli Tennant said she thought of Walton as a friend and mentor when he allegedly sexually assaulted her in a Santa Monica hotel room.
"'I thought he was going to rape me,' she told reporters as she described an alleged attack in the latter half of 2014. …
"Tennant said she went public because 'I am no longer comfortable about staying silent.'
"'No woman should ever be made to feel like a victim,' she said."
Clippers
The Clippers are down to, likely, their final game of the season tonight at Golden State. It's been an interesting run all season for the Clips. They started strong, only to fall to the back of the pack at the eighth spot. The thing to remember about the NBA is anything that happens before Christmas doesn't matter.
That's probably the second best bit of advice you could have heard this week. The best was by Joe Lockhart, who I got to know as the head communications guy at the NFL, but most everyone else remembers as Bill Clinton's press secretary during the Monica Lewinsky crisis.
He's now a pundit for CNN and gave this bit of advice after seeing a picture of President Trump delivering a speech at the annual Easter Egg Hunt, standing next to the Easter bunny.
To paraphrase, he said: "Any picture taken next to a giant bunny needs to be short one."
That's a long way of getting back to the Clippers game, which has that sense of finality about it. Let's get in and out of of this story as quickly as possible.
Here are some nuggets from Andrew Greif's story, which you can read here.
-- " 'It's funny, down 3-1 and you still can't wait to get to coach practice,' Doc Rivers said of working with his team. 'They're just an amazing group to be around, they really are.'"
-- Rivers doesn't want this season, which he has often called one of his most satisfying, to end. For all the reasons it was expected to go wrong — massive roster turnover, a team littered with free-agents-to-be concerned for their futures, playing in a deep Western Conference — the Clippers have instead upset expectations and opponents.
-- Rivers said: "I kind of know who we are and I think our team has felt their backs have been against the wall all year. I don't see this is as anything different. Now, I can't guarantee you that we're going to play great or not, but we'll be ready."
Clippers playoff schedule
All times Pacific
Game 1: Warriors 121, Clippers 104
Game 2: Clippers 135, Warriors 131
Game 3: Warriors 132, Clippers 105
Game 4: Warriors 113, Clippers 105
Tonight: at Golden State, 7:30 p.m. TNT
*Friday, April 26, at Clippers, TBA
*Sunday, April 28, at Golden State, TBA
* if necessary.
Tuesday's NBA playoff scores
Toronto 115, Orlando 96 (Raptors win series, 4-1)
Philadelphia 122, Brooklyn 100 (76ers win series, 4-1)
Denver 108, San Antonio 90 (Nuggets lead series, 3-2)
Portland 118, Oklahoma City 115 (Trail Blazers win series, 4-1)
Today's schedule
(All times Pacific)
Clippers at Golden State, 7:30 p.m. TNT (Warriors lead series, 3-1)
Utah at Houston, 5 p.m. TNT (Rockets lead series, 3-1)
NHL playoffs
Tuesday's scores (Read game stories here)
Boston 5, Toronto 1 (Bruins win series, 4-3)
San Jose 5, Las Vegas 4 (Sharks win series, 4-3)
Today's schedule
(All times Pacific)
Carolina at Washington, 4:30 p.m. NBCSN (Series tied, 3-3)
Odds and ends
Dodgers' Rich Hill strikes out 16 in six innings of rehab start. … Dodgers' unfamiliar lineup against left-hander Jose Quintana impotent in loss to Cubs. … Angels' woes continue in loss to depleted Yankees. … Judge orders Robert Kraft video not be released for now. … Chargers pick up fifth-year option on Joey Bosa's rookie contract. … Scouting is a year-round job for the Rams.
Today's local major sports schedule
(All times Pacific)
Clippers at Golden State, 7:30 p.m. TNT
Dodgers at Chicago Cubs, 5 p.m., Sportsnet LA, KTLA Ch. 5, AM 570
New York Yankees at Angels, 7 p.m., FSW, KLAA 830
Galaxy at Minnesota FC, 5 p.m., Spectrum Sportsnet
Born on this date
1954: NFL player Vince Ferragamo
1972: Baseball player Chipper Jones
And finally
That concludes the newsletter for today. If you have any feedback, ideas for improvement or things you'd like to see, please email us here. If you want to subscribe, click here.
---