NCAA tournament will be played without fans over coronavirus concerns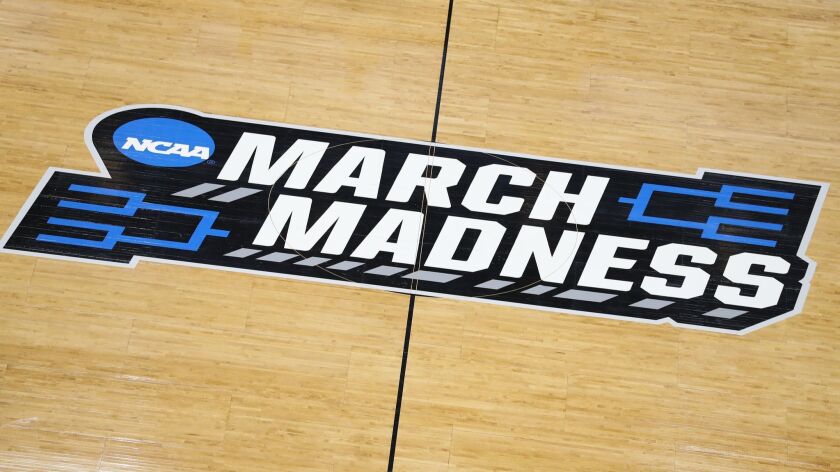 LAS VEGAS —
The band blared, cheerleaders danced and fans filled the arena with cheers.
It was a quintessential moment for college basketball, the embodiment of March Madness, as early-round play began Wednesday at the Pac-12 Conference men's tournament.
But it didn't last for long.
By day's end, officials announced that the NCAA tournament, the loudest and glitziest three weeks in college sports, will be played in empty arenas across the country because of the coronavirus outbreak.
The move prompted Pac-12 leaders to ban spectators from the rest of the conference championship at T-Mobile Arena in Las Vegas. The other Power Five conferences followed suit.
"While I understand how disappointing this is for all fans of our sports, my decision is based on the current understanding of how COVID-19 is progressing in the United States," NCAA President Mark Emmert said in a statement. He added "this decision is in the best interest of public health."
USC coach Andy Enfield knows the importance of fans' roles in events such as the NCAA tournament, which will be absent this year due to NCAA precaution on the coronavirus.
Combined with the NBA's abrupt suspension of its regular-season schedule until further notice, Wednesday's developments seemed to tug the American sports scene more closely in line with the rest of the world, which for weeks has been taking drastic measures to limit the spread of the virus.
"When you look at what's going on, I think people should be prepared," said George Belch, a professor at San Diego State's sports MBA program. "All of a sudden, we will be accustomed to a new normal."
The global pandemic has infected more than 115,000 people and killed more than 4,200 worldwide since it was first detected in China late last year. An ever-widening range of international competitions — including soccer matches, Olympic qualifiers and Formula 1 races — have been postponed, relocated or canceled.
Daniele Rugani of the Juventus soccer team in Italy, which also has star Cristiano Ronaldo on its roster, has tested positive, leading to speculation that the Serie A league might halt play.
The international figure skating federation has pulled the plug on its world championships, scheduled for later this month in Montreal. American skater Vincent Zhou lamented on social media: "Half of me is shocked and disappointed that my hard work and training in the past few weeks ends this way, but the other half completely understands and respects the decision for the greater good."
Closer to home, Major League Soccer postponed games scheduled for next week in Seattle and San Jose, suspended player appearances and mandated that teams travel by charter rather than commercial flights. The decision reminded LAFC coach Bob Bradley of when he previously coached the Egyptian national team.
That squad played World Cup qualifiers behind closed doors because of political violence in the country. Bradley said: "A game without fans, I know from experience, has no soul."
The Los Angeles Unified School District, in a memo sent to its schools, directed principals and athletic directors to close games to all spectators. That left Shane Cox, athletic director at Fairfax High, tussling with how to inform parents they could not come to watch their children play.
"We're going to politely ask parents to stay home," he said. "We're going to try to do our best to comply. Everyone is trying to respond and protect kids as much as they can."
Barbara Ferrer, Los Angeles County Public Health Director, said, "We will get to a point, unfortunately, in L.A., where we will be asking for events to close, but we're not there yet."
Even before Emmert's announcement, college basketball seemed to fear what lay in store.
UC Irvine is the top seed heading into the Big West tournament and will meet Long Beach State in the quarterfinals, but the environment will have a different feel.
Campuses across the nation, including many in California, have limited classes in favor of students continuing their studies online. At USC, which took such action this week, senior guard Jonah Mathews reacted strongly to the prospect of a spectator ban.
"It's basically like practice," he said before the restrictions were issued. "It's going to be silent … I think the best part of March Madness is the fans; without the fans, it's going to be just a regular game."
The move in that direction began early Wednesday when Ohio Gov. Mike DeWine, whose state is slated to host tournament games, issued an order restricting attendance. The subsequent NCAA decision allows only essential staff and limited family into arenas, without specifying exactly whom that entails.
"We recognize the opportunity to compete in an NCAA national championship is an experience of a lifetime for the students and their families," Emmert said.
Given the prospect of playing in large venues filled with echoes instead of cheering, there has been talk of shifting later rounds to smaller buildings.
That could affect Staples Center, which is scheduled to host a West Regional from March 26-28. Emmert said on social media that the NCAA is looking into moving the men's Final Four out of the 71,000-seat Mercedes-Benz Stadium in Atlanta.
Some players could be affected by an unusually quiet setting, no fans chanting, no school bands performing the fight song during timeouts.
"There's some incentive and adrenaline when you get positive feedback," said Christian End, an associate professor of psychology at Xavier University, adding: "There are other athletes who will say 'I don't give a crap' about that."
USC senior forward Nick Rakocevic is among those who do care.
"March Madness, the whole point about that is to have people there because it's just madness, it's just crazy, a lot of people go," Rakocevic said. "So now it's kind of like they take the fun out of that."
The situation could be worse. The NBA decision was prompted by a player testing positive for the coronavirus; college officials might have to take more serious action if their athletes face a similar threat.
Emmert seemed to leave room for that, saying that although NCAA championships will proceed as scheduled, officials "will continue to monitor and make adjustments as needed."
At the Pac-12 tournament, conference Commissioner Larry Scott walked past UCLA athletic director Dan Guerrero and patted him on the shoulder, saying only: "Uncharted territory."
Times staff writers Ryan Kartje, Eric Sondheimer, Kevin Baxter, Nathan Fenno and Dylan Hernández contributed to this report.
---
Get our high school sports newsletter
Prep Rally is devoted to the SoCal high school sports experience, bringing you scores, stories and a behind-the-scenes look at what makes prep sports so popular.
You may occasionally receive promotional content from the Los Angeles Times.