Tom Seaver, heart and mighty arm of Miracle Mets, dies at 75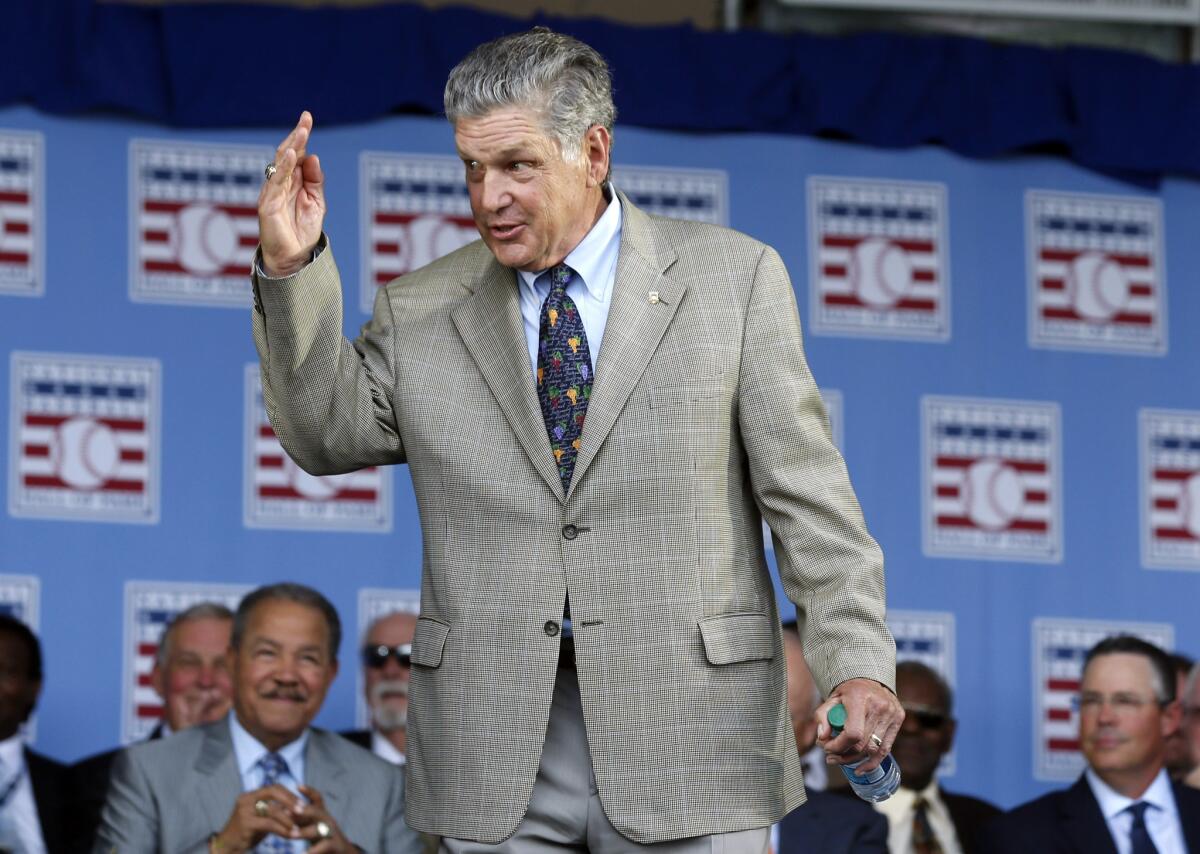 Tom Seaver, the Hall of Fame pitcher who helped transform the expansion New York Mets from lovable losers to World Series champions in 1969, died Monday from complications of Lewy body dementia and COVID-19, the Hall of Fame announced. He was 75.
Seaver, nicknamed "Tom Terrific," and "Mr. Met," was a three-time National League Cy Young Award winner and 12-time All-Star who won 311 games, compiled a 2.86 ERA and threw 61 shutouts during a 20-year major league career that spanned from 1967 to 1986.
A 6-foot-1, 200-pound right-hander, Seaver used his distinctive drop-and-drive delivery and tree-trunk legs to generate the power and swing-and-miss stuff to strike out 3,640 batters, which ranks sixth on baseball's all-time list. He made a record 16 opening-day starts, including 12 straight from 1968 to '79.
Seaver and Walter Johnson are the only pitchers to record 300 wins, 3,000 strikeouts and a career ERA below 3.00. When he was elected to the Hall of Fame in 1992, Seaver was named on 98.8% of the ballots cast by members of the Baseball Writers Assn. of America, the highest voting percentage ever received at the time.
"I am deeply saddened by the death of Tom Seaver, one of the greatest pitchers of all-time," baseball Commissioner Rob Manfred said in a statement. "Tom was a gentleman who represented the best of our national pastime.
Angels accused of failing to make $400 weekly payments to minor leaguers through the scheduled end of their season, Sept. 7.
"He was synonymous with the New York Mets and their unforgettable 1969 season. After their improbable World Series championship, Tom became a household name to baseball fans — a responsibility he carried out with distinction throughout his life."
Born George Thomas Seaver on Nov. 17, 1944, Seaver grew up in farm country in Fresno, where his father was in the raisin business. He attended Fresno High School, where he was an All-City basketball player and a pitcher who was good enough to be recruited by USC.
Seaver went 10-2 as a sophomore at USC in 1965 and was drafted in the 10th round by the Dodgers, who chose not to meet Seaver's asking price of $70,000.
In a report filed to the Dodgers in March 1965, then-scout Tommy Lasorda, the team's future manager, wrote that Seaver "showed a real good fastball with good life and a slider type of curve," adding that Seaver "has plenty of desire to pitch and wants to beat you."
Seaver was obtained by the Mets in a special draft lottery in 1966 and was in the big leagues the following year, going 16-13 with a 2.76 ERA and 170 strikeouts and winning NL rookie-of-the-year honors.
He went 16-12 with a 2.20 ERA and 205 strikeouts in 1968, but the Mets, who began play in 1962, finished ninth among 10 NL teams, the seventh straight season they finished last or second to last.
Few expected the Mets to contend in 1969, the first year of divisional play, but Jerry Grote, a standout defensive catcher on the team, had an inkling they would.
"He told Seaver in spring training that we can win this thing," Rod Gaspar, a reserve outfielder on the 1969 Mets and a longtime Mission Viejo resident, told The Times last summer. "He had tremendous confidence in our pitching staff."
That faith was warranted. Seaver, the 24-year-old ace of a staff that included Jerry Koosman and Gary Gentry, went 25-7 with a 2.21 ERA and 208 strikeouts. He threw 18 complete games, five of them shutouts. He came within two outs of a perfect game against the Chicago Cubs on July 9 and won his first Cy Young Award.
"He turned us from a laughingstock to a competitive team," Ed Kranepool, who played first base for the 1969 Mets, told reporters Thursday. "He was that one player who, every time he took the mound, you knew we'd be a competitive team."
The Mets, 10 games back on Aug. 13, went 38-11 over their final 49 games to finish 100-62 and win the NL East, accruing the monikers "Miracle Mets" and "The Amazins' " along the way. They swept Atlanta in the NL Championship Series and upset the Baltimore Orioles in a five-game World Series, with Seaver throwing a complete game in a 2-1, 10-inning Game 4 win.
"Baseball lost the best pitcher of my era," Jim Palmer, the Hall-of-Fame right-hander who pitched for the Orioles from 1965 to '84, tweeted Wednesday.
Seaver, who wore No. 41, led the Mets rotation for 12 years. During a nine-inning game against the San Diego Padres on April 22, 1070, Seager struck out 19 batters, including the last 10 in a row, in a 2-1 Mets victory.
He was a New York City celebrity on par with Joe Namath, the quarterback who led the New York Jets to the Super Bowl title nine months before the Mets won their championship, and basketball star Walt Frazier, who led the New York Knicks to the 1970 NBA title.
Seaver was idolized by kids in the tri-state area, where aspiring pitchers from New Jersey to New York to Connecticut mimicked his motion, being sure to produce a dirt patch on the right knee of their uniform pants from grazing the mound, a Seaver hallmark.
"When you played behind Tom Seaver, you were playing behind greatness, and you saw it almost every time," Ron Swoboda, right fielder for the 1969 Mets, told reporters Thursday. "And you knew when he was out there, the ball was not going to be flying all over the park, you're not going to have to make a lot of great catches, even though I made the greatest catch of my career in Game 4 of the 1969 World Series when Seaver was pitching."
Deep into his first season as Angels manager, Joe Maddon fully grasps the long rebuilding road ahead for the franchise.
New York, in a rebuilding mode, traded Seaver to Cincinnati on June 15, 1977, a deal that brought many Mets fans to tears. Seaver spent parts of six seasons with the Reds, three with the Chicago White Sox and one with the Boston Red Sox, throwing a no-hitter against the St. Louis Cardinals in 1978.
"My idea of managing," former Reds manager Sparky Anderson once said, "is giving the ball to Tom Seaver and then sitting down and watching him work."
Seaver spent some of baseball's offseasons biking through France's wine country with his wife, Nancy, and he lived his last two decades on his vineyard in Napa Valley, selling wine under the GTS (George Thomas Seaver) label.
In March 2019, Seaver's family announced that he had been diagnosed with dementia and chose "to completely retire from public life." Three months later, 15 players from the 1969 team were honored at Citi Field during a 50th anniversary celebration of the Mets' first title.
Seaver could not attend, but he was there in spirit and in name.
The Mets changed the address of Citi Field to 41 Seaver Way.
Staff writer Bill Shaikin contributed to this report.
Get our high school sports newsletter
Prep Rally is devoted to the SoCal high school sports experience, bringing you scores, stories and a behind-the-scenes look at what makes prep sports so popular.
You may occasionally receive promotional content from the Los Angeles Times.