Why did recruiters and coaches miss on Chiefs star Patrick Mahomes in high school?
Entering the 2012 season, the Whitehouse Wildcats needed to find a new starting quarterback.
Three-year starter Hunter Taylor had graduated after helping Whitehouse become one of the most prolific passing programs in East Texas, leaving a gaping hole that two unproven juniors were hoping to fill.
Ryan Cheatham had started for the junior varsity the prior year and fit the mold of past Wildcats quarterbacks — smart, accurate and well-built to withstand pressure in the pocket. The other guy, Patrick Mahomes II, had starred at safety his sophomore year and was known as the best all-around athlete in Whitehouse, wowing the town of about 8,000 in basketball and baseball too. But, when it came to quarterbacking, the young man did not fit any mold.
Complete coverage of the Kansas City Chiefs' win over the Philadelphia Eagles in Super Bowl LVII from Glendale, Ariz.
Cheatham and Mahomes had been sharing the quarterback role since the seventh grade, routinely alternating series as the Wildcats racked up wins. They had remained close friends throughout the journey, but they knew what was coming for them: the finality of a real competition with a winner and a loser.
"I felt like I had a leg up on him a little bit," Cheatham recalled last week. "Growing up with him, I knew how big of a competitor he was, how skilled he was. Going into it, I think we both had a lot of confidence."
Pat Mahomes, former MLB pitcher and father of Chiefs QB Patrick Mahomes, told his son to quit football, thinking his future was in baseball or basketball.
Ten years later, with Mahomes preparing to lead the Kansas City Chiefs in his third Super Bowl in four seasons, it is hard to imagine a world existed in which he was not the obvious choice to quarterback his small-town high school football team.
While today's top prep quarterbacks nationally are being offered seven-figure deals by collectives of boosters to align themselves with a particular university, the best quarterback of his generation — perhaps, eventually of any generation — did not have one scholarship offer as Mahomes and Cheatham battled in the late summer of 2012.
Partly, this was because of the old-school culture of Whitehouse football.
Adam Cook, Whitehouse's offensive coordinator, knew that sophomore year was when quarterbacks often "got their stars," as he would put it, and got their first attention from college coaches. But it wasn't Cook's job to get Mahomes recruited early — it was to do what was best for Whitehouse.
Entering 2011, Taylor had started for two years already, and he was still looking for his own scholarship offer, which eventually came from nearby Stephen F. Austin. Plus, Mahomes was so versatile and physically gifted he could help the team in the defensive backfield that season.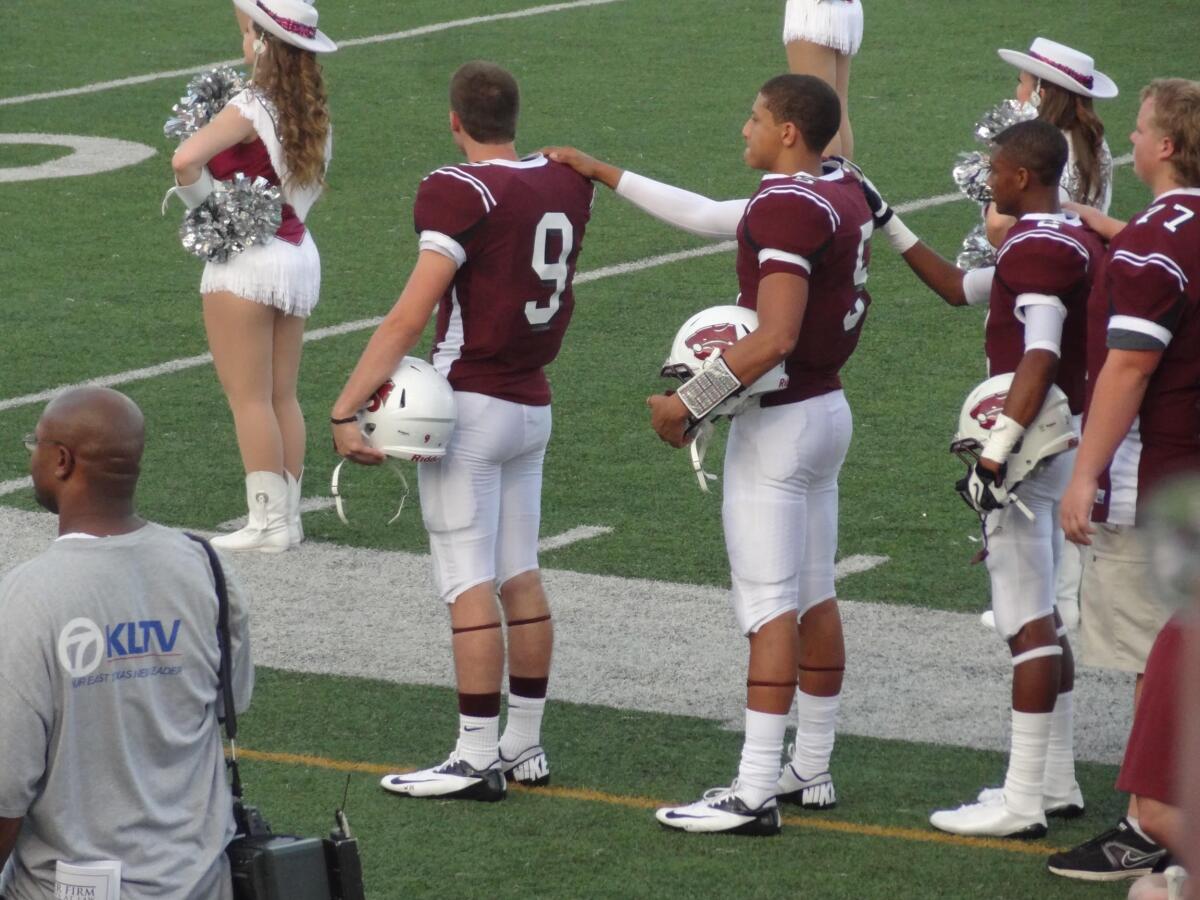 "He was so athletic he could do whatever he wanted to do, and that's beyond football," Taylor said. "He played basketball and baseball at a very high level. At that time, it wasn't really a matter of, 'I have to play quarterback.' He obviously wanted to play quarterback, but I think he maybe understood it wasn't quite the time to be the guy.
"It had absolutely nothing to do with talent. The talent levels were nowhere close to one another. I was fortunate enough to be two grades ahead and won a lot of games, put up a lot of numbers. I was the incumbent, and with Patrick being a sophomore, it was just easier."
The next year, there would be nothing easy for Mahomes. Cook watched him and Cheatham go at it for a whole month of practices and did not decide on a starter, having them continue to split snaps during easy wins over Hallsville and Chapel Hill.
"Coming into his junior year, it was so important for him to win the job in game competition," Cook said. "There's stuff you cannot simulate in any practices. He has to earn it on the field.
"There were a couple plays where he ran around 40 yards in the backfield and threw a long touchdown. I was kind of sitting on the sideline, thinking, 'I don't have that in my bag.'"
— Ryan Cheatham, who battled Patrick Mahomes for the starting QB job in high school
"Ryan was a very good quarterback. Could have played Division I. Patrick was playing the game a little bit different. So much of what he was doing was outside the structure. He wasn't a mechanical quarterback."
For the third game of the season against Sulphur Springs, Cook planned to have Mahomes start the game, with Cheatham taking the first series of the second half. But at halftime, the game was tight, it was raining, and Mahomes had been in a groove moving the offense in the elements.
Cook pulled Cheatham aside and told him that Mahomes was going to stay in. Cheatham couldn't keep his emotions inside.
"They wanted to be the Whitehouse quarterback," Cook said. "That was a big thing at the time with all the yards we were throwing for. He said, 'Coach, it's just my pride, man,' because he wanted to win it."
"It was tough for me at the time," Cheatham said, "but ultimately I wanted what was best for the team."
And that was Mahomes, who led the Wildcats to a 38-33 win that night and spurred a ridiculous run of brilliance that now continues into Sunday's Super Bowl LVII against the Philadelphia Eagles in Glendale, Ariz.
"Our junior year was when he started showing some of that otherworldly athleticism," Cheatham said. "There were a couple plays where he ran around 40 yards in the backfield and threw a long touchdown. I was kind of sitting on the sideline, thinking, 'I don't have that in my bag.'
"It was a lot of … what's a good metaphor … like a wild horse. A lot of untamed talent. Once he got to Andy Reid, that's how history has been able to be made. Andy Reid has been able to tame a lot of that pure athleticism and puts it in a package that can just kill you from any way you look at it."
Until Mahomes won the job in the fall of 2012, the natural assumption across the state was that he would pursue baseball like his father, Patrick Mahomes Sr., a relief pitcher in the major leagues from 1992 to 2003.
That is definitely what former Texas A&M head coach Kevin Sumlin expected. Sumlin met the elder Mahomes when he pitched for the Minnesota Twins at the same time Sumlin was an assistant coach at the University of Minnesota, so he knew the family hardball pedigree well. This didn't stop the Aggies from inviting the younger Mahomes for an unofficial visit in October 2012.
As Chiefs quarterback Patrick Mahomes readies to play in the 2023 Super Bowl with an injured ankle, Rams legend Jack Youngblood recalls playing with a broken tibia.
When asked last week how Mahomes wasn't more highly recruited even within his own state, Sumlin let out a hearty laugh.
"He actually was!" Sumlin said.
For Sumlin, looking back, it was simple math. That year, Johnny Manziel was on his way to winning the Heisman Trophy, so Texas A&M had no shortage of options. In the 2013 class, a year ahead of Mahomes, the Aggies got commitments from Kohl Stewart, also a top baseball prospect, and Kenny Hill. In the 2014 class, five-star Kyle Allen was the priority.
"You can't sign all of them," said Sumlin, now the head coach of the USFL's Houston Gamblers. "He was a little bit different from those other guys, and Whitehouse is a lot different than some of these other places. They had so many quarterbacks there at Southlake Carroll, like Kenny. Those guys had all been through the camps and all that other stuff. Kyle Allen was national. Kohl Stewart was in Houston, just a big, strong guy. Patrick was the slightest built out of them all."
"It's funny about the stars. What's his Madden rating now?"
— Whitehouse offensive coordinator Adam Cook on Patrick Mahomes' three-star rating out of high school
Even after Mahomes had won the starting quarterback job, former Texas head coach Mack Brown and his staff were evaluating Mahomes as a potential safety.
That fall, Sonny Cumbie, then the Texas Tech wide receivers coach, went to a Whitehouse game to scout receiver Dylan Cantrell. He would eventually sign Cantrell but left thinking about his quarterback.
"You saw him elevate his team," said Cumbie, now the head coach at Louisiana Tech. "That's the mark of a great quarterback. You watch him, and he had a longer release, and footwork wise, there was some stuff that could be tighter, but whatever. At the end of the day, the guy was accurate, made plays and won football games. We started recruiting him heavy."
In 2012, Kliff Kingsbury coached Manziel to the Heisman as A&M's offensive coordinator. After that season, he would return to Texas Tech, his alma mater, as head coach, already aware of what Mahomes had shown that fall at Whitehouse.
"Kliff knew what the deal was," Sumlin said.
In January 2013, Texas Tech gave Mahomes his first offer. Rice would follow days later.
Chiefs receiver JuJu Smith-Schuster began his career at Long Beach Poly and USC, and says he's representing L.A. in the 2023 Super Bowl against the Eagles.
"I don't remember having to beat anybody," said former Texas Tech wide receivers coach Eric Morris, now the head coach at North Texas.
In February 2013, Mahomes attended junior day showcases at Baylor, Texas Tech and Louisiana State. On April 16, Oklahoma State came in with an offer, but it was too late.
The next weekend, Mahomes unofficially visited Texas Tech with his family and gave Kingsbury his commitment.
He would continue putting up big numbers his senior season, but his recruiting status topped out with three stars — the No. 22 quarterback in the class and No. 50 player in Texas, according to the 247 Sports Composite rankings.
"At a combine, the things he does aren't highlighted," Cook said. "He doesn't have that top-end speed, but he's deceptively fast, just slimy somehow. He can grip it and rip it, throwing it without the laces, but they didn't do that at the combine.
"All those things that kept him from getting all those stars, those things helped make him who he is. You don't want to just give him something. He had to earn it. So many guys who are five-star recruits, they don't make it because they're entitled.
Long before advancing to the Super Bowl in Arizona to play the Kansas City Chiefs, the Philadelphia Eagles were close to calling Phoenix their new home.
"It's funny about the stars. What's his Madden rating now?"
It seems like every year now that Whitehouse gets wrapped back up in the Mahomes revelry. Late last week, NBC's "Today" was in town interviewing Cook and some former Wildcats teammates.
Cheatham, who went on to play college baseball, is a mechanical engineer, living in Fort Worth. Last week, while Mahomes was eyeing his second Super Bowl ring, Cheatham was dealing with a spell of winter weather and the fallout from frozen power lines.
He and Mahomes are still tight, communicating often, sometimes as part of a 10-person group chat made up of old Whitehouse buddies. They stood in each other's weddings, and Cheatham will be at the Super Bowl, cheering on his former friendly rival.
"I still wonder if this is real life or not," Cheatham said. "When he was taken as the 10th pick, we were over the moon already about that, not even considering he would be starting his third Super Bowl. I don't think anybody can really prepare themselves for that."
Cheatham believes that all those years spent trying to stay on pace with Mahomes influenced who he is today. And, hey, he'd like to think that feeling is mutual for Mahomes, who on Thursday won his second NFL most valuable player award.
"The competition that we brought to one another, I think you can see that with him throughout his career," Cheatham said. "He went to Tech and had a similar position where he had to fight for a job. He got to the Chiefs and had to step in for Alex Smith and be the guy. He's had to fight his way to get there, and that speaks volumes."
Get our high school sports newsletter
Prep Rally is devoted to the SoCal high school sports experience, bringing you scores, stories and a behind-the-scenes look at what makes prep sports so popular.
You may occasionally receive promotional content from the Los Angeles Times.