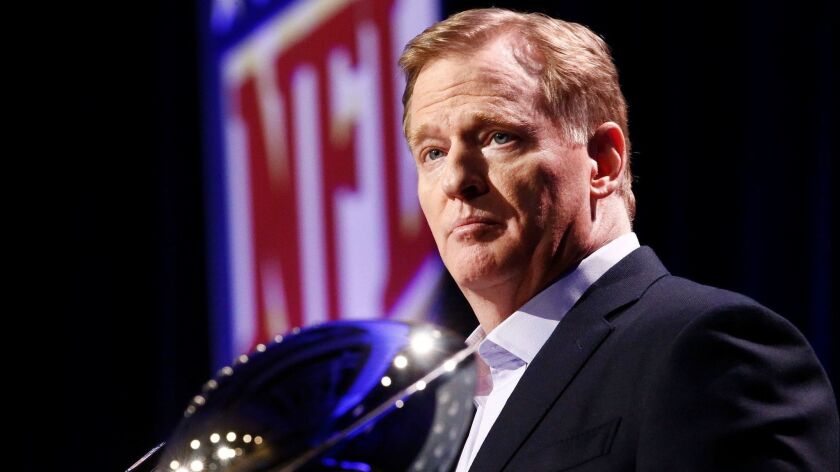 The echo of the non-call in New Orleans continues to reverberate through football.
In his annual state of the league address Wednesday, NFL commissioner Roger Goodell discussed the missed pass-interference call that loomed large in the Rams' victory over the New Orleans Saints in the NFC championship game.
Goodell said decision-makers in the league, among them coaches, historically have been averse to rule changes that would allow penalties — or uncalled penalties — to be the subject of on-field challenges.
"Are there solutions for this?" he said. "That's what the [competition] committee needs to focus on: What are the solutions and the unintended consequences?"
But Goodell said he would be comfortable with no such rule changes being made. He also said adding an eighth official to crews wouldn't necessarily solve the problem.
"We understand the frustration of the fans," he said. "I've talked to [Saints coach Sean] Payton, the team, the players. We understand the frustration they feel right now, and we certainly want to address that. Whenever officiating is part of any kind of discussion postgame, it's never a good outcome for us. We know that, our clubs know that, our officials know that.
Podcast: Sam Farmer won't have to sneak into this Super Bowl »
"But we also know our officials are human, we know they're officiating a game that moves very quickly and have to make snap decisions under difficult circumstances, and they're not going to get it right every time."
Goodell declined to provide details of the conversation he and Payton had after the game.
"I was very open, just as I was here," Goodell said. "It's a play that should be called. We're going to make sure we do everything possible to address the issues going forward and see if there are improvements we can make through instant replay or anything else. I understand the emotions.
"It's important as commissioner and all of our staff to hear that emotion, whether it's frustration, disappointment or anger. But I understand the stakes, the importance of it to New Orleans, to this franchise, to the NFL. I'm committed to doing everything possible to think outside the box and come up with a solution."
In regard to the non-call, Goodell said: "It's a play that should have been called."
Many people have pointed out there were multiple apparent penalties that could have been pivotal — including Rams quarterback Jared Goff's facemask being grabbed — that went uncalled.
Super Bowl week kicked off with Opening Night featuring the Los Angeles Rams, the New England Patriots and a few thousand media members and fans inside State Farm Arena in Atlanta.
Homeless for the moment: The clock is ticking for the Raiders, who in the wake of a lawsuit by the city of Oakland, have not announced where they will play this year, their final season before moving to Las Vegas in 2020.
Raiders owner Mark Davis has said he doesn't want to play in a city that's suing him over the move.
The club is believed to be weighing various options, among them playing at Cal, Stanford or Oracle Park, home of the San Francisco Giants.
Goodell was asked specifically about the possibility of the Raiders playing next season in San Diego. While he didn't completely rule out that possibility, he said the desire of Davis is to stay in the Bay Area next season.
---