Today's Headlines: U.S. says China's military is likely behind a vast aerial spy program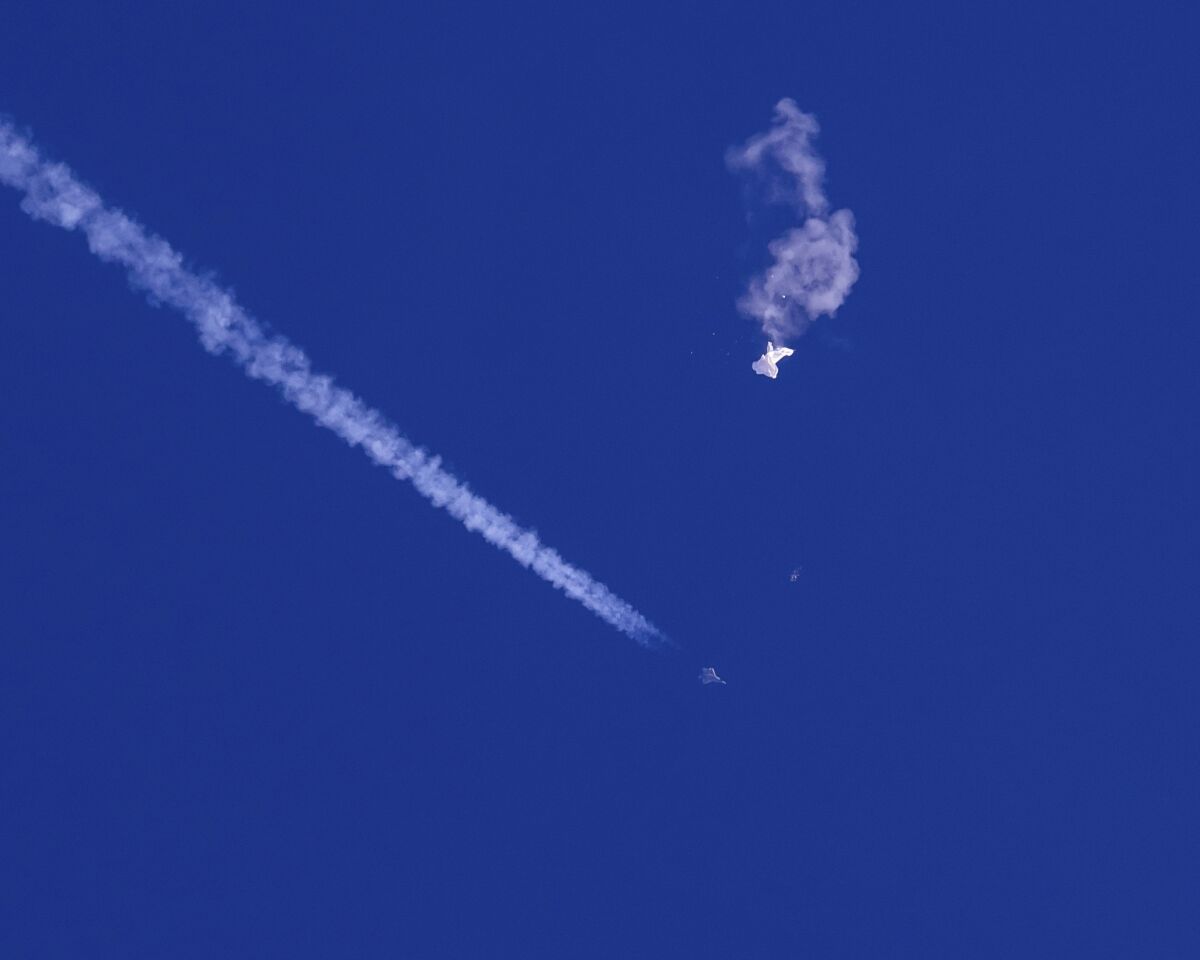 Hello, it's Friday, Feb. 10, and here are the stories you shouldn't miss today:
TOP STORIES
U.S. says the Chinese military is behind a vast aerial spy program. The Chinese balloon that traveled thousands of miles across the United States before being shot down over the Atlantic Ocean was part of a vast military espionage program that Beijing launched over more than 40 countries in five continents, the Biden administration said Thursday in releasing the most detailed description yet of the intelligence-gathering project.
The U.S. assertions come as Navy divers, FBI agents and salvage crews comb the debris field and recover pieces from where the balloon went down off of South Carolina.
Must-read stories from the L.A. Times
Get the day's top news with our Today's Headlines newsletter, sent every weekday morning.
You may occasionally receive promotional content from the Los Angeles Times.
Former Vice President Mike Pence subpoenaed. Former Vice President Mike Pence has been subpoenaed by the special counsel overseeing investigations into efforts by former President Trump and his allies to overturn the results of the 2020 election, according to a person with direct knowledge of the event.
The subpoena to Pence as part of the investigation by special counsel Jack Smith was served in recent days, according to the person, who spoke to the Associated Press on condition of anonymity to discuss a sensitive issue.
More politics

Sign up for our California Politics newsletter to get the best of The Times' state politics reporting and the latest action in Sacramento.
California buildings share a deadly flaw with those in Turkey quake. As seismic engineers study the earthquakes in Turkey and Syria that killed more than 20,000 people this week, it's becoming clear that a significant cause of the destruction involved a building design common in California and other parts of the U.S.
The flaws of non-ductile concrete construction are found across the Golden State, with many buildings having not been evaluated or retrofitted and at risk of collapse in a serious earthquake.
Not everyone is happy about Californians pouring into Nevada. In the last three years, the pandemic has pushed a wave of Californians into northern Nevada.
Their migration has prompted more development — new luxury apartment complexes clustered around shopping districts with faux trees that light up at night, high-end fitness centers and easy access to In-N-Out Double-Doubles and limp fries.
But Californians have found their state's troubles here too. Streets in northern Nevada are becoming congested; city services, strained. Locals are getting priced out of houses and apartments by Californians who can pay higher rents or drop larger down payments.
For some Latinos, spiritual cleansing fills a mental health void. Sesma, 65, is a Mexican and Yaqui curandera, or traditional healer. Clients come to her home office, in Alpine or Colorado, for a range of needs, including PTSD, nervios (panic attacks), susto (trauma), depression and spiritual counseling.
Sesma is part of a world of traditional healers who are generally not considered by Western medicine to be a part of the mental health system, but for their clients, especially among a subset of Latinos, Chicanos and Indigenous peoples from Latin America, these spiritual healers offer a type of support they may trust more than therapists.
Our daily news podcast
If you're a fan of this newsletter, you'll love our daily podcast "The Times," hosted every weekday by columnist Gustavo Arellano, along with reporters from across our newsroom. Go beyond the headlines. Download and listen on our App, subscribe on Apple Podcasts and follow on Spotify.
PHOTO OF THE DAY
CALIFORNIA
The Girardis, the Secret Service and wire fraud claims that nearly ruined a Hollywood designer. Chris Psaila, co-owner of Marco Marco design firm, said false accusations by Erika Girardi nearly sent him to prison.
Before a driver allegedly killed an O.C. bicyclist, his mental state was unraveling, family says. Vanroy Evan Smith was diagnosed with bipolar and schizoaffective disorders and placed on a psychiatric hold, a family member said.
Bugsy Siegel was killed in this Beverly Hills mansion. For $17 million, it can be yours. The latest listing on Beverly Hills' Linden Drive looks innocuous enough. But the home holds a dark secret. Siegel's death at the mansion marked the end of a notorious gangster saga that saw him rise through the ranks of mob organizations on both coasts.
The IRS tells Californians to wait to file tax returns. That could cost you. According to IRS statistics, more than three-quarters of the taxpayers who filed returns in 2021 were owed refunds.
Support our journalism
Subscribe to the Los Angeles Times.
NATION-WORLD
More than 20,000 are confirmed killed in Turkey and Syria quake. The number of deaths surpassed the toll of a 2011 earthquake off Fukushima, Japan, that triggered a tsunami, killing more than 18,400 people.
Nicaragua frees 222 political prisoners and sends them to the U.S. Nicaragua's authoritarian government freed 222 political prisoners and sent them to the United States in a surprise move that appears aimed at easing stinging U.S. economic sanctions.
HOLLYWOOD AND THE ARTS
Burt Bacharach, songwriter who was a 'synonym for pop-music success,' dies at 94. A multiple Grammy and Oscar winner, Bacharach died of natural causes at home in Los Angeles with his family by his side, his publicist Tina Brausam confirmed to The Times on Thursday.
Dionne Warwick says the death of composer Burt Bacharach is 'like losing a family member.' Dionne Warwick paid tribute Thursday to late composer Burt Bacharach, the essential musician behind her signature hits "I Say a Little Prayer" and "Do You Know the Way to San Jose."
Stephen 'Twitch' Boss died without a will; wife Allison Holker files for half of the estate. After Stephen "Twitch" Boss died without a will, his wife and dance partner, Allison Holker, filed a petition in Los Angeles for half his estate.
Rihanna's upcoming Super Bowl performance is already so iconic it has a wax figure. On Tuesday, Madame Tussauds announced two new wax figures of the singer and business mogul ahead of Sunday's Superbowl game.
BUSINESS
The family of Halyna Hutchins sues Alec Baldwin and others for the 'Rust' shooting. In a lawsuit filed Thursday, Hutchins' parents and sister alleged battery, intentional infliction of emotional distress and negligence against Baldwin and other producers and members of the production.
Disney's Bob Iger says ESPN is not for sale. Now the pressure is on. The sports media unit remains profitable and part of Disney. But expect the company to keep a close eye on its financial performance.
SPORTS
Super Bowl LVII: How Kansas City Chiefs mascot KC Wolf nearly died on the job. Dan Meers has titanium rods in his back that stabilize his spine, the result of an on-the-job accident that nearly cost him his life. Yet he feels only a deep sense of gratitude as he prepares for his third Super Bowl as Chiefs mascot KC Wolf.
The Lakers traded Patrick Beverley to Magic for Mo Bamba, and acquire Davon Reed. The Lakers view Bamba as a quality backup big man they need in the wake of trading backup center Thomas Bryant to the Denver Nuggets for Davon Reed and three second-round draft picks.
Free online games
Get our free daily crossword puzzle, sudoku, word search and arcade games in our new game center at latimes.com/games.
OPINION
Opinion: Biden is ending COVID emergency declarations. But the healthcare worker crisis continues. Last week, the Biden administration announced that it will end the COVID-associated national and public health emergencies on May 11. And yet, the U.S. faces a projected shortage of between 37,800 and 124,000 physicians within the next 11 years.
Editorial: Not a 'power grab.' State lawmakers' can help keep L.A. on the path of meaningful reform. With the cloud of scandal still hanging over City Hall and overwhelming public support for an independent commission that would draw City Council and school board district boundaries without political interference, city leaders are under pressure to put good government policy over personal agendas.
YOUR WEEKEND
Head to these sports bars on Super Bowl Sunday for food and drink specials. Whether you're invested in the outcome of Sunday's Super Bowl or not, consider booking it to one of these sports bars launching limited menu items and discounts in celebration of game day, ranging from barbecue and wings to modern Indian and German cuisine.
The best restaurants for date night. There are infinite ways to define a romantic meal. This guide by the Times' Jenn Harris and Danielle Dorsey is a hodgepodge of date ideas that ranges from messy handheld meals to limited multicourse engagements. While a few of these dinners are specific to Valentine's Day, all of the options featured are worth visiting year-round.
WHAT OUR EDITORS ARE READING
Note: Some of the sites we link to may limit the number of stories you can access without subscribing.
The death of office culture leads to boom times for a used-chair salesman. Used furniture dealers are making a killing on Facebook Marketplace selling Herman Miller office chairs left behind by frantically downsizing corporations. "At this point, we need to get, like, another 10 warehouses," one seller said. Vice
Leo DiCaprio's dating history is part of our obsession with staying young forever. The 48-year-old generated outrage online when it was rumored he was dating a 19-year-old model, as part of his long-observed age-gap-filled relationship history. Alongside his work, DiCaprio's personal life has been the subject of constant scrutiny. NPR
Rihanna: Since she's been gone. On Sunday, one of pop's most reliable hitmakers returns for the Super Bowl halftime show. During her hiatus, her mystique has only grown. New York Times
FROM THE ARCHIVES
Shirley Temple Black died nine years ago. She was 85. Black was one of the most popular child movie stars of all time who lifted a filmgoing nation's spirits during the Depression and then grew up to be a diplomat.
From 1935 through 1938, the curly-haired moppet billed as Shirley Temple was the top box-office draw in the nation. She saved what became 20th Century Fox studios from bankruptcy and made more than 40 movies before she turned 12.
Politics consumed much of her adult life after she married businessman Charlie Black in 1950 and was known as Shirley Temple Black. An active Republican, she ran unsuccessfully for Congress in 1967. Two years later, she was appointed the U.S. delegate to the United Nations by President Nixon.
We appreciate that you took the time to read Today's Headlines! Comments or ideas? Feel free to drop us a note at headlines@latimes.com.

Must-read stories from the L.A. Times
Get the day's top news with our Today's Headlines newsletter, sent every weekday morning.
You may occasionally receive promotional content from the Los Angeles Times.