Today's Headlines: Snow on the Northern California coast; blizzard warnings in SoCal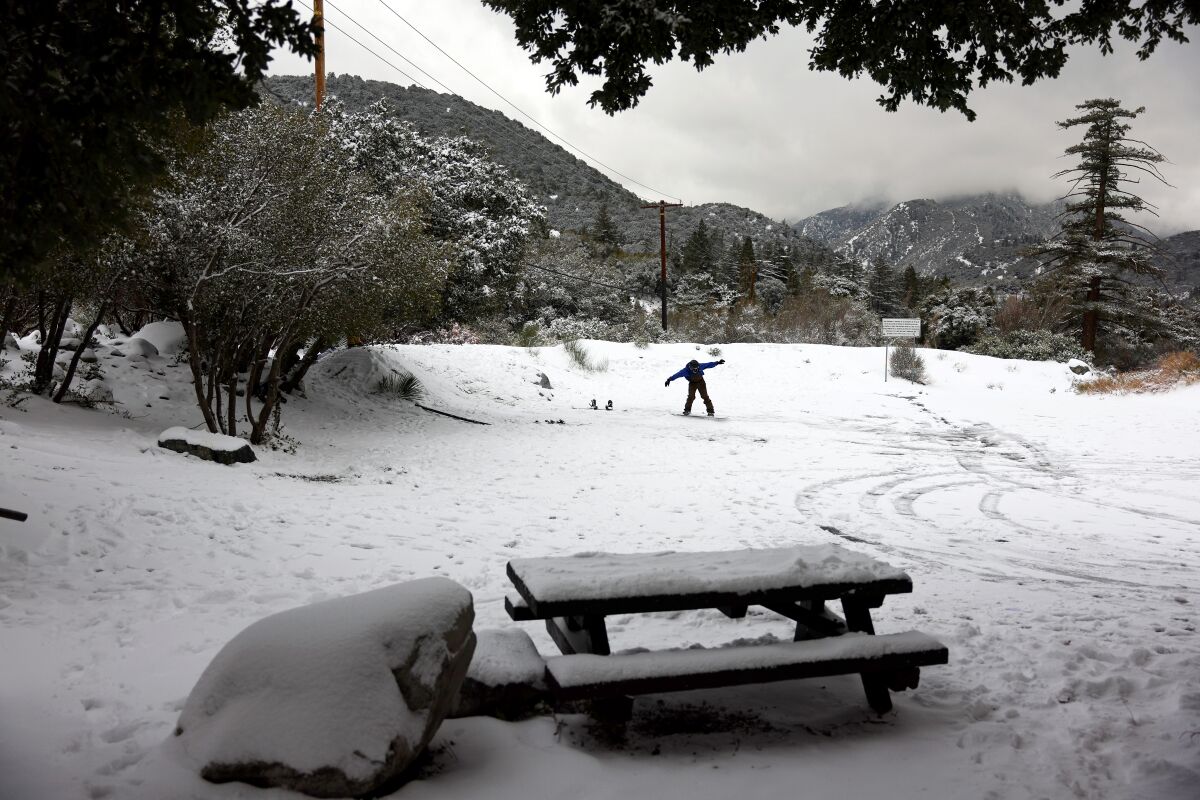 Hello, it's Friday, Feb. 24, and here are the stories you shouldn't miss today:
TOP STORIES
Snow on the Northern California coast; blizzard warnings in SoCal
Residents across Northern California started seeing significant snowfall Thursday from a formidable winter storm, which forecasters warned will only intensify as it moves south over the coming days.
In Southern California, early dustings of snow came to some lower-elevation communities and disrupted mountain roadways ahead of possible blizzard conditions.
Though the storm may be novel for Northern California, it has the potential to be downright historic in the southern part of the state, especially today and tomorrow.
More on the storms

Must-read stories from the L.A. Times
Get the day's top news with our Today's Headlines newsletter, sent every weekday morning.
You may occasionally receive promotional content from the Los Angeles Times.
COVID-19 deaths top 100,000 in California.
It was three years ago this month that California documented its first known victim of the COVID-19 pandemic.
Now, the pandemic's toll has breached a once-unthinkable level, with more than 100,000 deaths reported statewide, according to the California Department of Public Health.
More coronavirus news

Stay up to date on variant developments, case counts and vaccine news with Coronavirus Today.
Harvey Weinstein was sentenced to 16 years in prison
Harvey Weinstein was sentenced to 16 years in prison Thursday for raping a woman in a Beverly Hills hotel in 2013, all but assuring that the disgraced Hollywood kingmaker will spend the rest of his life behind bars.
Alec Baldwin pleads not guilty to involuntary manslaughter charges
Alec Baldwin on Thursday pleaded not guilty to involuntary manslaughter charges for the accidental fatal shooting of "Rust" cinematographer Halyna Hutchins and agreed to release conditions that would allow him to complete the film.
The actor, in a court filing, waived his right to make his first court appearance, which was expected to take place Friday in Santa Fe, N.M.
Asylum seekers face family separation at border amid app rollout
Families seeking asylum are finding themselves confronted with a seemingly impossible decision: Wait indefinitely for enough appointments to open up for the whole family through a new mobile app, or split up.
The CBP One mobile application was intended to reduce the number of illegal crossings between ports of entry. Now the only government-sanctioned way to request humanitarian protection at the border, it requires all members of a family to have confirmed appointments. But with such high demand, families have found it practically impossible to secure enough slots.
Our daily news podcast
If you're a fan of this newsletter, you'll love our daily podcast "The Times," hosted every weekday by columnist Gustavo Arellano, along with reporters from across our newsroom. Go beyond the headlines. Download and listen on our App, subscribe on Apple Podcasts and follow on Spotify.
PHOTO OF THE DAY
CALIFORNIA
Florida Gov. Ron DeSantis DeSantis leads former President Trump in California as primary race starts, poll finds. Though a blue state, California has lots of Republican voters, making it one of the biggest prizes in the GOP primary. How is the race shaping up?
California opens a civil rights investigation of the Riverside County Sheriff's Office. California's attorney general has opened a civil rights investigation of the Riverside County Sheriff's Office amid allegations of excessive force against detainees and inhumane conditions in county jail facilities.
How a Cucamonga Peak hiker survived a 200-foot fall from an icy trail. As winter storms make hiking more dangerous in Southern California, one Cucamonga Peak hiker talks about how she survived a 200-foot fall from an icy trail.
Prosecutors sum up torture allegations in 10-year-old Anthony Avalos' murder trial. "They're nothing short of monsters for what they did," said L.A. County Deputy Dist. Atty. Jonathan Hatami. "Both of these defendants are evil individuals."
Support our journalism
Subscribe to the Los Angeles Times.
NATION-WORLD
Death toll from Turkey-Syria earthquake has pushed past 47,000. The death toll from the massive earthquake that hit parts of Turkey and Syria on Feb. 6 has topped 47,000, with bodies continuing to be retrieved from the rubble of demolished buildings.
Crew of train was alerted of overheated axle just before Ohio derailment. The crew operating a freight train that derailed in East Palestine, Ohio, received a critical warning about an overheated axle only just before dozens of cars went off the tracks, federal safety investigators said in a report Thursday as U.S. Transportation Secretary Pete Buttigieg made his first visit to the crash site.
Alex Murdaugh testifies in his own defense at murder trial. Disgraced South Carolina attorney Alex Murdaugh has taken the stand in his own defense at his double murder trial.
Nursing homes push to end federal vaccine mandate for health workers. A federal mandate for healthcare workers to get vaccinated against COVID-19 has been in place nationally for a year. Some healthcare workers at Truman Lake Manor in rural Missouri say "the mandate needs to end."
HOLLYWOOD AND THE ARTS
Hollywood studios plan for a writers' strike — even before negotiations have started. Studios and producers are preparing for a possible writers' strike, a month before negotiations are set to begin with the Writers Guild of America.
R. Kelly's new 20-year sentence adds only one year to the existing 30-year prison term. R&B singer R. Kelly has been sentenced to 20 years for child-sex crimes in Chicago, but 19 of those years will run concurrently with his existing term.
Channel Tres' new music inspires healing through movement. With a new EP and outlook on life, the L.A. artist is reaching toward his truest self.
Send in the clowns: 'It' prequel series 'Welcome to Derry' coming to HBO Max. HBO Max has ordered a TV spinoff of the blockbuster "It" film franchise, the streaming giant announced Thursday.
BUSINESS
Bosses say they care about mental health. Can workers trust them? Since the COVID-19 pandemic began, employers have claimed that the mental health of their employees is a key priority. But has that extended to employees with bipolar disorder and other mood disorders?
Gag order ruling could free up ex-Twitter employees to criticize Elon Musk. A new labor board ruling says nondisparagement clauses common in severance agreements at companies like Twitter, Facebook and Google don't hold up.
Ozy Media CEO touted fake $600-million buyout offer. Ozy Media Chief Executive Officer Carlos Watson lied to an investor that his company had received a takeover offer from a large tech company, federal prosecutors said in a fraud indictment.
SPORTS
Austin Barnes and Julio Urías will be teammates at the WBC. Austin Barnes and Julio Urías are representing not only Mexico in the WBC, but a community with the largest Mexican American population in the U.S.
New Dodger Noah Syndergaard seeks balance this spring to bring his heat back. Once one of the most dominating pitchers in the majors, Noah Syndergaard hopes to become a major part of the Dodgers' rotation.
Angels' delayed spring renovations are expected to resume. The Angels say they are ready to move forward with a renovation project at Tempe Diablo Stadium that had been delayed by the potential sale of the team.
Free online games
Get our free daily crossword puzzle, sudoku, word search and arcade games in our new game center at latimes.com/games.
OPINION
Opinion: Did Putin just inch Russia and the U.S. closer to nuclear war? Russia pausing implementation of its last nuclear deployment treaty with the U.S. doesn't spell war — but it's bad news for global arms control.
Editorial: Is L.A.'s anti-camping law getting homeless people off sidewalks and into housing? The L.A. City Council adopted a controversial ordinance that banned camping by homeless people near schools, day-care centers and parks as well as any other locations that council members wanted to decree off-limits, nearly two years ago. Let's find out whether it helped people get off the sidewalks and into homes — or not.
YOUR WEEKEND
The 57 best dance clubs in L.A. Los Angeles' nightlife thrives on its dance halls, lounges, bars and community hubs. Kick off your weekend at one of the 57 hottest clubs in the L.A. area.
Best coffee city in the world? Los Angeles. Find the best cafes, freshest brews and your favorite beans in the coffee-shop capital of the world.
How to visit Sedona without being a jerk. Red Rocks Country has long beckoned weekend travelers from L.A. But many locals believe tourists are loving their town to death.
WHAT OUR EDITORS ARE READING
Jeremy Strong on his infamous acting method and 'Succession' season 4. Actor Jeremy Strong's portrayal of Kendall Roy in 'Succession' has made him a major sensation and infamous for his extreme approach to the art of acting. On the verge of what may be the end of the show and the character that made his career, Strong responds to his critics and contemplates life after 'Succession.' GQ.
Brian Cox on 'Succession' season 4, inspiration behind Logan Roy, and more. Actor Brian Cox dives into subjects without reserve: his childhood, his stage and film career, his newfound fame as the star of 'Succession.' In his profile, he calls his co-star's acting method "annoying." Referring to Jeremy Strong, he adds that he's a gifted actor. Town&Country
What's really behind the wave of sadness among teenage girls? Teenagers interviewed by NBC pointed to what they see as unique stressors that affect their generation, resulting in a depression spike. The results of a report from the Centers for Disease Control and Prevention about teenagers' mental health showed that well-being is especially poor among teenage girls, 57% of whom reported feeling "persistently sad or hopeless." NBC.
FROM THE ARCHIVES
Twenty-three years ago, rock guitarist Carlos Santana won eight Grammy Awards, including best record and album for "Supernatural." Santana tied with Michael Jackson for the most Grammys won in one night.
We appreciate that you took the time to read Today's Headlines! Comments or ideas? Feel free to drop us a note at headlines@latimes.com.

Must-read stories from the L.A. Times
Get the day's top news with our Today's Headlines newsletter, sent every weekday morning.
You may occasionally receive promotional content from the Los Angeles Times.