Following allegations, Orange County Democrats grapple with sexual harassment in politics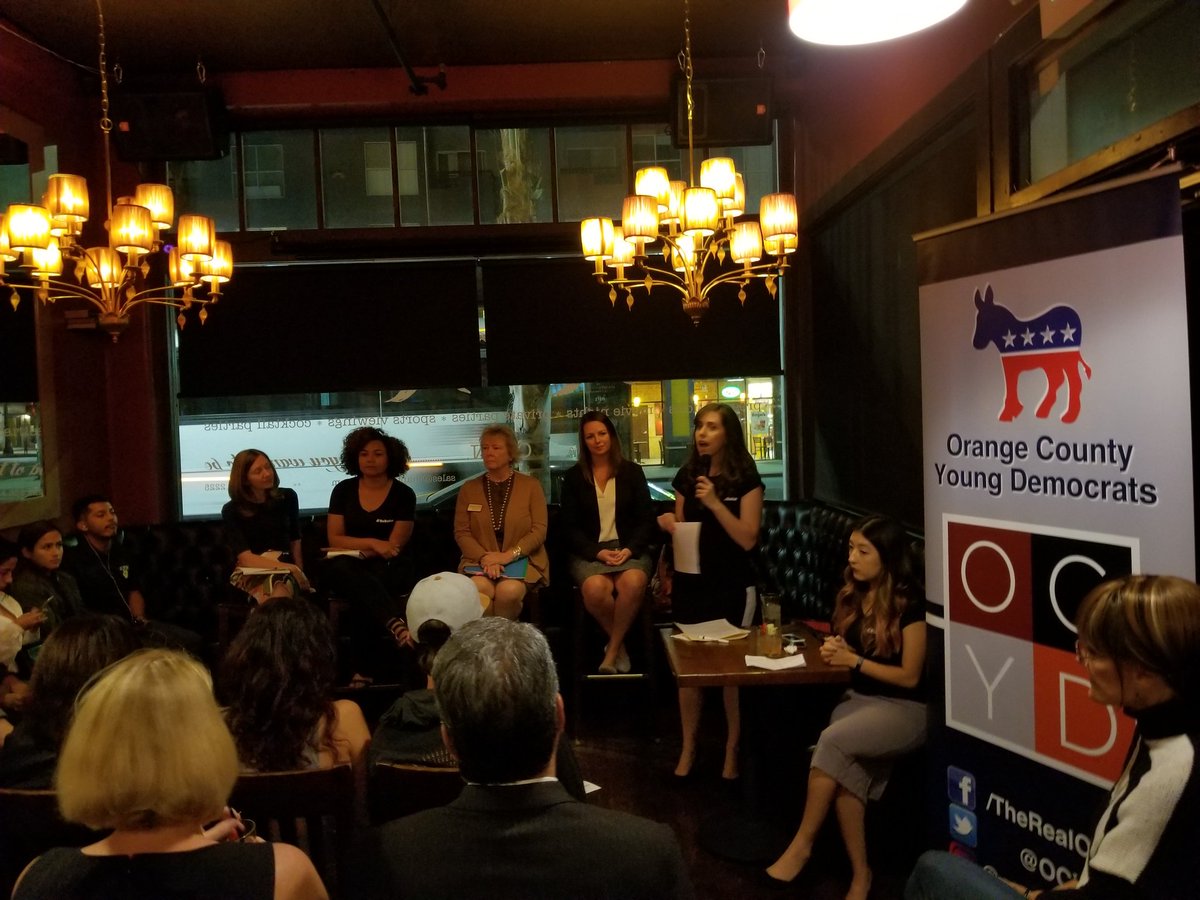 As Orange County Democrats grapple with sexual harassment allegations that have hit several local leaders, young Democrats in the region gathered this week to discuss how to move forward.
The Orange County Young Democrats, which sponsored a discussion on Wednesday, ignited a firestorm last month after it amplified and commented on allegations local activists had made about Orange County politicos. 
The issue is coming into focus as Democrats are gearing up for big electoral fights in the midterm elections, and as scrutiny of alleged sexual misconduct in Hollywood and political circles intensifies. 
"My job is to get Democrats elected from city council on up," county party chair Fran Sdao said in an interview. "We will deal with it but I'm very forward thinking."
Last month, Erik Taylor, a former Democratic Party of Orange County chair, resigned as campaign manager to congressional candidate Phil Janowicz after media reports about allegations made against him. Sdao, who took over as party chair in January, did not elaborate on the progress of the internal investigation the party promised after the allegations came to light.
"I don't have details," Sdao said. "I have rumors, I have second, third-hand information." Sdao added that the party will "take our time and look into these things."
Another man who resigned from an advocacy group earlier this year following harassment allegations still sits on the county party's central committee, Sdao confirmed. There are no rules that allow his removal, something she said party leaders are examining.
Jennifer Muir Beuthin, who sits on the Orange County Labor Federation's executive board, said the group has hired a law firm to conduct an internal investigation into the actions of a third man, a prominent local labor leader. 
"We're responding in a very serious and measured way," Beuthin said. "We are just asking everybody to respect the fact that we are going through it in a very measured way and to allow the space for us to be able to do that."
Sdao said the county party is also in the process of developing a code of conduct that will cover sexual harassment, and designing required trainings for employees and volunteers. She noted the prevalence of young people among the ranks of volunteers and campaign staffers in local politics.
"There's lots of young people and they're very enthusiastic, they want to work hard ... and they're not sure of where the boundaries are," Sdao said.
Kelsey Brewer, a panelist who is also an Orange County Young Democrats member, took issue with that characterization. To paint the allegations that have circulated as cases of confused boundaries was "disingenuous," Brewer said. "I think these people know what they did was wrong."
Latest updates
Copyright © 2017, Los Angeles Times