Outside Rep. Ed Royce's office, protesters don top hats, call GOP tax bill a tool for the rich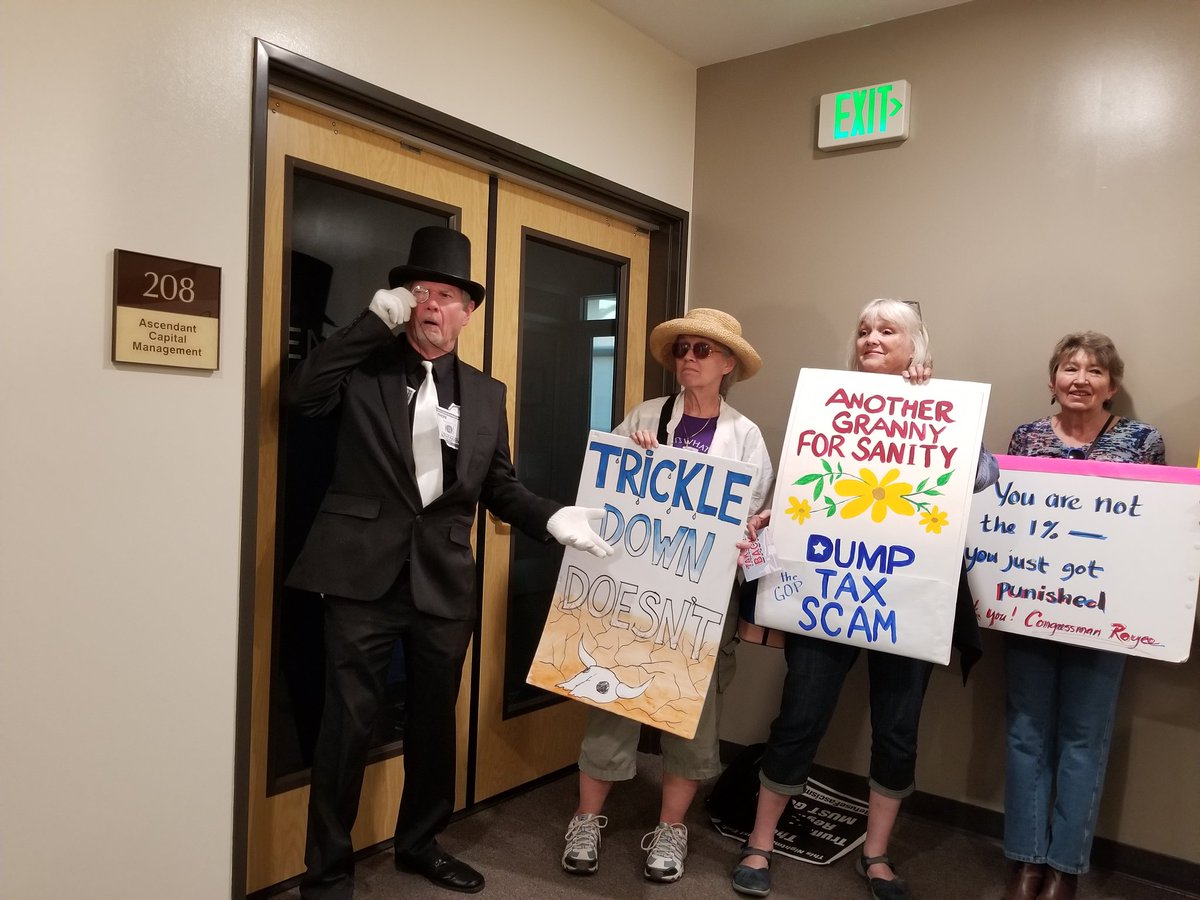 Protests over the GOP tax bill continued Wednesday, with several dozen opponents picketing outside Republican Rep. Ed Royce's district office in Brea.
Some of them donned black blazers and top hats — one had a monocle — echoing widespread criticism that the measure is primarily designed to benefit wealthy Americans and corporations. They chanted, "Shame on you!" and held signs denouncing the "GOP tax scam," before filing in, a few at a time, to fill out comment cards with Royce's district office staff.
Royce, one of 11 California Republicans who voted for the House version of the tax bill last month, has stayed mum about whether he'll support the final bill, which still needs to be crafted by negotiators from both houses of Congress.
"I think it's going to hurt him," said Mary Mogge, 74, a retired physics professor who lives in Royce's district. "There's going to be a lot of people mad at him." She was holding a sign that read, "If you are not the 1% you just got punished." Mogge said voters in Royce's wealthy Orange County district are more likely to itemize their income tax deductions, meaning they could be hurt if deductions for mortgage interest or state and local taxes are eliminated or reduced. 
Miguel Hernandez, a 51-year-old maintenance supervisor who showed up with several other pro-Trump counter-protesters, said he agrees that Royce's vote in favor of the House version of the tax bill could hurt him in the midterm elections next year. 
But even if his own tax bill goes up, Hernandez said, it's a "step in the right direction" and could be a wake-up call for Californians "so they see that we're so overtaxed."
The demonstration at Royce's office happened two days after hundreds of people gathered outside the district office of Rep. Darrell Issa (R-Vista), who voted against the previous House version and has said he opposes the Senate version, too. Republican Reps. Dana Rohrabacher of Costa Mesa and Tom McClintock of Elk Grove, both of whom were also "no" votes last month, have also been under pressure to withhold their support if the deductions aren't preserved.
Latest updates
Copyright © 2017, Los Angeles Times