This week's collection covers a lot of bases with celebrity home transactions involving actors, a San Diego Padres Hall of Fame reliever and a veteran hockey player.
Our Home of the Week is a New England-inspired Shingle-style house in Pasadena that dates to 1895. The 5,908 square feet of history-imbued living space is priced at $2.8 million.
Once you're done reading about these deals, visit and like our Facebook page, where you can find Hot Property stories and updates throughout the week.
– Neal J. Leitereg and Lauren Beale
Goodbye, place
Ted Danson of "The Good Place" and his wife, actress Mary Steenburgen, have sold their scenic retreat in Ojai for $8.75 million.
Set behind gates on nine acres of grounds, the board-and-batten sided farmhouse was built in 1941 and was once owned by talk-show host Ellen DeGeneres.
The 4,400 square feet of living space includes beamed-ceiling living and dining rooms, an office, four bedrooms and four bathrooms. A two-bedroom guesthouse with a kitchen was added to the property during Danson and Steenburgen's ownership.
Elsewhere on the property is a detached recording studio with a sound booth, a sauna, a swimming pool, an orchard and an old tin barn used for al fresco dining.
Danson, 71, gained fame for his role as Sam Malone on the 1980s sitcom "Cheers." Steenburgen, 66, won an Oscar for her supporting role in the 1980 film "Melvin and Howard." She appears on the sitcom "The Last Man on Earth."
Evidence points to a sale
Actor Stephen Dorff, fresh off his run on HBO's "True Detective," has wrapped up some business away from the screen. He's sold his Malibu home of more than a decade for $7.5 million.
Set on 40 feet of oceanfront, the Midcentury Modern-style house is clad in cedar shingles and dark-stained wood. The two-story features a beach-facing balcony and decking that runs the length of the home. Floor-to-ceiling windows bring panoramic ocean views inside, and a staircase leads to the beach below.
The three-bedroom, three-bathroom house has about 2,400 square feet of living space, a two-story entry and a galley-style kitchen.
Dorff, 45, is known for his breakout role in the 1992 film drama "The Power of One," in which he starred opposite Morgan Freeman and Fay Masterson. His other film credits include "Blade" (1998) and "Immortals" (2011).
Pretty but not little
"Pretty Little Liars" actress Lucy Hale has sold a Studio City home she owned in a trust for $2.45 million.
High ceilings, hardwood floors and oversized French doors are among features of the Spanish-vibe house. The sprawling 3,880 square feet of interior space includes four bedrooms and four bathrooms.
Terraces and balconies add more living space outdoors. A staircase descends to a patio with a saltwater swimming pool and a cabana.
Hale, 29, starred in the dramas "Bionic Woman" and "Privileged." Her film credits include "Truth or Dare" and "The Unicorn."
Only missing a pitcher's mound
San Diego Padres Hall of Fame reliever Trevor Hoffman has sold his Rancho Santa Fe home of nearly two decades for $3.575 million.
Set on more than an acre in a gated community, the estate centers on a Spanish-style home with six bedrooms, 5.25 bathrooms and about 8,300 square feet of living space.
Built in the 1990s, the house features a formal entry, a custom wine cellar, a theater, a gym and a billiard room with a wet bar.
A custom swimming pool with a rock spa, a fire pit, a tennis court and a batting cage complete the grounds.
Hoffman, 51, spent most his career with the Padres but had stints with the Marlins and Brewers.
His home cooking spot
Pastry chef and chocolatier Jacques Torres, who co-hosts the Netflix cooking series "Nailed It!," has put his gated Encino house on the market at $1.85 million.
Listing details describe the kitchen in the 1950 traditional-style home as recently updated with granite counters, a breakfast nook and new appliances.
The 3,750 square feet of living space contains a living room with a fireplace and five bedrooms. The lower level has a bedroom and bathroom that can function as a guest house.
A sundeck overlooks the backyard swimming pool.
Leaving his ice palace
NHL goalie Marc-Andre Fleury has sold his house in Las Vegas for $2.3 million.
The 4-year-old Tuscan-vibe contemporary contains slightly more than 6,000 square feet of interior space. The floor plan includes a formal dining room, an open-plan kitchen, a den with a fireplace, an office, five bedrooms and 4.75 bathrooms.
Glass pocket doors open to a covered patio and a swimming pool. A sunken conversation area with a fire pit, two verandas and a detached casita are among exterior improvements.
Fleury, 34, spent 13 seasons with the Pittsburgh Penguins, winning three Stanley Cups with the team (2009, 2016 and 2017). He joined the Las Vegas Golden Knights two years ago.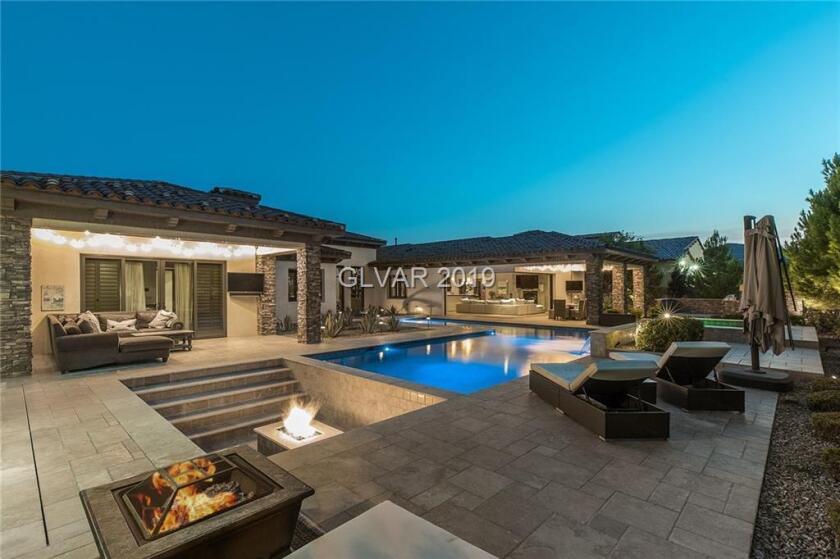 Her favorite room
Flanked by family photos, furry friends and a fireplace, actress and comedian Kym Whitley calls the den/living room of her 3,300-square-foot Tarzana home the epicenter of her life. The space, outfitted with chocolate suede couches and a television, serves as a gathering spot and relaxation center for the busy entertainer, known for roles in the movie "Next Friday," the reality series "Raising Whitley" and Amazon's "Forever."
From the archives
Ten years ago, actor Leonardo DiCaprio sold a bluff-top contemporary estate in Malibu that had been listed at $7.999 million. The main house had two bedrooms and two bathrooms within its 2,374 square feet. A guesthouse contained two one-bedroom suites.
Twenty years ago, the San Francisco home of the late baseball great Joe DiMaggio was for sale at $1.4 million. He had taken ownership of the four-bedroom, 2,100-square-foot home in 1937, soon after he joined the Yankees.
What we're reading
The revamp of a 1959 Studio City home used for exterior shots on "The Brady Bunch" is complete. The remodel has replicated the show's retro rooms within the home. HGTV's "A Very Brady Renovation" will document the transformation when the show premieres in September.
U.S. Marshals have listed the first of five New York properties seized under the plea deal with Paul Manafort, the former Trump campaign manager in prison for tax and bank fraud, reports Forbes.com. The 2,060-square-foot SoHo condo is priced at $3.663 million.
ICYMI: The John Lautner-designed Bob Hope house, a circular 24,000-square-foot Palm Springs residence built 40-plus years ago for the entertainer and his family, is getting a new look. Or make that an original look. The interiors are being reworked in keeping with the architect's vision.
---