Adult film star Ron Jeremy charged with four counts of sexual assault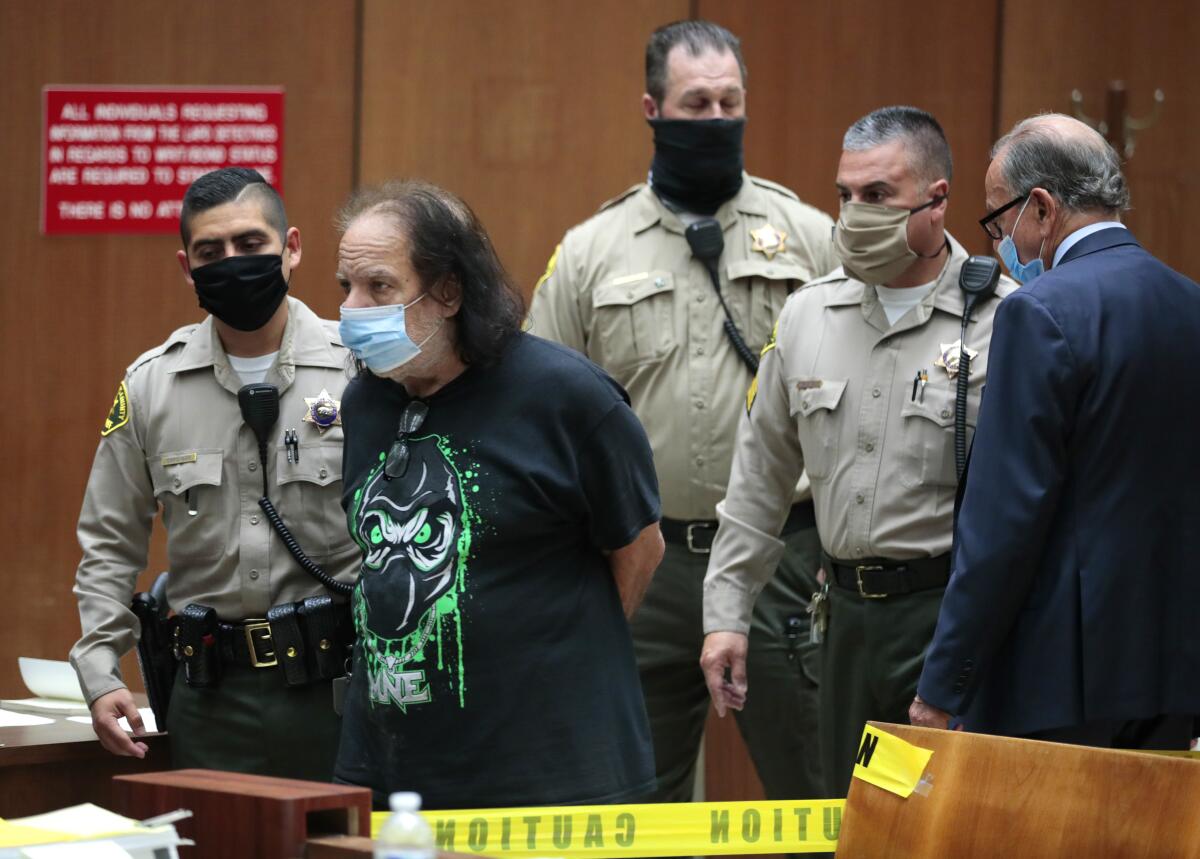 Ron Jeremy, one of the most iconic figures in the adult entertainment industry, was charged Tuesday with sexually assaulting four women in West Hollywood, where investigators say he prowled the Sunset Strip looking for vulnerable victims.
Jeremy, whose legal name is Ronald Jeremy Hyatt, was charged with forcible rape, forcible oral copulation and sexual battery, according to a criminal complaint.
Prosecutors allege Jeremy, 67, attacked a 25-year-old woman at a West Hollywood home in 2014. Prosecutors also accuse Jeremy of sexually assaulting two women at a West Hollywood bar in 2017 and raping a woman at the same bar in July 2019.
Los Angeles County Sheriff's Department Cmdr. Carlos Marquez said Jeremy became the focus of an investigation after a rape allegation was levied last July. Jeremy would frequent the Abbey and the Roxy looking for women, according to Marquez.
"They were crimes of opportunity," said Marquez, a veteran sex crimes investigator. "He takes advantage of a situation with a victim."
Marquez said Jeremy leveraged his public persona to gain access to the women, and then took advantage of them when they were intoxicated.
Jeremy has been accused of sexual assault by multiple women in recent years — including adult film stars Danica Dane, Jennifer Steele and Jay Taylor — but has denied the allegations.
The sheriff's department is actively looking for additional victims. The case was presented to the district attorney's office on Monday, investigators said.
In total, Jeremy faces three counts of forcible rape, two counts of sexual penetration by force, two counts of sexual battery and one count of forcible oral copulation, according to the criminal complaint. He could spend up to 90 years in prison if convicted as charged.
Authorities declined to charge Jeremy in a fifth case after deciding they had "insufficient evidence" to prosecute an alleged 2016 rape, according to a one-page memo explaining the decision. In that case, a woman said she was intoxicated at a club when Jeremy separated her from her friends and raped her.
The other women lived outside the country and refused to be interviewed, documents show.
Jeremy appeared in a downtown courtroom Tuesday wearing a black T-shirt and boat shoes, but did not speak to reporters. His attorney, Stuart Goldfarb, asked for an arraignment and bail review hearing to be continued until Friday.
Until then, Jeremy will be held in lieu of $6.6 million bail.
Outside the courthouse, Goldfarb said Jeremy was innocent and questioned the timing of the charges, considering one of the alleged assaults dates back to 2014.
"He has never, in his life, had sex with a female through force or duress," Goldfarb said.
Asked about claims the women were too intoxicated to consent at the time of the assaults, Goldfarb claimed Jeremy had been sober his whole life, but did not elaborate. He also said the most recent alleged assault took place at the Rainbow Bar & Grill, an establishment Jeremy is known to haunt, and could be disproven with video footage. Again, he did not elaborate.
Goldfarb said he had previously advised Jeremy to have women "sign a piece of paper, that you enjoyed yourself" after sexual encounters with the porn star, in order to protect against future allegations.
Jeremy has been banned from the Adult Video News awards and the Exxotica expo, two of the largest annual events for the porn industry in the U.S., as a result of the claims made by numerous women.
Ginger Banks, a 30-year-old advocate for sex workers who also works in the adult entertainment industry, compiled a 10-minute YouTube video in 2017 detailing a number of allegations against Jeremy. Banks said she has since been contacted by at least 100 women who claimed Jeremy groped or raped them.
Banks, who has appeared in adult films since 2010, said Jeremy's behavior is well known among women in the business, but his status has protected him from consequences until recently.
"It's just like Harvey Weinstein," she said. "Because he's this legend, he's Ron Jeremy, people will excuse his behavior."
Sign up for Essential California for news, features and recommendations from the L.A. Times and beyond in your inbox six days a week.
You may occasionally receive promotional content from the Los Angeles Times.