Why docuseries on golf and tennis are good plays for Netflix
Welcome to Screen Gab, the newsletter for everyone interested in getting a sports fix without the live commentary.
Prepare to spend your whole weekend researching how to become a golf caddy. Matt Brennan, our deputy editor for arts and entertainment, tells us why the latest additions to Netflix's roster of sports documentaries — tennis-focused "Break Point" and golf-focused "Full Swing" — are worth your time.
Also in this week's edition, we hear from Wu-Tang founding member the RZA about the third and final season of the biographical TV drama that chronicles the rise of the famed hip-hop group. Plus, we offer streaming recommendations for your weekend. As always, we want to know what you're watching! Pretend we're at the water cooler and give us your review of a TV show or streaming movie you've loved — it may be included in a future edition of Screen Gab. (Submissions should be approximately 100 to 150 words and sent to screengab@latimes.com with your name and location.)
The complete guide to home viewing
Get Screen Gab for everything about the TV shows and streaming movies everyone's talking about.
You may occasionally receive promotional content from the Los Angeles Times.
ICYMI
Must-read stories you might have missed
Inside the 2023 Oscar nominees luncheon: Stars mix and mingle: More than 180 of this year's Oscar nominees, including Austin Butler, Michelle Yeoh and Steven Spielberg, attended the academy's luncheon in their honor.
Some of Raquel Welch's best films are hard to find. Here's where you can watch them: From "Fantastic Voyage" to "How to Be a Latin Lover," here's how you can find some of the best movie performances by the actor, who died this week at 82.
The Aidan and Carrie photos are a ruse! And other harebrained 'And Just Like That' theories: Photos of Sarah Jessica Parker and John Corbett together have ignited speculation about Season 2 of "And Just Like That." Meredith Blake investigates what's really going on.
Angela Bassett: 'I did what I came to do. And I did it well': "It's better to be underestimated and then deliver," says Angela Bassett, who makes Marvel history with her supporting actress Oscar nomination.
Turn on
Recommendations from the film and TV experts at The Times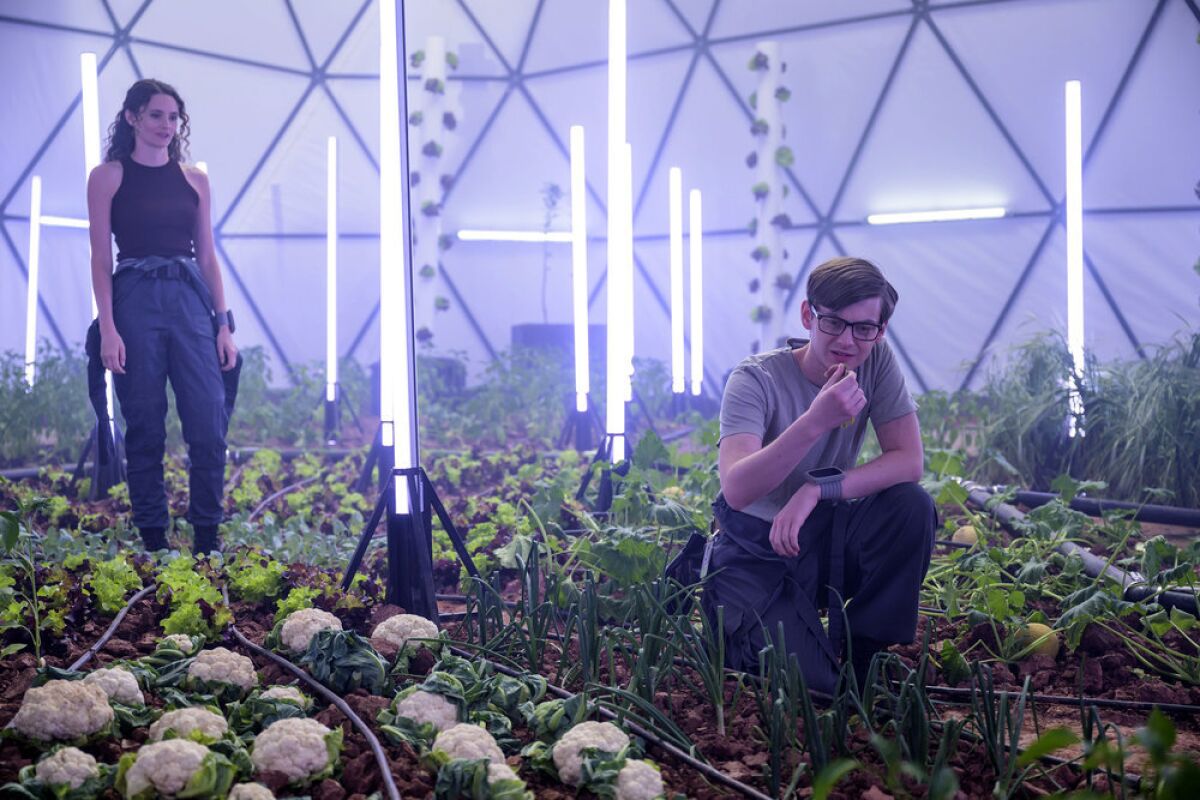 I've recently been charmed by the space-faring survival drama "The Ark" (Syfy, Peacock), which feels a bit like a relic from a bygone television era — but not in a bad way! In the not-too-distant future, the Earth has become nearly uninhabitable due to the climate crisis and other human-induced catastrophes. The Ark One is among the ships that have been sent to colonize faraway planets in a last-ditch effort to save humanity. But a mysterious disaster strikes and the surviving crew find themselves awoken from cryogenic sleep a year away from their destination with just weeks' worth of food and water and all of their highest-ranking command officers and experts dead. The series admittedly takes a few episodes to find its footing, but as someone who grew up on episodic spaceship shows back when Syfy was known as Sci Fi, the familiar stakes and character archetypes have me rooting for their survival. Not to mention the ongoing murder mystery and budding love triangle that have been threaded through the crew's problem-of-the-week. Count me intrigued. — Tracy Brown
"Murf the Surf" is a name I long knew, entirely without context: I couldn't have said whether it belonged to a real person, a fictional character or a cartoon, but it rhymed its way permanently into my brain. R.J. Cutler's four-part true-crime documentary, "Murf the Surf: Jewels, Jesus and Mayhem in the USA" (MGM+), has cleared it up for me. Jack Roland Murphy was an admitted jewel thief, a convicted murderer (he denied it, and Cutler lets the viewer wonder) and an avowedly reformed campaigner for Christ — there, too, you're given room to doubt. A championship surfer and a professional "beach boy" attached to swank Miami Beach hotels in his swinging '60s youth, he moonlighted as a cat burglar at those selfsame places — a career that reached its apex when, almost on a whim, he stole the fabulous, fabulously valuable Star of India star sapphire from New York's American Museum of Natural History. Murphy was something of a media darling in his prime — which gives Cutler a wealth of photos and film clips to work with — but things turn darker after a first stint in prison, and "Murf" surfs into more familiar, though fascinating, true-crime waters. — Robert Lloyd
Catch up
Everything you need to know about the film or TV series everyone's talking about
If you harbored any doubts that the innovators behind Netflix's fly-on-the-wall Formula 1 docuseries "Drive to Survive" could successfully expand the format to other sports, let "Break Point," which premiered last month, and "Full Swing," which premiered Wednesday, put them to rest. After all, few pastimes lend themselves to such striking intimacy like tennis or golf, lonely examinations of character as much they are tests of strength or skill.
From Melbourne to Roland Garros, Augusta National to the Old Course, "Break Point" and "Full Swing" ably channel — if never exactly replicate — the electricity of the final-set collapse, the back-nine charge, and do so in the midst of unlikely candor, humor, even heartache. Sure, with fewer subjects to keep track of, these iterations lean hard on the familiar rhythms of the athlete backstory, and to followers of either sport, their explanations of scoring systems and other niceties might seem more clumsy than thoughtful. But in holding out the promise of invigorating interest in tennis' Grand Slams and golf's major championships for a new generation of fans — a promise "Drive to Survive" has already fulfilled with Formula 1 — "Break Point" and "Full Swing" are a boon to us all. Even those for whom birdies, bogies and tiebreaks are (sorry) par for the course. — Matt Brennan
Guest spot
A weekly chat with actors, writers, directors and more about what they're working on — and what they're watching
With the premiere Wednesday of its third and final season, "Wu-Tang: An America Saga" (Hulu) began to bring its tale of the hip-hop group's formation in New York in the early 1990s to a close — but not before the series takes on the consequences of success, including financial windfalls, raised expectations, solo career prospects and more. As the saga approaches its end, Wu-Tang founding member the RZA, who executive produces alongside Method Man, Alex Tse and Brian Grazer, stopped by Screen Gab to talk about watching Ashton Sanders play his younger self, opening doors for more storytelling about hip-hop and what he's watching. — Matt Brennan
What have you watched recently that you are recommending to everyone you know?
I wouldn't say I recommend things to everyone I know, but I've been watching a lot of the screeners for the Oscars, and a couple of standouts for me are "Armageddon Time" [VOD, multiple platforms] and "White Noise" [Netflix]. But I also enjoyed "Babylon" [VOD, multiple platforms], even though I hear a lot of my colleagues are feeling different about it.
What's your go-to "comfort watch," the movie or TV show you go back to again and again?
There are a couple that get me comfortable, "The Wizard of Oz" [HBO Max] and "Grease" [Netflix].
Were there any hip-hop movies or TV shows you turned to for inspiration as you plotted the style and structure of "Wu-Tang: An American Saga"? If so, what did you draw from them? If not, why not?
There was no show that existed like our show, so we had to be the originators with a unique way of telling a biopic in any category. But as a cinephile, a lot of the episodes structurally or thematically drew from previous classic cinema that I enjoyed, and I would share some of those ideas with my writers. A reason why maybe there's no hip-hop there to pull from is that there's not a big enough hip-hop category or catalog to draw from, and hopefully "Wu Tang: An American Saga" will help change that, and help open the door for more of this genre of storytelling and stories.
It must be surreal, at times, to work on a series in which an actor plays a younger version of ... you. What's one thing you've learned about yourself from watching Ashton Sanders in the role?
Watching Ashton Sanders reenact a younger version of myself reminds me of my patience and perseverance, and my unwavering determination to reach the goal that I promised my brothers I would do. There's something very uncanny about rewatching it, but knowing the end result of it is something very rewarding as well.
Mail Bag
Recommendations from Screen Gab readers
I love "The Challenge" [MTV, Paramount+]. The cast through the seasons has been stellar!! I'm trying to watch all the seasons from [the] start but it's a challenge to find them. My son got me watching TJ Lavin years ago as he was also a BMX rider ... He makes me laugh so hard and "The Challenge" wouldn't be what it is without him.
Rhonda Kish
Airdrie, Alberta, Canada
What's next
Listings coordinator Matt Cooper highlights the TV shows and streaming movies to keep an eye on
Fri., Feb. 17
"Animaniacs" (Hulu): They're ani-mane-y, totally insane-y, and they're back for a third and final season of this reboot of the wacky 1993-98 animated series.
"Carnival Row" (Prime Video): Fairies and witches and goblins, oh my! Orlando Bloom and Cara Delevingne return in a second season of this fantasy drama.
"Hello Tomorrow!" (Apple TV+) : Can he interest you in a timeshare on the moon? That's what sales rep Billy Crudup wants to know in this retro-futuristic comedy.
"J-Hope in the Box" (Disney+): Is he the cute one? A founding member of K-pop mega-sensations BTS steps out on his own for this new documentary.
"Make or Break" (Apple TV+): Pro surfing's finest are still making waves as the globetrotting docuseries kicks off its sophomore season.
"Sharper" (Apple TV+): A prodigal son returns as a scam artist in this Manhattan-set 2023 psychological thriller starring John Lithgow, Julianne Moore and Sebastian Stan.
"You Can't Escape Me" (Lifetime, 8 p.m.): An aspiring artist relocates to Seattle after fleeing her abusive husband in this new thriller.
"The 12th Victim" (Showtime, 8 p.m.): This new four-part docuseries reexamines the case of 1950s teen thrill-killers Charles Starkweather and Caril Ann Fugate.
"Great Performances" (KOCE, 9 p.m.): Alan Cumming hosts and Jamie Lee Curtis collects career kudos at this year's "Movies for Grownups Awards With AARP the Magazine."
Sat., Feb. 18
"Family Restaurant" (Discovery+, HBO Max): Chef Andrew Zimmern drops in on more family-run restaurants as this foodie travelogue returns.
"Welcome to Valentine" (Hallmark, 8 p.m.): Two strangers find romance while on a New York-to-Nebraska road trip in this new TV movie.
"A Rose for Her Grave: The Randy Roth Story" (Lifetime, 8 p.m.): A woman seeks justice for the murder of her best friend in this new fact-based TV movie.
"Austin City Limits" (KOCE, 11:30 p.m.): Veteran indie rockers Spoon take it to the stage on a new episode of the concert series.
Sun., Feb. 19
NBA All-Star Game (TNT, 3 p.m.): Pro basketball's finest hoop it up in Salt Lake City in the annual contest.
"American Idol" (ABC, 8 p.m.): The singing competition returns for a 21st season with Katy Perry, Luke Bryan and Lionel Richie back at the judges' table.
"Biography: WWE Legends" and "WWE Rivals" (A&E, 8 and 10 p.m.): These two pro wrestling-themed docuseries are back.
"Naked and Afraid" (Discovery, 8 p.m.): But enough about my honeymoon! The survival competition launches a new season.
"Secret Society of Lies" (Lifetime, 8 p.m.): A coed goes to war against a sinister fraternity in this new thriller.
"Magnum P.I." (NBC, 9 and 10 p.m.): This reboot of the Tom Selleck drama makes the leap to a new network for Season 5. Jay Hernandez stars.
"The Food That Built America" (A&E, 9 p.m.): Cereal. It's what's for breakfast in the season premiere.
"Why Can't My Life Be a Rom-Com" (E!, 9 p.m.): She just wants to be the girl, standing in front of a guy, asking him to love her in this new TV movie.
"America in Black" (BET, 10 p.m.): Gayle King and sportscaster James Brown are among the correspondents for this newly minted newsmagazine.
"The Company You Keep" (ABC, 10 p.m.): A con artist and a CIA officer meet cute in this sexy new drama. With Milo Ventimiglia and Catherine Haena Kim.
"Last Week With John Oliver" (HBO, 11 p.m.): The British American comedian's satirical series returns.
Mon., Feb. 20
"The Madame Blanc Mysteries" (Acorn TV): Our widowed antiques dealer (Jean White) is back on the case for a second season.
"Titanic's Tragic Twin" (Acorn TV): This new documentary retells the tragic tale of the ill-fated luxury liner's ill-fated sister ship, the Britannic.
"PT 109" (TCM, 5 p.m.): A Presidents' Day mini-marathon kicks off with this 1963 biopic starring Cliff Robertson as young Navy Lt. John F. Kennedy.
"American Experience" (KOCE, 9 p.m.): The origins of the worst board game of all time — of all time! — are recalled in "Ruthless: Monopoly's Secret History."
Tue., Feb. 21
"Kathleen Madigan: Hunting Bigfoot" (Prime Video): The veteran comic cracks wise about millennials, her parents and, yes, Sasquatch in this new stand-up special.
"Night Court" (NBC, 8 p.m.): Figure skating's Johnny Weir and Tara Lipinski glide by for a cameo on the rebooted sitcom.
"Finding Your Roots With Henry Louis Gates, Jr." (KOCE, 8 p.m.): Veteran activist Angela Davis and former Secretary of Homeland Security Jeh Johnson explore their family histories.
"Fight the Power: How Hip Hop Changed the World" (KOCE, 9 and 10 p.m.): This four-part doc charting the rise of the musical genre concludes with back-to-back episodes.
"Don't Leave Me Behind: Stories of Young Ukrainian Survival" (MTV, 10 p.m.): Two teenage refugees from the fighting in Ukraine adjust to their new lives in Poland in this documentary.
Wed., Feb. 22
"The Low Tone Club" (Disney+): Colombian singer-songwriter Carlos Vives stars as an unorthodox high school music teacher in this new dramedy.
"Murdaugh Murders: A Southern Scandal" (Netflix): This new docuseries tells the twisted tale of one well-connected South Carolina family.
"Can't Turn Us Around: Alabama's Foot Soldiers" (History, 7 p.m.): This new documentary salutes the unsung heroes of the civil rights movement.
"Nature" (KOCE, 8 p.m.): The three-part series "Dogs in the Wild" concludes with a look at efforts to help undomesticated canines survive and thrive.
"The Nate & Jeremiah Home Project" (HGTV, 8 p.m.): Dynamic duo Nate Berkus and Jeremiah Brent are back in new episodes of their renovation series.
"Nova" (KOCE, 9 p.m.): Prepare to ooh and ah at the images captured by NASA's James Webb Space Telescope in "New Eye on the Universe."
"Snowfall" (FX, 10 and 11 p.m.): The crime drama set in 1980s L.A. returns for its sixth and final season. Damson Idris stars.
Thu., Feb. 23
"Bel-Air" (Peacock): This reimagining of the 1990-96 Will Smith sitcom serves up its sophomore season premiere. Jabari Banks stars.
"Black Snow" (Sundance Now, AMC+): A detective (Travis Fimmel) tries to solve the murder of a teenage girl decades earlier in this hybrid mystery/coming-of-age drama.
"Ms. Pat Show" (BET+): The family sitcom starring comic Patricia "Ms. Pat" Williams returns for a third season.
"Neighbours" (Freevee): Crikey! The storied Aussie soap opera, which jump-started the careers of Margot Robbie, Kylie Minogue, et al., gets the reboot treatment.
"Outer Banks" (Netflix): The class-conscious teen drama set in North Carolina is back for a third season.
"Grey's Anatomy" (ABC, 9 p.m.): Original series star Ellen Pompeo hangs up her stethoscope and departs the long-lived hospital drama in the midseason premiere.

Get our L.A. Goes Out newsletter, with the week's best events, to help you explore and experience our city.
You may occasionally receive promotional content from the Los Angeles Times.