I'm Carolina A. Miranda, staff writer with the Los Angeles Times, with your week's dose of culture news — including MOCA's new director, John Cage's opera and dancing for joy. Stay safe in the fires, folks. They are devastating.
A NEW VISION FOR MOCA
Klaus Biesenbach has taken over as director at Los Angeles' Museum of Contemporary Art in a period of great turmoil for the museum. He sat down with The Times' Deborah Vankin to talk about the future. His main goal, he tells her, is "alignment" — "to develop a vision for the museum and then align the board and the staff and all the other constituencies" behind that. He is also pondering free admission for the museum — but isn't ready to commit to anything yet. Los Angeles Times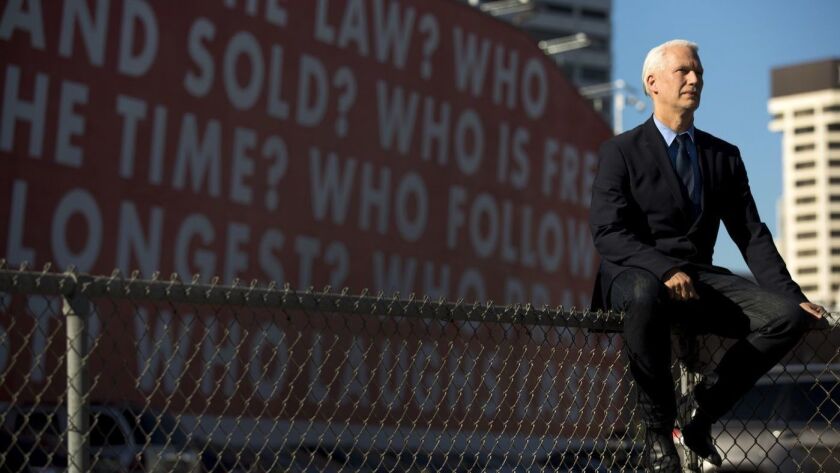 Plus, Vankin pays a visit to the 18th Street Arts Center in Santa Monica on the occasion of the organization's 30th anniversary. Over the years, the space, which is home to studios and a gallery, has harbored important figures, such as performance artists Tim Miller, Coco Fusco and Guillermo Gómez Peña. "The environment is so politically charged that being a brave space for artists to imagine and create and work in as a community is really important," says director Jan Williamson. Los Angeles Times
DANCING FOR JOY
In a time of political tumult, experiencing joy can feel like resistance. That's the idea behind a new work by Contra-Tiempo dance company, "joyUS justUS." The piece was born of encounters the organizers had during community dance jams, asking people to share experiences of joy. "I want people to come and say that's a reflection of the world we live in and I'm a part of that," Contra-Tiempo director Ana Maria Alvarez tells The Times' Makeda Easter. "I want them to be inspired." Los Angeles Times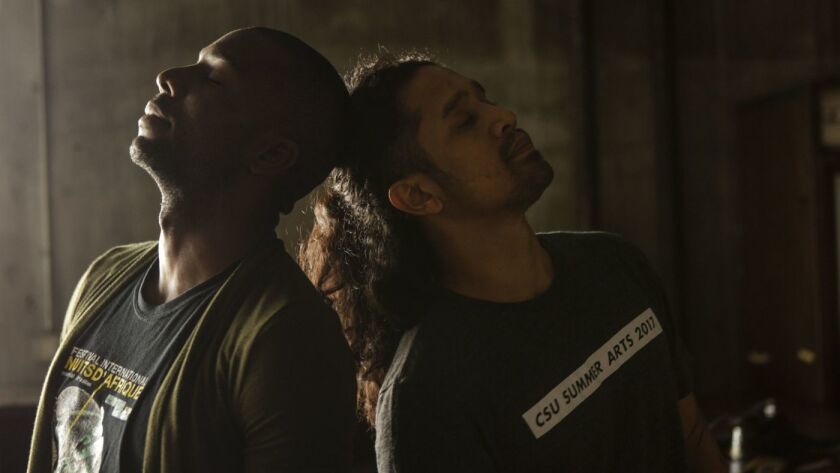 ART IN THE AGE OF WHITE SUPREMACY
Culturally, it's the best of times and the worst of times: A period in which the "whitelash" to multiculturalism has become increasingly violent. But also a period in which art and culture represent a space in which change is afoot. I look at the intersection of culture and politics in 2018. "As long as culture keeps producing these moments, where actual debate can happen without devolving, it becomes a sort of proxy," art critic Aruna D'Souza tells me. "Those conversations become proxies for conversations we can't have elsewhere." Los Angeles Times
Plus, if you heard some interesting sounds emanating from L.A.'s old air raid sirens this week, you were not having auditory hallucinations: Composer Lawrence English created a 12-minute composition titled "Seirá" for the sirens that is playing everyday at sunset through Sunday. Los Angeles Times
AN ANARCHIC OPERA
As the nation got down to the serious business of voting, Times classical music critic Mark Swed got down to the serious business of checking out "Europeras 1 & 2," John Cage's messy collage of historical European operas — a co-production between Yuval Sharon's the Industry and the Los Angeles Philharmonic. He writes: "What I found resonated on election eve remarkably well was the concentration of each performer focusing on what matters no matter what the noise." Los Angeles Times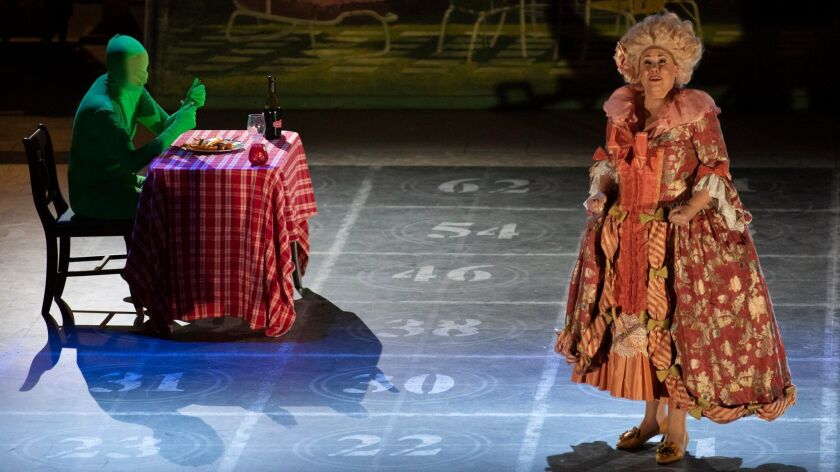 Plus, this week the LA Phil also took on Jean Sibelius' score for "The Tempest" — 36 bits of incidental music conducted by guest conductor Susanna Mälkki accompanying a staging of Shakespeare's play by San Diego's Old Globe. The performance, writes Swed, was overwhelmed by "theatrical practicality." Los Angeles Times
Swed was also recently in Berlin for a performance of the West-Eastern Divan Orchestra, an orchestra composed of Israeli and Palestinian musicians. "Unless I am missing something," writes Swed, "the Divan is the best orchestra and the most significant cultural orchestra to have yet performed in Los Angeles." Los Angeles Times
NIGHT AT THE OPERA
On Mark Swed's advice I went to see Philip Glass' "Satyagraha" at the Dorothy Chandler Pavilion this week, and all I gotta say is that I think it changed my body composition at the cellular level. Sunday afternoon is the last performance and there are still (expensive) tickets left. L.A. Opera
A BIT OF HEART
Playwright Luis Valdez is back at the Mark Taper Forum with "Valley of the Heart," which tracks the budding romance between a man of Mexican heritage and a Japanese American woman at the dawn of World War II. The characters, notes Times theater critic Charles McNulty, can get lost in the shuffle of the plot's many twists, but the staging moves with "lyrical fluidity" and the plot offers an "oasis from "cable news." Los Angeles Times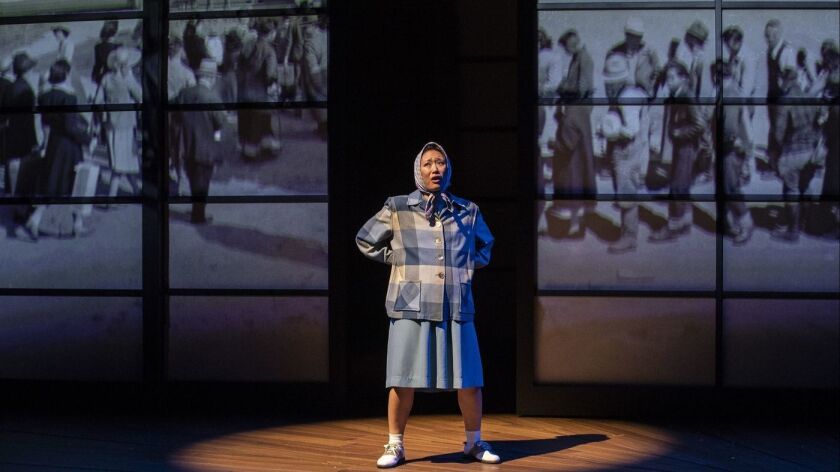 ON BROADWAY
Charles McNulty traveled to New York to check out the latest theatrical offerings. This includes Christopher Demos-Brown's "American Son" at the Booth Theatre starring Kerry Washington as part of a biracial couple contending with an incident involving their son. "In ways that are sometimes a little too on the nose and sometimes right on the money," he writes, "Demos-Brown shows the way the prism of race colors reality." Los Angeles Times
Plus, McNulty check outs "King Kong," the new Australian musical at the Broadway Theatre with the massive gorilla and he is not a fan: "I am terrified of the monstrous concoction that has been cooked up in the international laboratory of mercenary producers eager to remake Broadway in the image of Barnum & Bailey." Los Angeles Times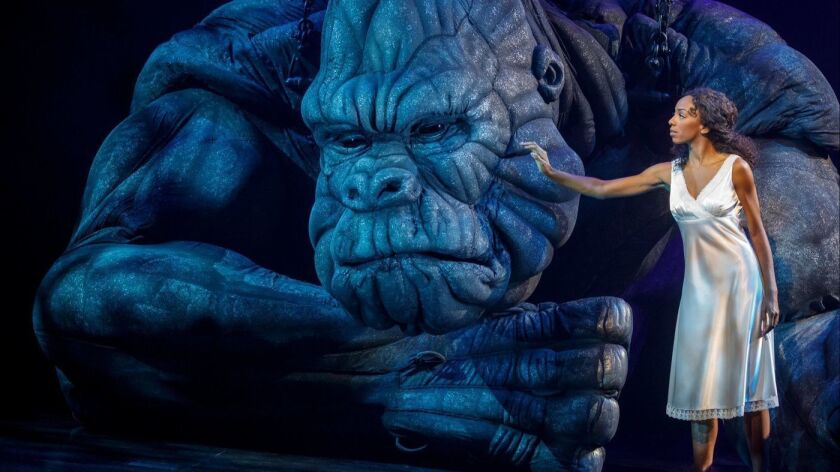 PLAYING BY THE RULES
In "Bliss (or Emily Post Is Dead!)," the ladies sipping tea in 1960 Orange, N.J., aren't just any ladies; they are Medea, Clytemnestra, Antigone and Cassandra — figures from Greek literature who have been revived by playwright Jami Brandli at Atwater Village Theatre. The show, writes The Times' Daryl H. Miller, is "a terrific spirit-rouser at a time when women everywhere are calling out bad behavior and demanding equality." Los Angeles Times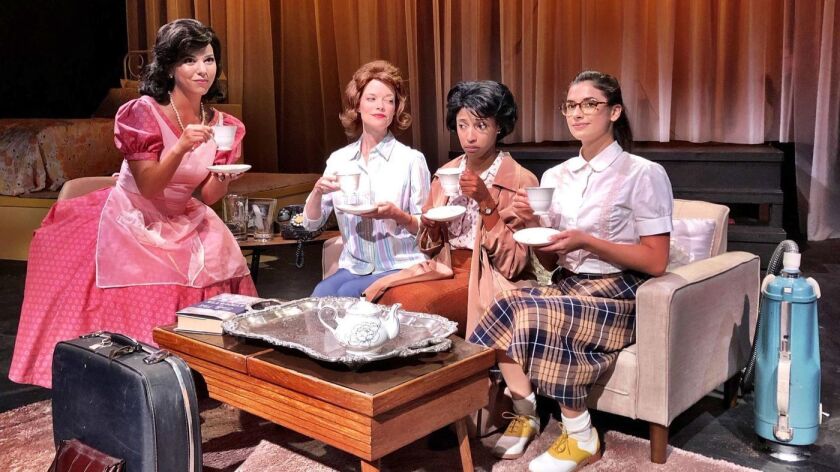 Miller has the latest on what's happening in the city's 99-seat venues, including the latest from John Fleck. Los Angeles Times
READY FOR THE WEEKEND
Matt Cooper has the week ahead in classical music, art, theater and dance — as well as his weekend picks, which include an immersive piece at the Getty Villa by Four Larks that is part "Orphic mystery rite."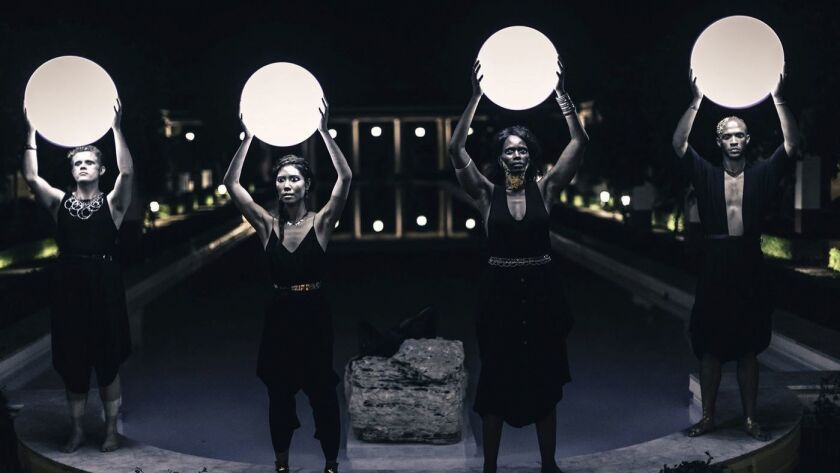 I round up the latest art happenings in Datebook, which includes a performance on a suspended piano at REDCAT.
IN OTHER NEWS…
— LACMA had a gala and intrepid correspondent Matthew Stromberg was there for the celebrities and the cheese-filled crepes. Los Angeles Times
— Two Joan Miró paintings were damaged in Venice due to record floods. Artsy
— A group of writers, including Margaret Atwood, Salman Rushdie and Valeria Luiselli have signed an open letter against child detention at the border. New York Review of Books
— The D.C. Commission on the Arts and Humanities had to walk back a directive in which it told its artists not to produce anything lewd, vulgar or "overtly political" after an outcry over censorship. Washington Post
— After the city of Chicago tried to sell a work he made for a public library, Kerry James Marshall says he will not make any more public work. Chicago Tribune
— The Philadelphia Orchestra has found claims of sexual harassment against former director Charles Dutoit to be credible. Inquirer
— Black ballet dancers have long painted their point shoes to match their skin tone. Freed of London now sells toe shoes that match their skin. New York Times
LAST BUT NOT LEAST…
Settle in and watch this when you need a moment of whoa: Orbiting the earth in 90 minutes. Kottke
Sign up for our weekly Essential Arts & Culture newsletter »
carolina.miranda@latimes.com | Twitter: @cmonstah
---