Newsletter: Essential Arts & Culture: Leonard Bernstein at 100, a monument to Los Angeles, a playwright's moment
Happy weekend! I'm Carolina A. Miranda, staff writer at the Los Angeles Times. Let's get ready to newsletter:
BERNSTEIN AT 100
Before I dive into this week's edition, I gotta say I'm all about this photo of Leonard Bernstein baring some chest and holding a cocktail.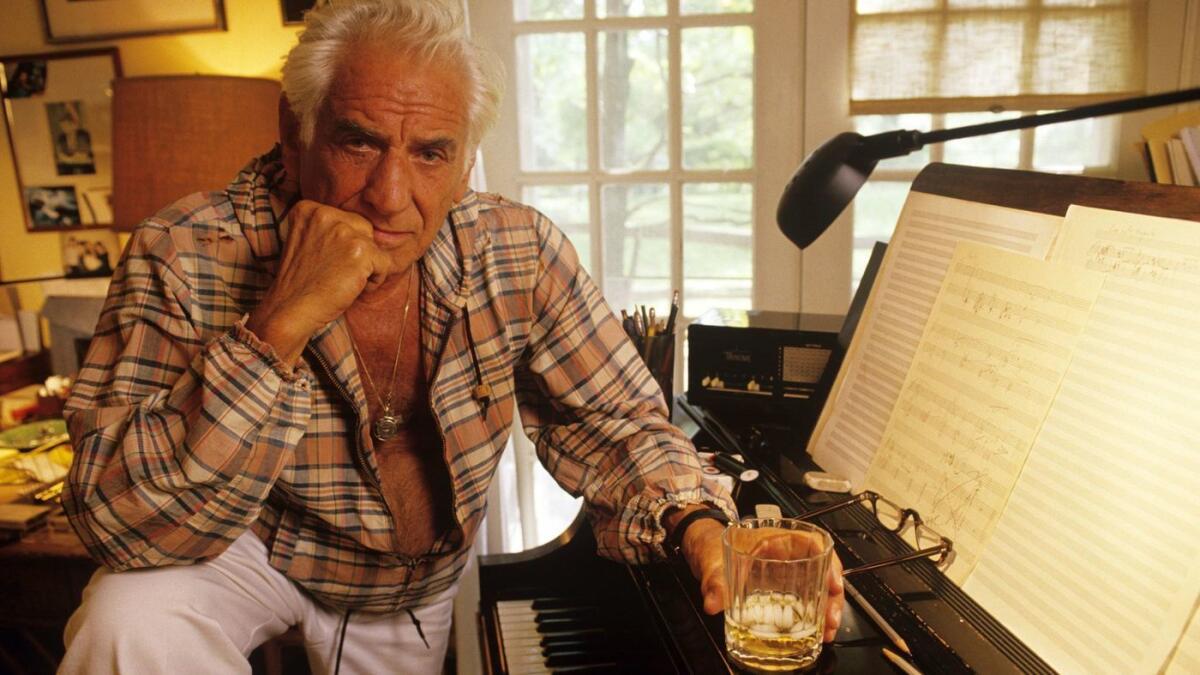 Times classical music critic Mark Swed has a thorough accounting to mark the 100th anniversary of the composer's birth, which is Saturday.
"Had he not conducted exuberant and shamanistic concerts seeming to inject music from his inner being directly into your bloodstream, not written those questing, profound final works, not exhaustively drained his herculean supply of sexual energy, he might not have so early deteriorated into the worn-out wreck who died at 72," he writes. "Yet had he not been all those things, would this composer, conductor, pianist, educator and television personality who avidly embraced all aspects and genres of music become America's greatest musical figure?" Los Angeles Times
"It was a hot day, the place was packed, and he took off his jacket and he said, 'We're all going to sweat together,' in Yiddish." The time Bernstein conducted an orchestra of Holocaust survivors. Time
From Joshua Bell to Gustavo Dudamel: Figures from throughout the classical world talk about why Bernstein mattered to them. Los Angeles Times
At the Pasadena Pops, singer Michael Feinstein got his Bernstein on. Los Angeles Times
ITZHAK AT THE BOWL
At the tender age of 23, violinist Itzhak Perlman made his debut at the Hollywood Bowl with the L.A. Phil playing Mendelssohn's Violin Concerto. Fifty years later, Perlman was back to mark that momentous occasion with Mendelssohn — and Mark Swed was there. Los Angeles Times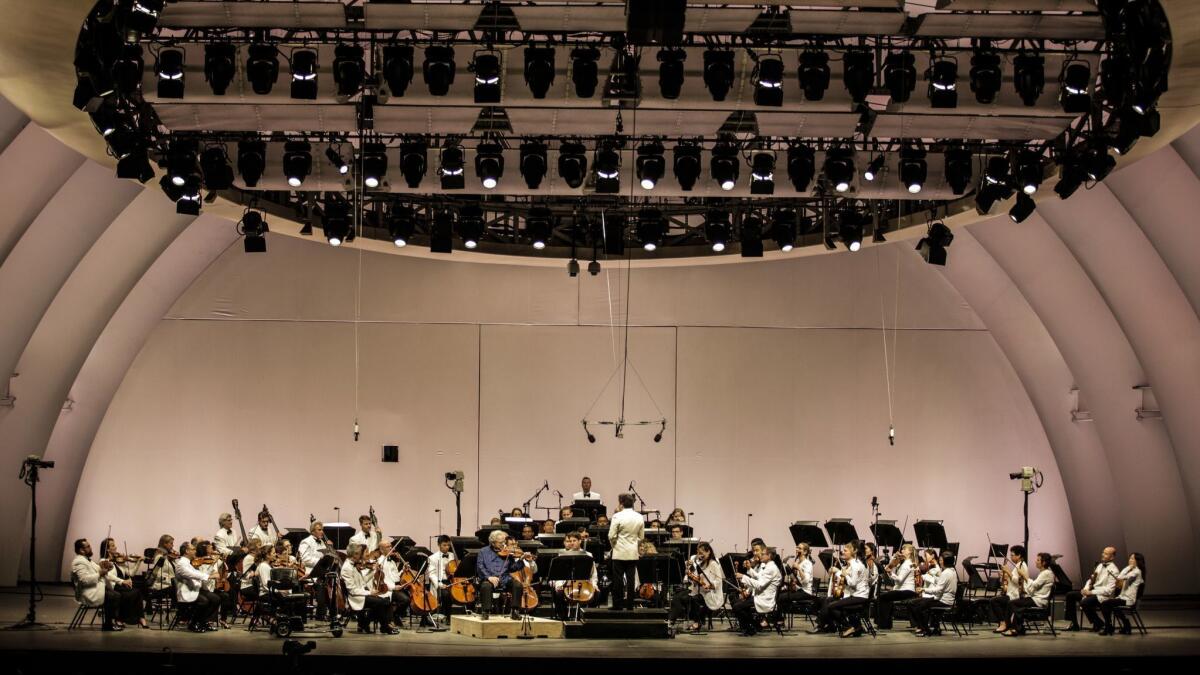 Swed checked out some edgier fare too — namely O-Lan Jones' opera-in-progress "Cynosemma: A Dirge from the Dog's Tomb" and a new concerto for pipa player by Alan Chan. Los Angeles Times
For more performances, Matt Cooper has his weekly round-up, which includes Tchaikovsky and fireworks at the Bowl. Los Angeles Times
AN L.A. MONUMENT
Los Angeles artist Lauren Halsey has been quietly working to build an architectural monument inspired by Egyptian temples that pays tribute to black life in the city. Currently, she has an architectural prototype of her "Crenshaw District Hieroglyph Project" on view at the Hammer Museum. "I have no interest in building huge structures for myself," she tells me of the idea. "They are about neighborhood. They are about unity." Los Angeles Times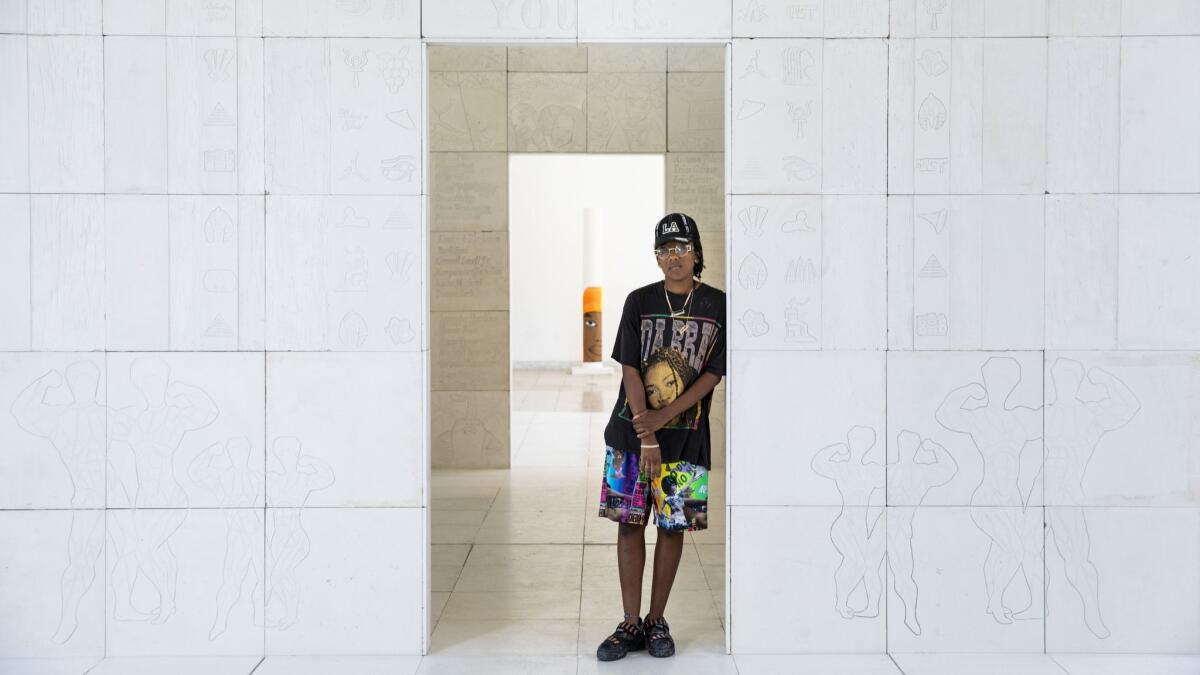 Halsey is the winner of the $100,000 Mohn Award for artistic excellence, which is given in conjunction with the Hammer's "Made in L.A." biennial. The award for career achievement goes to Daniel Joseph Martinez, while performance artist EJ Hill took home the public recognition award, each worth $25,000. Los Angeles Times
ASK THE DUST
An exhibition at the California Museum of Photography in Riverside ruminates on issues of decay and ruin — "ashes to ashes, so to speak," writes Times art critic Christopher Knight. The show, titled "A Handful of Dust: from the Cosmic to the Domestic," features "stream-of-consciousness connections" among more than five dozen works of photography that dwell on dust. Los Angeles Times
ART LIFE
Sidney Felsen is renowned for being the co-founder of Gemini G.E.L., the Melrose Avenue print studio that has produced works by figures such as Robert Rauschenberg and Roy Lichtenstein. Over the years he has captured these figures with his camera — photos that he now has put on display. As he tells The Times' Deborah Vankin: "This is art history that's all around us." Los Angeles Times
ART ACROSS THE GENERATIONS
An exhibition at the Mistake Room tracks the ravages of the Salvadoran Civil War through art produced by three generations of one family. This includes casts of trees made by L.A. artist Eddie Rodolfo Aparicio, the political paintings of his father, Juan, and the handmade dolls crafted by his grandmother. Aparicio tells The Times' Vera Castaneda that putting together the show helped him understand his family and its traumas. Los Angeles Times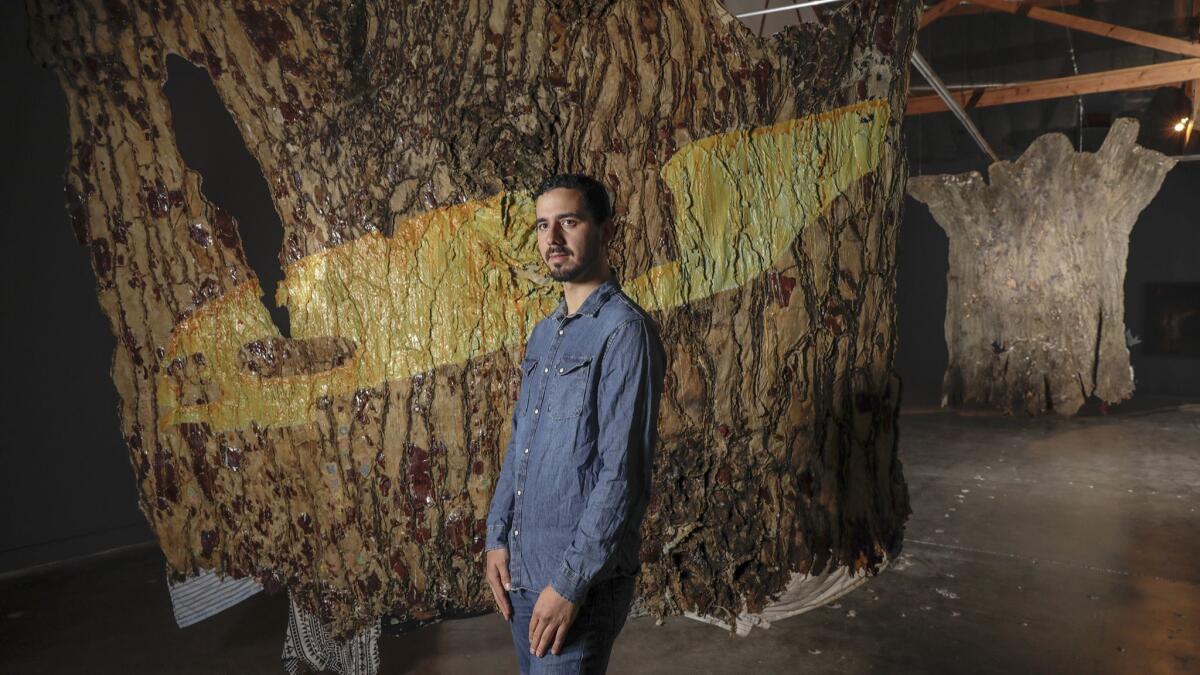 IN THE GALLERIES
A log that isn't quite a log, but instead an agglomeration of thinly sliced strips of log that have been reunited. That's Kazuo Kadonaga's "Wood No. 5-C1" on view at the Nonaka-Hill gallery. "Kadonaga's interventions," writes contributing reviewer Sharon Mizota, "engender a deeper appreciation for the beauty and logic of nature." Los Angeles Times
Mizota hits a couple of other shows this week as well, including New York artist Jonny Negron's "lovely portraits inflected with despair" at Chateau Shatto and the provocatively titled group exhibition at LAXART, "Remote Castration," which explores themes of power, violence and denigration. How timely.
For more art, check out my weekly Datebook listings. Los Angeles Times
DESIGN FOR THE NEW L.A.
With apartment buildings all over Los Angeles, architect Lorcan O'Herlihy is rethinking how we think about density — finding ways to make buildings more livable at a time in which the city is growing up instead of out. "You can pose an argument with architecture, you can raise the level of buildings to the point where your impact is significant — where people are inspired to be there," he tells me. Los Angeles Times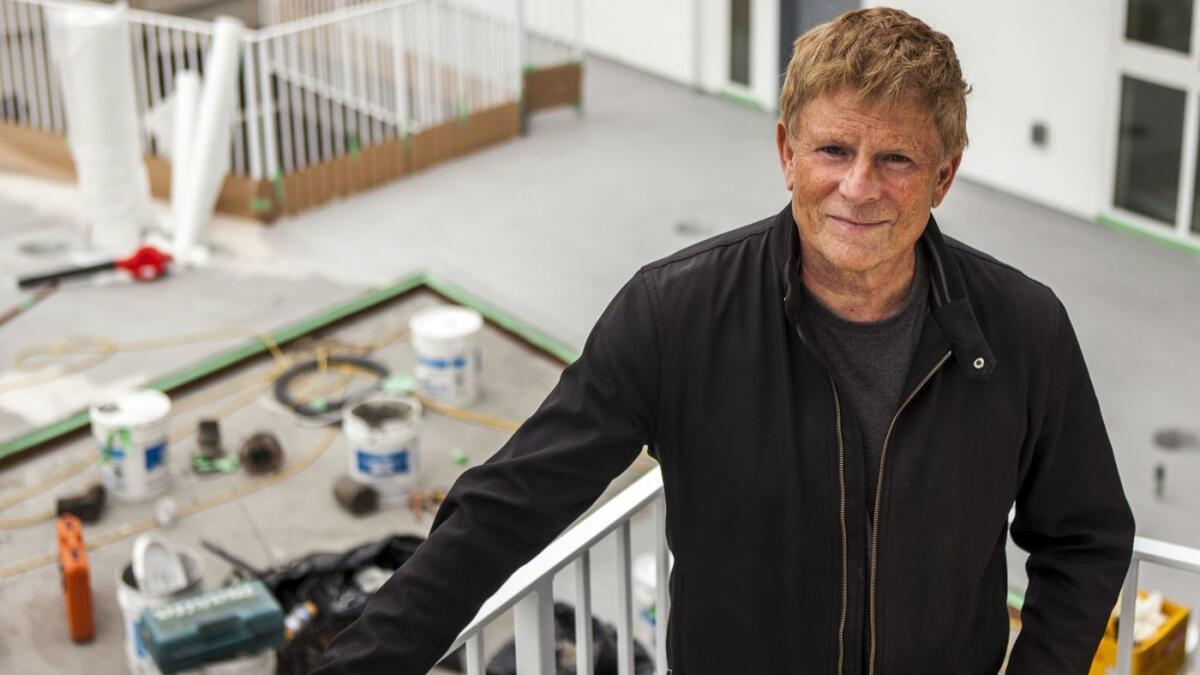 Because I can't seem to stop writing about architecture: how Christopher Nolan's "The Dark Knight" used architecture to alienating effect. Los Angeles Times
A WRITER'S RISE
Playwright Dominique Morisseau is having a moment — her first musical, "Ain't Too Proud — The Life and Times of the Temptations," opens at the Ahmanson Theatre on Friday and is likely headed to Broadway, she has projects in development at HBO and Fox and she was ranked No. 5 on American Theatre's list of the most produced playwrights of 2017-18. "I write about the people I love," she tells The Times' Jessica Gelt, "or that I'm very curious about." Los Angeles Times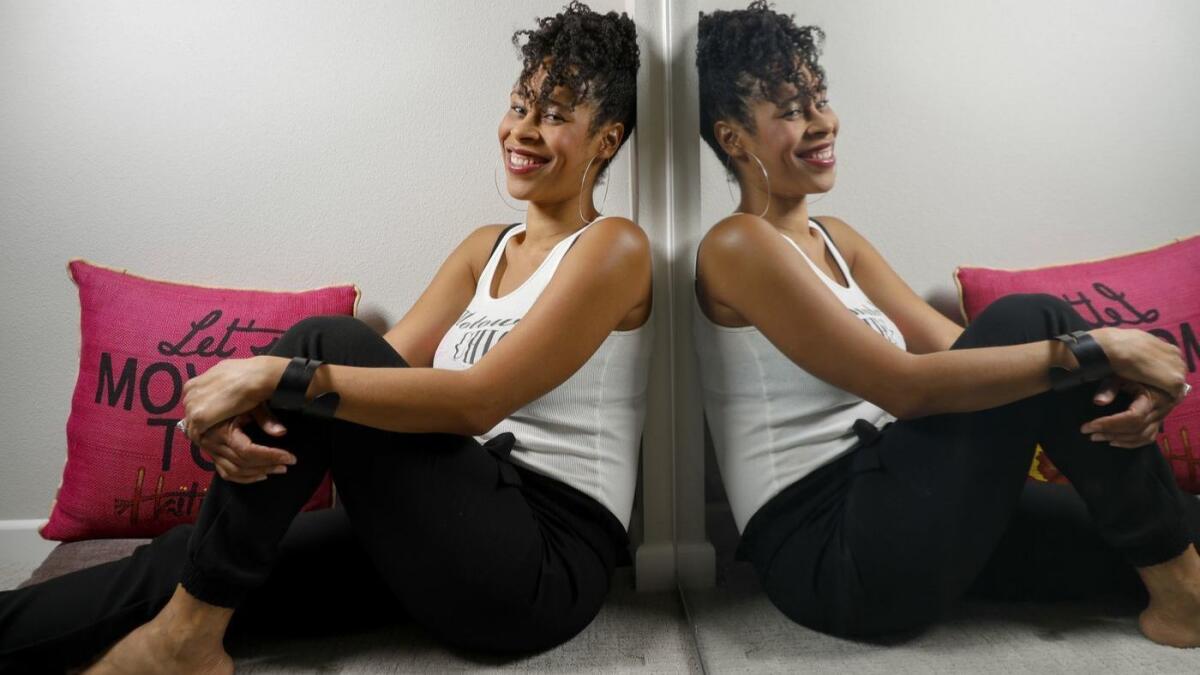 ON BROADWAY
Times theater critic Charles McNulty has been doing the New York thing, taking in a couple of new commercial musicals on Broadway: "Head Over Heels," which fuses Philip Sidney's 16th century prose poem "Arcadia" and the music of the Go-Go's, and "Pretty Woman: The Musical," inspired by the 1990 film. And he's leaning "Pretty Woman." "It's an odd feeling as a critic to wish you could have enjoyed the musical with outdated social attitudes less and the more forward-thinking musical more," he writes. Los Angeles Times
A PIONEERING PLAYWRIGHT
Wakako Yamauchi, the Japanese American playwright and writer, whose 1977 play "And the Soul Shall Dance" shed light on the grueling nature of the 20th century immigrant experience, has died at the age of 93. Jessica Gelt reports. Los Angeles Times
IN OTHER NEWS…
— Miriam Nelson, who choreographed key sequences in films such as "The Apartment" and "Breakfast at Tiffany's," has died at the age of 98. Los Angeles Times
— Richard Koshalek, who served as MOCA's director from 1983 to 1999, has some advice for incoming director Klaus Biesenbach. This is good. The Art Newspaper
— George Dvorsky is totally not impressed with Trevor Paglen's plan to launch "shiny crap" into space. Gizmodo
— Can Burning Man's art hold up outside of Burning Man? The New Republic
— Frances Anderton examines a fascinating issue: why affordable housing costs more to build than regular housing. KCRW
LAST BUT NOT LEAST …
That feeling when you fall into an Anish Kapoor. Artnet
Sign up for our weekly Essential Arts & Culture newsletter »
carolina.miranda@latimes.com | Twitter: @cmonstah
Get our L.A. Goes Out newsletter, with the week's best events, to help you explore and experience our city.
You may occasionally receive promotional content from the Los Angeles Times.