Essential Arts & Culture: An orchestra's political lesson, Hockney sets a record, Dickens refreshed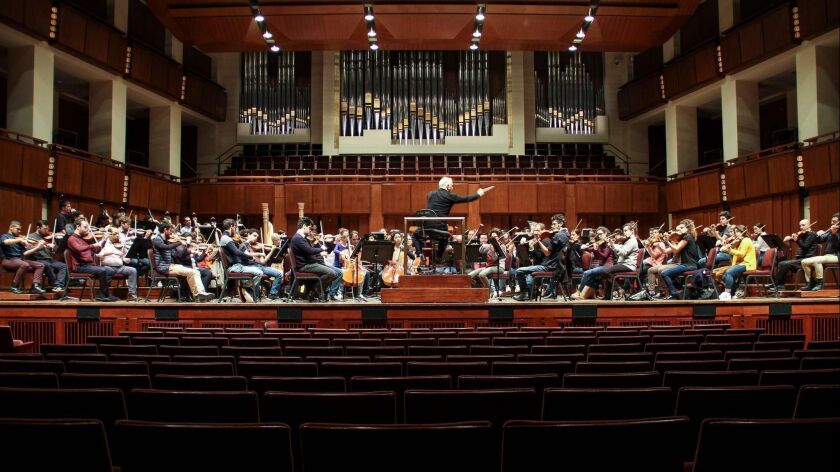 An orchestra that bridges a political divide and an exhibition that is all about the nude. I'm Carolina A. Miranda, staff writer at the Los Angeles Times, with the week's essential arts news:
WEST-EASTERN COMES WEST
The West-Eastern Divan Orchestra, which is made up of Israeli and Palestinian musicians, made its L.A. debut at Disney Hall. Times classical music critic Mark Swed describes an extraordinary event: "The state of the Middle East can be summed up as a region where no country that has supplied these incredible musicians will allow the Divan to play, because the orchestra also includes the other. Were diplomats and peacemakers tuned in, they might make concerts by the Divan a condition of foreign aid, sanctions and talks." Los Angeles Times
Also on Swed's docket were new works from five European composers chosen by L.A. Phil principal guest conductor Susanna Mälkki. It was an evening of "uncompromising modernism," he notes, with pieces by Miroslav Srnka, Yann Robin, Lotta Wennäkoski, Arnulf Herrmann and Francesco Filidei, the latter of whom made Disney Hall's organ rumble with unusual sounds. Los Angeles Times
Cellist Alisa Weilerstein played a couple of gigs in Southern California over the last week — one of which included Dvorák's Cello Concerto. "There is no telling what kind of cellist Weilerstein, who is 36, will be at age 50 or 60," writes Swed. "What we can talk about, however, is greatness. Of that, these two concerts left zero doubt." Los Angeles Times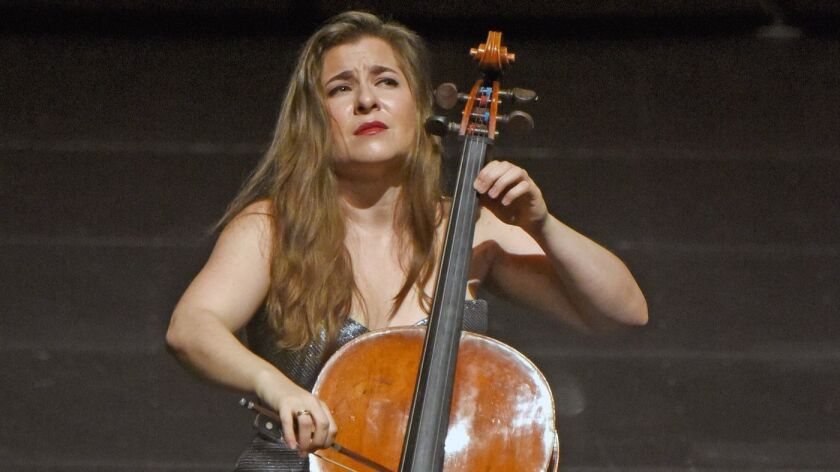 AUCTION TALK
When David Hockney's 1972 painting "Portrait of An Artist (Pool with Two Figures)" sold at Christie's this week for $90.3 million, it set a record for a work sold at auction by a living artist. "I think what this auction shows is that the market has caught up with the public's enormous fascination and love of Hockney's work," LACMA curator Stephanie Barron tells The Times' Deborah Vankin. It also shows that some private collector just made a pile of money. Los Angeles Times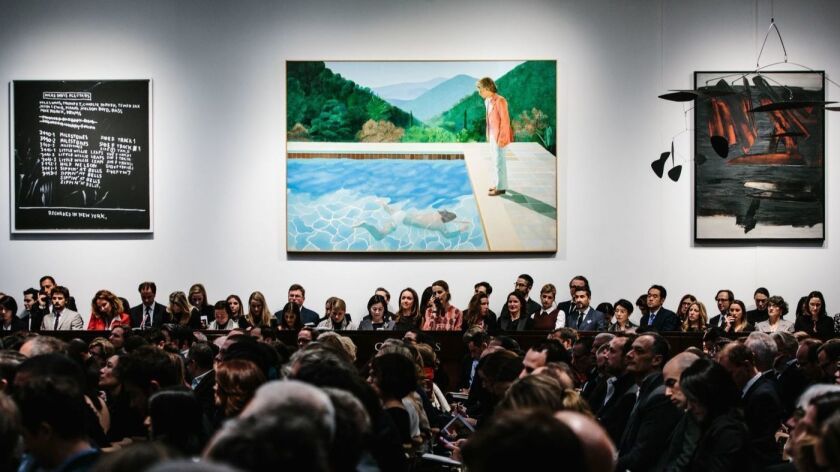 NUDE NUDES
A new exhibition at the Getty Museum examines the central role the nude played in Renaissance art as object of devotion, sensuality and science — and Times art critic Christopher Knight digs it. "The exhibition goes searching for provocative answers to how, why and to what ends nude figures — female and male — emerged as a major artistic device," he writes. "I'm not aware of another major museum exhibition that has ever examined this fascinating and crucial subject, even though it has long been staring us in the face." Los Angeles Times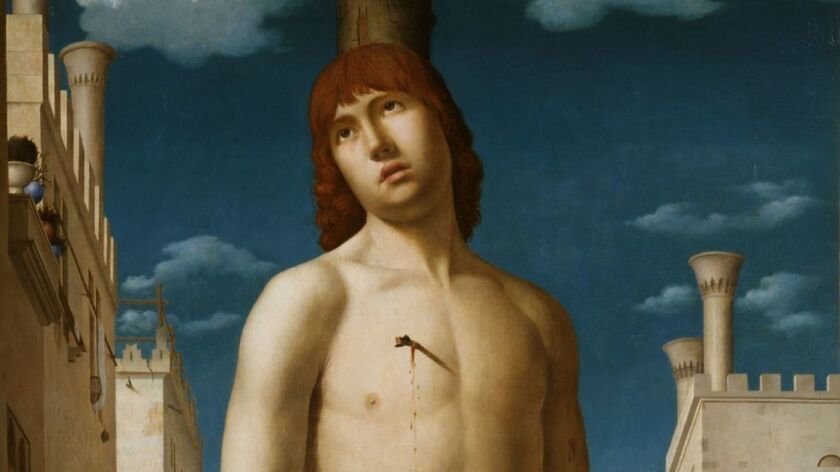 Plus, Knight also has a look at Laura Owens' "thoroughly entrancing" mid-career survey at the Museum of Contemporary Art in Los Angeles. the L.A. painter, he writes, is one who has grabbed middle-brow culture "by the lapels" and "she's great at it." Los Angeles Times
IN THE GALLERIES
"How does one represent black people when so much has been done to erase them, or reduce them to stereotypes?" asks contributing reviewer Sharon Mizota. Shows by Meleko Mokgosi at Honor Fraser, Kwame Brathwaite at Philip Martin Gallery, and Deana Lawson at the Underground Museum contend with this question. Los Angeles Times
Exhibitions at branches of the Los Angeles Public Library explore the urge to collect — everything from candy wrappers to typewriters. Los Angeles Times
Plus, Edmund de Waal's installation at the Schindler House, featuring objects of porcelain, steel and stone "makes deeply stirring conversation with the house," writes Times contributing reviewer Leah Ollman. Los Angeles Times
INVADING L.A.
The anonymous French street artist known as Invader is in Los Angeles — installing his pixelated mosaics (many inspired by the video game Space Invaders) on the street and in a downtown gallery show at Over the Influence. "I just want to put something in the landscape that people can smile about it," he tells Deborah Vankin. "My goal is to produce art for everybody in the city and create some beautiful things." Los Angeles Times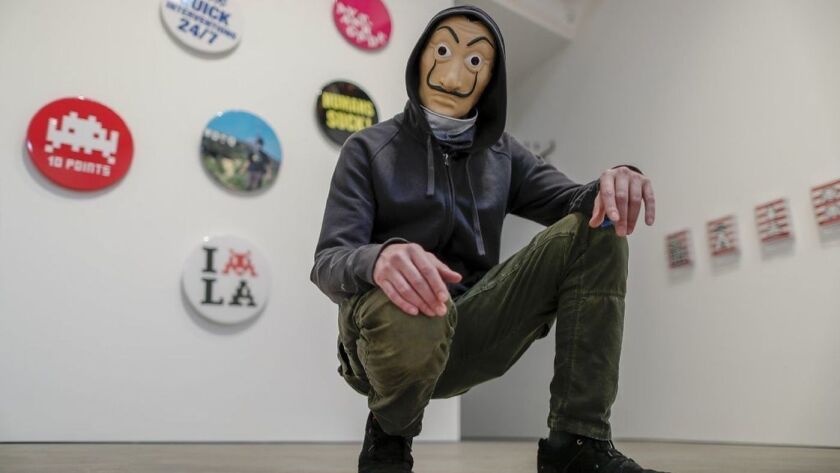 Because life is full of coincidences, it turns out that Vankin has been living in view of an Invader for years. Los Angeles Times
A photo essay rounds up his recent street installations. Los Angeles Times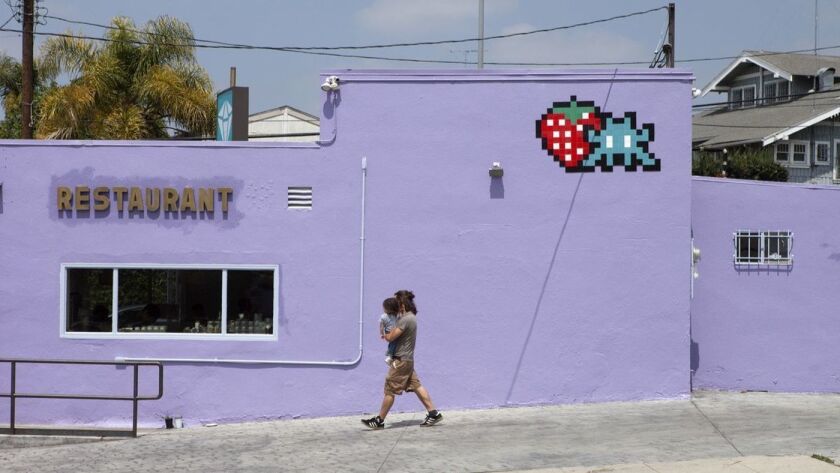 GREAT DICKENS
No work of literature, writes Times theater critic Charles McNulty, has suffered from as much theatrical overexposure as Charles Dickens' "A Christmas Carol." But a version starring Jefferson Mays at the Geffen Playhouse energizes this old tale. "Mays," writes McNulty, "is the rare gem that gives this production its mesmerizing glint." Los Angeles Times
McNulty also has a look at Martyna Majok's Pulitzer Prize-winning drama "Cost of Living" at the Fountain Theatre. The theater may be small, but the production, he writes, "is on par with the Mark Taper Forum and the Geffen Playhouse at their best." Los Angeles Times
And because McNulty is relentless, he also has a review of Brian Dennehy's double bill of "Hughie" and "Krapp's Last Tape" at the Geffen Playhouse. "There is something invigorating about watching a veteran actor throw himself headlong into plays that make no concessions in their ruthless pursuit of darker truths," writes McNulty. Los Angeles Times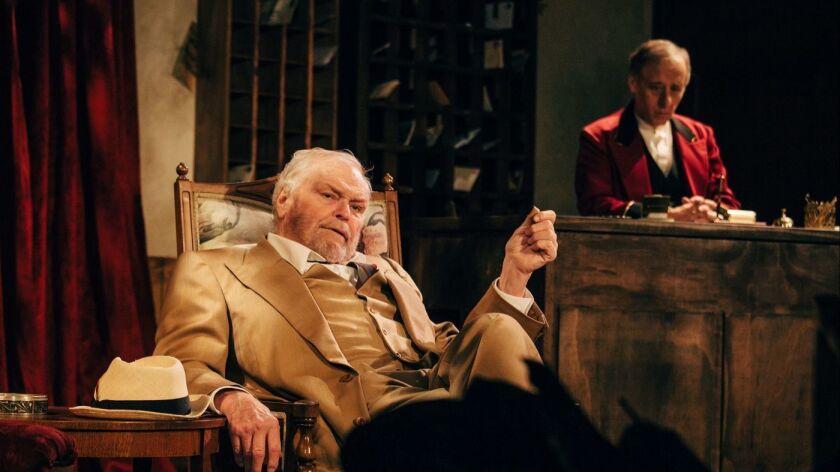 BITTER HISTORY
Keith A. Wallace's one-man show "The Bitter Game" is told as four quarters of a basketball game, all touching on issues of police violence. "I can remember times where I've been in performances and there will be another murder of an unarmed person of color," Wallace tells The Times' Makeda Easter, "and I feel like it's the socially responsible thing to do to include that name, that story, that person's spirit in the performance of the show." Los Angeles Times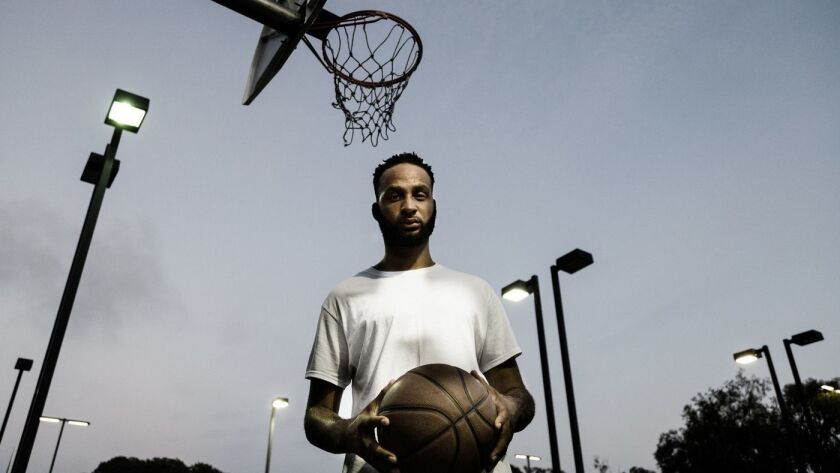 ON STAGE
John Fleck is performing "Blacktop Highway" at the Odyssey Theatre. "With all its stylized artifice," writes Jenny Lower Beckman, the play "serves as a vehicle for Fleck to play with deeper ideas about the nature of reality and representation." Los Angeles Times
Also at the Odyssey: Bruce Jay Friedman's "Steambath" with Paul Rodriguez in a tale that takes place in a steam room in the afterlife. "Rodriguez anchors the show with a bracing naturalism," writes F. Kathleen Foley. Los Angeles Times
READY FOR THE WEEKEND
Matt Cooper charts the week ahead in dance, classical music, art and theater. He also lists his weekend picks, which includes UnCabaret's 25th-anniversary show.
Philip Brandes has the latest in the city's 99-seat theaters, including the musical "The Color Purple."
And I round up all the art shows in Datebook, including an exhibition at LACMA that brings together work by artists both trained and self-taught.
IN OTHER NEWS…
— A statue of Columbus that stood in L.A.'s Grand Park for 45 years has come down. L.A. Taco
— President Trump will not attend the Kennedy Center Honors next month. Washington Post
— Cultural institutions across Germany have signed declarations against far-right groups. Artforum
— Critic Ben Davis says that having Amazon's headquarters land in New York will be bad for the city's arts scene. Artnet
— An artist placed binoculars on the Tate Modern's viewing deck after residents of a nearby luxury tower sued to have the deck closed. Fast Company
— Tim Murphy has a terrific Q&A with L.A. performance artist Ron Athey. Vulture
— How one performer contends with cellphones in theaters. New York Times
— Patrik Schumacher, partner at Zaha Hadid Architects, has filed a claim to remove three other co-executors from Hadid's estate. Architect
AND LAST BUT NOT LEAST…
Christoph Niemann sketches his Los Angeles waits. New Yorker
Sign up for our weekly Essential Arts & Culture newsletter »
carolina.miranda@latimes.com | Twitter: @cmonstah
---
Inside the business of entertainment
The Wide Shot brings you news, analysis and insights on everything from streaming wars to production — and what it all means for the future.
You may occasionally receive promotional content from the Los Angeles Times.