Casey Kasem judge reverses ruling: Host's feeding, hydration can stop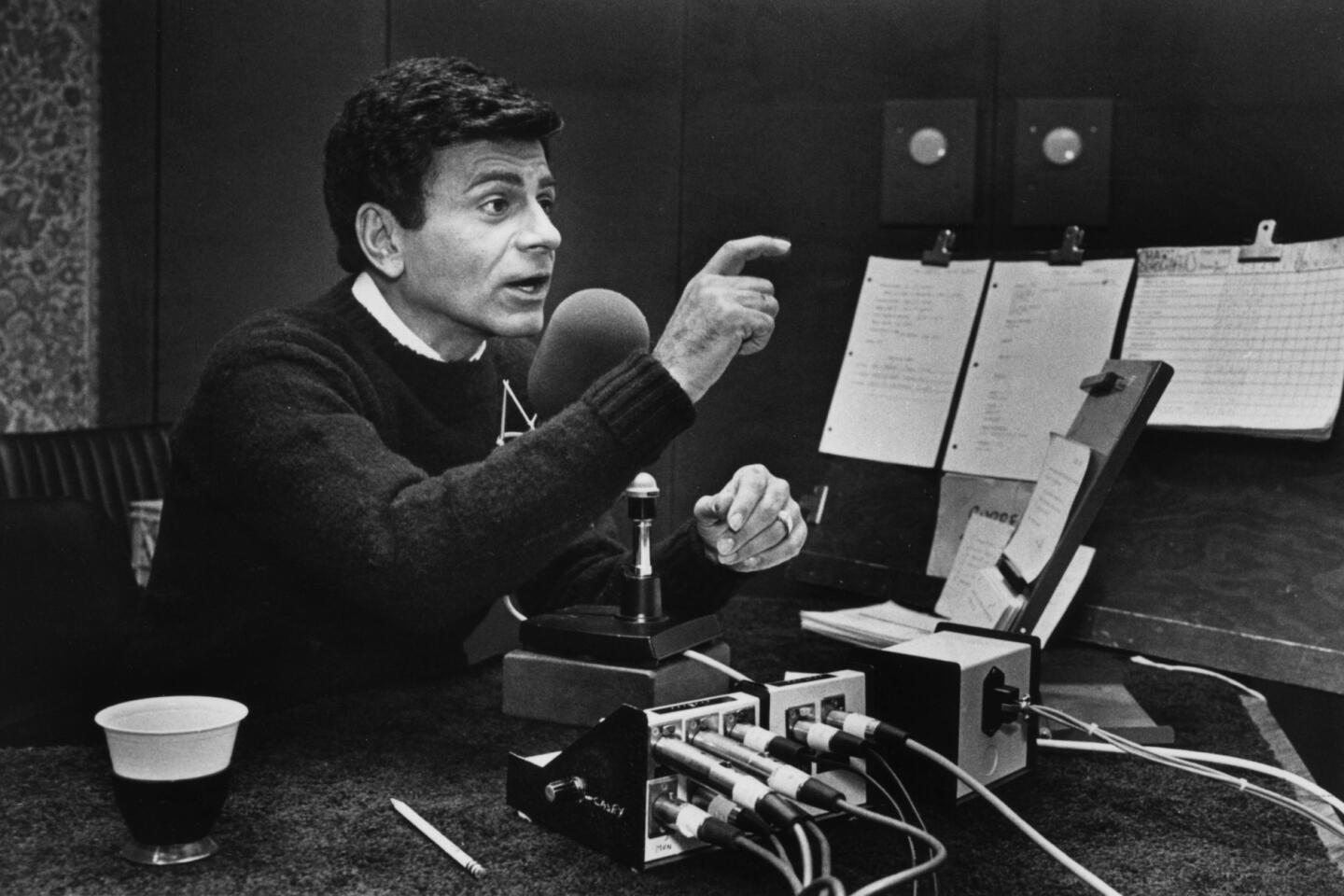 Casey Kasem broadcasts on radio station KIQQ in 1981.
(Gary Friedman / Los Angeles Times)
Casey and Jean Kasem attend the 1990 Emmys.
(Mindy Schauer / Los Angeles Times)
Casey Kasem (1932-2014) -- Los Angeles-based disc jockey pioneered the nationally syndicated countdown-style show in 1970 with "American Top 40."
(Eric Jamison / Associated Press)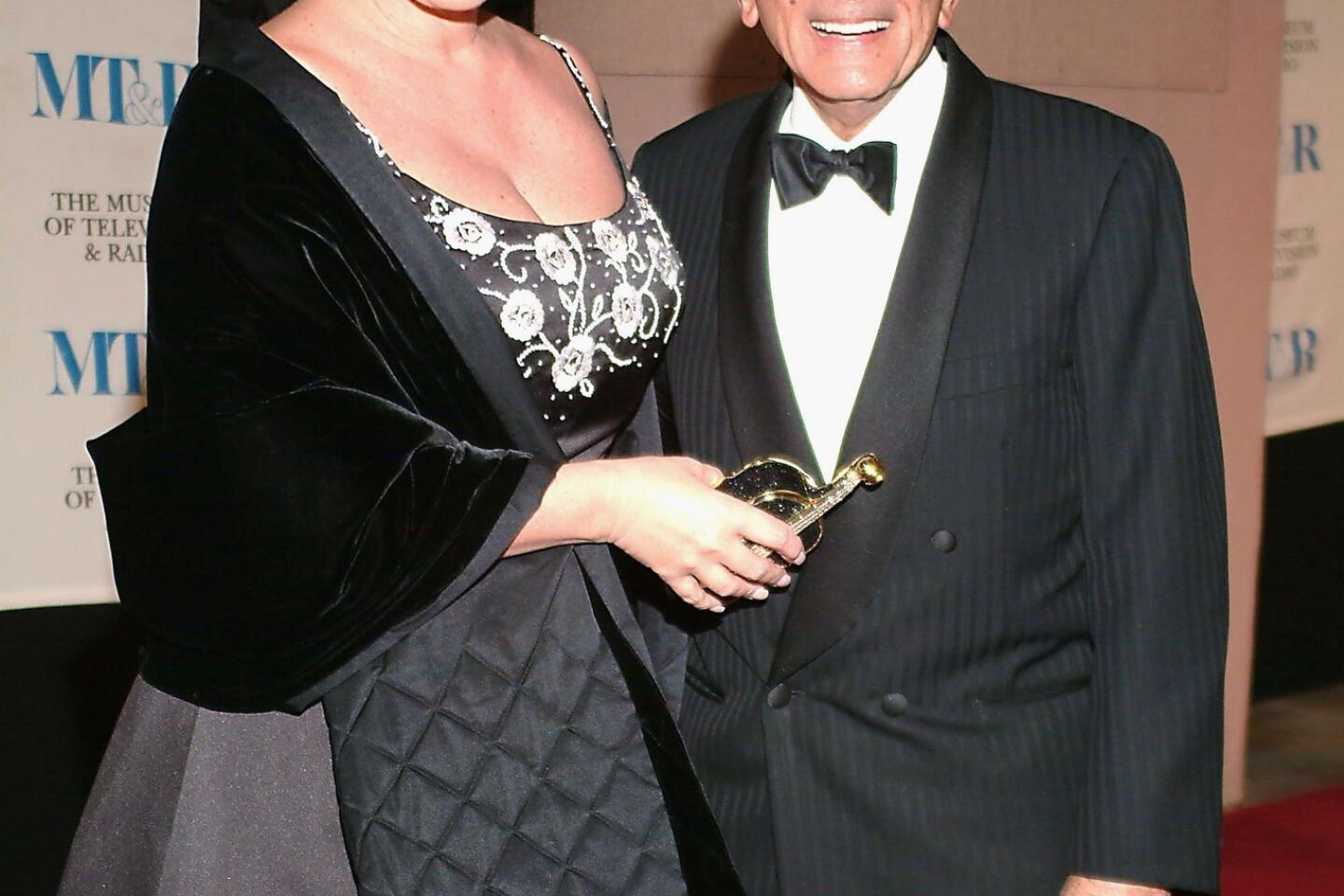 Casey Kasem and his wife, Jean, arrive at the Museum of Television and Radio's gala tribute to Barbara Walters at the Beverly Hills Hotel in 2004.
(Michael Tullberg / Getty Images)
Casey Kasem accepts the Radio Icon Award at the 2003 Radio Music Awards.
(Michael Caulfield / WireImage / Getty Images)
Casey Kasem hosts the KTLA music show "Shebang!" circa 1965.
(Michael Ochs Archives / Getty Images)
Casey Kasem in the DJ booth at WJBK radio station in 1957 in Detroit.
(Michael Ochs Archives / Getty Images)
A judge upheld Casey Kasem's health directive to stop the radio legend's nutrition and hydration during an ex parte hearing held Wednesday in Los Angeles.
The move by Los Angeles Superior Court Judge Daniel S. Murphy reverses a decision he'd handed down Monday ordering the continued feeding and hydration of the 82-year-old, at the request of his wife, while he's in hospice care in Washington state. Jean Kasem, married to Casey since 1980, has been feuding with the radio icon's three children by his first wife.
Murphy also decided that Kerri Kasem would remain her father's temporary conservator.
"We're really deeply disturbed by the court's ruling today," Jean Kasem's attorney Steven Haney told The Times over the phone. "It's just wrong. Jean Kasem is broken-hearted."
Haney said that his client is still in Los Angeles and that the family's invitation for her to come back to Washington is "all show."
"She doesn't want to go up there and be a part of what they're doing," he said. "When I left her she was crying pretty significantly."
Doctors said that "continuation of artificial nutrition and hyrdation is not in the patient's best interests because it will at best prolong the dying process for him and will certainly add suffering to an already terribly uncomfortable dying process," according to documents filed by Kerri Kasem's attorney, Troy L. Martin.
The onetime "Top 40" host suffers from Lewy body dementia as well as bed sores.
"The court's decision today upheld our father's explicit wishes as expressed by him in his health directive," the family said in a Wednesday statement that cited Casey Kasem's wishes as expressed in a 2007 advance healthcare directive.
"'If the extension of my life would result in a mere biological existence, devoid of cognitive function, with no reasonable hope for normal functioning, then I do not desire any form of life sustaining procedures, including nutrition and hydration,' " the directive said in part, according to the family's statement.
The family added that transitioning Casey Kasem's treatment to "comfort-oriented care" was one of the hardest decisions they have ever had to make. Kerri Kasem was named a temporary conservator of her father about a month ago.
Jean Kasem transferred her husband to Washington state from a Santa Monica facility in May without the family's knowlege. The couple had been staying at a friend's home before Kerri Kasem had him moved to a hospital June 1, which is when the infamous meat-throwing incident took place.
"For the last 11 days, our father has been surrounded day and night by love and care by his daughters Kerri and Julie, his son Mike, his brother Mouner and sister-in-law Mary, and his dear friend Gonzalo Venecia," the family said. "We continue to hope that Jean and Liberty will come join his family during this time."
Liberty Kasem is the daughter of Jean and Casey.
A progress report hearing originally set for Friday has been taken off the calendar, Martin said.
Kerri Kasem's powers of the temporary conservatorship remain in effect until a hearing on the permanent conservatorship takes place on June 20.
For the record, June 22, 2017: An earlier version of this story said the family's statement was referencing a 2011 advance healthcare directive. The judge upheld Casey Kasem's 2007 directive.
Follow me on Twitter @NardineSaad.
Get our L.A. Goes Out newsletter, with the week's best events, to help you explore and experience our city.
You may occasionally receive promotional content from the Los Angeles Times.