Sudan Archives turns the violin into the soul of her funk, hip-hop, African rhythms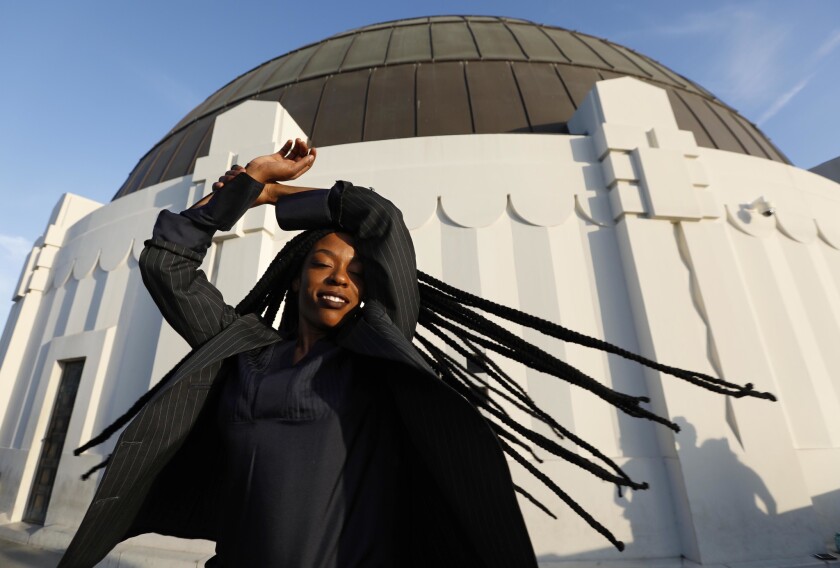 She was a girl with a violin and a shy voice in a church choir. Years later, she was wearing camo pants and black boots, making music pulled from the red dirt of Africa, home to spirits and ancestors, and feeling that a child from Cincinnati could bust out with her own songs and fix a gaze on the world.
Sudan Archives, a fashion chameleon and daughter of a preacher, twines funk, hip-hop and rhythm and blues into compositions with the violin as their soul. Her lyrics pinch and soothe; her improvisations scurry like blown shadows. At 24, she's a gatherer of riffs and whispers, a woman who not long ago was scrimping to buy loop machines and baking donuts in Los Angeles to make rent.
Her recent acclaimed EPs — "Sudan Archives" and "Sink" — show a predilection to explore and experiment. Her videos, shot in Africa and Inglewood, contrast the snarl and insouciance of this city with the earthen and ethereal of a faraway land of fishing boats, marketplaces and shacks where slaves once lived. Her hair blooms from dreadlock to Afro, and, quite to her surprise, she is becoming a bit of a thing from Norway to Coachella.
"I'm not famous like a pop star, but something's happening," she says. "Imagine getting all this praise and then remember back when you were in the orchestra and took violin lessons and they said, 'You need to not play like that.' In the classical world, I have so much work to do. I'm just a little baby, a tadpole. But I created my own lane. This is my space. How do you be comfortable in a lane that's limitless?"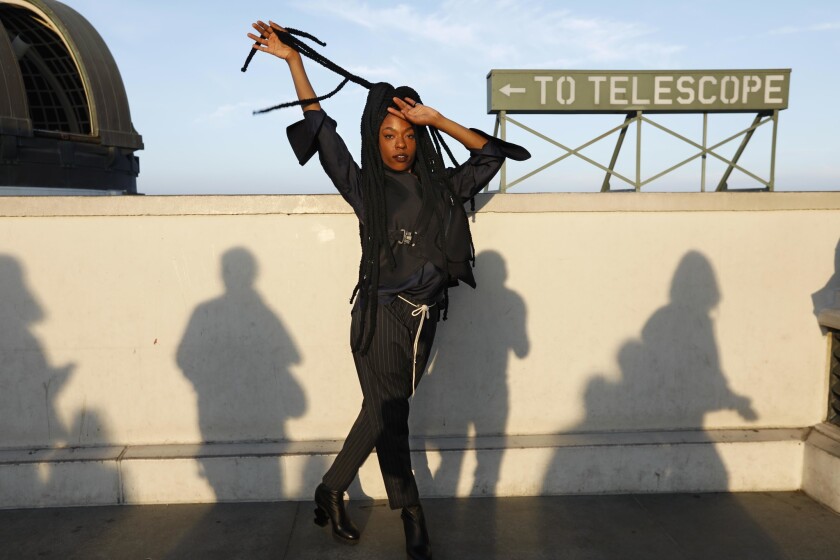 Her stare is deep. Her candor disarming. "My lyrics are my inner poetry," she says. "Little ideas, haikus and lines. But to be honest, I feel like my writing sucks." The violin is her muse, "the base of my sound." Largely self-taught on the instrument, she found that European composers did not resonate with the visceral, ancient inclinations of Sudanese fiddlers and African songwriters and musicians.
"That music is more expressive to me. They're singing and playing at the same time. The way they play is uncontrollably gritty," says Sudan, who drums and plucks a violin so it can sound like water slapping rocks or the ping of a tripwire. "I'd Google and see the [African] tribes playing that way. I made a connection and thought maybe I can do my own thing. I don't have to be this classical violinist. I can be an expressive string, out there, wild. Maybe that's what I'm supposed to be doing. My roots, even though I don't know where in Africa I'm from."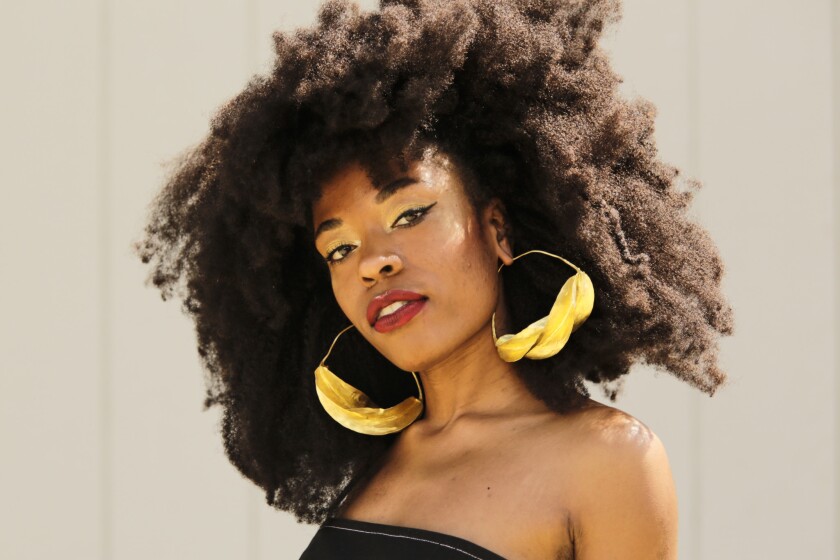 Brittney to Sudan
That sentiment figures in her name. She didn't like her birth name, Brittney Parks. She and her mother changed it to Sudan ("black" in Arabic) and Archives (her compulsion for African history). She ironed her hair when she was a girl "because that's what pretty meant." But as she scrolled deeper into her African identity, she followed the lead of her twin sister, Catherine, and shaved her head, letting her hair grow back natural. She smiles when she tells the story, tucking defiance into a laugh, which she does with ease.
Spinning in a chair at Stones Throw Records in Highland Park, her hair flying, a taco and a coffee set before her, she seems a woman on the brink of an amusing mystery, a musician amazed at the fortune that has come her way, but unsure where it's all headed: "No one was watching before. When I put these songs out I had no expectation. I was making music in a bedroom. Then someone said let's wrap it in a ribbon and put out in the universe."
There's a confident precociousness at work too. Like many electronic music composers, she's a performance artist and an alchemist, coaxing songs from loop machines and computer programs on an iPad that, like her violin, are integral to her creativity. Her songs, such as "Come Meh Way" and "Queen Kunta," a brash cover of Kendrick Lamar's "King Kunta," are born from a violin melody that is inlaid and spliced with technology. Or as she puts it:
"I make this whole world by putting a bunch of . . . on top of it. People can't put their tongue on what it is genre-wise."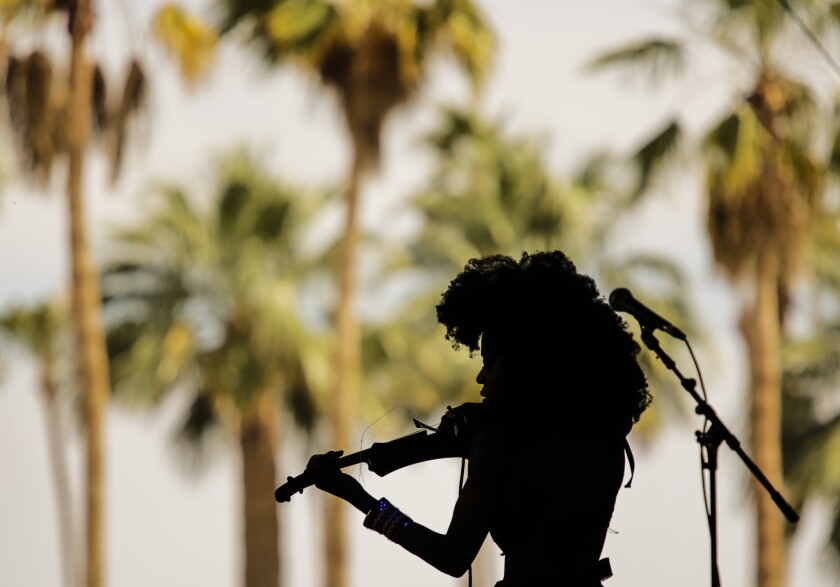 Sudan, says Matthewdavid, a producer who mixed and mastered Sudan's EPs, is "fusing West African music into contemporary left-field electronic music. People are gravitating toward that ancient roots/future roots music. She was able to go to Ghana and dig into her roots, and I think through that discovery she has produced something really great. She's accessible but still a little fringe, a little lo-fi."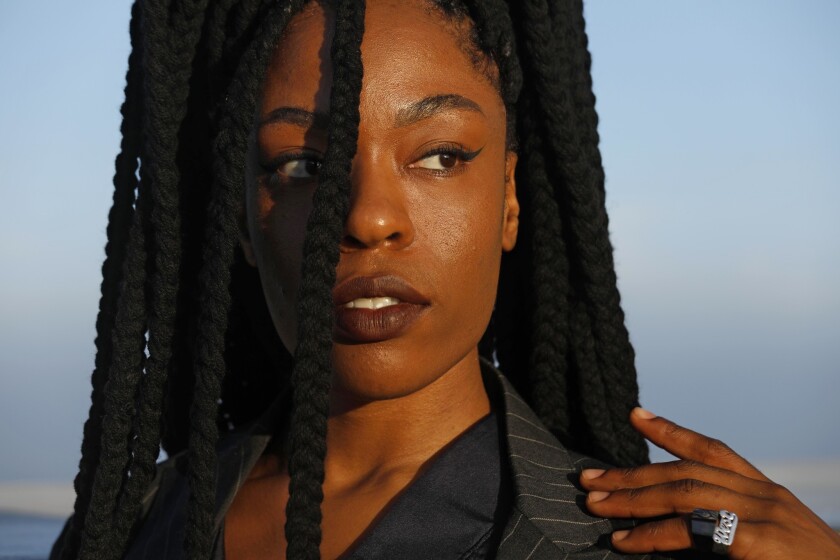 Sudan's first musical memory was at Refreshing Springs Church of God in Cincinnati. Her father was the pastor, and her mother urged her to play violin in the choir. She didn't know how to read music, but she trained her ear and, reluctantly, at the choir master's request, started singing. She didn't have a raise-the-rafters voice "so I did it in my own style," she says. "I had these slight breaths, this different way of singing."
Her mother wanted her and Catherine in the best schools. "We moved a lot. I always felt like a ghost," she says. "I didn't really know anyone. I didn't go to prom." Her parents split up and her mother started dating Derrick Ladd, who worked at LaFace Records with Antonio "L.A." Reid and Kenneth "Babyface" Edmonds. Ladd urged Sudan and Catherine to start a pop act. "He put us in studios," she says. "But I didn't like it. He wanted us to be big, but I didn't want to be big. I wanted to have a job and do open mikes sometimes."
She veered toward experimental music, sneaking out at night to clubs and learning about SP-404 linear wave samplers and the gadgetry that comprise the technological arsenal of a solo artist. That skill found its purpose when she moved to Los Angeles four years ago "and discovered my musical palette" while wandering through Amoeba Records. She came upon Francis Bebey, a pioneering Cameroonian-born musician who fused jazz, pop, and African styles.
"I saw this naked African lady with a basket on her head on the album cover ["African Electronic Music 1975-1982"], and I thought, hmmmm. What is this?" says Sudan, who was working in a diner and doughnut shop, composing after hours on an iPad. "I checked the record out. I started digging. I got so curious."
That culminated in "Come Meh Way," a love song of syncopated beats and a slicing violin, and "Water," a slow, sensual homage to Africa in which Sudan seems like a spirit swaying through a land of sorrow and splendor. Both videos were shot in Ghana and suggest an innate ease, as if a long-gone daughter had returned to the coy village boys and fishing nets strewn along the shore.
A similar evocation of place — although one thousands of miles away — is summoned in "Nont for Sale," a beat-box paean to self-discovery and escaping expectations. Shot at a beauty salon in Inglewood, the video embodies the heat, grit and attitude of a Los Angeles neighborhood, where Sudan, her Afro reminiscent of the '70s funk star Betty Davis, sits a atop a vintage Buick convertible that rolls with regal aplomb through a parking lot.
"You only call me when you need something / I need to be free / Time to spread my wings," she sings. "I don't like leeches / All the nonsense gon' get back with ya / Don't got time for snitches / You're pulling me down thought you was my sista … Stay outta my flight path."
Sudan's migration to Los Angeles began, at least in part, on SoundCloud when she and Cary Allison, a producer and performance artist, started sharing music. They talked on Skype. "I told her," Allison says, "get out of Ohio and come here and sleep on my couch." They lived together for two years, listening through walls to each other's music, including the classical scores Sudan was practicing as part of a course at Pasadena City College.
"I much prefer her own creations, though," Allison says . "She just has something coming out of her. It's not that she wants to be a star or wants the money to buy her mom a house. She has a way of connecting to people that's not very logical, but it's very moving. It's the same with her music. It doesn't always follow this simple meter or this easy to understand progression, but it's super moving."
Not long ago, in the hours before dusk, Sudan drinks wine and slurps oysters before a photo shoot in Griffith Park. She's leaving for a Canadian tour the next day but is relaxed, the sound of traffic beyond her. She mentions her performance at Coachella this year; how her Sudanese friend Abdel El Tayeb flew in from Belgium with a gold, orange and white dress he had spent 300 hours sewing. He passed out from exhaustion in the ticket line. He was revived. But Sudan, who had no management at the time, was running around looking for the stage she was supposed to perform on, "trying to figure out where to go, what I'm doing."
She laughs at the recollection and swallows the last oyster. Life is moving fast. She's working on a new album, a story of her odyssey from Cincinnati to Los Angeles. She's journaling. She says she wants to read poets; to find precise words for the things she feels. To make syllables rise and play. But in sunlight and shadow, in the stirring of a breeze, she heads to the park, where a photographer waits beneath a sky hard and blue.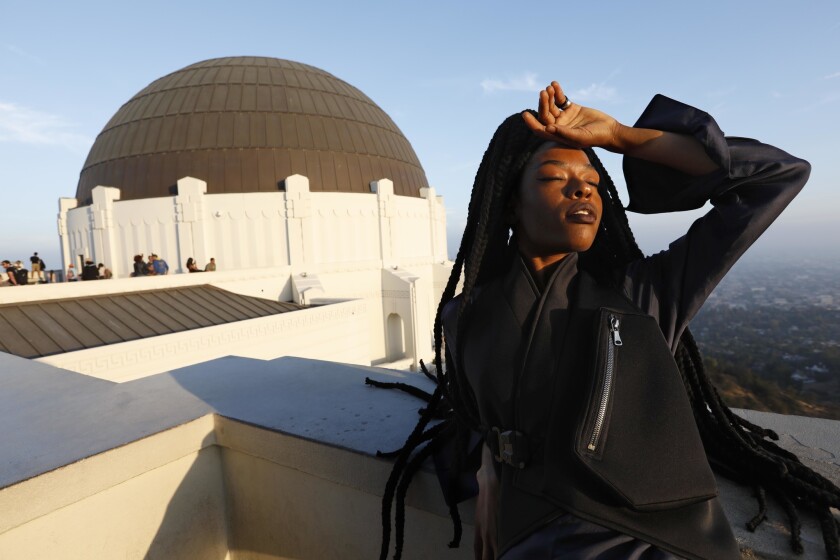 More about Sudan Archives
Sudan Archives shows that the individual persists amid Coachella's plenty
California Sounds: New music from Sudan Archives, Las Cafeteras, Prophet and Joey Dosik
'If she's going to headline, I'm going to headline:' Black women reflect on the power of Beyoncé at Coachella
Also by Jeffrey Fleishman
Immigration. Technology. Trump. A lot has changed in small-town America. One Iowa town drew the line at its movie theater
James Stern talks about his documentary 'American Chaos,' which travels through the seething fervor of Trump territory
Ann Philbin and the art of the provocative are thriving at the Hammer Museum
From 'Sling Blade' to 'Goliath': Billy Bob Thornton finds his peace
Ethan Hawke lets us in his editing room and reveals what Philip Seymour Hoffman taught him
Wild, brash and funny Jon Gabrus takes on Hollywood's bruising world of comedy
Rage and wonder in 1968: The year war came through the TV and I felt pieces of childhood ending
See the most-read stories this hour »
Twitter: @JeffreyLAT
---
Inside the business of entertainment
The Wide Shot brings you news, analysis and insights on everything from streaming wars to production — and what it all means for the future.
You may occasionally receive promotional content from the Los Angeles Times.