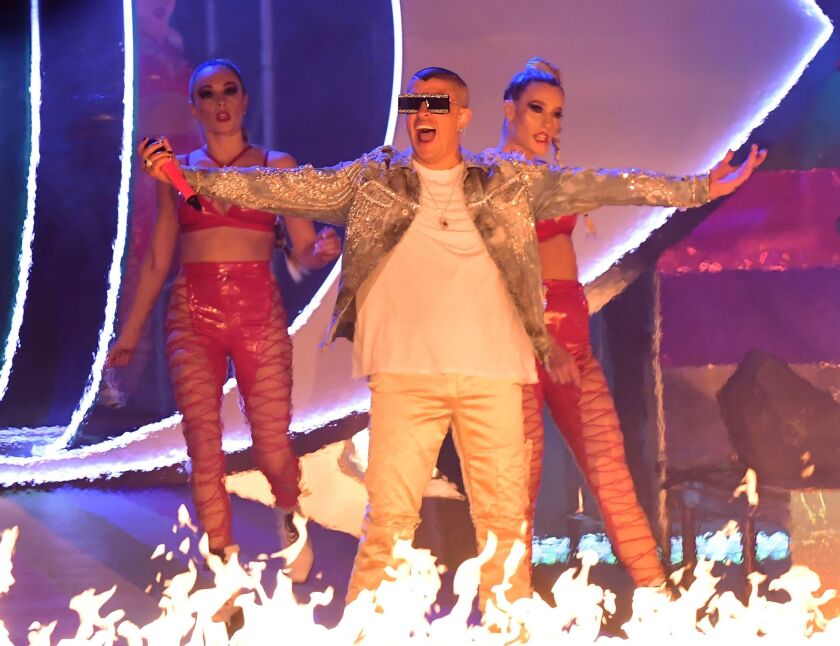 The 2019 Latin Grammy Awards, which mark the 20th anniversary of the annual ceremony, will be held Nov. 14.
The awards show will again take place in Las Vegas at the MGM Grand Garden Arena, and the three-hour telecast will air live on the Univision Network, the Latin Recording Academy announced Tuesday.
The awards show starts at 8 p.m. Pacific, preceded by an hourlong pre-show.
The 2019 nominees will be announced on Sept. 24, the academy said.
Latin Grammys 2018 | Red carpet and show highlights »
To celebrate the 20th anniversary, the academy unveiled a new version of its logo designed by Blanco-Lorenz, which changed the design from red to platinum.
"In addition to symbolizing successful music sales, and having long, historic ties to Latin America, platinum is known for being a malleable metal, more ductile than gold or silver, and a chemical catalyst," said Latin Recording Academy President and Chief Executive Gabriel Abaroa Jr. in a statement.
The Latin Grammys' reggaeton problem is a lot like Grammys' hip-hop problem—or why J Balvin was snubbed »
Last year, Jorge Drexler of Uruguay earned top honors in the record, song and singer-songwriter of the year categories. Mexican crooner Luis Miguel won two trophies, for ranchero/mariachi album and album of the year. But Colombian hitmaker J Balvin, who led the field of nominees with eight nods, took home only one trophy, in the urban album category for "Vibras."
Follow me: @NardineSaad
---