First listen: Eminem's 'Berzerk'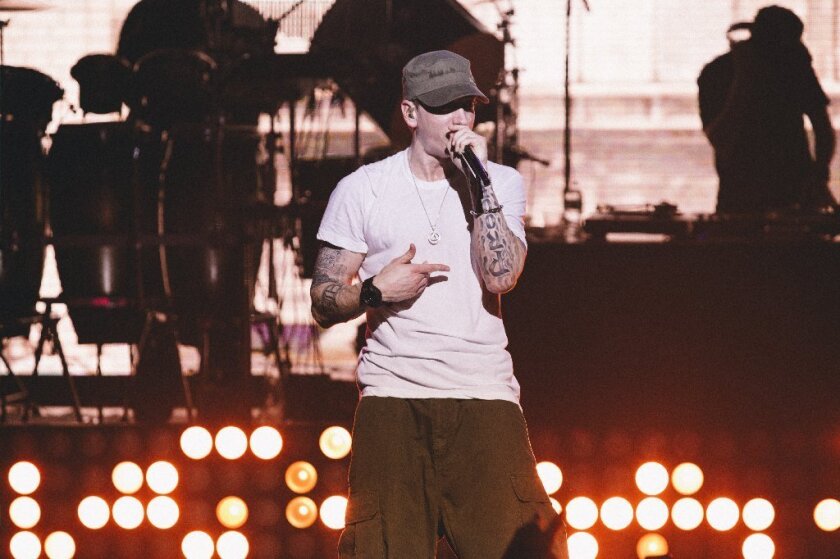 Where does Eminem go after he's already done the regal, serious comeback album?
He goes to Rick Rubin, obviously. That's where every not-so-young-anymore MC goes for a late career lift these days, and as Eminem is looking back to his catalog on this LP, why not go all the way?
Em wears his Rubinite facelift better than most, as proved by his new single "Berzerk." It's a positively '80s-ish throwback, full of sampled rock guitars and Kangol-era swagger that preceded Em by at least a decade.
RELATED: Best albums of 2013 so far | Randall Roberts
"Let's take it back to straight hip-hop and start it from scratch," he rhymes. Consider it done.
The song works because, lest we forget, Eminem is a phenomenally gifted pure MC. "Berzerk" doesn't rely on soupy reverb or weird production tricks to get the job done. It's all high-energy block party material, meant for a rapper who can deliver a relentless torrent of words, and quickly.
If Eminem had to reinvent himself after the relatively redemptive "Recovery," "Berserk" is an interesting setting. The song isn't sinister and slinky, like the best material on the original "Marshall Mathers LP." It's a loud, brash and quick tune -- more indebted to the Beastie Boys than anything contemporary.
TIMELINE: Summer's must see concerts
You can hear the Rick Rubin-iness in every bar, and after a few years of drugged-out after-hours productions in hip-hop this certainly stands out by comparison.
It's far from the most instantly catchy single in his catalog, and the self-aware datedness might be a bit much for today's rap radio. But if he's looking to the past on this "MMLP2" album, he found a fine era to mine.
ALSO:
FYF 2013: Jonathan Richman makes Sunday funday
Grand Theft Auto V music tracklist, stations revealed
FYF 2013: Making space for other kinds of electronic music
---
Inside the business of entertainment
The Wide Shot brings you news, analysis and insights on everything from streaming wars to production — and what it all means for the future.
You may occasionally receive promotional content from the Los Angeles Times.