Fall and winter 2019 trends: Strong shoulders, bold colors and many a menswear motif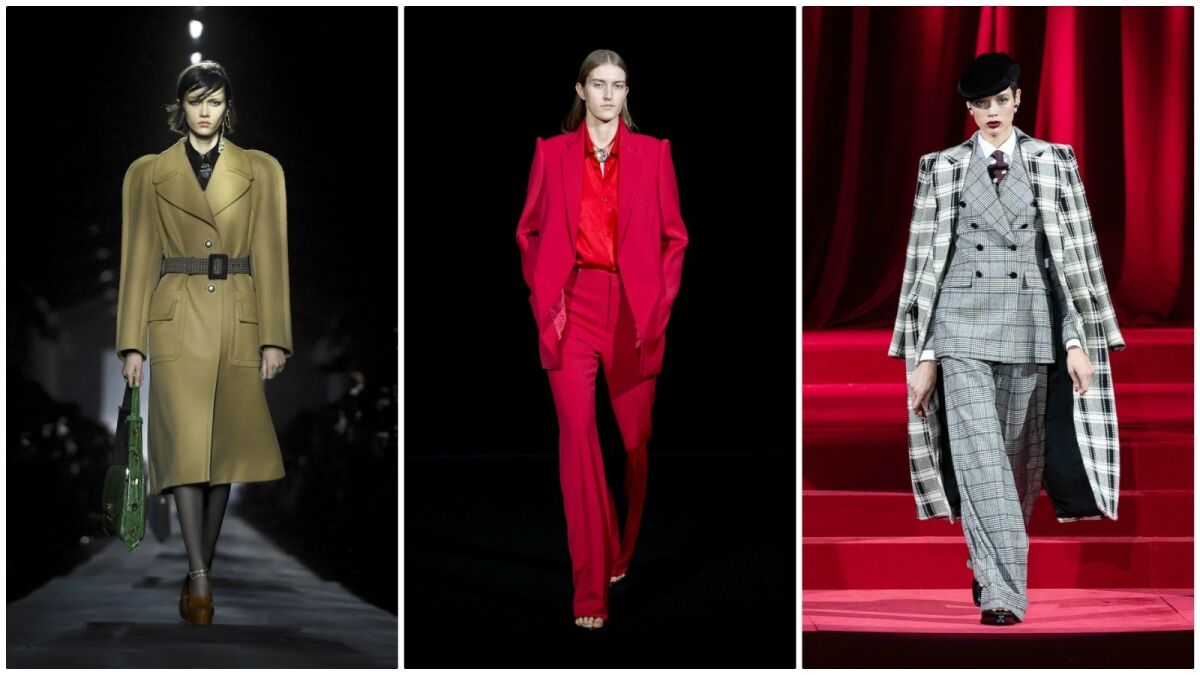 Reporting from Paris —
After catching the fall and winter 2019 runway collections in New York, London, Milan and Paris over the last month, it's become abundantly clear that the era of easy-wearing, focus-pulling, power-dressing is upon us, from bright, near-neon colors and menswear-suiting-inspired patterns to the biggest, sharpest shoulders we've seen since the original "Dynasty" was on the air in the '80s.
Big shoulders, checks dominate fashion trends during Fashion Month.
Here is a closer look at five of the season's standout trends and the luxury labels that did them best.
Wide-leg alert
This was one trend we noticed swishing and swaying from the runways of New York Fashion Week (where Christian Siriano envisioned an outer-space utopia full of wide-leg trousers, for example) all the way through to the final footfalls of Paris Fashion Week (where Chanel's ski-themed collection included legs cut generously enough you could actually wear them with bulky ski boots — should you be so inclined).
In between, fabric floating and flapping about the ankles could be spotted at Dolce & Gabbana (in the form of 1940s-sleepwear-inspired silhouettes), Stella McCartney, J.W. Anderson, Lanvin and Fendi. And at Celine, the relaxed trouser silhouette was there — albeit a few inches closer to the knee — thanks to lots and lots of culottes in fabrications that included denim, leather and herringbone tweed.
A plethora of pocketry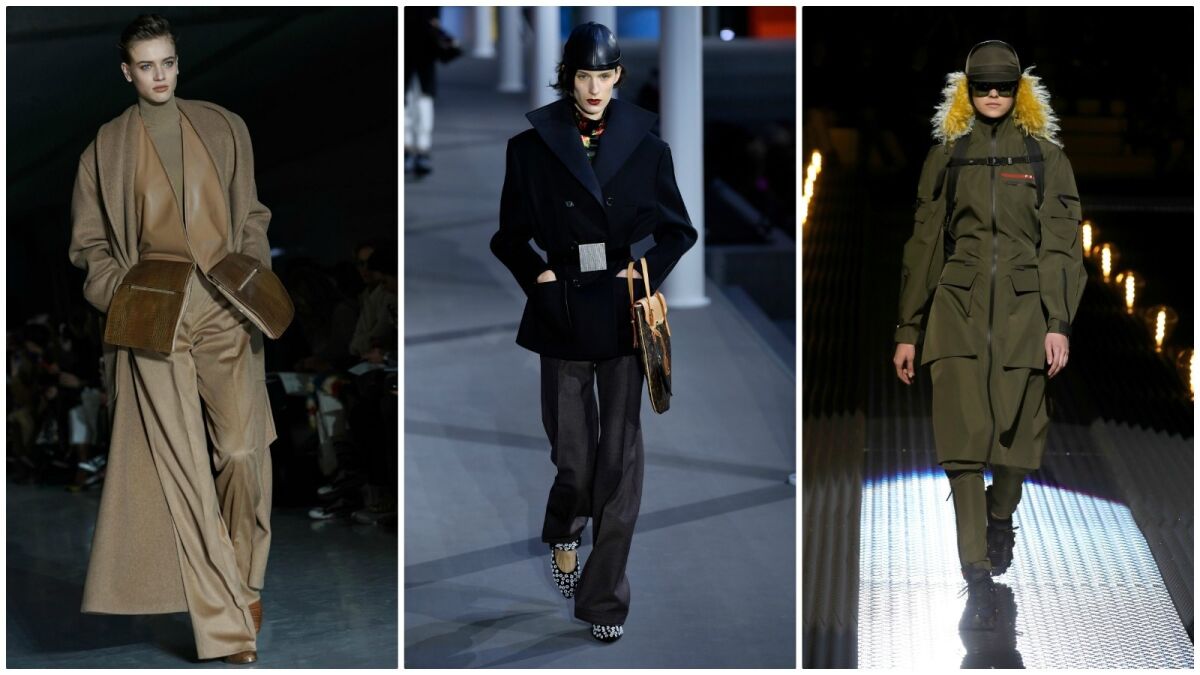 No purse? No problem. There were so many multi-pocketed pieces to pick from on the runways this time around, you'll definitely have the option of leaving the handbag at home and still have plenty of places to stash your essentials. In Max Mara's "Politics of Glamour" collection, they took the form of both zippered, safari-like cargo pockets and large satchel-like bags at the waist. Prada had a decidedly military-inspired vibe, and at Rick Owens' homage to glam rock, cashmere coats were spliced with silver cowhide and patched with soft padded nylon cargo pockets.
At Louis Vuitton, where the collection was inspired by the inside-out architecture of the Centre Pompidou, the pockets were neither outsized nor particularly numerous, but attention was drawn to their presence thanks to the models who walked the runway with their hands jammed resolutely into the front-of-the-hip pockets of skirts and dresses.
Menswear motifs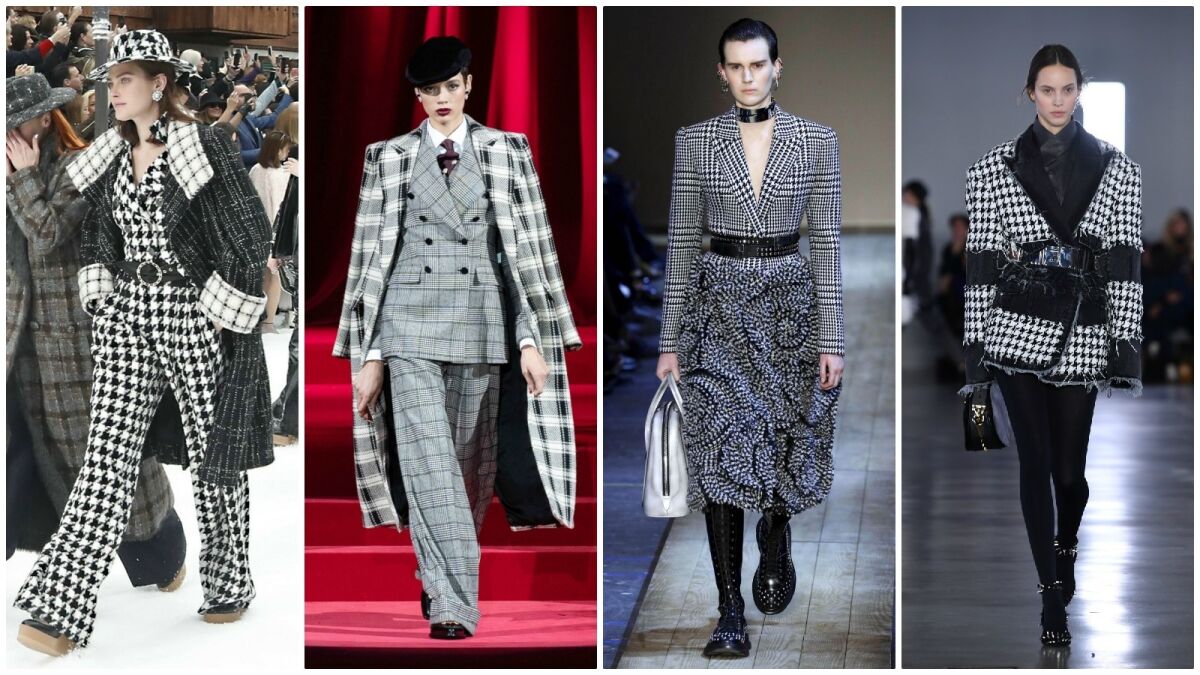 Silhouettes and fabrics traditionally associated with men's suits were all over the runways this season, with glen plaids, pinstripes, windowpane checks and a particularly deep bench of houndstooth checks out in force. At Balmain, Olivier Rousteing used the bold geometric of the houndstooth as part of his spike-filled homage to the female troublemaker, and exploded versions of the pattern turned heads at Dolce & Gabbana in the form of peak-lapel tuxedo jackets that nipped in elegantly at the waist, as well as at Chanel, where it graced long, tweedy overcoats, wide-legged pantsuits and western-style hats.
At Dior, there was a stampede of buffalo plaid pieces, and at Alexander McQueen, where the collection was inspired by a trip to the mill towns of northern England, the runway included a black leather trench coat with side panels in a red-and-black exploded Prince of Wales check and a sharp-shouldered menswear-inspired coat in a black-and-white version of the same pattern. Adding to the feeling that menswear suiting fabrics were, indeed, everywhere were the suits at the McQueen show, which were immense, industrial-sized rolls of charcoal gray worsted wool and black pinstripes plucked from the British mills used by the label.
Cornea-searing color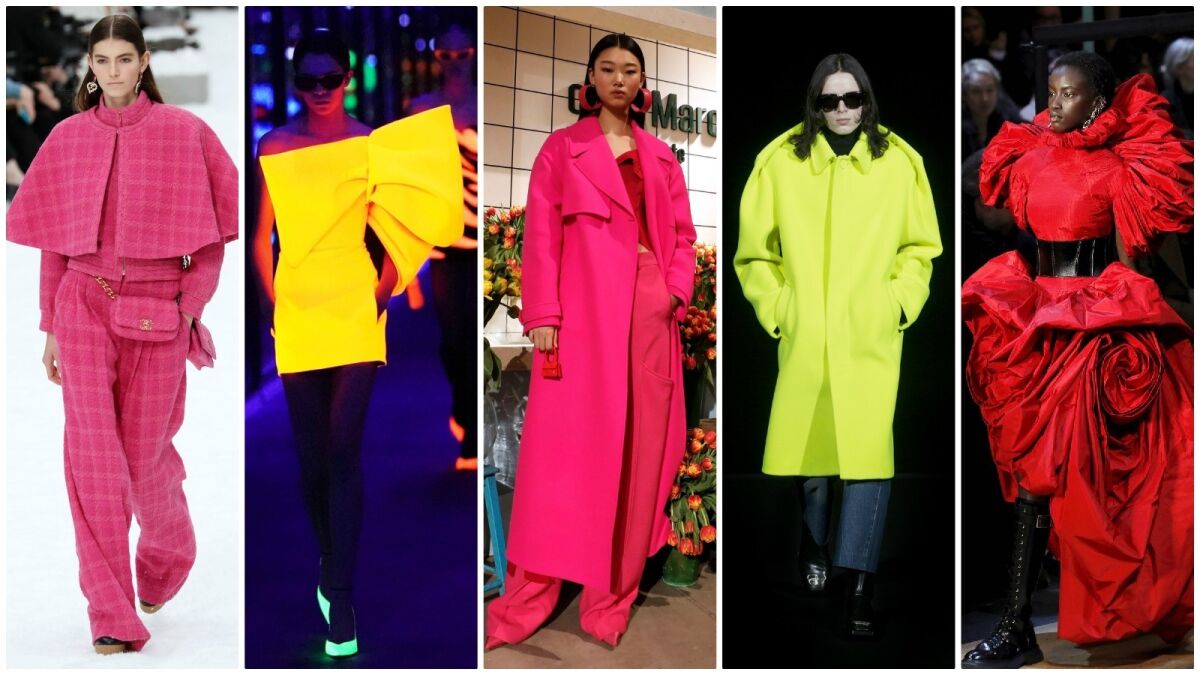 Although the multiplicity of menswear influences meant that combinations of black, white and gray were the big color story of the season, when designers did turn to brighter shades, they did so in ways that were impossible to miss. At New York Fashion Week, Kate Spade New York spun the color wheel through shades of pale pink and lilac purple. Gucci kicked off Milan Fashion Week with dresses in fire-engine red, accessorized with handbags of cotton-candy pink. The latter color cropped up repeatedly at Dolce & Gabbana as well.
And in Paris, the shades were even brighter, bolder and more intense, with full-on fuchsia looks pulling focus at Rick Owens, Chanel, Alexander McQueen and Jacquemus, among others. However, two labels in particular managed to make an indelible impression on the optic nerves — Dries Van Noten and Balenciaga. The fall and winter floral-inspired collection of the former included a range of shimmering faux-fur pieces in neon orange, including a handbag and a shoulder wrap, that approximated the look of wearable embers. The latter served up a range of neon brights, including yellow overcoats and moire silk dresses; flamingo-pink, graffiti-print mini-dresses; and suits and separates in candy-apple red.
Strong shoulders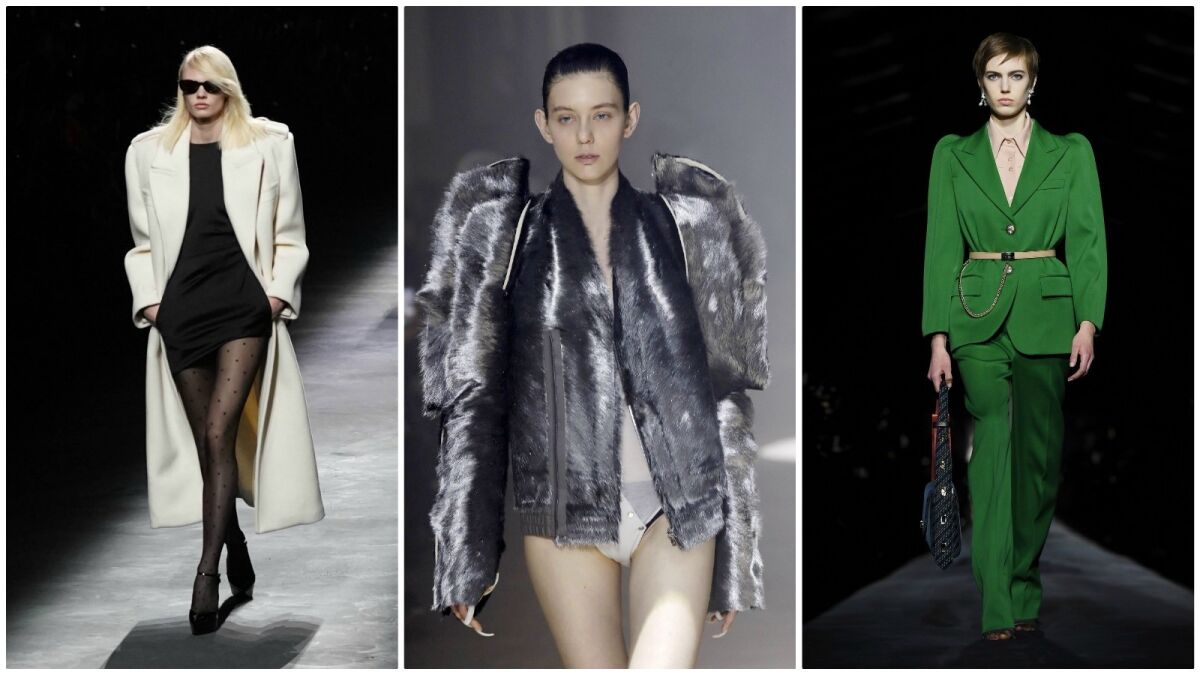 Demna Gvasalia's latest collection for Balenciaga also tapped into the single most notable — and ubiquitous — trend to come out of the fall and winter 2019 shows: the strong shoulder. His versions, which included coat shoulders highlighted with extra ridges of fabric and suits with sleeves raised slightly above the shoulder, were inspired by the street style of everyday Parisians. Others arrived at the bold shoulder from vastly different starting points. At Givenchy, Clare Waight Keller cited "grandmother coats of the '40s and '50s" as the source of some of the strong, sculpted shoulders that defined her "Winter of Eden" collection, and Owens credited his maniacally elevated shoulder shape (which he dubbed the "Bauhaus shoulder") to Fritz Lang's 1927 German expressionist sci-fi film "Metropolis."
At some labels, like Fendi, the defined shoulder seemed to manifest itself almost casually, balanced by tall collars and looping bows. Elsewhere, the sharp shoulder seemed to be the point and nothing but the point. Nowhere was that more apparent than Saint Laurent, where the entire fall and winter 2019 lesson in angularity felt balanced on the broad points of the sharpest shoulders in Paris.
Will it turn out to be as big at the register as it has been on the runway? Only time will tell. However, one thing is for sure: if the strong shoulder does end up making a strong showing, we'll probably be able to see it coming from miles away.
For more musings on all things fashion and style, follow me at @ARTschorn
---