Where to eat right now in the San Fernando Valley
The San Fernando Valley is a vast expanse — 34 neighborhoods, about 225 square miles, home to over a million and a half people — and those of us who live there or spend a lot of time there do get hungry. Contrary to what some folks might have you believe, there's a lot of terrific food between Canoga Park and Studio City. Here are 24 places to eat very, very well.
Angel's Tijuana Tacos: Angel's is one of those glorious oases that you sometimes find at the side of the road in Los Angeles: a few tables, a trompo, a grill where folks are making corn tortillas and grilling chorizo, vats of salsa and guacamole. Order as many as you can, including at least one vampiro. 6148 Vineland Ave, North Hollywood; @angelstijuanatacos.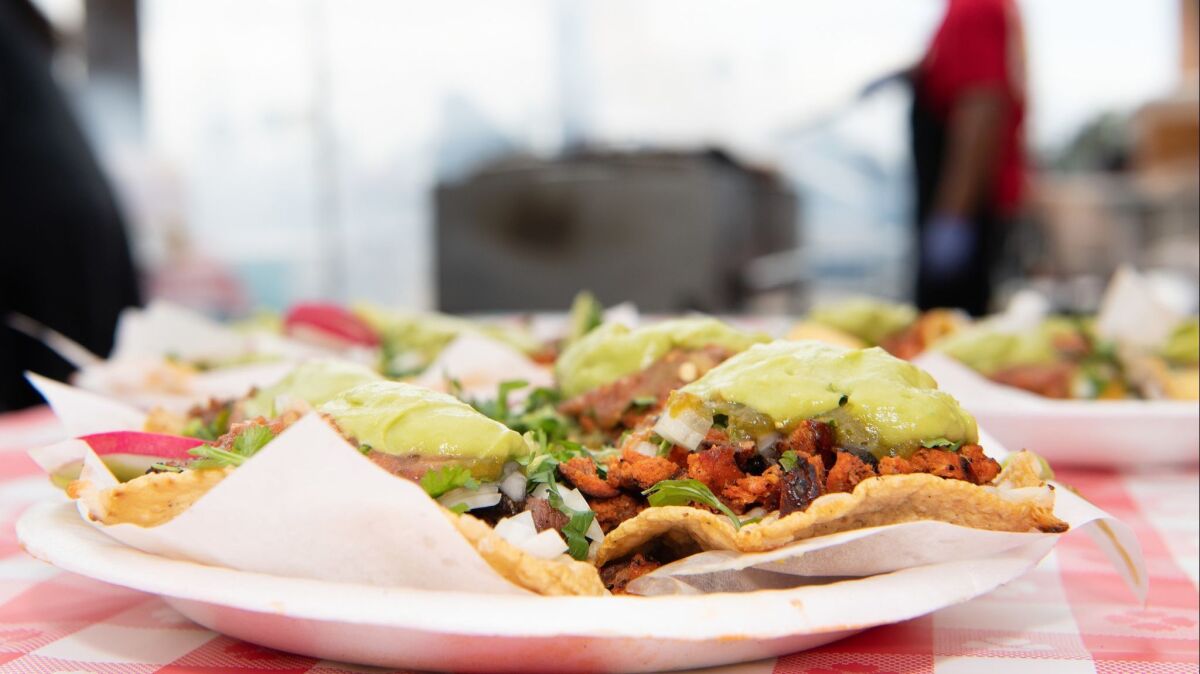 Asanebo: Opened in 1991 by Tetsuya and Shunji Nakao, two brothers who were, with Nobu Matsuhisa, the opening chefs at Matsuhisa, Asanebo has long been one of the best sushi restaurants in town. Tetsuya is still there (his brother runs the also terrific Shunji in West L.A.). Order omakase — and get an order of fried fish bone chips. 11941 Ventura Blvd., Studio City; (818) 760-3348; asanebo-restaurant.com.
Barrel & Ashes: If you can't get to Austin or Kansas City for your barbecue, but need a plate of good brisket and tri-tip closer to your Valley home, head to this vaguely hipsterized place on Ventura. Augment your meat pile with a Frito pie and an order of hoe cakes. It's a pretty great place for a weekend brunch too. 11801 Ventura Blvd., Studio City; (818) 623-8883; barrelandashes.com.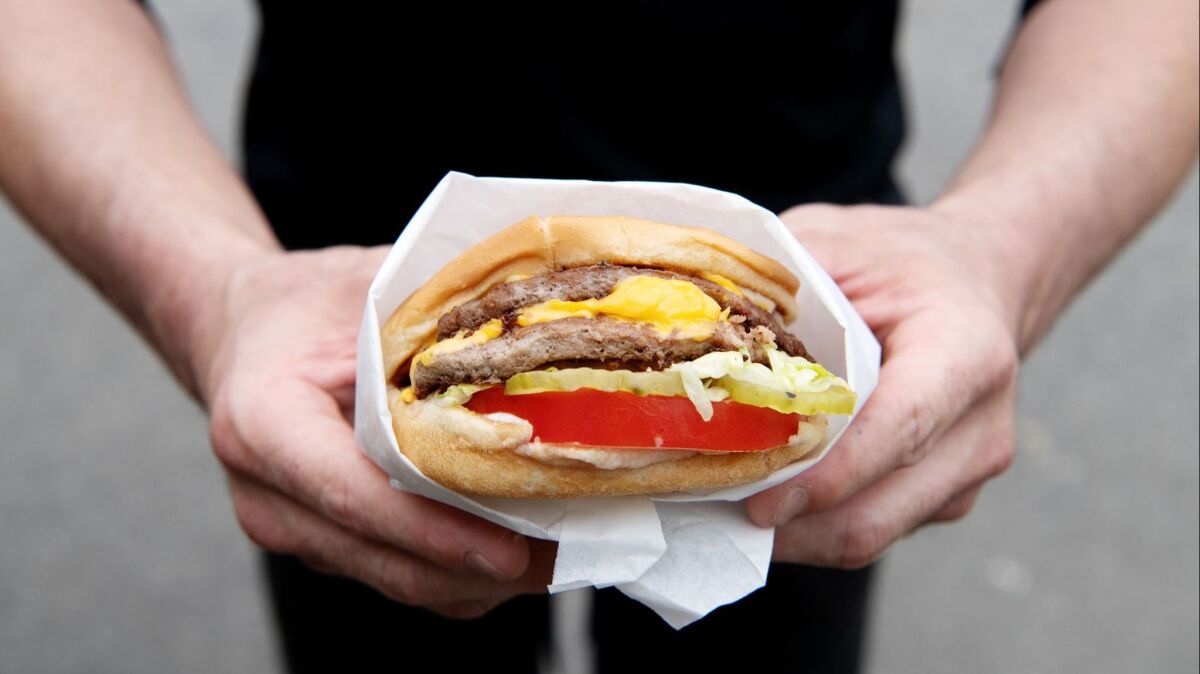 Bill's Burgers: Bill Elwell has been making burgers at this roadside Van Nuys stand since the '60s — burgers, cheeseburgers, bacon double cheeseburgers — but no fries. Locals, many of them kids, opt for bags of chips instead. Elwell, now in his 90s, is still flipping burgers on a grill that predates the stand. It's cash only; the cash register is older than the grill and maybe Elwell himself. 14742 Oxnard St., Van Nuys; (818) 785-4086
Brent's Deli: Open since the '60s and still run by the Peskin family, Brent's is seemingly always crowded with folks ordering blintzes, latkes, Reubens, smoked fish platters and bowls of matzoh ball soup. Even if you've ordered too many cheese blintzes, get a slice of the massive chocolate layer cake anyway, as you can always take it home and eat it for breakfast the next day. 19565 Parthenia St., Northridge; (818) 886-5679; brentsdeli.com.
Casa Vega: The Vega family has run this Mexican restaurant since 1956, when regulars included Cary Grant and Marlon Brando; these days, it's Tom Hanks and Steven Spielberg. (More history: Patriarch Rafael Vega's parents had a restaurant on Olvera Street in the '30s.) The menu is old school: tacos, sopes, chicken mole, carne asada, flautas and plenty of tequila. And the atmosphere is retro too: tuxedoed waiters, Naugahyde banquettes and candlelight (the rooms are very dark indeed). Are there sombreros on the walls? Seasonal piñatas too. 13301 Ventura Blvd., Sherman Oaks; (818) 788-4868; casavega.com.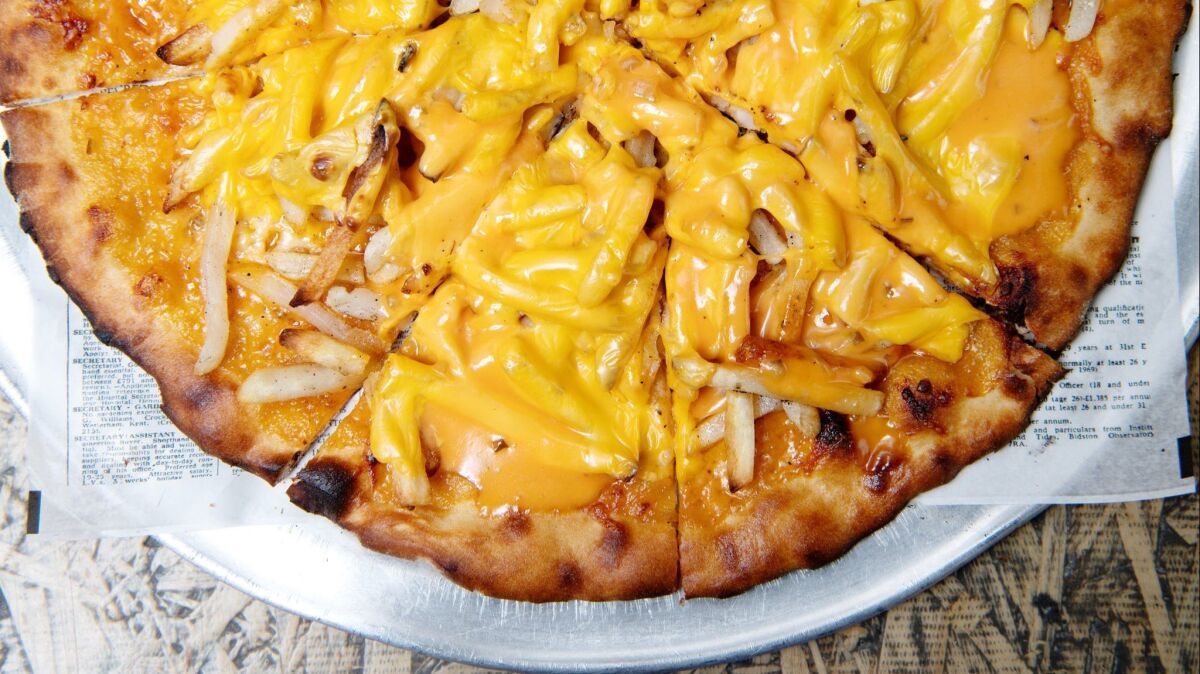 Dough Girl: Mar Diego opened this little Lake Balboa pizzeria four years ago, as part of a mission to help get teenagers off the street. Diego, an alum of culinary school, high-end restaurants and prison, wanted a restaurant where kids with difficult backgrounds like her own could find a good place to work. Thus Dough Girl, which has loud music, graffitied walls and a menu of excellent pizzas. Sure there are pepperoni and vegan pizzas, but also pies loaded with lobster bisque and Mexican hot sauce, and an "Animal-style" pizza with French fries. 16851 Victory Blvd., Suite 9, Lake Balboa; (818) 373-7300; doughgirl.pizza.
Gasolina Café: This café has a lengthy coffee list and a Spanish-style menu of tortillas Española, patatas bravas and toast topped with many things, including chocolate and olive oil, and tomatoes and garlic. Gasolina is a breakfast-and-lunch-only place, except for some special nights, when you can sign up for three-course paella dinners. Do this. 21014 Ventura Blvd., Woodland Hills; (818) 914-4033; gasolinacafe.com.
Go's Mart: Inside a Canoga Park strip mall, under a sign that simply says "sushi" is Go's Mart: a counter, a whiteboard, a sushi chef. Don't try to figure out what's on the board; just let the chef decide, and don't be surprised at the occasional gold leaf or truffle — or the bill — as a meal this well-crafted and personal is worth the price. 22330 Sherman Way, C12, Canoga Park; (818) 704-1459.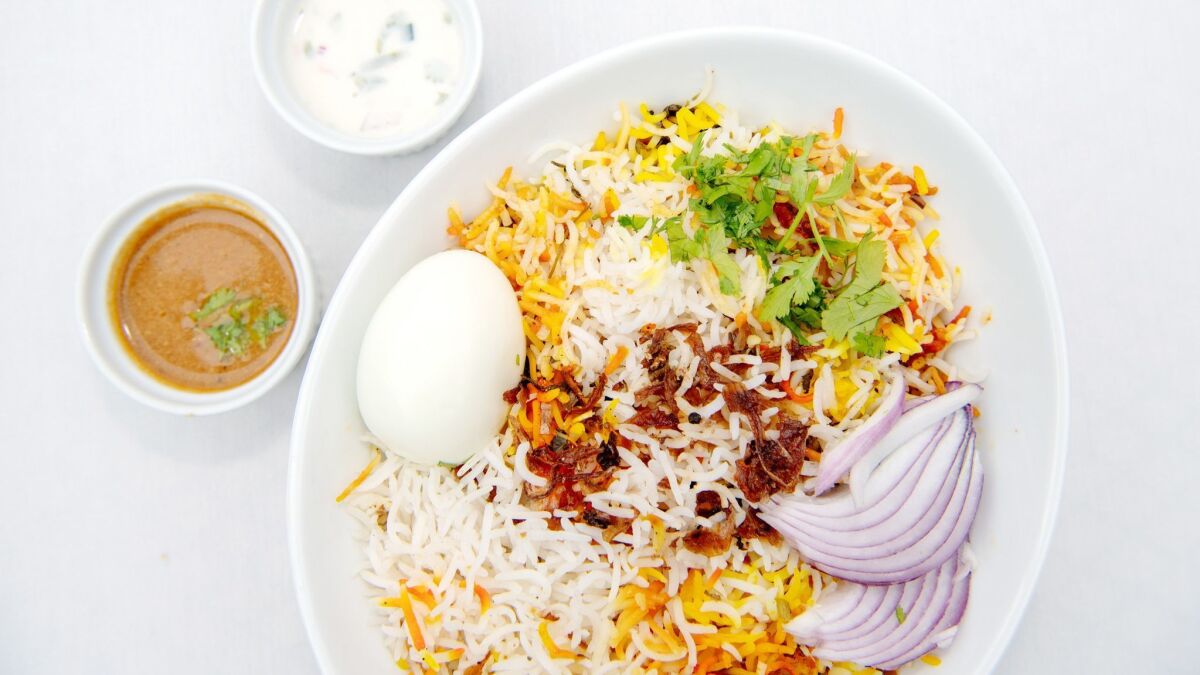 Grand Bawarchi: This place presents as a nondescript fast food place from the street, but go inside and you'll find plenty of excellent Southern Indian food. The biryani are particularly good, including more than one variation of the sumptuous rice dish made with goat. (Order it spicy.) 7257 Topanga Canyon Blvd., Canoga Park; (818) 340-7500; grandbawarchi.com.
Hayat's Kitchen: A hidden space with an outdoor patio in the back corner of a NoHo strip mall, Hayat's Kitchen serves an impressive catalog of classic Lebanese dishes. There are plates of kebabs and falafel, kibbeh nayeh and soudjouk, freshly made sausages, and potatoes harra — the one dish you must not leave without, a massive plate of French fries loaded with herbs and garlic. 11009 Burbank Blvd., Unit #117, North Hollywood; (818) 761-4656; hayatskitchen.com.
Hummus Bar & Grill: When you sit down at this Israeli restaurant in Tarzana, you'll get a basket of just-baked laffa — hot and crispy and aromatic — before you've even ordered. Then the challenge is which dishes to order to help you eat it: baba ganoush, chicken livers, hummus with fava beans, hummus with pine nuts, lamb kebabs, shakshuka, fried cauliflower? My answer is yes to all (especially the eggplant baladi), and the laffa will keep coming. If you get tired, order more Turkish coffee and keep going. 18743 Ventura Blvd., Tarzana; (818) 344-6606; hummusbarandgrill.com.
Should restaurant reviews have star ratings? Our critics face off »
Hummus Yummy: This Israeli hummus shop recently opened on a stretch of Burbank Boulevard, after having hit the streets first as a food truck. The specialty is beautifully made, silky smooth hummus, paired with fava beans, shakshuka, mushrooms and other toppings; they also make pretty good falafel. And do not overlook the green jars of fantastic zhoug on the tables. 12514 Burbank Blvd., Valley Village; (747) 203-8092; @hummusyummy.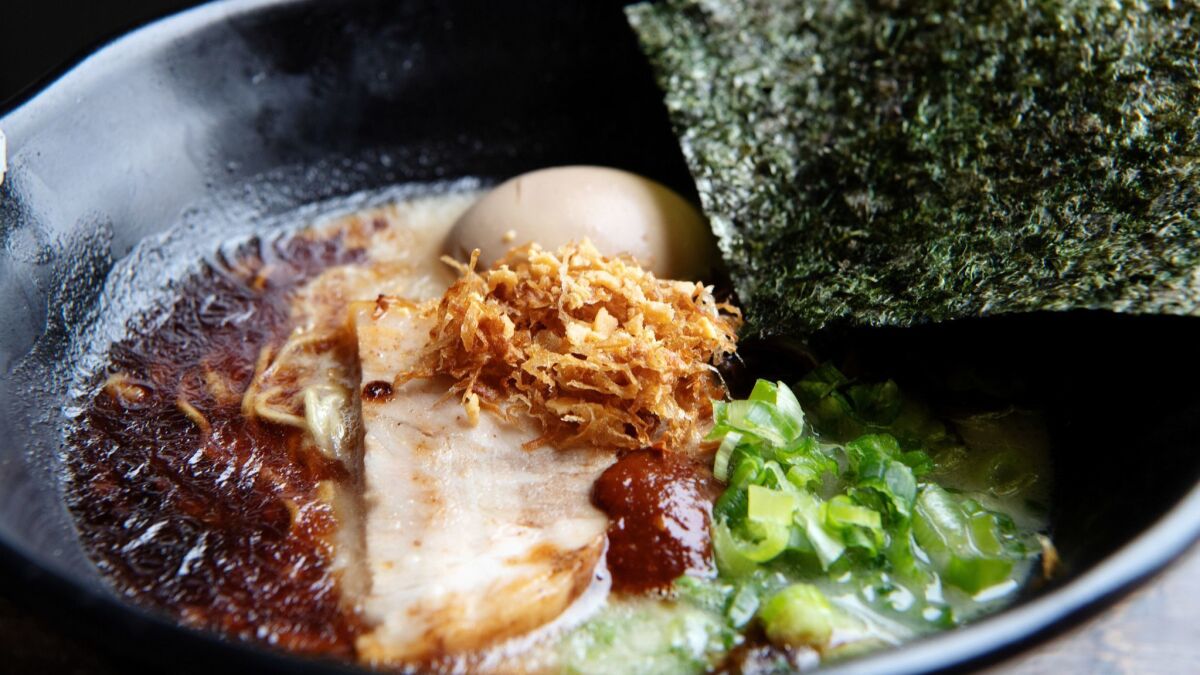 Jinya Ramen Bar: This ramen-ya was part of the ramen renaissance that thankfully happened in L.A. a few years ago. There are bowls of tonkotsu ramen with black garlic like an oil spill, spicy miso and crispy Brussels sprouts; spicy vegan ramen; and wonton chicken ramen. If ramen isn't your thing (really?), there are rice bowls, gyoza, curry rice, chashu-stuffed buns — even salmon poke tacos. They also have takoyaki, which are addictive fried octopus balls topped with Kewpie mayonnaise. 11239 Ventura Blvd., Studio City; (818) 980-3977; jinya-ramenbar.com.
Joan's on Third: Five years ago Joan McNamara opened a Valley outpost of her bustling Third Street market and cafe, so Valley folks didn't have to go over the hill to get pastries, mac-and-cheese and meatloaf, or stuff from the tables and shelves lined with candies, cheese and olive oil. Cookbooks! Marshmallows! 12059 Ventura Pl., Studio City; (818) 201-3900; joansonthird.com.
Kobee Factory and Syrian Kitchen: This is a very homey, unassuming place along a busy Van Nuys street: a few tables, a cashier's counter with a tray of just-made pastries, the cooks in the back making traditional Syrian dishes. Get an order or two of the kobee (or kibbeh) that the restaurant is justly named for, and do not overlook the mjadara, an addictive dish of bulgur, lentils and onions that is exponentially more than the sum of its parts. 14110 Oxnard St., Van Nuys; (818) 909-2593; kobeefactoryla.com.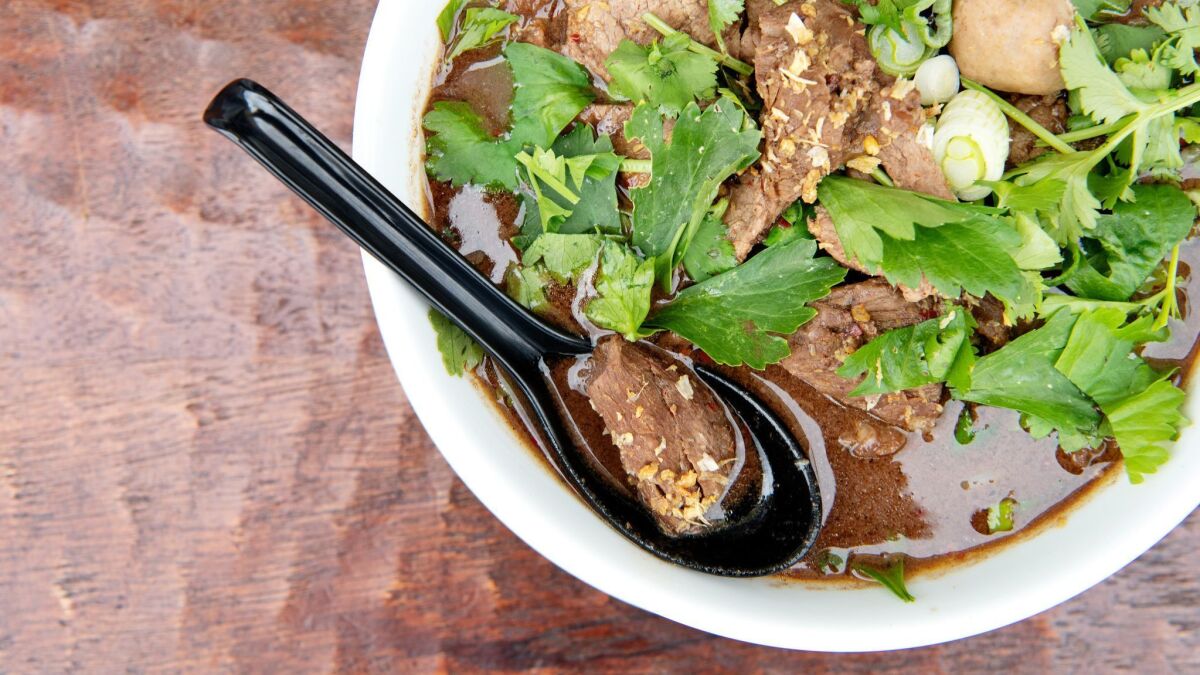 Lum-Ka-Naad: Open for about 15 years, Lum-Ka-Naad in Northridge (the first of two locations, where the opening chef still cooks) has a huge menu of some 200 dishes. There are separate sections for both Northern and Southern Thai dishes, including boat noodles, curries, salads and other specialty items, with different selections for lunch and dinner. The place can be very crowded, so stop in midafternoon if you can, sit at the bar and watch what's on ESPN while you wait for your nam prik and drunken noodles. 8910 Reseda Blvd., Northridge; (818) 882-3028; lumkanaad.com.
Lodge Bread: This terrific bakery opened a second location in Woodland Hills last fall, so we don't have to drive to Culver City to get Alex Phaneuf and Or Amsalam's burnished loaves of ancient grains, rye and oat porridge bread. In addition to the breads and pastries, there's also shakshuka, sandwiches, toasts and salads. Try one of the enormous, frosting-loaded cinnamon rolls, which are the size of saucers. 20929 Ventura Blvd., Ste 22, Woodland Hills; (747) 888-3398; lodgebread.com.
Me Gusta Gourmet Tamales: Rather than a little kitchen in the back of a restaurant where a staff of women is making tamales, behind the Pacoima roadside stand that is Me Gusta is a whole tamale factory. Nevertheless, the tamales here are very, very good, made in eight varieties including dessert. Get a big cup of champurrado. 13754 Van Nuys Blvd., Pacoima; (818) 896-8789; megustagourmettamales.com.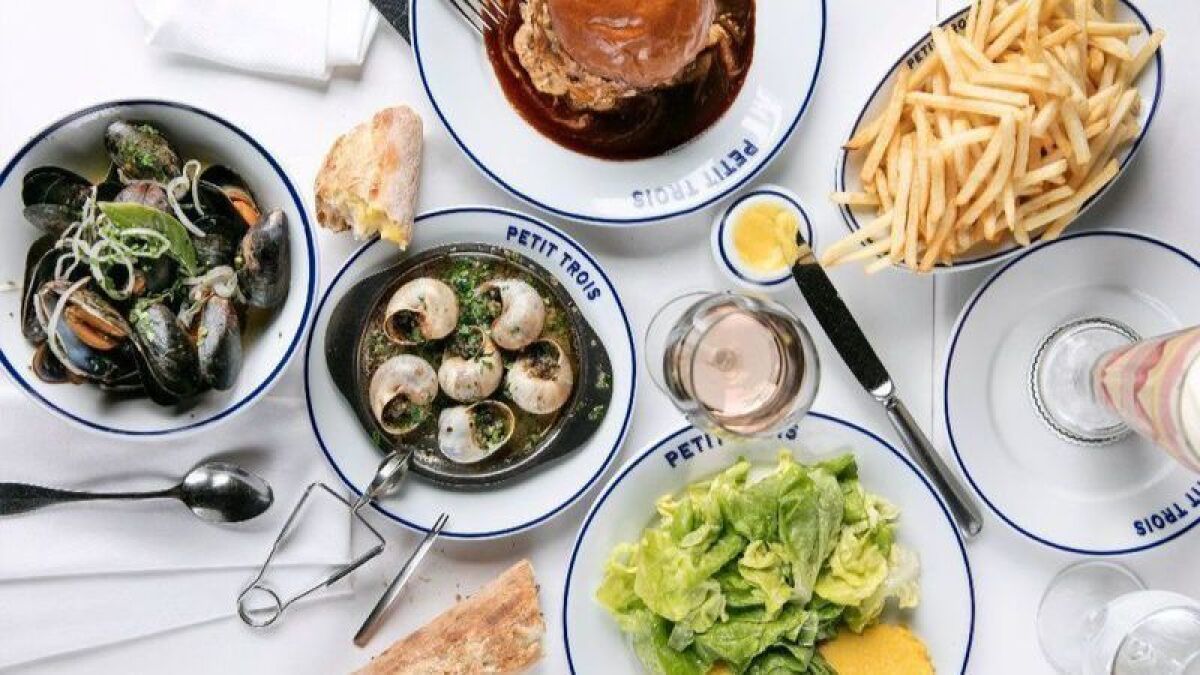 Petit Trois: This is chef Ludo Lefebvre's "Le Valley" edition of his tiny Hollywood Parisian bistro, a swank, roomy place for escargots, Big Mec burgers and French onion soup. Go for breakfast, when it isn't so crowded and when you can get made-to-order madeleines and a gooey croque monsieur at the bar, near the hilarious painting of Lefebvre as Louis XIV. 13705 Ventura Blvd., Sherman Oaks; (818) 989-2600; valley.petittrois.com.
Scratch Bar & Kitchen: You wouldn't expect a tasting menu restaurant of this caliber on the second floor of a suburban mini-mall — but that's part of the fun of chef Phillip Frankland Lee and his wife and pastry chef Margarita Kallas-Lee's restaurant. You start in one room with cocktails and snacks, then migrate to a small room in the back for 20-plus courses that showcase wagyu, uni, truffles and duck. 16101 Ventura Blvd., #255, Encino; (818) 646-6085; scratchbarla.com.
Skaf's Grill: Open for 20 years in the back of a strip mall off Laurel Canyon Boulevard, Skaf's has shawarma spits behind the front counter of a busy little dining room full of families. You can get excellent plates of kebabs, soujouk, falafel and fattoush, plus all the traditional mezze. The kibbeh nayeh, raw beef mixed with bulgur and spices, is very good. 6008 Laurel Canyon Blvd., North Hollywood; (818) 985-5701.
Sushi Iki: Eddie Okamoto's tiny Tarzana sushi place serves only omakase. Lucky for you, that can include black truffles, hairy crab from Hokkaido, mana-katsuo (star butterfish) and lots of Channel Island uni. Check out Okamoto's Instagram before you go: @sushiikieddie. 8663 Ventura Blvd., Ste. 106, Tarzana; (818) 343-3470.
Tortas Mexico Restaurant: Tortas Mexico is a small, cozy, low-key place — yes, in the back of yet another mini-mall — that makes tacos, tortas, tamales, pozole, menudo and albondigas. There's a salsa bar, and the corn tortillas are made by-hand. The tortas are very good, as you'd hope from the name of the place, but the tacos might be even better. 11040 Ventura Blvd., Studio City; (818) 760-2571; tortasmexicola.com.
Instagram: @AScattergood
---
Get our L.A. Goes Out newsletter, with the week's best events, to help you explore and experience our city.
You may occasionally receive promotional content from the Los Angeles Times.