Three released in connection with shooting of two LAPD officers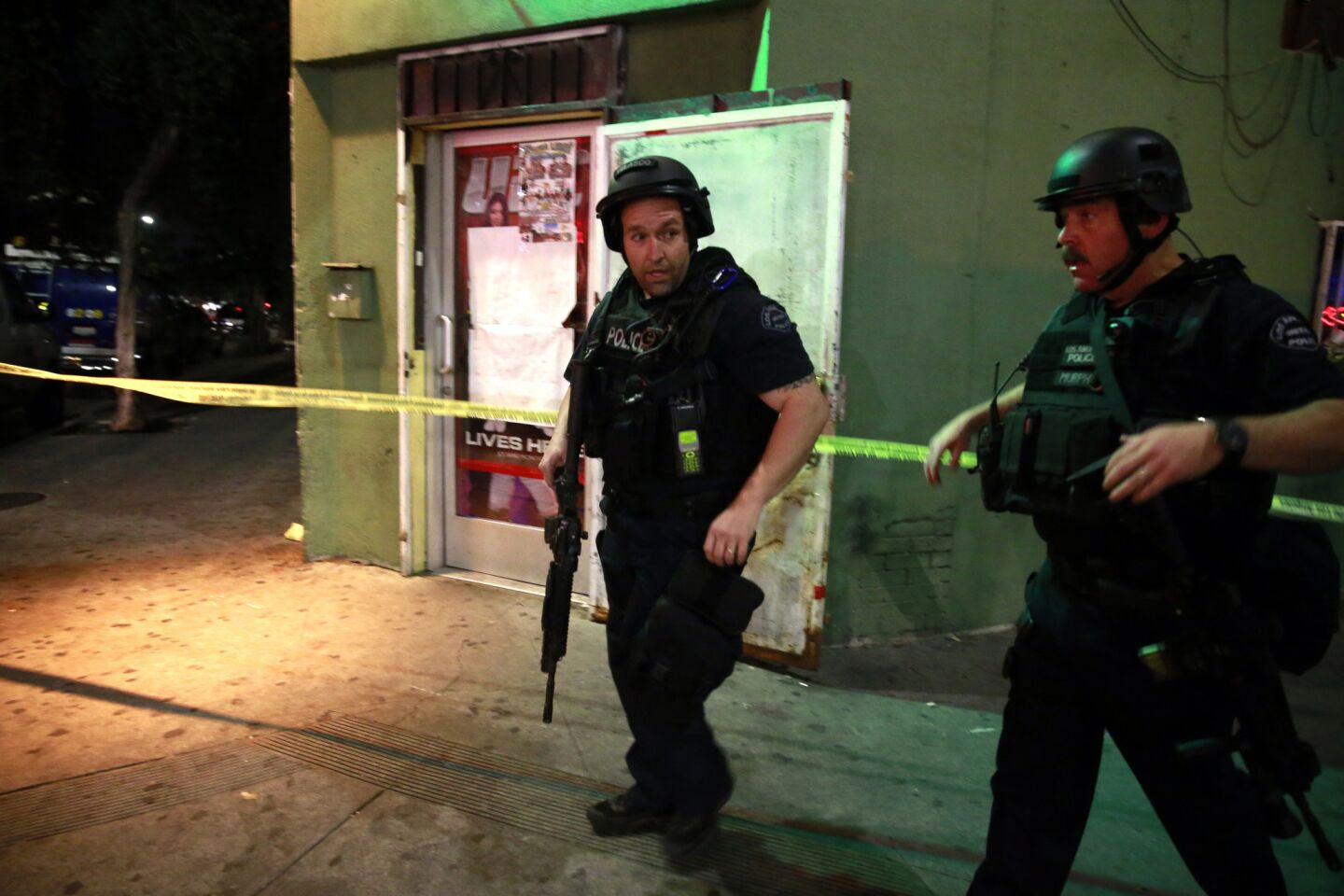 LAPD officers search a South L.A. neighborhood Sunday for the person or people who fired at two plainclothes officers. The officers were wounded. Police set up a perimeter around the scene.
(Allen J. Schaben / Los Angeles Times)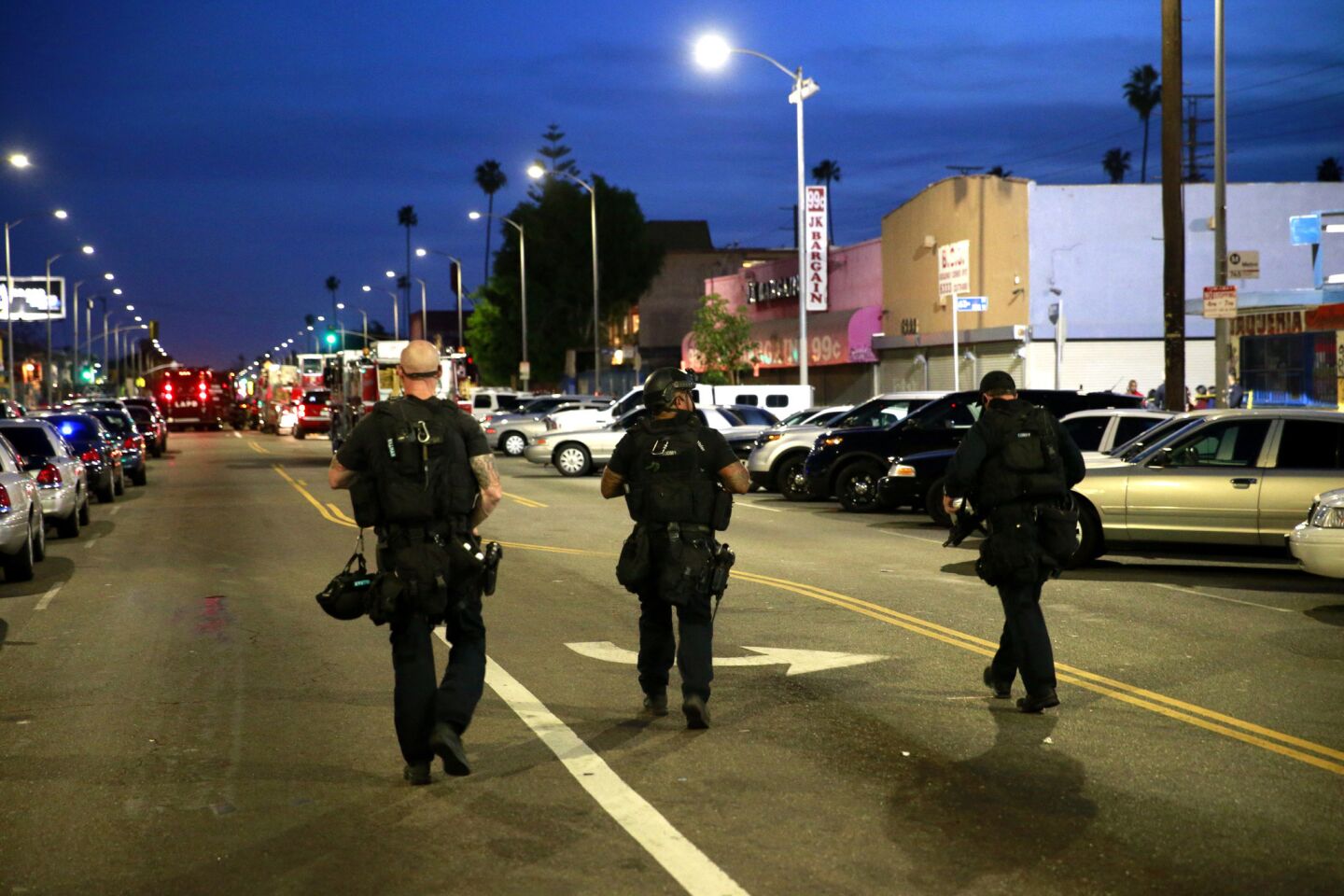 Two LAPD officers were fired upon near 65th Street and Broadway on Sunday evening. Police using canine units searched block by block for the suspect or suspects.
(Allen J. Schaben / Los Angeles Times)
A large sectioned of the neighborhood near the shooting scene was cordoned off as police conducted a block-to-block search, assisted by a K-9 unit.
(Allen J. Schaben / Los Angeles Times)
Residents of the neighborhood were told that it could take up to eight hours for them to be able to return to their homes as the investigation continues.
(Allen J. Schaben / Los Angeles Times)
Police apprehended several people at the scene and the search continues for two others in the neighborhood. The LAPD's SWAT unit was on scene along with dozens of officers.
(Allen J. Schaben / Los Angeles Times)
Three people who were detained after gunmen opened fire on two plainclothes Los Angeles police officers were released Monday afternoon and police officials pledged to continue investigating the shooting.
The three people -- who were not identified -- were released at 2:41 p.m., Officer Sara Faden said.
The trio were detained amid an intensive search Sunday by dozens of police officers and the LAPD's SWAT unit that covered several blocks near 65th Street and Broadway.
At the South L.A. intersection about 5:45 p.m., police say, two plainclothes officers assigned to the 77th Street Division narcotics section were driving in an unmarked car when they were fired at.
It did not appear the officers were caught in an exchange of gunfire.
Both suffered minor injuries and were treated at the scene. Paramedics removed bullet fragments from one officer's arms.
The extensive search of the neighborhood ended about 12:30 a.m. Monday, but investigators continued canvassing the area for shell casings and other evidence.
"These [officers] were in plainclothes, in an area known for gang activity, narcotics sales and distribution," Officer Jack Richter said.
"Now whether they were targeted as officers, that'll be determined. When you're a gangster and you're on the corner and you're illegally selling narcotics and a car drives up and two people get out -- that's going to cause some problems."
Junior Moore, 54, said he was eating at Hercules Burgers at Broadway and Gage Avenue when the gunfire erupted.
"I heard like 20 shots, and then a bunch of police sirens," Moore said.
Residents were told to shelter in place while police searched for gunmen. Those who could not enter the area gathered behind police tape, snapping photos as throngs of police cars arrived on scene and officers brought out SWAT gear, including long black rifles.
Priscilla Gutierrez, 17, who moved to the neighborhood two weeks ago, said she has heard gunfire erupt in the blocks near her house multiple times since Friday.
"We've been hearing gunshots," she said. "We don't go outside."
For breaking California news, follow @JosephSerna and @katemather.
Times staff writer Kate Linthicum contributed to this report.
The stories shaping California
Get up to speed with our Essential California newsletter, sent six days a week.
You may occasionally receive promotional content from the Los Angeles Times.