Adam West, star of the 'Batman' TV series, dies at 88
Adam West, who donned a cape, cowl and tights to become an overnight sensation in 1966 as the star of the campy "Batman" TV series, has died, according to a family statement. He was 88.
West, who later lamented being typecast as the iconic Caped Crusader but eventually embraced having been part of American pop culture, died Friday in Los Angeles after a short battle with leukemia, according to multiple reports.
A former Warner Bros. contract player, West was appearing in TV commercials in the mid-1960s to help pay the rent. But several commercials he did for Nestle's Quik chocolate powder — parodies of the popular James Bond movies in which West played a dry-witted character called Captain Q — had an unexpected outcome.
They caught the attention of 20th Century Fox TV producer William Dozier, who was looking for someone to star as Gotham City millionaire Bruce Wayne and his crime-fighting alter-ego, Batman, in a farcical new series for ABC.
Adam West, left, stars as Bruce Wayne/Batman, and Burt Ward is Dick Grayson/Robin in the TV series "Batman" in 1966.
(Silver Screen Collection / Getty Images)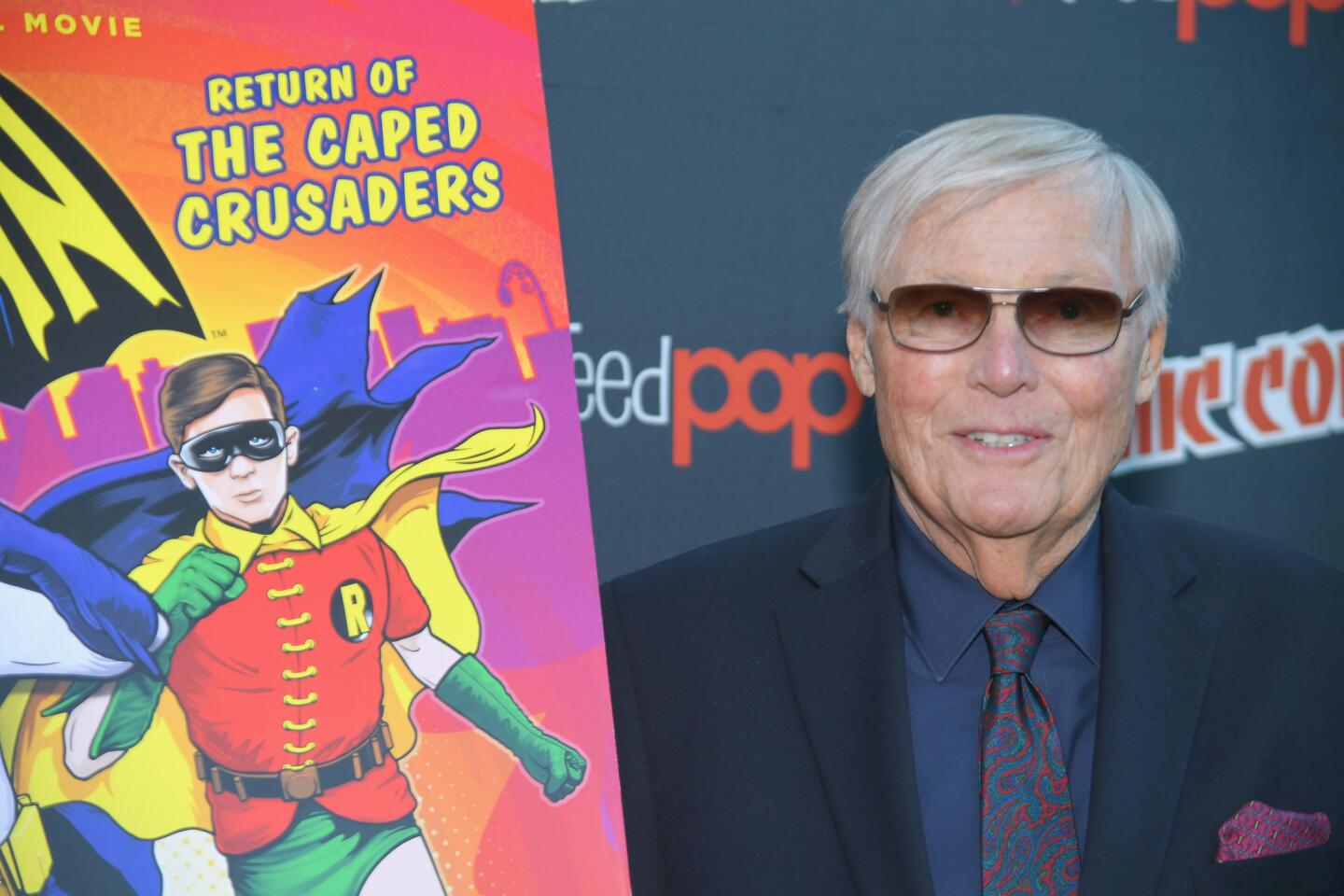 Adam West attends the Batman: Return of the Caped Crusaders press room event at New York's Comic-Con in 2016.
(Mike Coppola / Getty Images)
Adam West dresses as "Batman" in a road safety advertisement for children in 1967.
(Watson / Getty Images)
Adam West, in character as Bruce Wayne/Batman, sits behind the wheel of the Batmobile in 1966. The car was a modified 1955 Lincoln Futura concept car.
(Silver Screen Collection / Getty Images)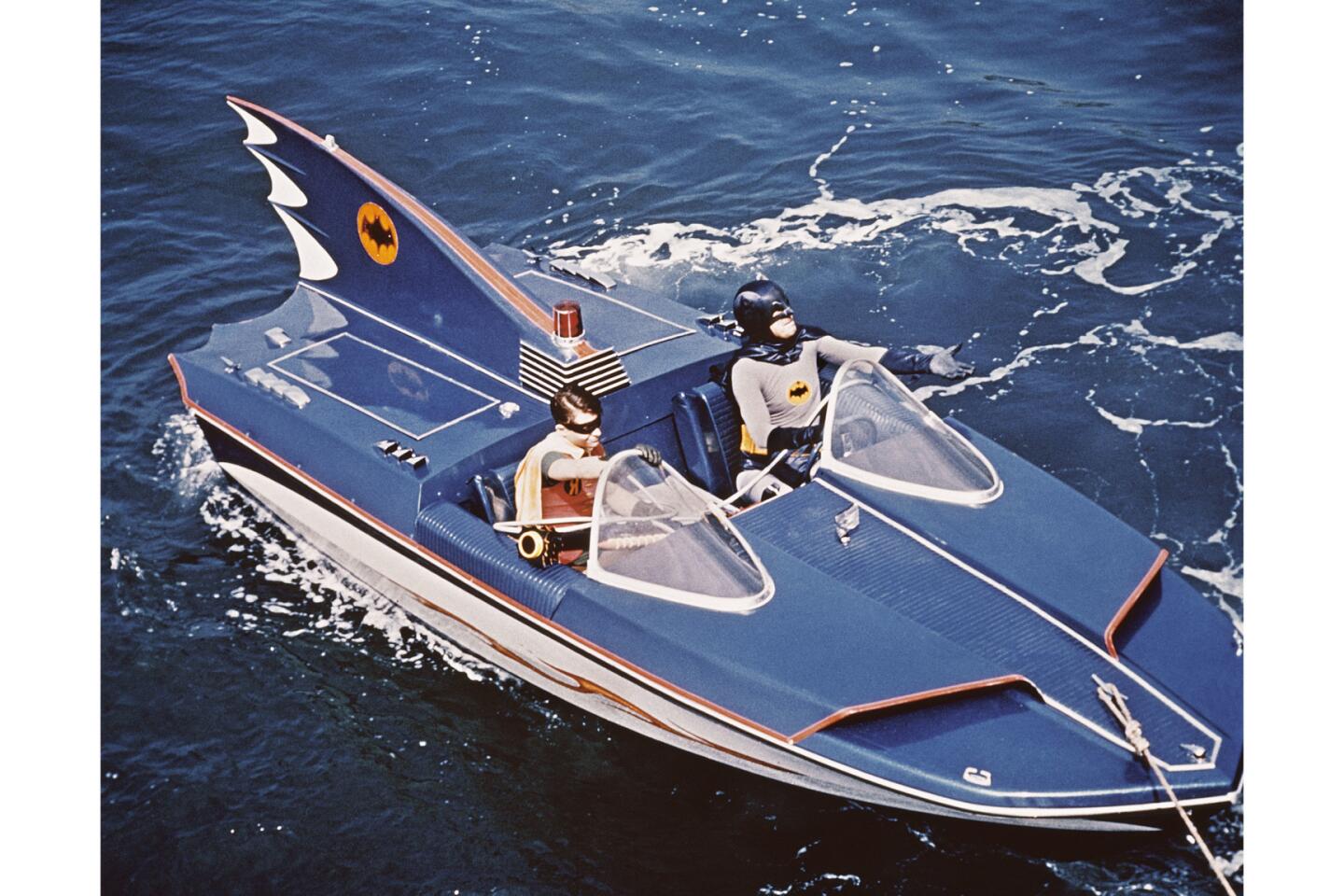 Adam West and Burt Ward star as Batman and Robin while riding in the Bat Boat in a scene from the 1966 TV series "Batman."
(Camerique / Getty Images)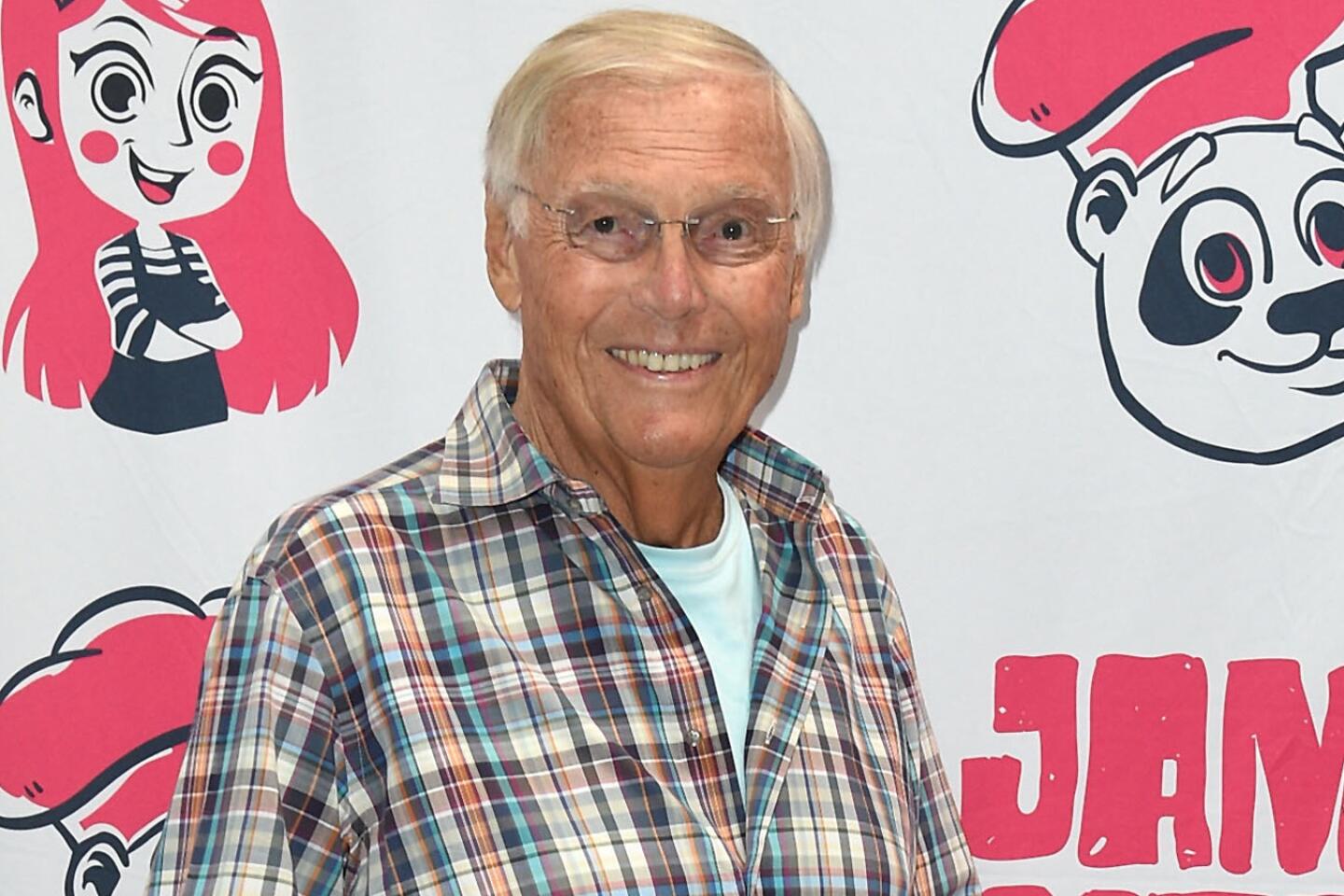 Adam West attends "Family Guy Another Freakin' Mobile Game" on May 2, 2017, in Culver City. West voiced the character of Mayor Adam West on the animated TV show "Family Guy."
(Joshua Blanchard / Getty Images for Jam City)
Based on the DC character created by artist Bob Kane and writer Bill Finger in 1939, "Batman" debuted in January 1966 as a twice-weekly half-hour program — 7:30 p.m. Wednesdays and Thursdays, with the Wednesday episode ending on a cliffhanger.
West knew his life would never be the same the night the heavily promoted first episode aired.
"I stopped at the market on the way home," he told Esquire magazine in 2004. "I thought, 'Tonight, I just want to be alone. I'll stop, get a steak and a six pack, whatever, then go home and watch the debut of the show.'
"As I walked through the checkout line, I heard people saying, 'C'mon, c'mon, hurry up. "Batman" is coming on!' And I said to myself, 'Goodbye, anonymity.' "
The tongue-in-cheek series roared into public consciousness like the Batmobile out of the Batcave.
With West as the strait-laced crime fighter who spoke with what has been described as ironic earnestness and Burt Ward as his youthfully exuberant sidekick, Robin, "Batman" was a pop culture phenomenon in a decade that was full of them.
"This whole thing is an insane, mad fantasy world," West said of the show in a Chicago Daily News interview shortly before its debut. "And my goal is to become American's biggest put-on."
It was high camp indeed, with fight scenes punctuated by comic book-style "POW!" "BOP!" and "WHAP!" exclamations flashing on the screen and an array of guest-star villains that included Frank Gorshin as the Riddler, Burgess Meredith as the Penguin, Cesar Romero as the Joker and Julie Newmar and Eartha Kitt as Catwoman.
West quickly learned the key to slipping into the Batman persona.
"You pull on the mask and the utility belt and the gloves, and you must believe the moment that's done that you really are Batman," West said in a late 1980s interview on TV's "Entertainment Tonight."
"What I loved about Batman was his total lack of awareness when it came to his interaction with the outside world," West told London's Independent newspaper in 2005. "He actually believed nobody could recognize him on the phone, when he was being Bruce Wayne, even though he made no attempt to disguise his voice."
In the first episode of the series, he recalled, "Batman goes into a nightclub in the cowl, cape and bat gloves. When the maitre d' says: 'Ringside table, Batman?' he replies, 'No thank you. I'll stand at the bar. I would not wish to be conspicuous.' "
In June 1966, The Times reported that "Batman" had been a "life-transforming" success for West: Fan mail was arriving "by the wagonsful" — as were requests for everything from personal appearances to locks of his hair.
But West, The Times said, had "no panic about becoming solely and totally identified with the caped role."
"I love doing the show, and frankly it's given me more identification than any three movies could have," West told The Times. "What I've got to feel is that if I can make a success of this characterization, I can make a success of other characterizations."
The "Batman" series spawned a 1966 movie version and an array of merchandise, including lunchboxes, dolls and toy Batmobiles.
Both nights of "Batman" were rated in the top-10 list of shows for the 1965-66 season. But as with any fad, the show's popularity eventually began to fade.
By the fall of 1967, the series was cut back to once a week, and it was canceled in March 1968.
Before his overnight stardom as Batman, West had made guest appearances on TV series such as "Cheyenne," "Maverick" and "77 Sunset Strip" and had been a regular for a season on Robert Taylor's series "The Detectives."
He also had roles in movies such as "Tammy and the Doctor" (1963), "Robinson Crusoe on Mars" (1964) and "The Outlaws Is Coming!" (1965, opposite the Three Stooges).
But after "Batman" ended, West told Scripps Howard News Service in 2001, "It was a bleak time in my career because of typecasting in 'Batman.' I couldn't get away from it."
As he told the Orange County Register in 1989: "I was almost to the finish line for a lot of big, leading-man type roles that I really wanted, but I'd always come in second or third. Somebody in charge would always say, 'Hey, what are you guys doing? You can't put Batman in bed with Faye Dunaway."
West went on to do guest shots on "Fantasy Island" and "Laverne & Shirley" and other TV shows. He also appeared in movies such as "The Marriage of a Young Stockbroker" (1971), "Hooper" (1978) and "The Happy Hooker Goes Hollywood" (1980).
In 1986, he starred as the police captain in the 1986 NBC sitcom "The Last Precinct," but the series was quickly canceled. He also voiced a few TV cartoon versions of "Batman" over the years and more recently provided the voice for Mayor Adam West in the animated comedy TV series "Family Guy."
In time, West came to appreciate having played Batman.
"The reaction has been so positive and good for me that I love it now," he told The Times in 2009. "How could I not? I would hate to be a bitter, aging actor. I've been so fortunate to have this opportunity to bring Batman alive on the screen."
As for the newer, darker depictions of Gotham City on the big screen, West said they "are grim, Gothic, full of explosions, mayhem. It's the way of things, I suppose; the whole world seems darker."
But, he said, "I look at [it] this way: They've got 'The Dark Knight,' and I was the bright knight. Or maybe I was even ... the neon knight."
Born William West Anderson on Sept. 19, 1928, in Seattle, West grew up on a farm outside Walla Walla, Wash., before his parents divorced and he moved to Seattle to live with his mother and her new husband.
He majored in English literature at Whitman College in Walla Walla. He later did post-graduate work in communications at Stanford University but dropped out after six weeks to take a job at a Sacramento radio station.
West, who was drafted into the Army in the early 1950s, was hosting a local daily variety show in Hawaii with a chimp named Peaches and acting in community theater when a Hollywood agent saw him playing the lead in a production of "Picnic." In 1959, West became a contract player at Warner Bros.
ALSO
Actress Glenne Headly, 'Lonesome Dove' and 'Dirty Rotten Scoundrels' star, dies at 62
Peter Sallis, voice of 'Wallace and Gromit,' dies at 96
Elena Verdugo, one of TV's first professional Latinas as nurse in 'Marcus Welby, M.D.', dies at 92
Sign up for Essential California for the L.A. Times biggest news, features and recommendations in your inbox six days a week.
You may occasionally receive promotional content from the Los Angeles Times.