Anita Pallenberg, Keith Richards' former girlfriend and muse to the Rolling Stones, dies
Pallenberg acted in an array of films, most notably "Performance" in 1970. (June 14, 2017)
Anita Pallenberg, the former girlfriend of Keith Richards and Brian Jones of the Rolling Stones, and — briefly — a paramour of Mick Jagger, died Tuesday after a long illness.
A representative of Richards' told the Associated Press that Pallenberg died Tuesday at St Richard's Hospital in the city of Chichester in southeast England.

For the record:
5:04 a.m. June 1, 2019
An earlier version of this story and its headline stated that Pallenberg was 73 and was born Jan. 25, 1944. While most records indicate that to be the case, a spokeswoman for Keith Richards said that Pallenberg was 75 and was born April 6, 1942.
The cause of death was not revealed, but the statement released Wednesday said Pallenberg "had been ill for some time" and that her family was by her side. Pallenberg's age was not clear. Most records indicated she was 73, British media reported. A spokeswoman for Richards, however, said she was 75.
Pallenberg, who had been living in London, was praised by her close friend Stella Schnabel, the daughter of painter and filmmaker Julian Schnabel.
"I have never met a woman quite like you Anita," Stella wrote on Instagram.
Pallenberg and Richards became a couple in 1967, after he wooed her away from fellow Stones guitarist Jones, who reportedly beat Pallenberg while they were visiting Morocco with Richards.
Leaving Jones for Richards caused a rift in the famed English rock band that contributed to Jones being ousted from the Stones in June 1969. He drowned in his swimming pool a month later.
In her 1994 autobiography, Jagger's former girlfriend, Marianne Faithfull, credited Pallenberg for transforming the Stones.
"How Anita came to be with Brian is really the story of how the Stones became the Stones," Faithfull wrote. "She almost single-handedly engineered a cultural revolution in London by bringing together the Stones and the jeunesse dorée.
"The Stones came away with a patina of aristocratic decadence that served as a perfect counterfoil to the raw roots blues of their music."
Pallenberg and Richards were together for 12 years, although they never married. The couple had two children together, son Marlon, now 46 (whose first words, reportedly, were "room service"), and daughter Angela, now 44. They had a second son, Tara, who died of sudden infant death syndrome in 1976.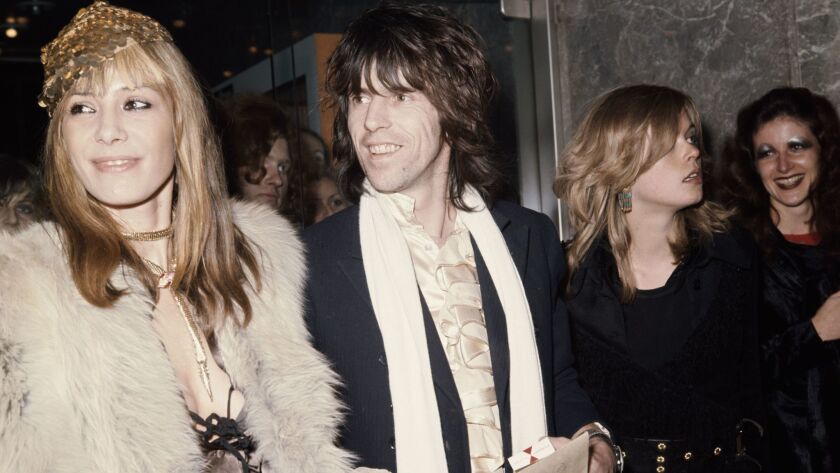 A rock princess, Pallenberg sang background vocals on the Stones' classic "Sympathy for the Devil." By all accounts, she was a force to reckon with, as Richards acknowledged in "Life," his 2010 memoir.
"I like a high-spirited woman," he wrote. "And with Anita, you knew you were taking on a Valkyrie — she who decides who dies in battle."
Anita Pallenberg was born in Rome. After being kicked out of school at 16, she lived in Rome, New York and Paris, where she became a model. By the time she was in her late teens, she had appeared on the cover of Vogue and other magazines. But the life of a model did not appeal to her.
"I could make a living out of it and that's basically what I did, but I was not like the models of today," Pallenberg told the Guardian newspaper in 2008. "I didn't like photographers too much, I didn't like the fashion world. I still don't."
A worldly woman who developed a fascination with black magic, Pallenberg was fluent in four languages when she became involved with the suitably impressed Richards.
"She knew everything and she could say it in five languages," he once observed. "She scared the pants off me."
Pallenberg acted in an array of films, most notably the Jagger-starring crime drama "Performance" in 1970, which was about the time she started using heroin. Her film credits included "Candy," the Jane Fonda-starring "Barbarella" and 2009's "Cheri."
She and Richards were almost inseparable in the 1970s, when his drug use became rampant. She was arrested with him in Canada in 1977, when he was charged with heroin possession and she was charged with marijuana possession.
In an interview a decade ago, Pallenberg said she had hepatitis C. At the time, she attended AA meetings several times a week.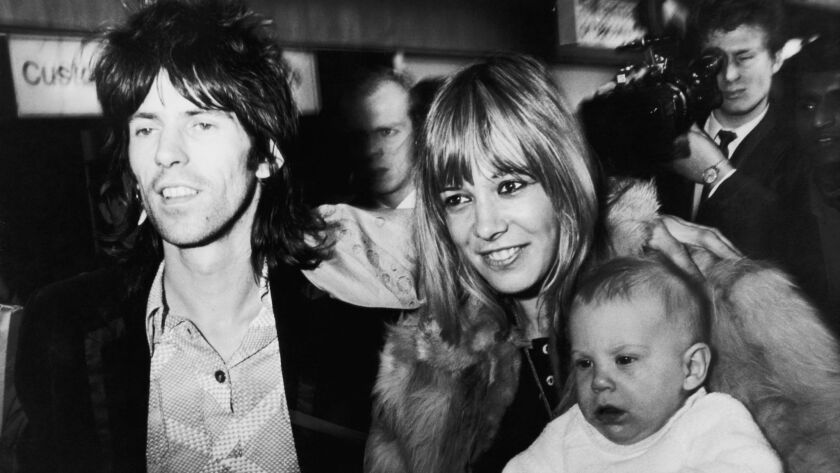 In 1979, Pallenberg had an affair with Scott Cantrell, a 17-year-old groundskeeper at the home she and Richards shared in New York. While in her bed, Cantrell fatally shot himself in the head with a gun owned by Richards, who was recording abroad with the Stones.
"I didn't feel anything," Pallenberg later said of Cantrell's death. "That's one of the wonders of drugs and drink."
She and Richards split up in 1980. In 1994, Pallenberg earned a degree in fashion and textile at London's Central Saint Martins College.
In her 2008 interview with the Guardian, Pallenberg said: "I know where all the good toilets are in Rome — I know all the toilets! Because I spent so much time in toilets when I was using (drugs). So when I go anywhere, I always go to the toilet right away and check it out. Even now!
"My life has become about little things; it was all about big things at first and now it's all little things."
In a mid-2016 interview with Alain Elkann, Pallenberg seemed to indicate the end nearing for her.
"I am ready to die," she told him. "I have done so much here. My Mum died at 94. I don't want to lose my independence. Now I am over 70 and, to be honest, I did not think I would live over 40."
In addition to her son and daughter, Pallenberg is survived by five grandchildren.
Varga writes for the San Diego Union-Tribune
ALSO
Roger Smith, '77 Sunset Strip' detective and husband of Ann-Margret, dies at 84
Chris Cornell, who helped reignite hard rock in the 1990s with Soundgarden, dies at 52
Jim Piersall, one of the first pro athletes to openly discuss mental illness, dies at 87
---
Must-read stories from the L.A. Times
Get the day's top news with our Today's Headlines newsletter, sent every weekday morning.
You may occasionally receive promotional content from the Los Angeles Times.