Clifford Irving, whose audacious scheme to publish a fake autobiography of reclusive billionaire Howard Hughes stands as one of the great literary hoaxes, has died at a hospice facility in Florida.
Irving was being treated for cancer when he died Tuesday, his longtime friend Allyn Harvey said. He was 87.
A writer of only modest success at the time, Irving hit upon the idea for a fake autobiography in the early 1970s after deducing that Hughes had become so eccentric and had so retreated from public life that it was unlikely he'd ever challenge the authenticity of the book.
"Hughes would never be able to surface to deny it, or else he wouldn't bother," Irving wrote years later in "The Hoax," his account of the scheme.
Irving was convincing and his promised book so alluring that McGraw-Hill gave him a $750,000 advance.
To get the deal done, Irving bluffed his way past attorneys, publishing executives and ever-skeptical investigative journalist Mike Wallace, who dove into the authenticity of the anticipated book in a "60 Minutes" episode.
Irving produced letters he said were written by Hughes and told publishers about shadowy meetings with the famed recluse. Handwriting experts pored over the letters and determined that they were genuine. They were far from that.
The ruse began to crumble when a reporter, who had written an unpublished book on Hughes, noticed that some passages in excepts from Irving's manuscript appeared to have been lifted from his own work.
Investigators further stoked suspicion when they learned the advance from McGraw-Hill had been deposited into a Swiss bank account, opened in the name Helga R. Hughes. The account, authorities determined, had been opened by Irving's wife using a fake passport.
Finally, Hughes broke his years of silence, and in a conference call from his hideaway on Paradise Island in the Bahamas he spoke with reporters gathered in Los Angeles and denounced the still-unpublished autobiography as a fraud.
"I don't remember any script as wild," he said. "It is as stretching of the imagination as any yarn could turn out to be."
Irving and his collaborator, Richard Suskind, were indicted on fraud charges and found guilty in 1972. Irving was sentenced to two years in prison, and Suskind was sentenced to six months in jail. Irving's wife got 19 months behind bars in the U.S. and was forced to return the money from the Swiss account. The two quickly divorced.
Once a free man, though, Irving emerged as a celebrity of sorts and talked freely and easily about the phony Hughes autobiography.
"It was exciting," he told The Times in 2007. "It was a challenge. It became an adventure."
A prolific writer through his career, Irving returned to the theme in "The Hoax," his 1997 account of what he came to call "the gorgeous literary caper."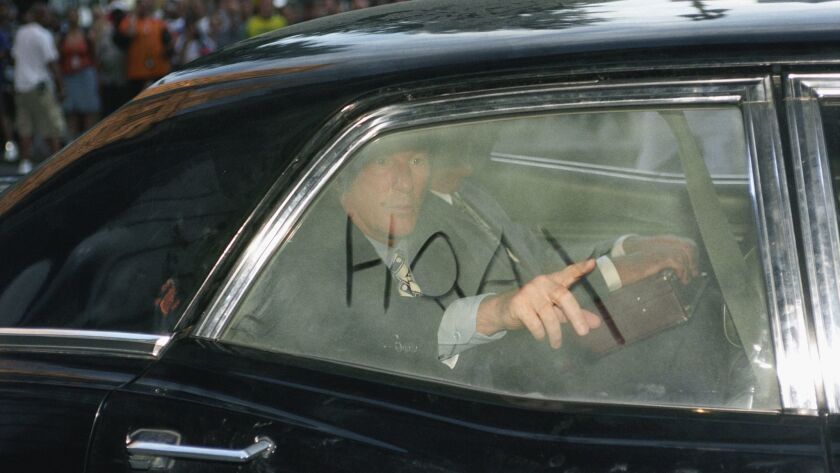 He eagerly signed on as a technical consultant in 2006 when the book inspired a movie of the same name staring Richard Gere as Irving. The film was a critical success, and The Times named it one of the 10 best films of the year.
But when he saw the finished film, Irving was so disappointed he asked that his name be removed from the credits.
However Irving might have come to see himself, screenwriter William Wheeler saw someone else.
"The guy's an operator — and I say that with a certain amount of respect," Wheeler told The Times. "He has that CIA agent-type quality, where he truly seems capable of anything."
Irving said Gere played his character as "nasty, manipulative and humorless."
"I've said before, if I were that guy, I'd shoot myself," Irving told The Times, calling the film "a hoax about a hoax."
Born Nov. 5, 1930, Irving grew up in New York City and graduated from Cornell with a degree in English. He worked as a copy boy at the New York Times, sold vacuum cleaners as a door-to-door salesman, taught an extension class at UCLA and romantically channeled Ernest Hemingway as he hiked across Europe.
He finally settled on the island of Ibiza off the coast of Spain and wrote his first novel, "On a Darkling Plain." He followed with the well-received "Fake," the story of art forger Elmyr de Hory. The book, he allowed, may have subtly stirred the basic idea for the Hughes autobiography.
In all, he wrote nearly 20 books, including the thriller "Trial" and the true-crime book "Daddy's Girl: The Campbell Murder Case." His books became bestsellers on Kindle and earned positive reviews.
The fake Hughes autobiography, now titled "Clifford Irving's Autobiography of Howard Hughes," is sold online as an e-book.
Nomadic, Irving lived in Santa Fe, N.M.; Aspen, Colo., and sometimes in Mexico before moving with his wife to Sarasota, Fla.
"I have a wonderful life," he told The Times in 2007.
Irving is survived by his wife, Julie; sons Josh, Ned and Barnaby; and a grandson, Leo. He was married six times.
---