Kate Millett, feminist author of 'Sexual Politics,' dies at 82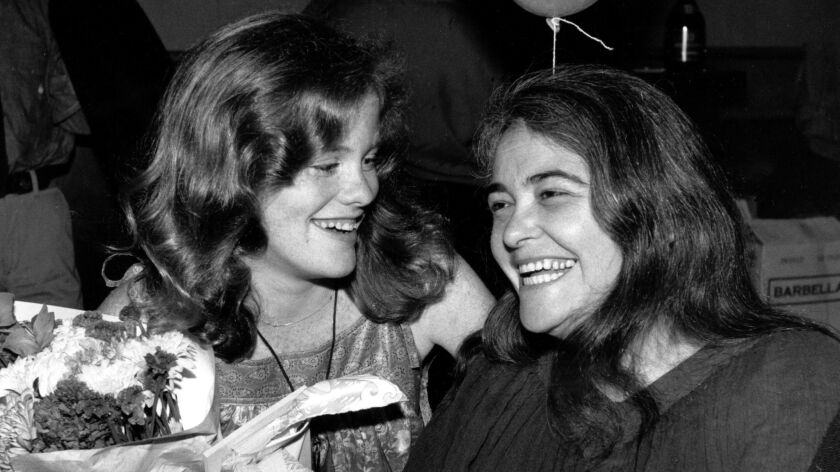 Reporting from Paris —
Kate Millett, the activist, artist and educator whose best-selling "Sexual Politics" was a landmark of cultural criticism and a manifesto for the modern feminist movement, has died. She was 82.
Millett died of a heart attack while on a visit to Paris on Wednesday, according to a person with knowledge of the matter, who spoke on condition of anonymity because he was not authorized to speak for the family. The publishing house that carried her books in French also confirmed the death but provided no details.
"Sexual Politics" was published in 1970, in the midst of feminism's so-called "second wave," when Gloria Steinem, Betty Friedan, Millett and others built upon the achievements of the suffragettes from a half-century earlier and challenged assumptions about women in virtually every aspect of society. Millett's book was among the most talked-about works of its time and remains a founding text for cultural and gender studies programs.
Millett chronicled millennia of legal, political and cultural exclusion and diminishment, whether the "penis envy" theory of Sigmund Freud or the portrayals of women as disrupters of paradise in the Bible and Greek mythology. She labeled traditional marriage an artifact of patriarchy and concluded with chapters condemning the misogyny of authors Henry Miller, D.H. Lawrence and Norman Mailer, but also expressing faith in the redemptive power of women's liberation.
"It may be that a second wave of the sexual revolution might at last accomplish its aim of freeing half the race from its immemorial subordination — and in the process bring us all a great deal closer to humanity," she wrote.
While countless women were radicalized by her book, Millett would have bittersweet feelings about "Sexual Politics," which later fell out of print and remained so for years. She was unhappy with its "mandarin mid-Atlantic" prose and overwhelmed by her sudden transformation from graduate student and artist to a feminist celebrity whose image appeared on the cover of Time magazine. Amused at first by her fame, she was worn down by a "ruin of interviews, articles, attacks."
"Soon it grew tedious, an indignity," she wrote in the memoir "Flying," published in 1974.
She was dubbed by Time "the Mao Tse-tung of Women's Liberation," and rebutted by Mailer in his book "The Prisoner of Sex," in which he mocked her as "the Battling Annie of some new prudery." Meanwhile, she faced taunts from some feminists for saying she was bisexual (she was married at the time), but not gay. During an appearance by Millett at Columbia, an activist stood up and yelled, "Are you a lesbian? Say it. Are you?"
"Five hundred people looking at me. Are you a Lesbian?" Millett wrote. "Everything pauses, faces look up in terrible silence. I hear them not breathe. That word in public, the word I waited half a lifetime to hear. Finally I am accused. 'Say it. Say you are a Lesbian!'
"Yes, I said. Yes. Because I know what she means. The line goes, inflexible as a fascist edict, that bisexuality is a cop-out. Yes I said yes I am a lesbian. It was the last strength I had."
Millett's books after "Sexual Politics" were far more personal and self-consciously literary, whether "Flying" or "Sita," a memoir about her sexuality in which she wrote of a female lover who committed suicide; or "The Loony Bin Trip," an account of her struggles with manic depression and time spent in psychiatric wards.
"There is no denying the misery and stress of life," she wrote. "The swarms of fears, the blocks to confidence, the crises of decision and choice."
The daughter of Irish Catholics, Millett was born in St. Paul, Minn., and was long haunted by her father, an alcoholic who beat his children and left his family when Millett was 14. She attended parochial schools as a child and studied English literature at the University of Minnesota and St Hilda's College, Oxford, from which she graduated with honors.
For a couple of years, Millett lived in Japan, where she met her husband and fellow sculptor Fumio Yoshimura (they divorced in 1985). They moved to Manhattan in 1963, and Millett embraced the political and artistic passions of the city. She joined the National Organization for Women and began attracting a following for her sculpture, which appeared in Life magazine and has been exhibited worldwide. Through her own Women's Liberation Cinema production company, she directed the acclaimed feminist documentary "Three Lives." She also founded the Women's Art Colony Farm in Poughkeepsie, N.Y.
Millett taught at several schools, including the University of North Carolina and New York University. In 1968, she was fired from her job as an English lecturer at Barnard College, a decision that stemmed at least in part from her support of student protests against the Vietnam War. The extra free time did allow her to complete "Sexual Politics," which began as her doctoral thesis at Columbia University.
Less known to younger feminists than Steinem or Friedan, she was honored several times late in life. In 2012, she was given the Pioneer Award from the Lambda Literary Foundation and the same year was presented a Courage Award for the Arts prize by her longtime friend Yoko Ono. Millett was inducted into the National Women's Hall of Fame in 2013 and, in her acceptance speech, reflected on her years as an activist.
"The happiness of those times, the joy of participation, the excitement of being part of my own time, of living on the edge, of being so close to events you can almost intuit them. To raise one's voice in protest, just as the protest is expressed in life, in the streets, in relationships and friendships," she said.
"Then, in a moment of public recognition, the face of the individual becomes a woman's face."
ALSO
John Ashbery, regarded as one of the world's greatest poets, dies at 90
Murray Lerner, Oscar-winning filmmaker who captured Dylan going electric, dies at 90
Simeon Wright, cousin who was with Emmett Till the night he was kidnapped and killed, dies at 74
---
Must-read stories from the L.A. Times
Get the day's top news with our Today's Headlines newsletter, sent every weekday morning.
You may occasionally receive promotional content from the Los Angeles Times.