Newsletter: Tamales, tacos and Thai food
Good morning, and happy holidays. This week we have a story to help you plan your seasonal menu, courtesy of Guerrilla Tacos' Wes Avila, who's been making tamales, tacos and champurrado at home. Which is a helpful reminder, really, that if you're not making your own tamales this year, it's time to order them. (Our Gustavo Arellano has some thoughts on that one, both from these pages and elsewhere: some excellent reading, maybe while you're standing in line or waiting for Avila's tamales to steam.)
We also have plenty more to read: stories about Thai cuisine in Mexico City; museum food that's either disgusting or wonderful, depending on your POV; the latest restaurant news; and a few recipes for biscotti. Speaking of cookie recipes, we did not have our Cookie Bake-Off this year, as we're in the process of building our new Test Kitchen in El Segundo, but we have years-worth in our permanent recipe box.
This week we also visit Sonoratown for talk and tacos, and check in at Langer's, for more talk and, of course, pastrami sandwiches. Both restaurants are on this year's list of 101 Restaurants We Love, which recently came out. Lastly, if you need a gift for the food-minded folks in your life, a reminder to try our handy gift guide. Enjoy your weekend.
NOTES FROM THE HOLIDAY TACO UNDERGROUND
Wes Avila, chef-owner of Guerrilla Tacos, cooks a small holiday party for family and friends at his Glendale home. What's on his personal menu probably won't surprise fans of his downtown taqueria: tamales, tacos and champurrado, a Mexican holiday trifecta. I get the recipes, and Avila's party circuit backstory.
FROM PHUKET TO MEXICO CITY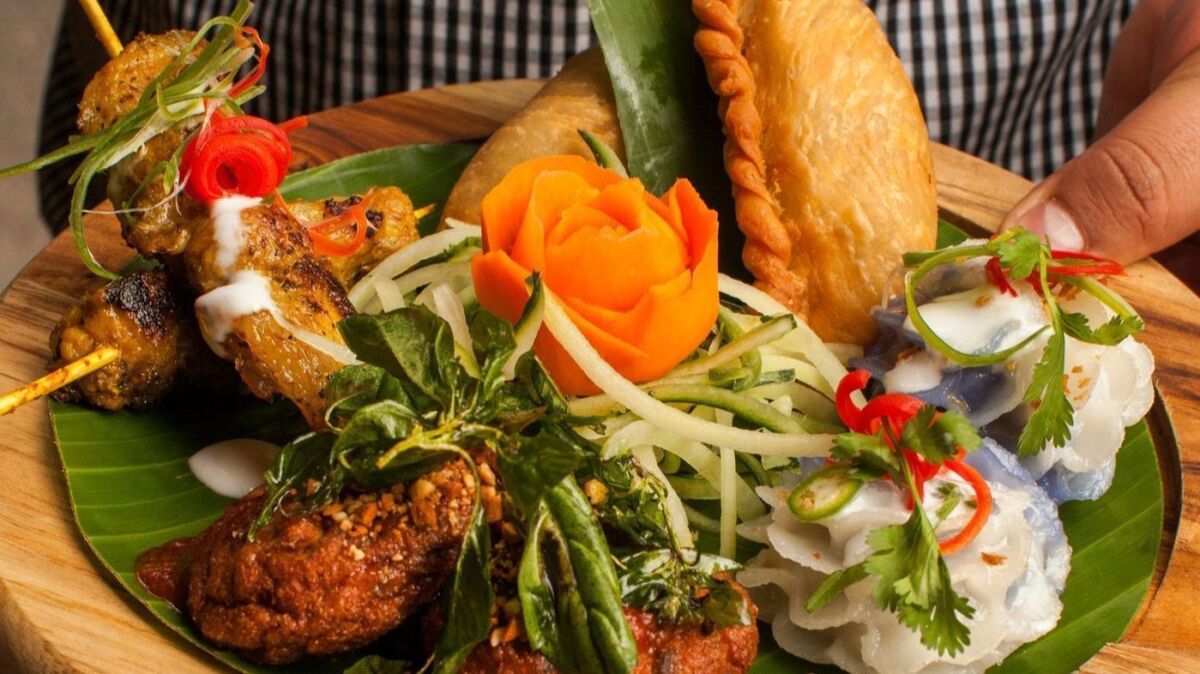 Thanks to food writer Scarlett Lindeman, we're in Mexico City, at the Thai restaurant Galangal, where chef Somsri Raksamran is making both gateway dishes and beyond. So: green curry and pad Thai, but also tish plaga pong deang song kruang, a red snapper and curried egg souffle steamed in a banana leaf.
MUSEUM FOOD
"Your ticket to the Disgusting Food Museum is a barf bag," writes Lucas Kwan Peterson, "like you'd see tucked into the back of an airplane seat." Now open for a temporary run, the museum is devoted to foods deemed "disgusting." Lucas considers the durian and Pop-Tarts, rabbit heads and fermented Icelandic shark — and the conceit of the museum itself.
BISCOTTI SOS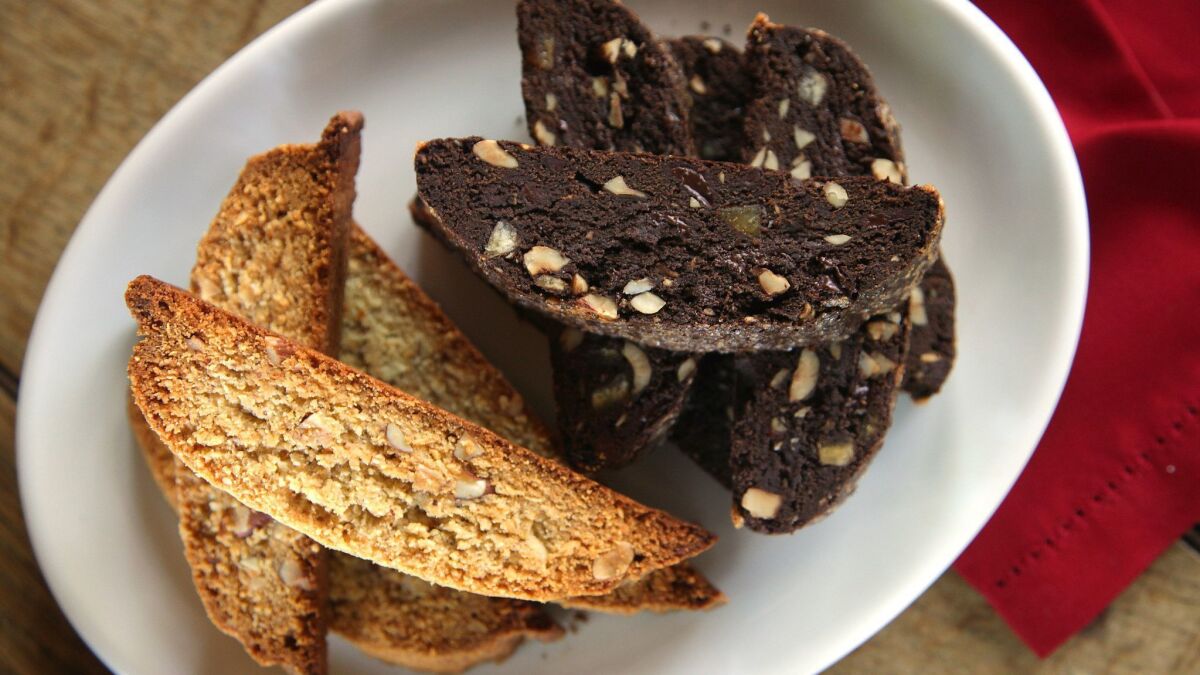 In her latest Culinary SOS, Noelle Carter gets the recipe for the almond and hazelnut-chocolate-orange biscotti from the Deer Valley Resort in Utah. If you're baking cookies for gifting or happy general consumption, biscotti are delicious, and they'll keep longer than some other kinds of baked goods, which makes them particularly well-suited for holiday baking.
DELIS, DRINKS, DEPARTURES
Speaking of Langer's, Trisha Langer, who grew up working at her grandparent's Westlake deli, has opened Daughter's Deli in West Hollywood, reports Hadley Tomicki. There's a new Koreatown restaurant called Jeong Yuk Jeom; chef Miles Thompson has left Michael's restaurant; Goldie's has closed; Jessica Largey's Simone is now serving brunch; and there are new cocktail bars in Studio City and downtown.
Our 101 Restaurants We Love list for 2018 is out. The list incorporates restaurants and trucks from around Los Angeles and Orange County, in alphabetical order (no rankings this year). Plus this year there's a bonus list of 10 classic restaurants.
Check us out on Instagram at @latimesfood.
And don't forget the thousands of recipes in our California Cookbook recipe database.
Feedback? We'd love to hear from you. Email us at food@latimes.com.
---