Happy Saturday. It's a fine weekend to stay home and cook, given all the inclement weather. (No polar vortex here in Los Angeles, for which we remain grateful, but some lightning and mudslides.) So it's a good time to hunker down, invite some folks over, especially as there are a few occasions marked on our food calendar to celebrate. The Super Bowl is tomorrow of course, and even if you're not a sports fan, it's an excellent occasion to fill your table with tacos to show a little civic pride.
It's also the Year of the Pig, and we're saluting the Lunar New Year with a big spread, courtesy of a mother-and-son team of chefs. So cook a brilliant dish of five-spice-powered pork belly with preserved vegetables, which — come to think of it — sounds like pretty great football food too. Maybe double the recipe. If you do venture out, we have two new reviews for you from our critics Bill Addison and Patricia Escárcega, each a different kind of celebration: one of the food of Latin America, and another of pasta.
We also have stories about a gas station where you can fuel up on extraordinary cookies, of all things; news of new restaurants from a pair of longtime L.A. chefs; and a dinner in Jerusalem that brought some star chefs to the table. And if you happen to find yourself at downtown's Central Library, we have a look at a terrific collection of matchbooks that showcase the history of L.A.'s gay bar scene. Which seems a pretty good segue for a book recommendation: Patricia and I have both been loving Susan Orlean's latest, "The Library Book," a paean to libraries that tracks the story of the massive 1986 Central Library fire. Something to read while you're cooking. Enjoy the weekend.
A LUNAR NEW YEAR CELEBRATION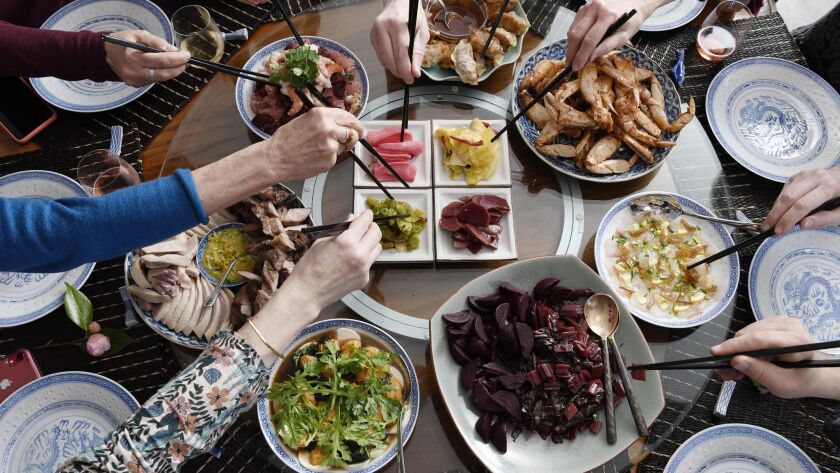 Food writer Genevieve Ko takes us to the table of Northern California cooking teacher Olivia Wu and her son, Erling Wu-Bower, a James Beard Award-nominated Chicago chef. The two are cooking a celebratory feast for the Lunar New Year, featuring dishes that meld the cooking of China, Thailand, France and California.
LOFASA'S LATIN COOKING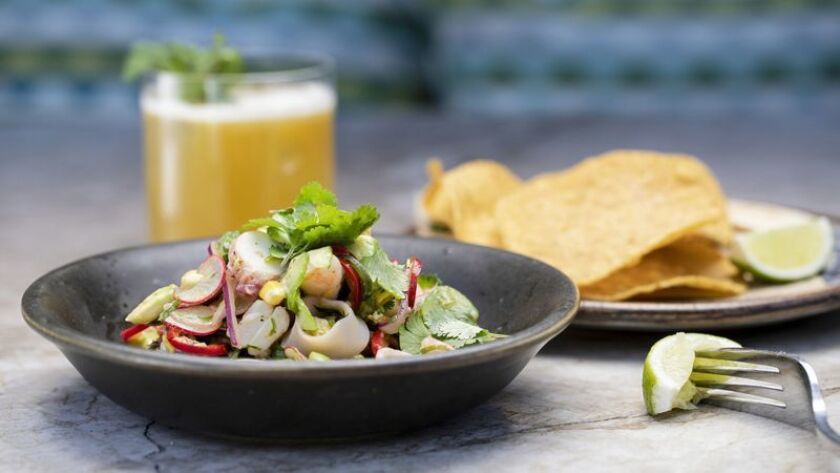 In her latest review, Patricia considers chef Antonia Lofasa's DTLA restaurant Dama, where the pan-Latin menu goes beyond the restrictions of the term, delivering "a sure-footed, frequently delicious love letter to a Latin America that probably only exists in our imaginations." Seafood tostadas, whole snapper in escabeche — and pretty great cocktails too.
SOME SERIOUS PASTA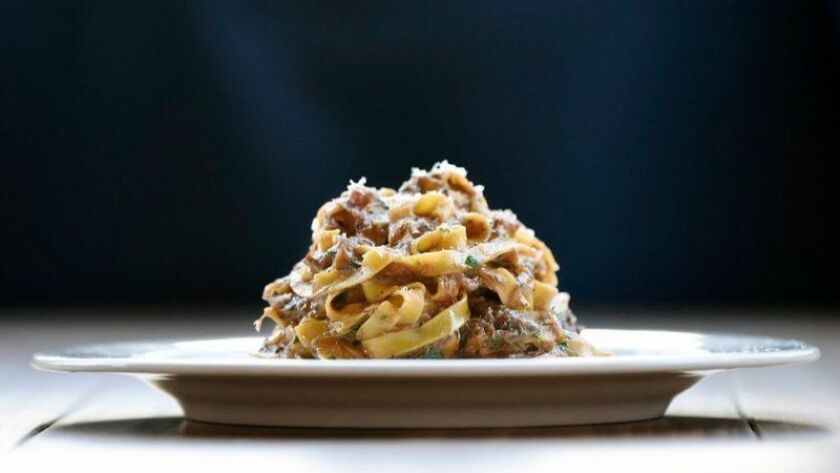 At Hippo, Mozza alum Matt Molina is making craveable pasta — celery root triangoli, fettuccine with pork ragù, corzetti stampati and tagliolini with duck ragu — as part of what the chef calls "Californian-Mediterranean" cooking. As Bill Addison puts it: "That's the draw that would persuade me to drive across Los Angeles."
GAS STATION COOKIES
In our latest What We're Into column, Jenn Harris checks out the cookies at Zooies Cookies — a cookie shop in the unlikely location of a Cheviot Hills gas station. "This is where, in a cubbyhole of a corner, Arezou Appel and a team of five full-time bakers make more than 30 kinds of cookies every day."
PIKOH ON PICO
As Hadley Tomicki reports in his NewsFeed column, chef Ricardo Zarate (of the current Rosaliné and the late, lamented Mo-Chica), is opening a new restaurant called Pikoh. Plus, a new taco stand called L.A. Birria is now open in West Adams, serving tacos with birria de res. And Kass Wine Bar + Restaurant has just opened, from chef Christophe Émé, of the long-shuttered Ortolan.
Our 101 Restaurants We Love list for 2018 is out. The list incorporates restaurants and trucks from around Los Angeles and Orange County, in alphabetical order (no rankings this year). Plus this year there's a bonus list of 10 classic restaurants.
Check us out on Instagram at @latimesfood.
And don't forget the thousands of recipes in our California Cookbook recipe database.
Feedback? We'd love to hear from you. Email us at food@latimes.com.
---