Good morning, and welcome to the Essential California newsletter. It's Monday, Dec. 3, and here's what's happening across California:
TOP STORIES
They huddled in a parking lot — a crowd of terrified Paradise residents who couldn't flee in time as California's deadliest wildfire bore down on them. Some wept. Some curled up in the fetal position. "Are we gonna die?" they asked. Their survival would come down to a series of small but critical decisions, underscoring how chaotic the evacuation process was. Los Angeles Times
-- An epic undertaking: Reopening schools in Paradise and surroundings when so many campuses burned and so many students have no homes. Los Angeles Times
-- The number of missing in the Camp fire has dropped dramatically. Los Angeles Times
-- With so many fires, how do you rebuild responsibly? Mercury News
-- The animal refugees of Butte County. Los Angeles Times
-- An evacuation success story: Paradise schools. Chico Enterprise-Record
-- For those who have homes, welcoming strangers to become families. Los Angeles Times
Reactions to our series on child poverty
Some want to help L.A.'s children trapped in poverty, living in motels, garages and even vans. Others come up with a radically different set of questions. How could the mother be so irresponsible? Where's the father? And why do poor people make such bad choices? Steve Lopez takes on these critics and tries to understand the power of love when you have so little else. Los Angeles Times
ICYMI: The full series from Lopez and photographer Francine Orr on child poverty. Los Angeles Times
Boycott the Giants?
The liberal Bay Area loves the San Francisco Giants. Then one of the team's owners, with his wife, donated to the election campaign of Mississippi Sen. Cindy Hyde-Smith, a Republican candidate who joked of attending a public hanging in a state scarred by a history of lynching. Now things are getting ugly. Los Angeles Times
Get the Essential California newsletter »
L.A. STORIES
The lessons from Anchorage: There are some warnings for Los Angeles from the massive quake that hit Alaska. Los Angeles Times
One of a kind: In the "Anchorman" days of local TV, Vic "The Brick" Jacobs was the colorful sportscaster everyone loved. Now he's battling cancer, but his voice remains strong. Los Angeles Times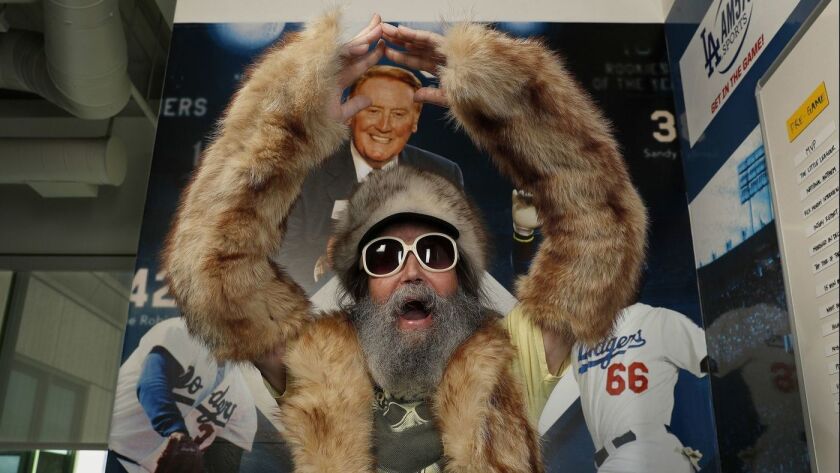 Up, up and away: A proposal for a 77-story tower on the northern edge of downtown L.A. would set another record. Urbanize
R.I.P.: In the 1970s, Pasadena became the first district outside the American South to be hit with a federal order to integrate. Al Lowe, who died recently at 92, helped make it happen. Los Angeles Times
CRIME AND COURTS
At Fruitvale Station: Controversy over plans for a memorial to Oscar Grant, who was killed at a BART station by police. San Francisco Chronicle
Timeline: Examining how police responded to the Borderline mass shooting. LAist
Man versus machine: The California Highway Patrol found an inventive way to use Autopilot to stop a Tesla Model 3 with a sleeping driver at the wheel. Los Angeles Times
POLITICS AND GOVERNMENT
Polarized state: What if you think President Trump is horrible but you aren't "woke"? It's getting lonelier to be a moderate in California. Cal Matters
A change for SJ? Downtown San Jose has always been a stepchild to its big neighbor to the north. But now Google might finally put it on the map. Mercury News
Another crest in the Orange County blue wave: The first Democrat on the Board of Supervisors in years. Orange County Register
Middle ground? Is there a solution to the stalemate on the border? The New Yorker
CALIFORNIA CULTURE
No place like ...: The very concept of home is under siege in the Golden State. Here is what it looks like, from living at the top to the very bottom. California Sunday Magazine
"At the edge of the world": Finding your voice when you want to write about Los Angeles, and the power to do it. Boom California
Whither, PoMo? Is postmodern architecture worth saving? San Diego is debating the merits of a much maligned form. New York Times
Changing nomenclature: "Latino" is out, "Latinx" in at one UC campus. And there is a bigger significance to the change. Los Angeles Times
Totally awesome: The rise of the "new" video game arcade. New York Times
CALIFORNIA ALMANAC
Los Angeles area: Sunny, 68, Monday. Mostly sunny, 70, Tuesday. San Diego: Sunny, 66, Monday. Mostly sunny, 69, Tuesday. San Francisco area: Mostly cloudy, 55, Monday. Showers, 54, Tuesday. San Jose: Partly cloudy, 58, Monday. Showers, 56, Tuesday. Sacramento: Partly cloudy, 54, Monday. Showers, 52, Tuesday. More weather is here.
AND FINALLY
This week's birthdays for those who made a mark in California:
Rep. Grace Napolitano (Dec. 4, 1936), author Joan Didion (Dec. 5, 1934), comedian Margaret Cho (Dec. 5, 1968), Rep. Duncan Hunter (Dec. 7, 1976) and Dodgers outfielder Yasiel Puig (Dec. 7, 1990).
If you have a memory or story about the Golden State, share it with us. Send us an email to let us know what you love or fondly remember about our state. (Please keep your story to 100 words.)
Please let us know what we can do to make this newsletter more useful to you. Send comments, complaints and ideas to Benjamin Oreskes and Shelby Grad. Also follow them on Twitter @boreskes and @shelbygrad.
---