Newsletter: Essential California: Sen. Kamala Harris enters the 2020 fray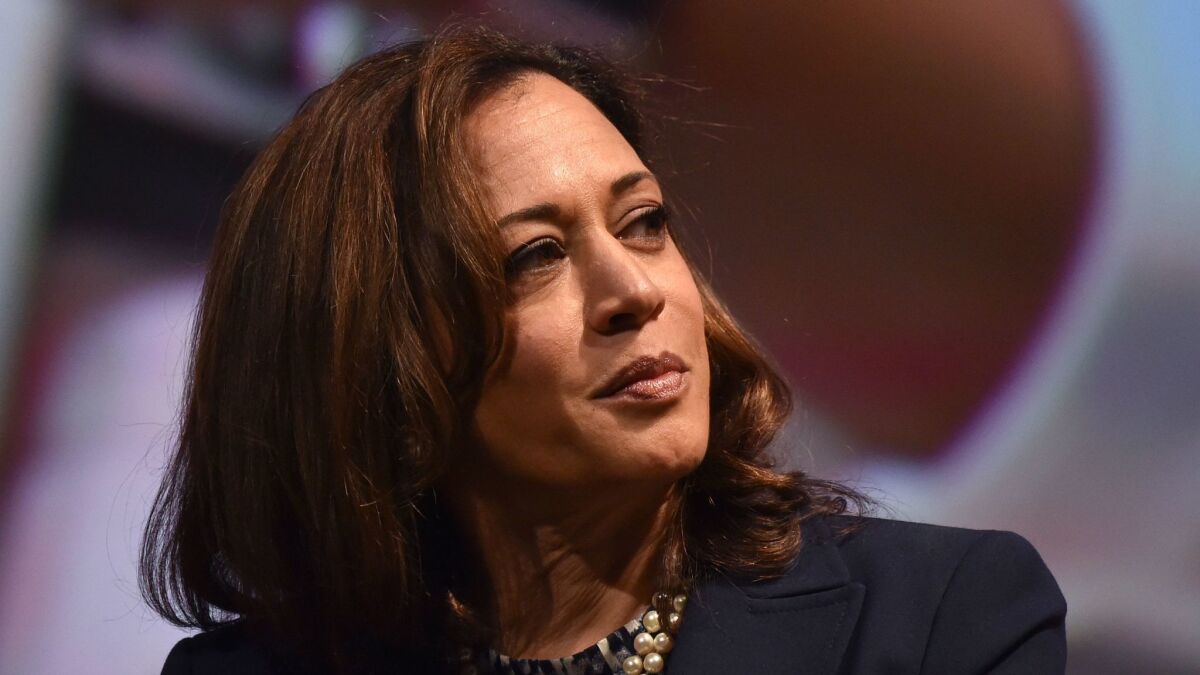 Good morning, and welcome to the Essential California newsletter. It's Monday, Jan. 21, and here's what's happening across California:
TOP STORIES
Kamala Harris, a first-term Democratic senator from California who captured national attention for her prosecutorial grilling of Trump administration officials, entered the 2020 presidential fray on Monday, casting her candidacy as a campaign to preserve American ideals. Harris made her announcement on ABC's "Good Morning America" and released a corresponding online video laying out her opening pitch. Los Angeles Times
The precursor: Harris' new book builds her case for a White House bid. Los Angeles Times
The bio: Five things to know about Harris' life. KQED
Everybody's striking through the weekend
The teachers at Encino Charter Elementary School, which is run by the Los Angeles Unified School District, are on strike. Many of the students have stayed home in support, but they haven't missed a day of learning since the strike began last Monday. They're attending "strike school" — full days of classes taught by 10 parents, who take turns being teacher and converting their homes into classrooms. Los Angeles Times
Negotiations update: Teams from the teachers union and the L.A. Unified School District have been working long hours this weekend to settle the strike. The long hours could be seen as an indication of serious intent to settle, perhaps even a sign of progress. They also suggest the difficulty of reaching a settlement in time for teachers to return to class Tuesday, after the Martin Luther King Jr. holiday. Los Angeles Times
Plus: For families who rely on L.A. Unified as their only source of income, the strike is taking a toll. Los Angeles Times
An antidote's saving grace
Chico police officers knew they had only minutes to act when they pulled up to the house where someone had called 911. Limp bodies were splayed inside, in the backyard and in the garage. Some people looked pale and felt cold to the touch; others had stopped breathing. One person's skin had turned purplish. Officers suspected a mass overdose of heroin or some other opioid. So they reached inside their squad cars' glove compartments for naloxone, a medicine that can reverse opioid overdoses. Los Angeles Times
Get the Essential California newsletter »
L.A. STORIES
Super Bowl-bound: The Rams will play the New England Patriots in the Super Bowl, marking the first time in 35 years that a team from Los Angeles is playing in the big game. To get there, they beat the New Orleans Saints — and got some help from the referees. Los Angeles Times
Out and about: Thousands of women turned out Saturday to participate in Women's March 2019 in downtown Los Angeles and dozens of other cities across the country in a push for social justice and federal policies that promote equality for all. Los Angeles Times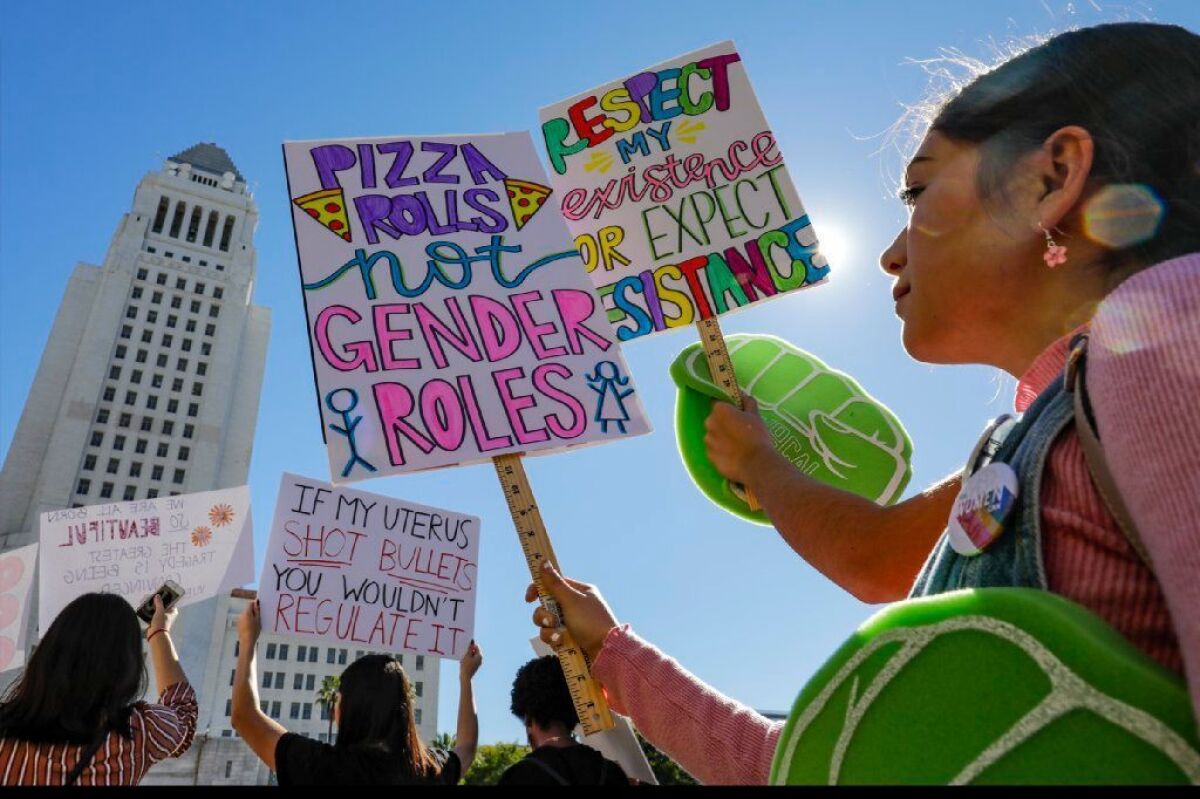 Keeping them at bay: Scooters took over Venice and Santa Monica. L.A. County has a different plan. Los Angeles Times
RIP Grace: Steve Lopez writes eloquently about hospice care and his mother, who died at 89 last week. Los Angeles Times
IMMIGRATION AND THE BORDER
To be continued: As a damaging partial government shutdown hit the 30-day mark on Sunday, President Trump sought to allay criticism from conservative critics who fear he is softening his hard line on immigration, while unleashing strident new attacks against House Speaker Nancy Pelosi. Los Angeles Times
Pipeline disaster: Mexico's president vows to eradicate gas theft amid the horror of a deadly pipeline explosion. Los Angeles Times
Plus: "Mexican troops stood by as people crowded to steal fuel from a punctured pipeline. Hours later, it killed dozens." BuzzFeed
A hit! Actress Yalitza Aparicio of "Roma" and the politics of stardom in Mexico. New York Times
POLITICS AND GOVERNMENT
Up in Sacramento: With a ballot fight looming, Gov. Gavin Newsom suggests dealmaking to revamp California's tax system. Los Angeles Times
In D.C.: Here's why Nancy Pelosi is winning in her battle with President Trump. Los Angeles Times
Junk, blight and problem businesses: South L.A. residents fume over code enforcement. Los Angeles Times
LOL: "Now that Mitch Englander is off the L.A. City Council, Porter Ranch residents want to rename this park named after his late mom." Los Angeles Daily News
CRIME AND COURTS
Trial starts soon: Harvey Weinstein, "the Hollywood mogul known for his ego and tenacity, parted ways with his defense lawyer, Benjamin Brafman, last week, and is working fast to assemble a 'dream team' of powerhouse trial lawyers to handle his sexual assault case." New York Times
Gruesome: The three men killed on a remote, unlit road above Palmdale late Wednesday night were all from the Los Angeles area, L.A. County coroner's officials said Saturday. Los Angeles Times
More woes: The former chief executive of the Los Angeles-based charter school network Celerity Educational Group has been charged with conspiracy to misappropriate and embezzle public funds. Los Angeles Times
THE ENVIRONMENT
Up in the sky: Sunday night's total lunar eclipse put on quite a show. Los Angeles Times
Eek: Bighorn sheep are dying in the California desert, and experts aren't sure why. Desert Sun
The aftermath: Fire has turned Chico into a boomtown, but at what cost? NBC News
CALIFORNIA CULTURE
When the cheering stopped: USC's Song Girls are shut out at home basketball games. Los Angeles Times
Snapshot: At 100, the American Society of Cinematographers looks back while thinking ahead. Los Angeles Times
The bossman: "UC San Diego Chancellor Pradeep Khosla: Blunt-spoken visionary or belittling bully? San Diego Union-Tribune
Man behind the curtain: The most powerful person in Silicon Valley is not Mark Zuckerberg, Elon Musk or Jeff Bezos. Fast Company
Success story: How a high school dropout became president of the San Francisco Federal Reserve. Washington Post
On Youtube: "Omar Banos found fame streaming angsty pop songs from his bedroom. Now he's a model for how musicians can thrive, unsigned." California Sunday Magazine
CALIFORNIA ALMANAC
Los Angeles area: Sunny, 64, Monday. Sunny, 67, Tuesday. San Diego: Sunny, 61, Monday. Sunny, 67, Tuesday. San Francisco area: Partly cloudy, 56, Monday. Partly cloudy, 58, Tuesday. San Jose: Partly cloudy, 58, Monday. Partly cloudy, 60, Tuesday. Sacramento: Partly cloudy, 57, Monday. Partly cloudy, 58, Tuesday. More weather is here.
AND FINALLY
This week's birthdays for those who made a mark in California: astronaut
Buzz Aldrin (Jan. 20, 1930), former Mayor
Antonio Villaraigosa (Jan. 23, 1953) and San Diego Mayor Kevin Faulconer (Jan. 24, 1967).
If you have a memory or story about the Golden State, share it with us. Send us an email to let us know what you love or fondly remember about our state. (Please keep your story to 100 words.)
Please let us know what we can do to make this newsletter more useful to you. Send comments, complaints and ideas to Benjamin Oreskes and Shelby Grad. Also follow them on Twitter @boreskes and @shelbygrad.
---