Newsletter: Essential California: Go Rams!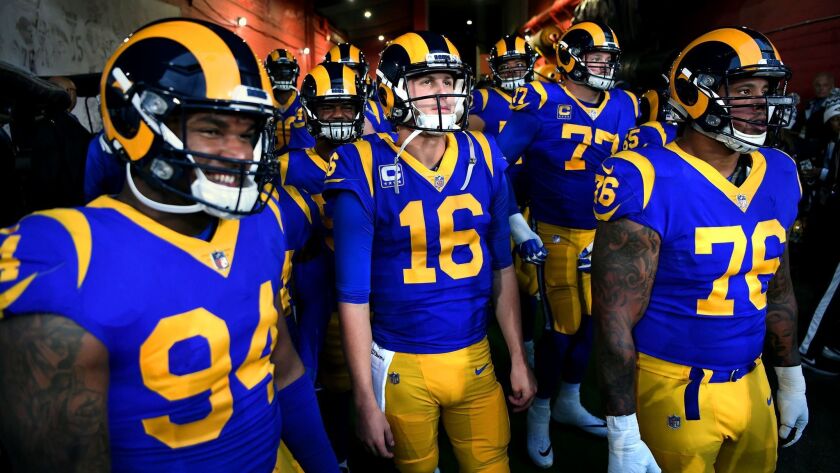 Good morning, and welcome to the Essential California newsletter. It is Saturday, Feb. 2. Here's what you don't want to miss this weekend:
TOP STORIES
The Rams are in the Super Bowl on Sunday. In their future home of Inglewood, that should provoke pure joy. But there's also sadness and uncertainty. Next year the Rams will move into a majestic new stadium rising within walking distance of Ms. B's M&M Soul Food Restaurant, the one with this banner out front: "Welcome Rams, Come Try Our Yams. Love, Ms. B." Beverly Brinson has lived and worked in the Inglewood area since 1974, when she fled an abusive situation in Mississippi and rode the bus here. She was 25, and she carried all she had that was precious. "Two babies," she said, "and $17 in my pocket." But rising rents have left her at risk of losing her spot. Los Angeles Times
Plus: The Rams' road to Super Bowl LIII was paved with many course-changing directions. Los Angeles Times
Major scoop: For years, Trump bashed the NFL and players who protested racial injustice. Here's why he stopped. Los Angeles Times
Taco alert! The truck that started on the Slauson Tracks is appearing in a Super Bowl ad. LA Taco
In the booth: Meet the NFL ref who will serve as code breaker for CBS' Super Bowl broadcast. Los Angeles Times
El Jefe: Rams owner Stan Kroenke brought the NFL back to L.A.; maybe a Super Bowl title is next. Los Angeles Times
Podcast: How are the Rams handling the spotlight? Los Angeles Times
The Rams' only shot?
The Rams had better win Sunday, columnist Dylan Hernandez writes. "A chance like this might not come again. This Super Bowl run was the result of the Rams recognizing the special opportunity in front of them and seizing it. That's not to say they can't return to this stage again. However, they might never again have as many chips to push into the middle of the proverbial poker table as they did this season. 'I guess you can look at it like that,' running back Todd Gurley said." Los Angeles Times
Plus: A Rams victory could be a sequel to "Heaven Can Wait." Los Angeles Times
And: How do the Rams fit into Los Angeles pop culture? It's complicated. Los Angeles Times
Union muscle on full display
Los Angeles Fire Marshal John Vidovich was at the peak of his career in 2015. He ran the city's Fire Prevention Bureau, oversaw more than 150 employees and won awards from Mayor Eric Garcetti for his department's work inspecting buildings for fire safety. But when Vidovich clashed with a group of fire inspectors working for him, he was transferred out of the post. That began a legal fight that exposed threats of vindictive paybacks and accusations of backroom deals involving top officials at City Hall and a powerful public employee union. Los Angeles Times
AROUND CALIFORNIA
Stay inside: Be careful with the weather this weekend. It's going to be fierce. Los Angeles Times
Supes versus sheriff: In a hearing at the Los Angeles County Board of Supervisors' weekly meeting, newly elected Sheriff Alex Villanueva encountered frustration from its majority female members over his decision to reinstate a deputy fired over allegations of domestic violence and stalking. Los Angeles Times
The creator speaks: Weighing in on a statewide legal battle over law enforcement records, the author of California's landmark police transparency law has formally notified the state Senate that her bill was intended to open up records from the past as well as those going forward. Los Angeles Times
Tough stuff: Serena Oberstein's time on the Los Angeles Ethics commission, which she left in November, has raised questions about whether she is eligible to run for an open City Council seat. Los Angeles Times
Gruesome: Los Angeles police detectives on Friday arrested a civilian department employee on suspicion of murder in the deaths of his wife and son, the department announced. Los Angeles Times
Energy update: What you need to know about Clean Power Alliance, Southern California's newest electric company. Los Angeles Times
In the O.C.: To fight the housing shortage, California is right to come down hard on Huntington Beach, columnist Michael Hiltzik writes. Los Angeles Times
History lesson: Willie Brown sees his protégés rise to the top. CALmatters
Understanding her record: "As a prosecutor, Sen. Kamala Harris pioneered the fight against online sex harassment. Then she overreached. Is she a savior, or a threat to the First Amendment?" Politico Magazine
Valley talk: "A new website exposes the extent to which Apple cooperates with Chinese government internet censorship, blocking access to Western news sources, information about human rights and religious freedoms, and privacy-enhancing apps that would circumvent the country's pervasive online surveillance regime." The Intercept
Invasion of privacy alleged: A Long Beach Police Department clerk has been charged with invasion of privacy after authorities said he filmed dozens of men in one of the Police Department's restrooms. Los Angeles Times
Under review: Dozens of California Highway Patrol officers are being temporarily relieved of duty amid an investigation into whether they fraudulently received hundreds of hours of overtime pay while working out of the East Los Angeles station, officials said Friday. Los Angeles Times
Fined: Southern California Gas Co., California's biggest natural-gas utility, was slapped with a $3.3-million fine, with state regulators accusing the company of putting its financial bottom line ahead of public safety by refusing to fully investigate a 2017 explosion that injured one person. Los Angeles Times
Get the Essential California newsletter »
THIS WEEK'S MOST POPULAR STORIES IN ESSENTIAL CALIFORNIA
1. Behind the story: How The Times reported on Tijuana's massive rise in homicides. Los Angeles Times
2. Meth and murder: A new kind of drug war has made Tijuana one of the deadliest cities on Earth. Los Angeles Times
3. How a dusty road became the Sunset Strip, "the most famous place in L.A. to misbehave." Curbed LA
4. Gentrification is failing in Los Angeles. Los Angeles Daily News
5. Watching "Leaving Neverland" after a lifetime of loving Michael Jackson. Los Angeles Times
ICYMI, HERE ARE THIS WEEK'S GREAT READS
The door is closing: Many tech workers say the process of applying for and getting H-1B visas has become increasingly murky and difficult under President Trump's administration. While many people zero in on Trump's crackdown against illegal immigration, his administration has also tightened or ended various paths to legal immigration. Los Angeles Times
"It's all there for sale": The dark web puts a new twist on the age-old practice of counterfeiting. Los Angeles Times
The deported Americans: More than 600,000 U.S.-born children of undocumented parents live in Mexico. What happens when you return to a country you've never known? California Sunday Magazine
Heartbreaking: Was CTE stealing his mind? A gunshot provided the answer. New York Times
Back to basics: "My so-called plastic-free life. I tried for a month. Here's what happened." LAist
Please let us know what we can do to make this newsletter more useful to you. Send comments, complaints and ideas to Benjamin Oreskes and Shelby Grad. Also follow them on Twitter @boreskes and @shelbygrad.
---