Newsletter: Essential California: Let it snow. Let it snow. Let it snow
Good morning, and welcome to the Essential California newsletter. It's Wednesday, Feb. 6, and here's what's happening across California:
TOP STORIES
Snow! Few things get sunshine-addicted Californians as excited as a little snow. And the snow has come — not only in such dumps that it kept shut several Sierra Nevada ski resorts, but it even made a showing within sight of the Pacific Ocean, with powder falling Tuesday morning on San Francisco's Twin Peaks. The storm comes around the midpoint of California's wet season, following several weeks of atmospheric river storms that hit the state in January. And experts are beginning to hold out hope that this winter could be a rare wet one across the state. It's a welcome turn of events for a state that is still recovering from severe drought. Los Angeles Times
Plus: There has been sooooo much snow in the Sierra. Get ready for a wonderful weekend of shredding. Los Angeles Times
Measuring the storms: On Tuesday, researchers announced a new scale to describe the strength of atmospheric river storms, weather events that cause many of the West Coast's heaviest rains. Los Angeles Times
A little history: Here's what every San Francisco neighborhood looked like after the epic snowstorm of 1976. San Francisco Chronicle
Lakers fever
The Lakers have pulled out of conversations aimed at trying to acquire New Orleans All-Star forward Anthony Davis because of the Pelicans' "outrageous" trade requests, according to a person with knowledge of the situation. Magic Johnson, the Lakers' president of basketball operations, told New Orleans general manager Dell Demps on Tuesday morning that the Lakers had made their best offer, were not willing to add anything else and would be moving on, said the person who was not authorized to speak publicly on the matter. Los Angeles Times
Dylan Hernandez: It's no surprise that these trade talks were going to hit an impasse. Los Angeles Times
And: More on where trade talks for the dominant center stand. ESPN
Big trade deadline move: The Clippers have agreed to trade leading scorer Tobias Harris to Philadelphia as part of a larger trade with the 76ers, a person not authorized to speak publicly on the matter said Tuesday. Los Angeles Times
A legend returns to columnizing
" 'Wow, wow, wow, fellas; look at the old girl now, fellas.' Dolly Gallagher Levi's appearance at the Harmonium Gardens is always a moment of triumph. But watching Betty Buckley descend that famous staircase during the climactic signature number of "Hello Dolly!" at the Pantages, that triumph felt bigger than that of a widow finally deciding to "get in step while there's still time left." It was a symbol, and one in scarlet sequins and a feathered headdress — which is always the best kind — of a cultural moment that seemed impossible even a decade ago," writes Mary McNamara. Los Angeles Times
Here's something about Mary: McNamara is a longtime Times journalist who was until last year running the paper's entertainment coverage. Before that she was a critic, and it's great to see her byline back in the paper. Here's a little interview she did talking about what readers might expect. Los Angeles Times
Plus: She won the 2015 Pulitzer prize in criticism. Read that body of work here. Los Angeles Times
Get the Essential California newsletter »
L.A. STORIES
Stepping down: The Gay Men's Chorus of Los Angeles told its members Monday that longtime board chairman and major fundraiser John Duran will step down from his post at the end of the season — a change that comes amid allegations of sexual harassment and misconduct. Duran, who also is mayor of West Hollywood, denied any wrongdoing and said that after 20 years with the chorus, he was planning to leave anyway. But, he said, the "toxic" climate within the organization spurred by "false allegations" contributed to his decision to step down this summer. Los Angeles Times
Yorba Linda crash: Antonio Pastini, the pilot killed Sunday when his small plane plunged into a Yorba Linda home, was first identified by California authorities as a retired Chicago police officer. But a spokeswoman for the Chicago police said Pastini, 75, was never employed by the department and was carrying a Chicago police badge missing since 1978. Los Angeles Times
Eyewitness accounts: The Cessna plane had flown about 10 miles, reaching an altitude as high as 7,800 feet, when witnesses saw it coming through the clouds in one piece, authorities said. Moments later, its tail came off. Then its wings. Los Angeles Times
Trying to figure it out: Some groups in L.A. are turning to community land trusts for affordable housing. NPR
IMMIGRATION AND THE BORDER
SOTU recap: President Trump called on the nation to "break decades of political stalemate" in his State of the Union address Tuesday night. The topic he talked the most about: illegal immigration and his proposed border wall. Los Angeles Times
And a response: California Atty. Gen. Xavier Becerra warned in a national televised address Tuesday that he is prepared to take President Trump to court if he declares a national emergency to fund a wall at the U.S.-Mexico border while cutting federal funds to fire-damaged communities in this state. Los Angeles Times
Wall or fence? These are the barriers at the border now. Wall Street Journal
Plus: "President Donald Trump and his son-in-law and senior adviser, Jared Kushner, met with contractors at the White House to discuss building the border wall late last week." CNN
POLITICS AND GOVERNMENT
Uh-oh: California elections officials will investigate whether DMV voter registration errors changed the outcome of races. Los Angeles Times
Staffing up: California lawmakers will need to grant nurse practitioners across the state more autonomy, increase opportunities to study medicine and expand doctor training programs in order to avoid a looming healthcare crisis. Los Angeles Times
Helpful: "See if California has identified your school as low-performing." San Diego Union-Tribune
Hitting the road: Sen. Kamala Harris is traveling to South Carolina, Iowa, New Hampshire and Nevada this month. Politico
Connecting the dots: How Tom Barrack planned to profit from his Trump connections. ProPublica
CRIME AND COURTS
In San Diego: A judge has dropped two of the charges against a Navy SEAL who is facing a high-profile war-crimes prosecution. Los Angeles Times
Good question: Why did the Oakland diocese delay reporting alleged priest misconduct to police? Mercury News
Crazy story! Was the Godfather of Soul murdered? Read this startling investigation about James Brown's death. CNN
CALIFORNIA CULTURE
Major congrats: Sandra Cisneros, the Mexican American novelist whose books "The House on Mango Street" and "Woman Hollering Creek" are widely considered contemporary classics of American literature, has won the PEN/Nabokov Award for Achievement in International Literature. Los Angeles Times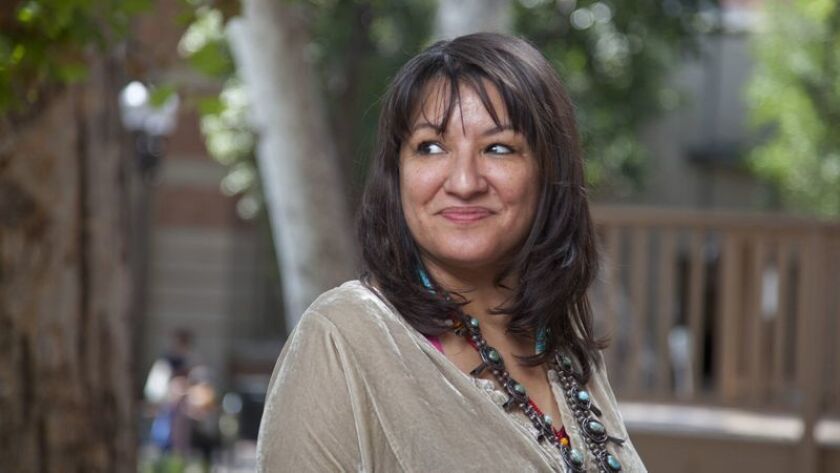 Worried rams: The Desert X art show has put a Jenny Holzer installation on hold over animal welfare worries. Los Angeles Times
Whoops: The owners of a famed Brooklyn pizzeria set up shop in Culver City, becoming a parody wrapped up in a stereotype and tucked into archetype. Eater
Hollywoodland: As "BlacKkKlansman" surges, it's no longer Spike Lee vs. the Oscars. The Hollywood Reporter
Scooter-pa-looza: "At a Bay Area summit devoted to electric scooters and other new mobility devices, fans evangelized about the potential of technology. But safety was an afterthought." City Lab
Yum: Go eat "Tacos Birria! De Res." That is all. L.A. Taco
News on the home front: The Los Angeles Times will revive its separate food section. Los Angeles Times
CALIFORNIA ALMANAC
Los Angeles area: partly cloudy, 59, Wednesday; partly cloudy, 62, Thursday. San Diego: sunny, 58, Wednesday; sunny, 61, Thursday. San Francisco area: partly cloudy, 53, Wednesday and Thursday. San Jose: partly cloudy, 54, Wednesday; partly cloudy, 56, Thursday. Sacramento: sunny, 52, Wednesday; partly cloudy, 53, Thursday. More weather is here.
AND FINALLY
Today's California memory comes from Paul Semnacher:
"I was raised in San Pedro during the '50s and '60s, and my fondest memory was waking in the morning to the sound of the foghorn from the Angels Gate Lighthouse at the end of the breakwater. It would drone two times every 30 seconds, and while walking to school in the cool, thick air, the fog would be so dense you could not see the other side of the street."
If you have a memory or story about the Golden State, share it with us. Send us an email to let us know what you love or fondly remember about our state. (Please keep your story to 100 words.)
Please let us know what we can do to make this newsletter more useful to you. Send comments, complaints and ideas to Benjamin Oreskes and Shelby Grad. Also follow them on Twitter @boreskes and @shelbygrad.
---