Newsletter: Essential California: Reliving a lost era in 'Tehrangeles'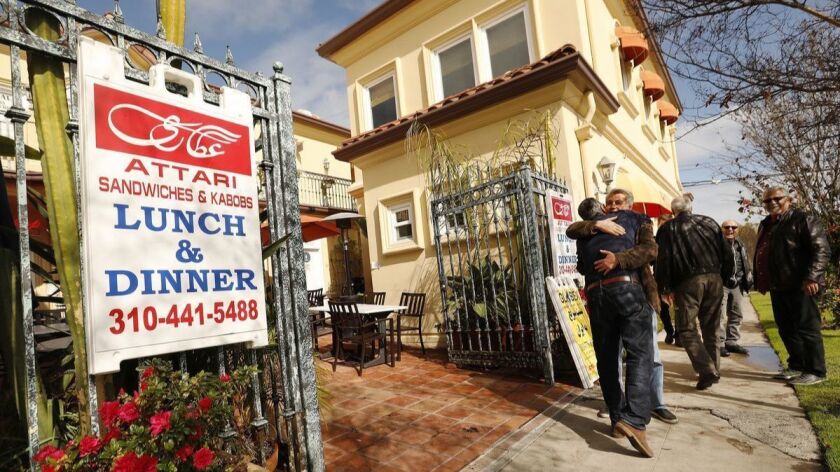 Good morning, and welcome to the Essential California newsletter. It's Thursday, Feb. 21, and here's what's happening across California:
TOP STORIES
Memories fuel the conversation when Mansour Sepehrnia, 89, and other old friends gather each week at Attari Sandwich Shop in "Tehrangeles," the Persian community in Westwood that blossomed after the Islamic Revolution of 1979 prompted thousands of Iranians to flee to the United States. It's not unusual to find old men gathered like this in other restaurants and tea shops in Tehrangeles. But you're more likely to see them play backgammon or grumble about the state of Iran today. At the Attari, the topic is Hollywood — at least the Iranian version of it — and the memories come from a regular group of former actors, comedians, film editors and theater owners who were part of Iran's once-robust entertainment industry. They had to give up show business when they came to L.A. For 26 years, this little group has gathered at the restaurant every Tuesday at 11 a.m. Los Angeles Times
The legal fight on a variety of fronts
When a lawsuit challenging President Trump's plan to build a border wall goes before a federal judge in San Francisco, California and 15 other states will argue that the administration's decision to bypass Congress violates the U.S. Constitution. But legal analysts generally agreed Tuesday that the lawsuit is most likely to prevail on more narrow grounds — if it succeeds at all. "This is so clearly unconstitutional and illegal that the Supreme Court will say it is not permissible," predicted UC Berkeley Law School Dean Erwin Chemerinsky. Los Angeles Times
Plus: Can Trump take back California's high-speed rail money? A look at the political and legal battle ahead. Los Angeles Times
Cold case files
It was a killing that haunted Newport Beach for years. In July 1973, 11-year-old Linda Ann O'Keefe disappeared while walking home from school. The following day, her body was found among the cattails in Newport Beach's scenic Back Bay. The case remained cold until last year, when the Police Department tried a new tactic using social media. In a series of first-person tweets, detectives highlighted details of Linda's killing in hopes it would yield new clues. They called it Linda's Story. On Wednesday, a new chapter was added: The arrest of a Colorado man suspected in the girl's slaying and identified through the use of genealogical DNA. Detectives said the break occurred after a snapshot profile of a possible suspect in the killing was generated from DNA evidence found at the crime scene. Los Angeles Times
Plus: Police said a 50-year-old man was charged with murder this week in the kidnapping and death of 11-year-old William Tillett of Inglewood. The case dates back nearly three decades. Los Angeles Times
Get the Essential California newsletter »
L.A. STORIES
Restless in WeHo: Amid the #MeToo movement, some West Hollywood residents want their mayor to resign. Los Angeles Times
Waste not, want not: California's wet winter has dumped an estimated 18 trillion gallons of rain in February alone. But much of it is simply going down the drain. Los Angeles Times
Congrats! The finalists for the 2018 Los Angeles Times Book Prizes have been announced, with Michelle Obama, Susan Orlean, Michael Ondaatje and Terrance Hayes among the nominees for the annual literary awards. Los Angeles Times
They are the champions: This L.A. couple have seen "Bohemian Rhapsody" 24 times: "It's two hours of freedom." Los Angeles Times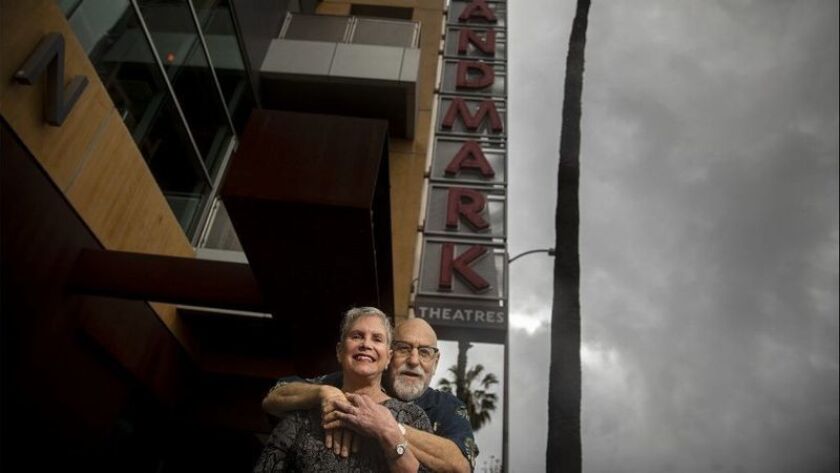 Becoming a meme: Andy King went viral thanks to Netflix's Fyre Festival doc. Now he's getting back to his day job. Los Angeles Times
IMMIGRATION AND THE BORDER
A stymied caravan: President Trump prevailed this week as Mexican officials stopped a caravan at the Texas border and shipped migrants to other cities. Los Angeles Times
The trial that was: A juror speaks out for the first time about convicting drug kingpin Joaquin "El Chapo" Guzman. Vice News
POLITICS AND GOVERNMENT
More housing moves: Citing the increasing cost of housing across California, a Bay Area lawmaker wants to sweep away a host of local restrictions on development in an effort to spur new home building. Los Angeles Times
Follow the money: Faced with persistent complaints about a "pay-to-play" culture at Los Angeles City Hall, the City Ethics Commission backed new restrictions on political donations from real estate developers seeking city approval for their building plans. Los Angeles Times
The state of play: Your phone and TV are tracking you, and political campaigns are listening in. Los Angeles Times
A party in turmoil: California Republicans look into the abyss. Politico
Give it a listen: Are L.A.'s high-rises ready for the Big One? KPCC
CRIME AND COURTS
Deadly evening: Police publicly identified three men who were shot to death recently in the Renaissance gated community on the border of Porter Ranch and Chatsworth. Los Angeles Times
Shooting claim: In a claim seeking $20 million from South Pasadena, the mother of Vanessa Marquez says poor tactics, negligence and overreaction on the part of police led to the actress' fatal shooting last year. Los Angeles Times
In court: A woman who was shot three times and left a quadriplegic last spring is suing San Diego for gross negligence, contending that police dispatchers failed to take seriously multiple 911 calls from her mother. Los Angeles Times
Can he police the police? "California Atty. Gen. Xavier Becerra has crafted an image as a progressive warrior. But there's one exception: police accountability." CalMatters
THE ENVIRONMENT
At an impasse: Already faltering negotiations between the Trump administration and California aimed at resolving a dispute over fuel economy standards have broken down completely. Los Angeles Times
CALIFORNIA CULTURE
Cold war in the Sierra Nevada: Marines are training for winter operations. Associated Press
Get your glow stick: Mickey Mouse, get your rave on — Disneyland's new show is a laser-blasting dance party. Los Angeles Times
Fun! Planning a road trip in California? This guide to RV parks and camping can help. Los Angeles Times
What's that buzz? The neon sign maker that lighted up California. Curbed LA
Can't wait for the movie: Inside Elizabeth Holmes' final months at Theranos. Vanity Fair
CALIFORNIA ALMANAC
Los Angeles area: Partly cloudy, 57, Thursday. Sunny, 62, Friday. San Diego: Showers, 55, Thursday. Sunny, 59, Friday. San Francisco area: Sunny, 57, Thursday. Partly cloudy, 54, Friday. San Jose: Sunny, 56, Thursday. Partly cloudy, 57, Friday. Sacramento: Cloudy, 56, Thursday. Sunny, 56, Friday. More weather is here.
AND FINALLY
Today's California memory comes from William Barnes:
"Growing up in Escondido in the '50s, '60s and '70s, I made my Christmas money from picking Fuerte variety of avocados, which had a harvest season from November to May. They were bigger, thin-skinned and tastier than most of the avocado brands seen in stores today. The avocados that didn't grow to maturity I picked anyway, as these 'cukes,' as they were called, were highly desired for salads. While I was living there, Escondido was in competition with Fallbrook, Vista and Poway to be designated as the Avocado Capital of the World. Nowadays, it seems the only avocados found in Escondido are found in the grocery stores, imported from someplace else."
If you have a memory or story about the Golden State, share it with us. Send us an email to let us know what you love or fondly remember about our state. (Please keep your story to 100 words.)
Please let us know what we can do to make this newsletter more useful to you. Send comments, complaints and ideas to Benjamin Oreskes and Shelby Grad. Also follow them on Twitter @boreskes and @shelbygrad.
---