Newsletter: Today: An L.A. School Shooting Leaves Questions
A school shooting in the Westlake area of L.A. left two 15-year-old students wounded and two other students and a 30-year-old woman injured.
TOP STORIES
An L.A. School Shooting Leaves Questions
It was a scene that's all too familiar in America: a shooting at a school. Wounded students. Frightened parents. This time, in what was said to be the 14th school shooting in the U.S. this year, the two 15-year-old students who were wounded at Sal Castro Middle School are expected to recover. Authorities, who took a 12-year-old girl into custody, say they do not believe the shooting was intentional. But the questions remain: How did a semiautomatic handgun get into the school? And how can the Los Angeles Unified School District keep students safe going forward? The district has long conducted daily random searches at all middle and high school campuses, but those measures have come under criticism.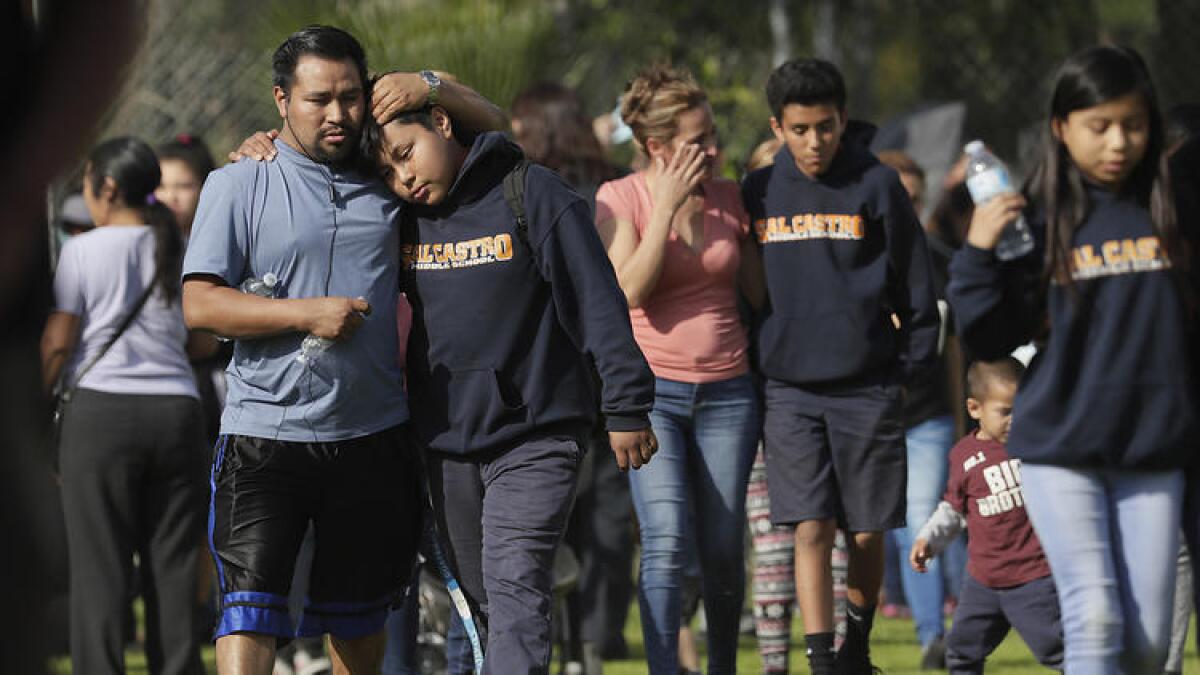 Memo to Washington: Here We Go
After days of escalating tensions, President Trump is prepared to approve the release of a much-disputed classified memo put together by aides to Rep. Devin Nunes. Such a move would put Trump at odds with his top national security officials, who have expressed concern about the memo's contents, and with some Republicans. But the four-page document about secret government surveillance could give the president a new tool to undermine public confidence in the Russia investigation. Democrats, who want their own version of a memo released as a counterbalance, have called for Nunes to be removed as chairman of the House Intelligence Committee.
More Politics
-- The Trump administration is threatening to scrap a major Obama-era agreement that sought to protect millions of acres of the California desert. The announcement that it will reconsider the plan touched off an immediate backlash in the West.
-- Secretary of State Rex Tillerson has outlined the Trump administration's vision for Latin America for the first time, describing the region as a vital, enduring U.S. partner.
-- Trump claimed the 45.6 million viewers on broadcast and cable for his State of the Union address marked "the highest number in history." It didn't.
In the Home of 'The Chronic,' It's Not Legal to Sell
Dr. Dre's 1992 gangsta rap album "The Chronic" became a classic — and made his hometown of Compton synonymous with a nickname for high-grade cannabis, much to many residents' dismay. Today, if you're looking to buy the chronic legally, don't go there. Voters have sent a clear message they don't want recreational and medicinal sales in the city, even after the state has legalized marijuana. "Drugs have pillaged black and brown communities," says community activist James Hays Jr.
Where Bollywood Dreams Live On
The sprawling slum of Dharavi and the movie capital of Bollywood seem worlds apart, even though both lie in the city of Mumbai. Baburao Laadsaheb, a sign painter by profession, says he is trying to bridge the gap. Each week, he runs a course for slum children in acting, dancing, stage fighting and the like. Most students pay nothing, but if they land a job, Laadsaheb receives a casting commission. And if they don't? "Acting requires the ability to speak in public and be confident," he says. "Those skills will help these children in any profession."
Medal or Not, These Games Are a Win-Win
Sarah Hendrickson is a ski jumper. Torin Yater-Wallace is freestyle skier. At the 2014 Games in Russia, both were expected to medal for the U.S. team, but things went sideways. Afterward, they commiserated over pizza on their first date. Back home, the injuries went from bad to worse. But as the Olympic Games in Pyeongchang start next week, their perseverance has paid off and given them a new view of what it means to win.
FLASHBACK FRIDAY
The L.A. press called gangster Mickey Cohen "Public Nuisance No. 1." On Feb. 6, 1950, his neighbors in Brentwood felt the same way. That's when some of his gangland rivals blew up part of his house. Cohen and his family emerged unscathed — as did the neighbors.
MUST-WATCH VIDEO
-- On the streets of L.A.: a glimpse into the lives of some of those without a home.
-- Inside Beyond Meat's new El Segundo lab, where it hopes to concoct plant-based bacon and steak.
YOUR WEEKEND
-- Get ready for the Super Bowl party: 61 recipes to score big. Plus: Here's what The Times' food staff would bring.
-- So, about that New Year's resolution to shape up.… These eight fitness gurus who offer free online workouts might help get you back on track.
-- Escape to St. George, Utah, for a weekend filled with great hiking and awesome views.
CALIFORNIA
-- The mysterious death of Natalie Wood off Catalina Island is generating new interest after comments by one of the investigators on the case.
-- A UCLA study says Southern Californians have been on a car-buying spree, and that's cutting deeply into transit ridership.
-- What are workplace investigators talking about these days? A lot, as columnist Robin Abcarian found out.
-- The Santa Monica Mountains cougar known as P-23 was found dead near Malibu Canyon Road, where she appears to have been struck by a vehicle, according to the National Park Service.
HOLLYWOOD AND THE ARTS
-- After Recording Academy President Neil Portnow's remarks on the Grammys, more than 20 female music industry executives have reportedly signed an open letter calling for his resignation.
-- The podcast "2 Dope Queens" starring writer-comedian-actors Jessica Williams and Phoebe Robinson is coming to television for four episodes on HBO.
-- Film critic Kenneth Turan says the Oscar-nominated Hungarian movie "On Body and Soul" is a magical experience.
NATION-WORLD
-- State media in Cuba say the eldest son of the late leader Fidel Castro killed himself after months of treatment for depression.
-- A closer look at Saudi Arabia's anti-corruption crackdown: The long-term effects of a strange, startling episode are still not known.
-- Four years after its launch, New York Mayor Bill de Blasio's signature initiative to reduce traffic fatalities appears to be working.
-- Galaxies that move together have scientists stumped about dark matter.
BUSINESS
-- Ever get a feeling of deja vu? CBS and Viacom are looking at getting back together.
-- Trump once again vowed to lower drug prices. And once again, consumer columnist David Lazarus writes, you shouldn't believe him.
SPORTS
-- Retired NFL executive Neal Dahlen has seven Super Bowl rings, tied for the most with New England Patriots Coach Bill Belichick. Of course, after the Patriots play the Philadelphia Eagles on Sunday, Dahlen and Belichick may no longer be tied.
-- Spring training opens in two weeks, but too many teams have no chance of winning. That's not good for the game, says baseball writer Bill Shaikin.
OPINION
-- So much for a "nationwide search." L.A. Mayor Eric Garcetti picked an insider loyalist to hold the city's purse strings.
-- Columnist Gustavo Arellano explores how California towns like San Bernardino get a bad reputation.
WHAT OUR EDITORS ARE READING
-- The debate in the American national security community over whether fitness trackers should be allowed in sensitive areas has gone on for years. (Foreign Policy)
-- Kathy Griffin talks about her days "in exile" after her infamous Trump photo and how she's planning a comeback. (The Hollywood Reporter)
-- Remember "Left Shark" from the 2015 Super Bowl halftime show? He's now a hairstylist in West Hollywood. (NPR)
ONLY IN L.A.
They gathered under a full blue blood moon, in hooded red velvet robes, holding candles in the Masonic Lodge at Hollywood Forever Cemetery. Welcome to the Secret Society of the Sisterhood — but leave the conspiracy theories at home. This new monthly storytelling event celebrates the work of women. See how they began by "reclaiming my time."
If you like this newsletter, please share it with friends. Comments or ideas? Email us at headlines@latimes.com.
Must-read stories from the L.A. Times
Get the day's top news with our Today's Headlines newsletter, sent every weekday morning.
You may occasionally receive promotional content from the Los Angeles Times.