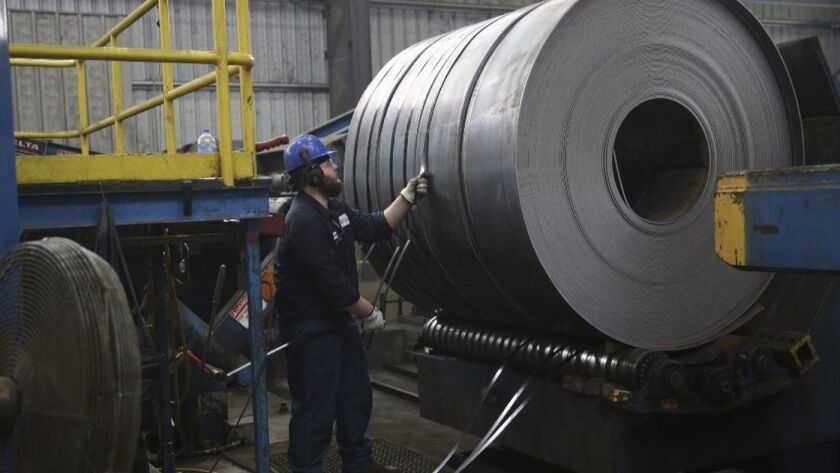 President Trump is holding off on tariffs for metals imported from key allies.
TOP STORIES
Steeled for More Uncertainty
When President Trump ordered tariffs on steel and aluminum in March, he made it clear they would be used as a tool to win concessions on trade. That may have been the first sign of the delays that would follow. Facing a deadline of Monday night, Trump decided to postpone imposing those tariffs on imports from the United States' three biggest suppliers of steel — Canada, Mexico and the European Union — for another month. It came after pleas and the threat of retaliation from Europe, as well as signs that America's next-door neighbors were moving closer to a deal on the North American Free Trade Agreement. For the businesses involved, it only adds to the uncertainty.
More Politics
-- Trump will address the first day of the National Rifle Assn. convention in Dallas on Friday, a move likely to increase tension and protests at the annual gathering.
-- Trump had no apologies for earlier disparaging Africa and Muslims, as Nigeria's president paid a visit to the White House.
-- Thomas Homan, the Trump administration's top immigration enforcer, says he will retire in June. He was facing a rough Senate fight for confirmation as director of Immigration and Customs Enforcement.
-- Stormy Daniels has filed a new lawsuit against Trump. This one alleges he defamed her in a tweet that mocked her for saying a man once physically threatened her on Trump's behalf.
Rio Grande: A Border Runs Through It
Texas' Rio Grande Valley is the busiest stretch of the United States' southern border for migrant apprehensions and marijuana seizures. It's also perhaps the trickiest place to build a new wall. Nevertheless, despite the logistical, political and legal challenges, the longest stretch of border barrier — 33 miles — funded by the $1.6 billion Congress approved in March is expected to rise here. Meanwhile in California on Monday, two scenes played out along the border: Vice President Mike Pence visited with Border Patrol agents, while just 100 miles away, a caravan of Central American migrants waited to ask for asylum.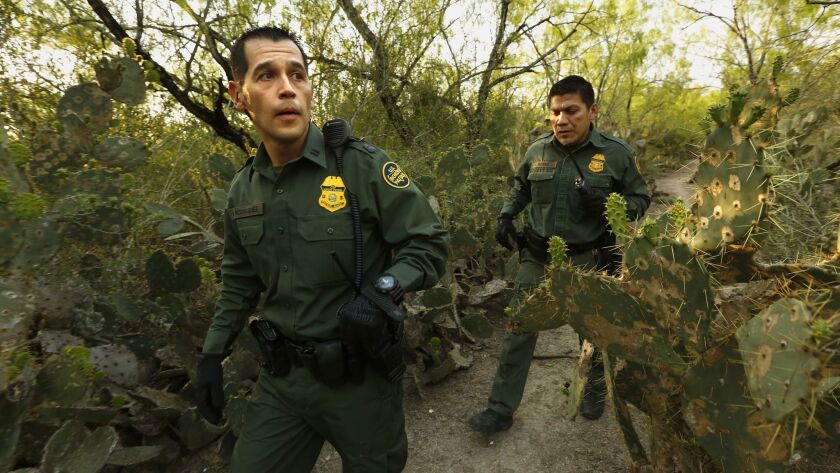 Outsource This!
What's the difference between an independent contractor and a regular employee? In lots of businesses, the reality is gray. But this week the California Supreme Court made it more difficult for employers to classify their workers as independent contractors, laying out a clearer set of rules. As one USC law professor puts it: "A huge number of businesses will be calling their lawyers saying, 'What should I do?' "
An Enigma on the Force
From the start, many investigators suspected the Golden State Killer was one of them, given the way he was able to elude capture. But some officers who once worked with the man who was arrested in connection with a string of rapes and killings in the 1970s and '80s say they're stunned by last week's developments.
They Said It. Will You Defend Their Right?
"We seem to be having a hard time grasping that the right to free expression is meaningful only if we are willing to protect the most disgusting and offensive statements," writes columnist Robin Abcarian, who last week spent an afternoon at Cal Poly San Luis Obispo. That's where a series of racial incidents has shaken the campus. Since then, a comic's jokes at the White House correspondents' dinner and a number of other news items have put this principle to the test. How are we doing as a society? Read on.
Sign up to get Today's Headlines delivered to your inbox. »
MUST-WATCH VIDEO
-- Inside the fight to shut down the Exide Technologies battery recycling plant in Vernon in 2015.
-- El Se-gun-dough or El Say-goon-dough? Columnist Steve Lopez explores Spanish names, cultural shifts and a lot of L.A. linguistic confusion.
CALIFORNIA
-- Another arrest based on DNA evidence from the 1970s: This time, a 60-year-old man has been charged in the 1977 rape and killing of a South L.A. woman.
-- The Los Angeles Board of Education is poised to select philanthropist, former investment banker and onetime L.A. Times publisher Austin Beutner to be the next superintendent of the LAUSD.
-- Scientists studying satellite data have found a potential reason why progress on improving air quality in Los Angeles and other areas has faltered in recent years.
-- Taco María, a Costa Mesa eatery that serves tasting menus of Carlos Salgado's Mexican-influenced cooking, is Times restaurant critic Jonathan Gold's 2018 Restaurant of the Year.
HOLLYWOOD AND THE ARTS
-- When folk-pop singer-songwriter Harry Hudson was diagnosed with Hodgkin's lymphoma in 2013, he was given months to live. Now 24, he has a deeply personal debut album out.
-- With an acclaimed turn in the Netflix dramedy "Kodachrome" and his return as the Man in Black in Season 2 of HBO's "Westworld," actor Ed Harris is hitting new heights in his acclaimed career.
-- The Tony nominations are being announced this morning. Here are three things to watch for.
-- Must-see: Photos of the country-music-loving citizens of Stagecoach, including two guys in horse costumes.
CLASSIC HOLLYWOOD
Judy Collins took home a Grammy for her recording of Joni Mitchell's "Both Sides Now" in 1969, but her rendition of "Send In the Clowns" brought her even wider attention. The singer, who turns 79 today, showed her self-deprecating sense of humor in an interview last year. Of her wild past she said, "I always say that I never took too many drugs — I always felt they would interfere with my drinking."
NATION-WORLD
-- Israeli Prime Minister Benjamin Netanyahu accused Iran of lying and cheating on the landmark 2015 nuclear deal from which Trump has threatened to withdraw.
-- At least nine Afghan journalists were killed in a bombing in Kabul, and a 10th died in an unrelated attack in the country's east. Those slain had provided intimate, wrenching looks at the country's long conflict.
-- Amid an immigration scandal, British Prime Minister Theresa May appointed a new home secretary, Sajid Javid. He is the first nonwhite politician to hold one of the four top jobs in British government.
-- These five healthy habits could extend your life by a dozen years or more, according to a study.
BUSINESS
-- Tesla has been burning through cash. So when the automaker reveals its first-quarter results this week, Elon Musk will be forced to explain why bankruptcy isn't a serious possibility.
-- Post offices that are also banks? Consumer columnist David Lazarus thinks it's a genius idea but warns: Don't hold your breath.
SPORTS
-- Shortstop Corey Seager is gone for the season because of an elbow injury. Columnist Bill Plaschke argues the Dodgers now need to be aggressive in not letting the season go in the tank.
-- Watch surfer Rodrigo Koxa set a Guinness world record by riding an 80-foot wave.
OPINION
-- The attacks on Michelle Wolf and Kanye West go beyond mere hypocrisy. Columnist Jonah Goldberg explains.
WHAT OUR EDITORS ARE READING
-- Special counsel Robert S. Mueller III has a long list of questions for Trump. Here's what they reportedly are and what they could mean. (New York Times)
-- "There's no evidence whatsoever that the money's been massively poured back into the American worker": Sen. Marco Rubio criticizes the GOP tax cuts and talks of a new conservative movement. (The Economist)
-- How did Ferrero Rocher chocolate become beloved by immigrant communities in America? (Thrillist)
ONLY IN L.A.
'N Sync fans have wanted the group back ever since the boy band broke up in 2002. They got their wish when the group's star on the Hollywood Walk of Fame was unveiled on April 30, a.k.a. "It's Gonna Be May Day." At least one devotee traveled from as far away as Ecuador to see the five reunited. But when the crowd asked for a song, all they got was a bye-bye-bye.
If you like this newsletter, please share it with friends. Comments or ideas? Email us at headlines@latimes.com.
---