Newsletter: Today: Reorder in the Court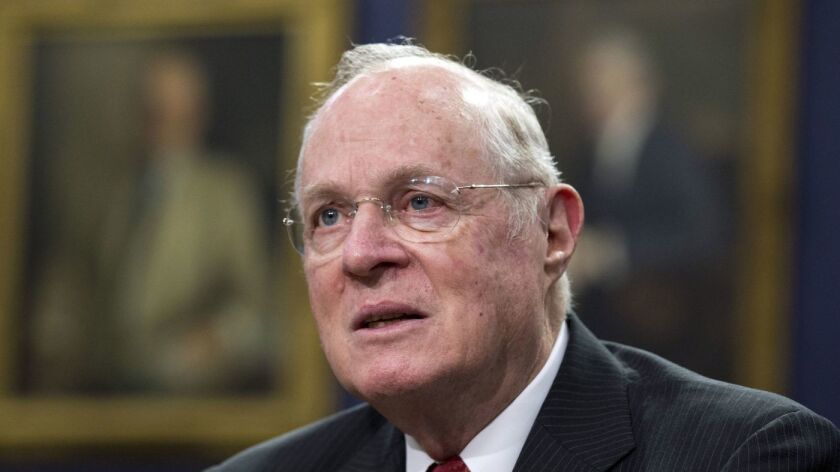 The retirement of Justice Anthony M. Kennedy, the Supreme Court's swingman, is setting off a fight to determine the future of the court and the country.
TOP STORIES
Reorder in the Court
Ever since ascending to the Supreme Court under President Reagan in 1988, Justice Anthony M. Kennedy has been a pivotal figure: splitting his votes between its conservative and liberal factions. With Kennedy's retirement now set for July 31 and Majority Leader Mitch McConnell hoping to confirm a new justice before the November election, the door is opening for President Trump to lock in a reliably conservative 5-4 majority. Trump said Kennedy's replacement would be selected from a list of 25 people he updated last year. But confirming his pick won't be without a fight, in all likelihood centered on abortion rights.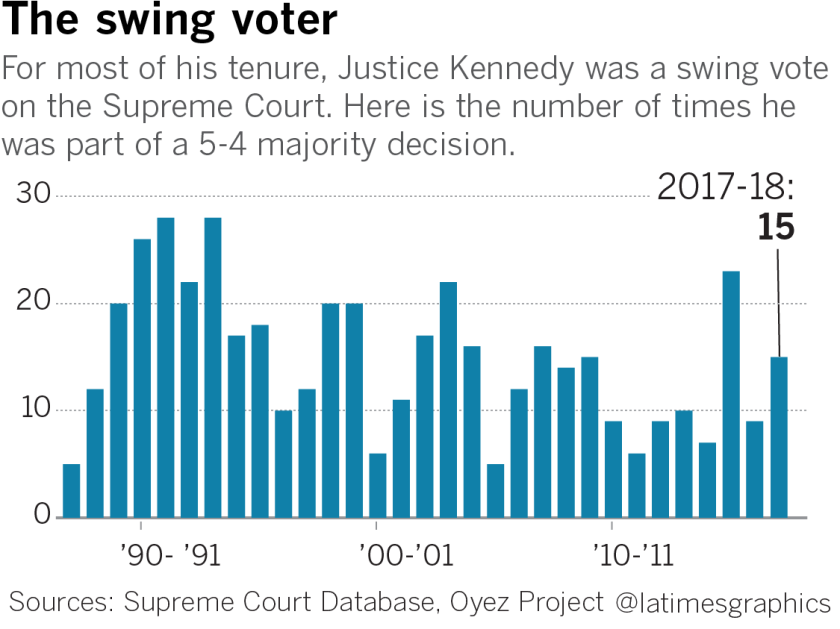 A New State of the Unions
For years, public employee unions knew this day was coming. Now, the Supreme Court has overturned a 41-year-old precedent and ruled that teachers, police officers and other public employees cannot be forced to pay dues or fees to support their unions because of free speech. The decision, in Janus vs. AFSCME, strikes down laws in more than 20 mostly Democratic-leaning states. In California, union leaders say they'll take a hit but have made plans for five years to get ready.
No Fix for a Family Crisis
Despite a federal judge's ruling, there are still no signs of a plan for reuniting more than 2,000 migrant children with their parents after the government separated them and put them into detention facilities. Trump would not say if he would fight the order in court, though the option of an appeal remained. Meanwhile, Congress is preparing to go on a break for July 4 after voting down a broad immigration bill that would have attempted to end the separation crisis.
More From Washington
-- Trump has opted for a softer approach to restricting Chinese investment in sensitive U.S. technologies, backing bipartisan legislation to expand an existing government process.
-- Despite the Russia investigation, Trump is moving ahead with plans to meet with Russian President Vladimir Putin, likely in mid-July in a European capital, according to a Kremlin aide.
-- Will former Fox News executive Bill Shine be the next director of White House press and communications, succeeding Hope Hicks?
Young Cubs and Liberal Lions
Is the future of the Democratic Party a 28-year-old socialist who used to tend bar in Manhattan? House Minority Leader Nancy Pelosi is urging people not to read too much into the primary victory of political newcomer Alexandria Ocasio-Cortez over Rep. Joe Crowley, who was seen as a potential successor to Pelosi. But at the very least, Ocasio-Cortez's win is forcing Democrats to examine their inner divisions.
A Sister's and Brother's Fight Against Cancer
Roughly 500 children in the U.S. are diagnosed with a medulloblastoma, an aggressive form of brain tumor, each year. In Torrance, a 6-year-old girl and her 4-year-old brother were recently diagnosed just days apart. What caused Kalea and Noah Avery to develop brain cancer at the same time? The answer, doctors say, is most likely in their genes.
Sign up to get Today's Headlines delivered to your inbox. »
MUST-WATCH VIDEO
-- Who says you can't ride a wave in landlocked Colorado? Watch this man surf the South Platte River.
-- In preparation for the new Los Angeles Times offices in El Segundo, the building's new sign was hoisted to the roof.
CALIFORNIA
-- L.A. County sheriff's detectives have arrested the boyfriend of the mother of Anthony Avalos, the 10-year-old Lancaster boy who was found unresponsive at his home a week ago.
-- Authorities say a feud between residents at a Long Beach senior living facility led to the fatal shooting of a firefighter this week.
-- Santa Clarita has enacted sweeping new rules barring individuals from sitting on sidewalks and sleeping in cars on public streets.
-- The L.A. City Council approved a hotly contested plan to overhaul the Baldwin Hills Crenshaw Plaza mall in South L.A., tripling its size and adding hundreds of apartments and condos.
HOLLYWOOD AND THE ARTS
-- Lil Rel Howery, who had his breakout moment as a lovably profane TSA agent in the film "Get Out," has the lead role in "Uncle Drew," opening Friday.
-- What to make of "Liza on Demand," a new YouTube Premium comedy set in the gig economy? TV critic Robert Lloyd says it's mostly up to the task at hand.
-- "I find the greatest joy in being with them": Anne Tomlinson is stepping down after 22 years of leading the Los Angeles Children's Chorus.
-- Joe Jackson, the patriarch of the Jackson 5 who used a firm hand to steer the careers of his superstar children, including Michael Jackson, has died at age 89.
CLASSIC HOLLYWOOD
The career of Kathy Bates, who turns 70 today, is still going strong these days, but it wasn't that long ago she feared the worst. Six years ago, her show "Harry's Law" was canceled. "That summer, I had a double mastectomy. I really felt … I felt like something was over," she told The Times in 2015. "I didn't know if it was just my career. And you know, no one wants to think that."
NATION-WORLD
-- As the United States hardens its borders, Canadians are debating whether to do the same or stand up to Trump.
-- At a bar in Brooklyn, would-be foster parents are pondering the ethics of taking in migrant children.
-- King Abdullah II of Jordan has been on a charm offensive on a visit to the U.S. At home, he faces economic woes and other issues as he promotes "peace-affirming Islam."
-- Polish lawmakers have passed changes to a disputed Holocaust speech law, removing criminal provisions for attributing Nazi crimes to Poles.
-- A study of seniors insured by Medicare has found that those who died in 2015 were less likely to do so in a hospital than those in 2000.
BUSINESS
-- In a major coup, Walt Disney Co. secured U.S. Justice Department approval for its proposed $71.3-billion purchase of 21st Century Fox's entertainment assets after agreeing to sell 22 local sports channels. It deals a crushing blow to Comcast Corp.'s bid.
-- Near the Empire Polo Club, where Coachella and the Stagecoach Festival are held each year, a developer group is building a 35-acre resort.
SPORTS
-- Yu Darvish has made his return to Dodger Stadium: "More than the bad things that were said about me, what I regret is that I couldn't repay those people."
-- In the World Cup, Mexico is going on and Germany is going home, both thanks to South Korea.
OPINION
-- Eric Garcetti, Democratic mayor of Los Angeles, and Tom Tait, Republican mayor of Anaheim, write that chaos at the border demands immigration reform now.
-- In replacing Justice Kennedy, Trump should rein in his partisan, populist tendencies.
WHAT OUR EDITORS ARE READING
-- Attorneys in Texas, California and Washington, D.C., say immigrant children as young as 3 are being ordered into court for their own deportation proceedings. (Kaiser Health News)
-- As billionaires launch more rockets into space, it's making life more difficult for commercial airlines that have to reroute their planes. (Bloomberg)
-- What does a smile mean? In America and in Russia, it's quite different. (Nautilus)
ONLY IN L.A.
L.A. is full of shameless self-promoters, some of whom take out billboards. But taking over a freeway exit sign in downtown during rush hour? That's what one aspiring rapper did as he unfurled banners and danced in his underwear, shutting down traffic for two hours, before he backflipped onto a giant safety cushion. Though the man was promptly arrested, his manager said that he'd like "an endorsement from Hanes or Ralph Lauren or Fruit of the Loom."
If you like this newsletter, please share it with friends. Comments or ideas? Email us at headlines@latimes.com.
---